When writers die, they sometimes leave a raft of unfinished work behind, in various stages of incompletion. It's not uncommon to find most of a book or a hefty number of poems, stories, or essays languishing in a desk drawer, where these things used to languish, or these days, on their laptops. When a writer of some note dies, there's a brief burst of interest in him and his work, especially if he's produced little for the last few years. You may even have assumed he was already dead, and discovering that he was alive is a double shock: forgotten but not gone. Regardless, this is when previously unpublished work enters the terrain of the posthumous.
It's impossible to know how much work is left behind by the dead, and of that, how much is work that's "worthy" of posthumous publication, work to which attention should be paid. No novel is ever judged purely on its own merits: Marketing follows us into the afterlife.
Few want to publish a dead author's book if that book's prospects will be lessened by the fact that he will not be around to go on tour. Think of midlist authors (like me, for instance) who really aren't all that terrifically popular when they're alive, spending their careers clamoring (as only the living can clamor) for whatever attention they can get. Our books, posthumously, will be on their own. To make matters worse, many writers leave some manuscripts "in progress" behind when they die, sometimes work of great potential. This doesn't mean that it ever would have been finished or live up to that potential. All we can know is what didn't happen and never will, because if one thing in life is certain, it's that the dead can be depended on to contribute very little indeed.
I've been thinking about all this a lot lately, in my pre-posthumous world with my pre-posthumous writer friends. Some admit to being at least marginally interested in what will happen to their work after they die, but many haven't thought about it much at all; legacy is an afterthought, if even that. A friend tells me, "My novel feels close to done, and so if I were to shuffle off this mortal coil today, I think I'd want it published. My other stuff? I do not think about whether my work will be read after I'm gone since I don't see how that could affect the dead me." Which feels like a very writerly contradiction: Even though I'll be dead and it won't affect me and I don't care, fingers crossed this last novel is published.
When our own possible deaths come up in casual conversation it's mostly as a joke. We laugh about it: a novel that's taking longer than expected to finish, for instance, or a book no one presently wants to publish, but will, certainly, long after you're dead, when people finally come to their senses and see its value. It's the literary version of cryogenics, and the after-death pub-party as the ultimate stamp of approval. You may have left the world, but your work hasn't, and won't. Because unlike people, books never have to die. They can travel the world, lover to lover, retire to a house at the beach. Even out-of-print books may rise again.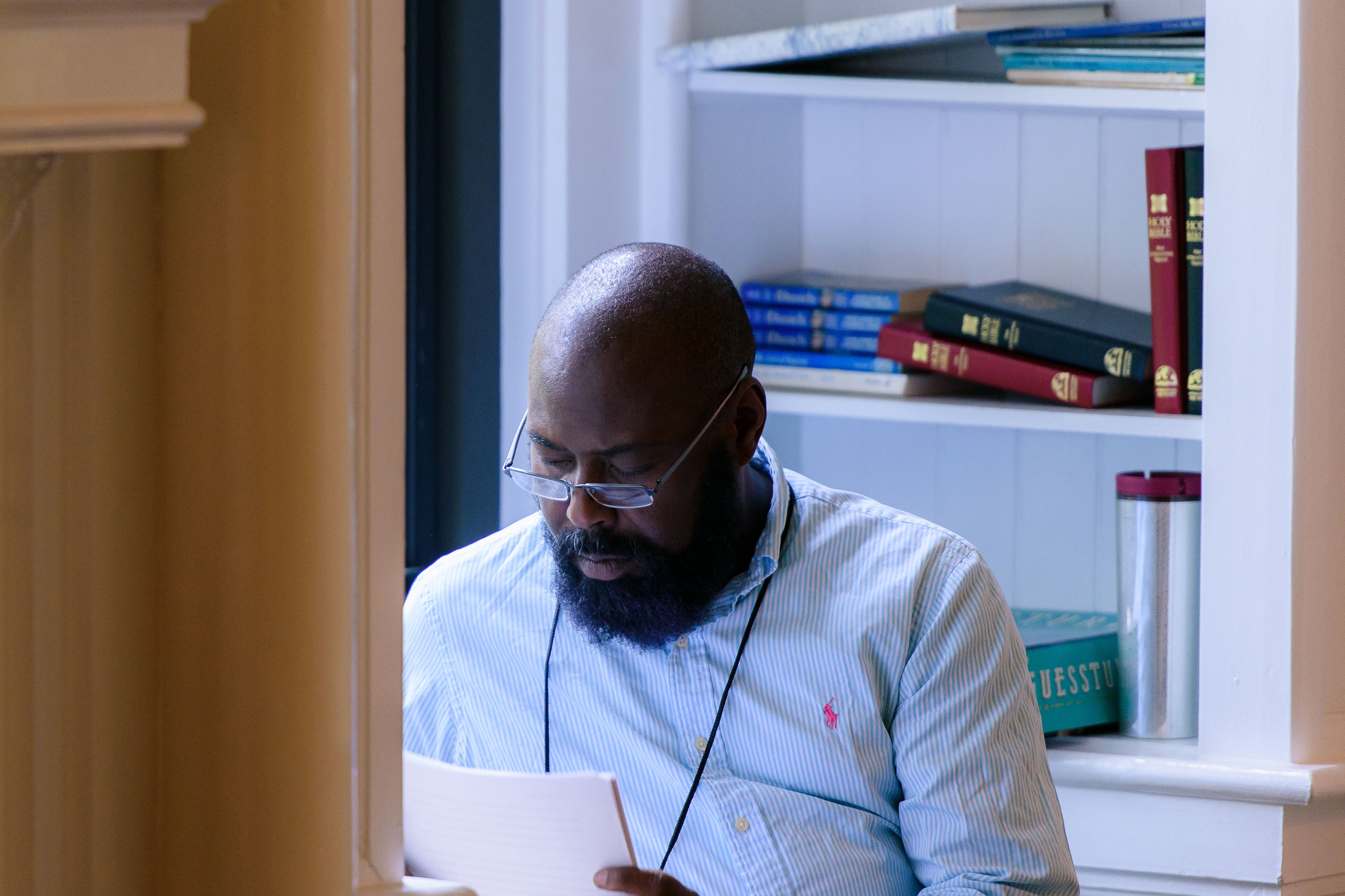 One of my dearest friends, Randall Kenan, died recently, and thus began my first experience with the posthumous. I say he died recently even though it wasn't that recent; it just feels that way. He died in August 2020, over two years ago, as I write this. This anomaly, telescopic time, must in some ways be due to the changing nature of time itself since the onset of COVID; the last two years seem untethered to any traditional chronology. But I wouldn't want to ascribe it to that alone. The shock of this loss has not diminished. It still feels weirdly fresh.
Randall died at his home in Hillsborough, North Carolina. He was always a homebody, but especially so since COVID had robbed him (and everybody else) of other places to be. He was an exceptionally private man. Most of the time, he kept in touch through text and email, occasionally phone calls, but was also known for his periodic disappearing acts—emails and texts unreturned sometimes for a couple of days, which was why a day and a half passed before he was found. He had collapsed on his living room floor, from a heart attack or a stroke or something else entirely: There was no autopsy. But in the months and even years leading up to his death he had had several "episodes," some of them while he was teaching. Fainting, chest pains, exhaustion. I would be notified when he was rushed off by ambulance to the emergency room and I would meet him there.
Long before he died and apropos of nothing, I asked Randall if he cared or thought about what might happen to his work after he was gone. He texted back (more than half of all the words we shared happened via text), "I do think of my uncollected stories and/or my occasional writing coming out in a collection after I die. Publishers don't do that much anymore unless you have won the Nobel Prize or some such. I would be dead, but it would make me happy."
Soon after he died, the process of making him happy began. At the request of Randall's family, a group of friends set about gathering the tangible evidence of Randall's incredible mind, the wild stew of paperwork he'd left behind. Randall kept papers going back to grade school. Papers he had written as a high school student; early, unpublished stories workshopped at the University of North Carolina; photos, ancient syllabi, and student work. His home office was an archivist's dream. We gathered every sheet, boxed it up, and hired a grad student to collate and bring order to it all at its eventual home in the Southern Historical Collection at UNC.
Then there was the matter of his computers. Randall's life had roughly paralleled the transition from writing and typing on paper to composition taking place primarily on a device. Randall took that transition seriously: He was an early adopter of technology, email, and the possibilities and pitfalls of the internet. He had a desktop computer and three laptops, with files on them dating back to the mid-1990s. One he kept at his office, one he kept in his leather satchel, and the other he had at home, in his living room. He wrote on all of them. Some documents were written in Word, some in Pages, but most were in WordPerfect. I've never known anyone else, in the 21st century, who used WordPerfect. I bought a program that converted the WordPerfect files to Word and discovered a gold mine: stories, essays, speeches, recommendations (oh, so many recommendations).
From the outset, the search and rescue mission centered on locating the novel Randall had told us he'd been working on for the last 20 years. It only took a few hours to find a hard copy in his office, printed out on three-hole-punched paper in an old black binder. Here it was, I thought: his legacy.
It turned out to be more complicated than that. On his computers I found many, many iterations of the novel. In 2001, it was called Fire & Baptism; by 2014 it was There's a Man Coming Round Taking Names. All versions told the same story, which, as Randall described it, was about "a rich white family and a rich black family, and all the poor folks to whom they are connected … my 21st century take on the 19th century novel." And every version we found, even that hard copy in the binder, was notably incomplete.
The first third of the book was nearly done; the rest had been partially written, and what had not been fleshed out was outlined. He clearly knew who he was writing about: The book begins with three family trees dating from the 1800s to the present and a list of all the major characters, from Elihu McElwaine, born in 1820, to Roger Rogers, Chapel Hill chief of police, 1970; 35 characters, give or take.
Had this book achieved his vision for it, it would have been massive, sprawling, and powerful. But when we compared the earliest drafts with the latest ones, we saw that the book doesn't change as much as I thought it might. Edits are confined to a word here or there, a new sentence, or a deleted one, a few new scenes, others gone. But there are more and more notes in the text, shorthand instructions for what to do with a chapter once he got to it. The last few years of his life he set goals for himself to get the novel done and off to his agent—and then realized, to his seeming dismay, that he needed another chapter or another character. This didn't send him back to the drawing board, per se, but it made the drawing board bigger and bigger and bigger.
To me, Randall was a master of the short story and the essay; that's what he'll be remembered for, I think. Even his one published novel, A Visitation of Spirits, reads like a gathering of incantations. The chapters in that book are layered but distinct, and many of them could stand on their own. Not so, with a few beautiful exceptions, in There's a Man Going Round Taking Names. This book is made to be of a piece. I believe that it became too unwieldy, even for him.
But of course it wasn't a posthumous novel that Randall had mentioned to me, but a posthumous collection, and in those laptops and files we found a bounty of work for that book. Many of the essays had been published in magazines and quarterlies he'd told almost no one about; even his friend and longtime editor Alane Mason didn't know they existed. The book that resulted, Black Folk Could Fly, was published by W.W. Norton in 2022 to widespread acclaim.* It's full of all those things he loved the most: essays about family, music, film, swine in all their incarnations, and his lifelong interrogation into what it means to be Black in America. It landed him, for the first time, on the front page of the New York Times Book Review.
It was all so wonderful and so richly deserved, and, like all the good things that happened to Randall after he died, to me it was all—the word commonly used here is bittersweet. But it wasn't even that. Bittersweet: sweet with a bitter aftertaste. The feeling was more bitter than that, with a brief sweetness thrown in almost as an afterthought to mock me.
But the thing is, our friendship didn't have much to do with writing books. This though both of us were writers, and taught in the same program. Most of the texts and emails I received from him—I've spent a great deal of time rereading this posthumous work—are clips of his favorite songs from YouTube, with a few sentences explaining why he was sending this song now—or not. "Bad Lip Reading from the NFL" was sent without comment. He sent Morgan James covers of anybody. Off-the-cuff truths: "Syllabus writing is a hateful operation." It feels like every third email was a link to an obituary, as we were both fanatics about great obituaries, especially those written by Anne Wroe, of the Economist. "I admire her prose so much," he wrote. "So clear, graceful, and smart." Since he was not an avid sleeper, in the morning I'd wake up and find six, seven, eight emails from him, and as many texts, sent at 2:00, 3:00, 4:00 in the morning, and half of them, again, music videos. I imagine other friends could say the same. The rest were jokes or plaintive cries in the night, the sort of lamentations suitable for the darkest hours. The last email he sent me was on Aug. 25, three days before he died. It came in at 3 a.m. and was a link to Gloria Estefan singing "Reach." And he wrote, "I will sweep my heart off the floor and get on with it." I never responded to that email, hoping that the sun would lighten things up. He never said what had happened to his heart.
Randall was a brilliant man; he could talk with the ease of an expert about anything, it seemed, from physics to ancient Greek theater to Star Trek. He had read deeply and widely, and you can see that, or feel it, in his work, work that is important and should be read as long as there are books on our frittering planet. My friends and I worked hard to help make that happen.
But why don't I care? It's not without value, being outlived by your own readers. And if, after I'm gone, my friends and family want to spend days and nights poring over what I've left behind, I would never begrudge them that. But really, a book is just a book. We ask too much of them. Reading Randall's work, or even being a part of bringing his work into the world, doesn't bring me closer to him, or make him feel like he's still a presence in my life; it takes him further away. It reminds me that he's not here. Books may possess their own kind of magic, but they can't bring anyone back, and that's what I'm after—what I'd like to see happen here, if possible, please.
And regardless of what he said when I asked him way back when, he is not happy about all his lovely post-death acclaim. He's not happy, not sad, he's not anything at all, he's just dead. But through his books he lives on. No, he doesn't. The kind of immortality we append to a writer's work is spectral and empty. I won't miss the books Randall will never get a chance to write. But those texts? The emails? Those clickable links that took me down a rabbit hole and into his burrow, to the secret rooms hidden behind the camouflaged door, the place where he kept some of the best of him? I will miss those forever.
Correction, April 5, 2023: This story originally misstated the publisher of Black Folk Could Fly. It is published by W.W. Norton, not Grove.