In Sex Reviews, writers offer a sober critical assessment of the sex scenes in new films. This installment contains spoilers for the new season of Sex/Life.
The first season of the Netflix series Sex/Life came out in 2021. Its first episode opened with an extremely memorable sequence: Billie, a Greenwich mom of a preschooler and a new baby, is recalling a sexual encounter with an old boyfriend in a club in New York City. "You're killing me," she tells the boyfriend, Brad, who grabs her nipple in his mouth. Smash cut: She's actually in a very nice suburban bedroom, nursing her baby, who is pulling too hard on her nipple. "You're killing me," she says, taken back to the present. And the viewer goes: What? 
In press for the first season, showrunner Stacy Rukeyser hammered home the idea that this show was a "revolutionary" portrayal of female desire. In flashes, like that promising first sequence, the first season did do something new. But as Billie (played by Sarah Shahi) broke up with her husband Cooper (Mike Vogel), over the course of a sexy-flashback-filled eight episodes, it felt like the show didn't quite live up to that promise. Billie is just a weepy, beautiful thirtysomething, going through a divorce because she liked her handsome, rich record-exec ex-boyfriend (played by Adam Demos) better than her handsome, rich finance-bro husband.
However, the sex scenes in this show were always, certainly, sex scenes, and our job is reviewing sex scenes! We wondered if the second season—which sees Billie adjusting to her life as a separated spouse, living half-time back in New York, surrounded by a cast of hot friends—would give us more moments like that nipple scene.
(Sex Reviews note: We usually try to talk about all of the sex scenes, but there is simply too much sex in Sex/Life for us to do this. Instead, we picked only Season 2's most notable sequences. Spoilers for those sex scenes follow.) 
Episode 1: 18:00: Cooper, Billie's now-separated husband, has an encounter with his boss, Francesca (Li Jun Li), in an elevator on the way up to their office, on a random weekday morning.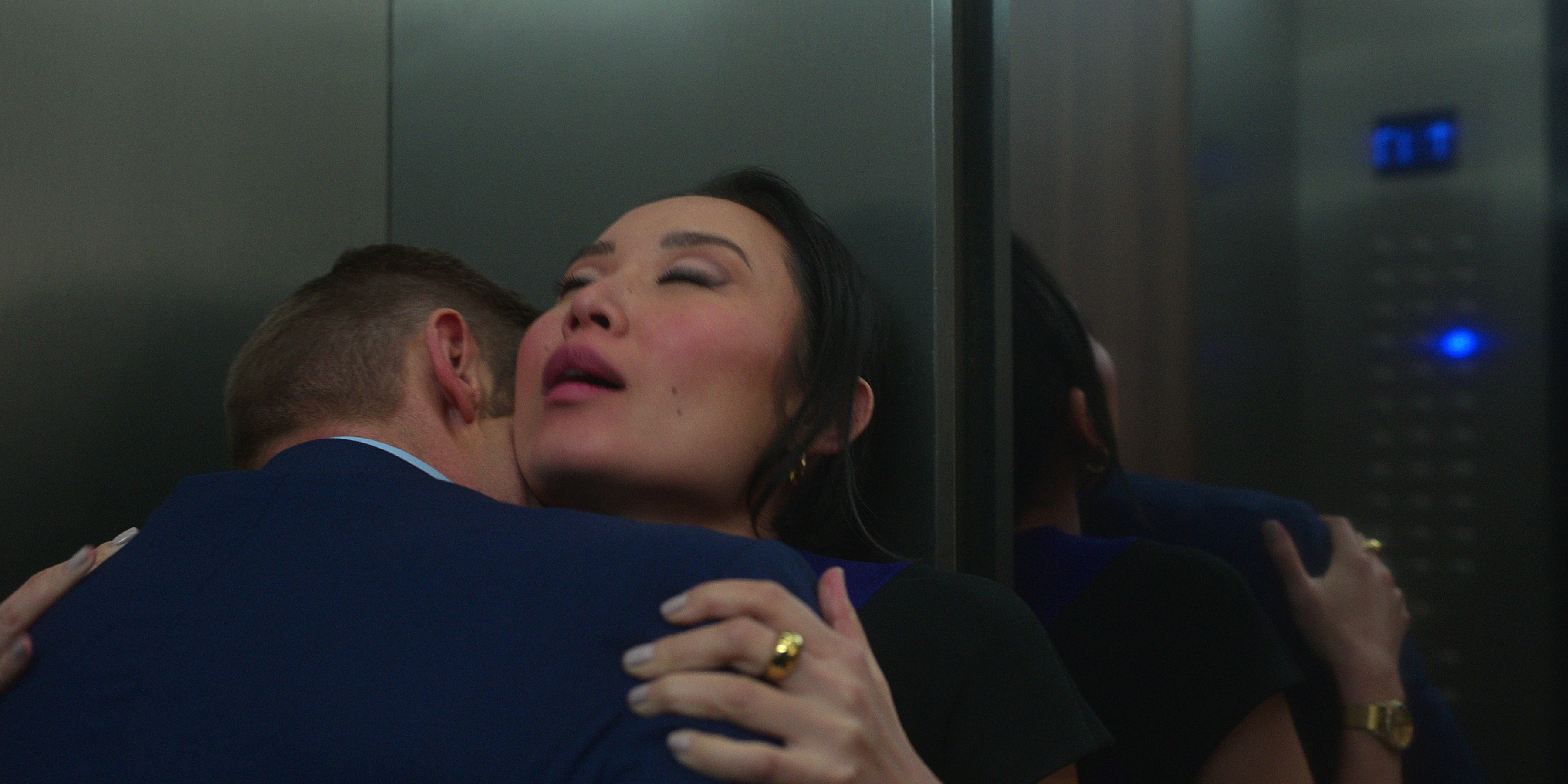 Isabelle: Is their elevator stuck or something? Are they going to, like, the 2,000th floor? Look, I've been to New York, and you can get to the top of a skyscraper in 30 seconds flat, but these two have time for a full-on fingerbang—possibly with some penetration?—before they reach their destination. I'm just curious what atmospheric layer they're going to. Cruising altitude? Chinese spy balloon height? The elevator unexpectedly stops at the 22nd floor, which breaks up the party, but I don't buy it!
Anyway, whoever made this show did build the sexual tension really nicely here, so I'll give them points for that. There's covert hand-holding, sidelong glances, and enough swelling music that you know they're gonna jump on each other the moment the elevator clears out.
Rebecca: As portrayals of self-destructive actions undertaken in the wake of separations go … it's not bad! As portraits of "female desire" go, it's not this particular anxious female's cup of tea. Cooper and Francesca get fired from their jobs in the next episode, thanks to all this secret office fucking, which, to me, is not hot!
Isabelle: Seriously. Couldn't they have found a different elevator to ruin each other's lives in?
Episode 2: 0:30: Brad fantasizes about Billie, the way Billie used to fantasize about Brad.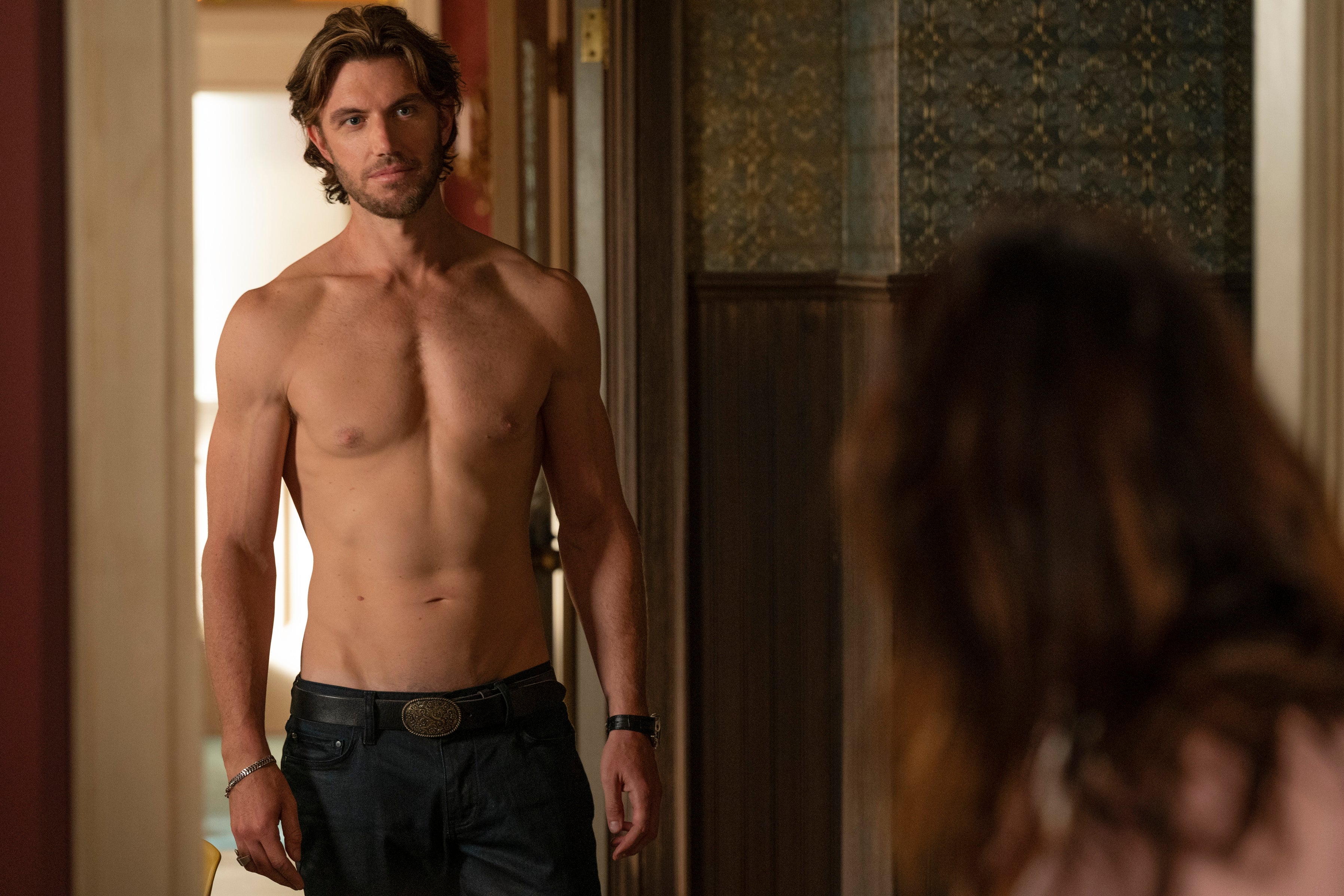 Rebecca: Brad's new girlfriend, Gigi (Wallis Day), is making him get rid of his black leather couch and his mattress, because they are part of his old life. He's remembering that old life: fucking Billie on those pieces of furniture. In this season's first episode, we saw a flashback to a few months before: Billie came to Brad at his apartment and told him she's left Cooper. He has to tell her that he is with Gigi now—and she's pregnant. Billie was too late! In this scene, Brad fantasizes that he'd handled that meeting differently, and instead of turning her away, he'd said he'd leave Gigi, and they'd had sex.
Here is one of the moments in Season 2 that remind me of the nursing smash cut from Season 1—a moment that's actually kind of funny and interesting. Brad fantasizes that, at the beginning of this imagined encounter, his erection sticks up out of his waistband, and Billie sees it, and the two of them laugh. Did you like that part, Isabelle??
Isabelle: First of all, I have never seen this in all my life—a boner that levitates, in tight jeans, towards 12 o'clock, on its own accord. Usually, when a person gets erect in jeans, their penis sort of points downward, and stays off to the side of one leg. If their pants are super loose and flexible, it'll maybe drift upwards a little, but Brad's not wearing basketball shorts. Instead, he's dressed in some form-fitting honky-tonk blue jeans with a big Texas belt buckle.
Unless he keeps his flaccid penis tucked upward along his waistband, parallel to his zipper, there is no physical way that it could have become erect, bent straight upward, and poked out of the top of his jeans without some sort of divine intervention.
Rebecca: Honestly, this is why I liked this scene. Granted, it is not about "female desire." It is, instead, about a guy's fantasy. But it's charming that this fantasy involves this little moment, which is impossible, as you rightly say, but which shows a bit of what Brad seems to have liked about being with Billie. She likes that kind of thing, and thinks it's funny.
Isabelle: It highlights their chemistry, which I find believable, actually. In that vein, we also get a lot of "Brad," "Oh, Brad," and "I love you Brad," in this scene. Oh, to be a boy named Brad! Saying "I love you" is somewhat controversial during sex, but this scene, contrived as it is, shows that it can be tender and hot. The rest of the flashback has some doggy and some mirror sex, too. I'm not mad at it.
Episode 2: 38:30: Billie and Majid's first time.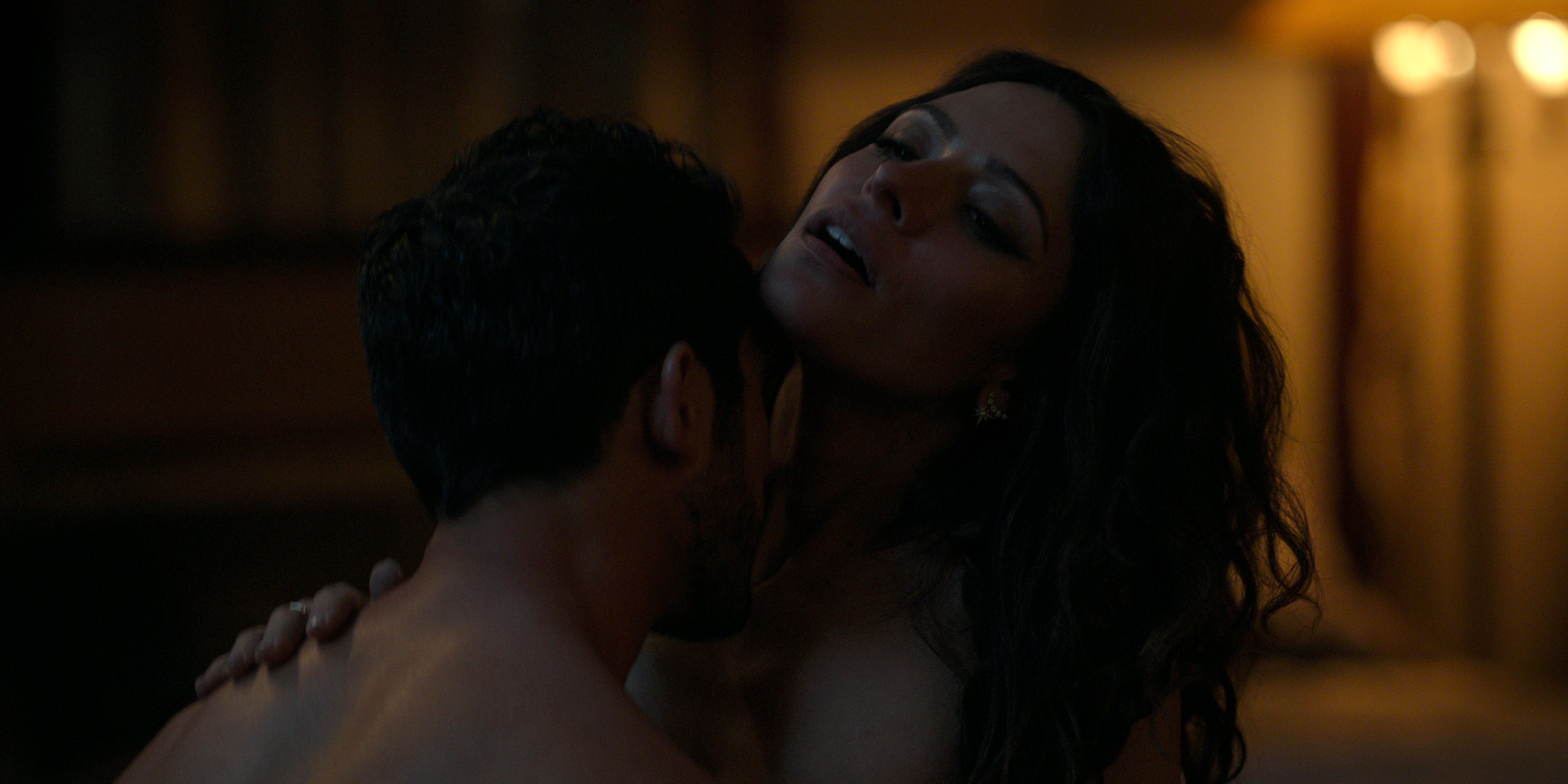 Isabelle: Now we get to see Billie have sex with her new man, Majid (Darius Homayoun), for the first time. Of course, it's preceded by a conversation in which Billie admits that she hasn't had sex with anyone but her husband in nine years and is insecure about her post-baby body. Then they slowly take off their clothes—while standing three feet apart—and assess what they're working with. Wouldn't you know it: Billie is a paragon of conventional attractiveness, and it's hard—and kind of annoying—to imagine what she's insecure about.
In any case, Majid is very horny for it, and he goes down on her while she's standing up. She moans—and we cut, suddenly and bizarrely, to Billie's best girlfriend Sasha (Margaret Odette), who's having sex with her college boyfriend/second chance, Kam (Cleo Anthony).
Wait, wasn't this Billie's moment? I was thinkin' it was, but instead we're served this weird BFF sex compilation where the two women have similar types of sex at the same time. Billie gets eaten out; Sash gets eaten out. Sash does cowgirl; Billie does cowgirl. It's such a weird edit?
Rebecca: This show loves to do this. Here's where we reveal that I have seen the first season and you haven't, and so, as a registered Sex/Life expert, I'm here to say that Sasha and Billie were best friends in grad school, and going-out buddies, and they talk about sex a lot, usually in absolutely cringe-worthy ways that sound like no actual adult human female I've met. Montages of the two of them having parallel sex are par for the course.
Also, you're totally right about the postpartum body anxiety ridiculousness. Sarah Shahi is a rail. It's nonsense.
Isabelle: I will never not see her as Carmen from The L Word. What's nice, though, is that Billie sheds a tear after she orgasms (she is always crying in this show). I loved that! Sometimes sex is so good and intimate that it cracks you open and all your insides spill out through your eyes!
Also, we got to see Brad's stupid penis earlier. Why no Majid peen?
Episode 2: 44:50: One last Brad and Billie flashback from Brad, who is still very horny, it seems!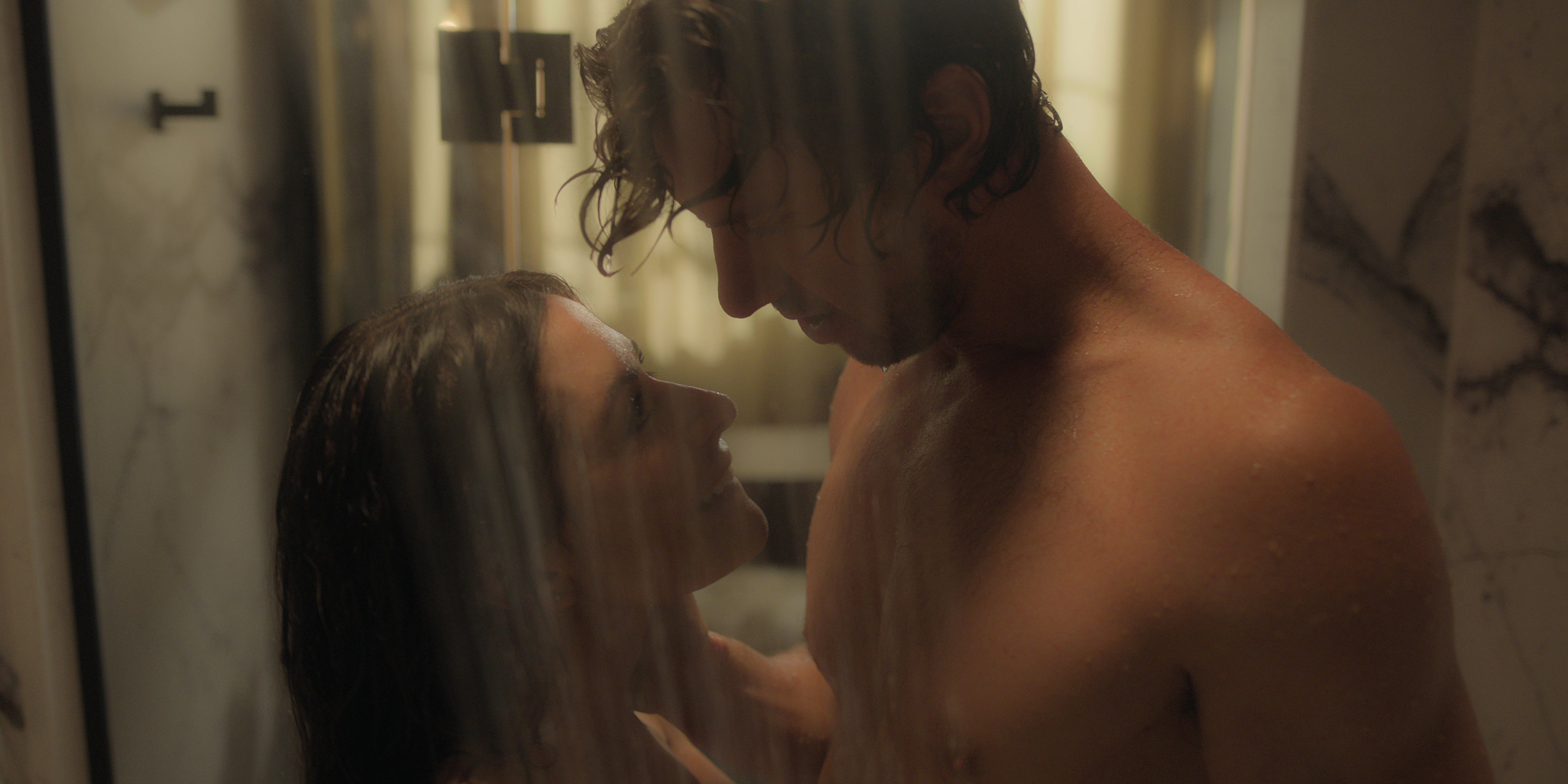 Isabelle: In this flashback, Brad gets randy for a time when he and Billie had oral sex in the shower. In his memory, she's all, Giggle giggle, is there room in your giant rich-person shower for me? She then disappears out of the bottom of the frame, and he tilts his head back in ecstasy—I know what that means!!!
This scene is pandering and pornographic in a PG-13 way, but it's believable and … advisable? A little extra water from the shower might make for a wetter BJ, everyone's cleaner in the shower, and you can both wash up afterwards. If anything, this is an efficient use of municipal water resources.
Rebecca: I'm a simp for Brad, so I liked this. I also think America's mood would be improved if we could get a little government program going to give us all bigger shower stalls. Rich people truly do have a better time!
Episode 3: 2:01: Billie and Majid have sex after making candy apples in Majid's apartment's kitchen.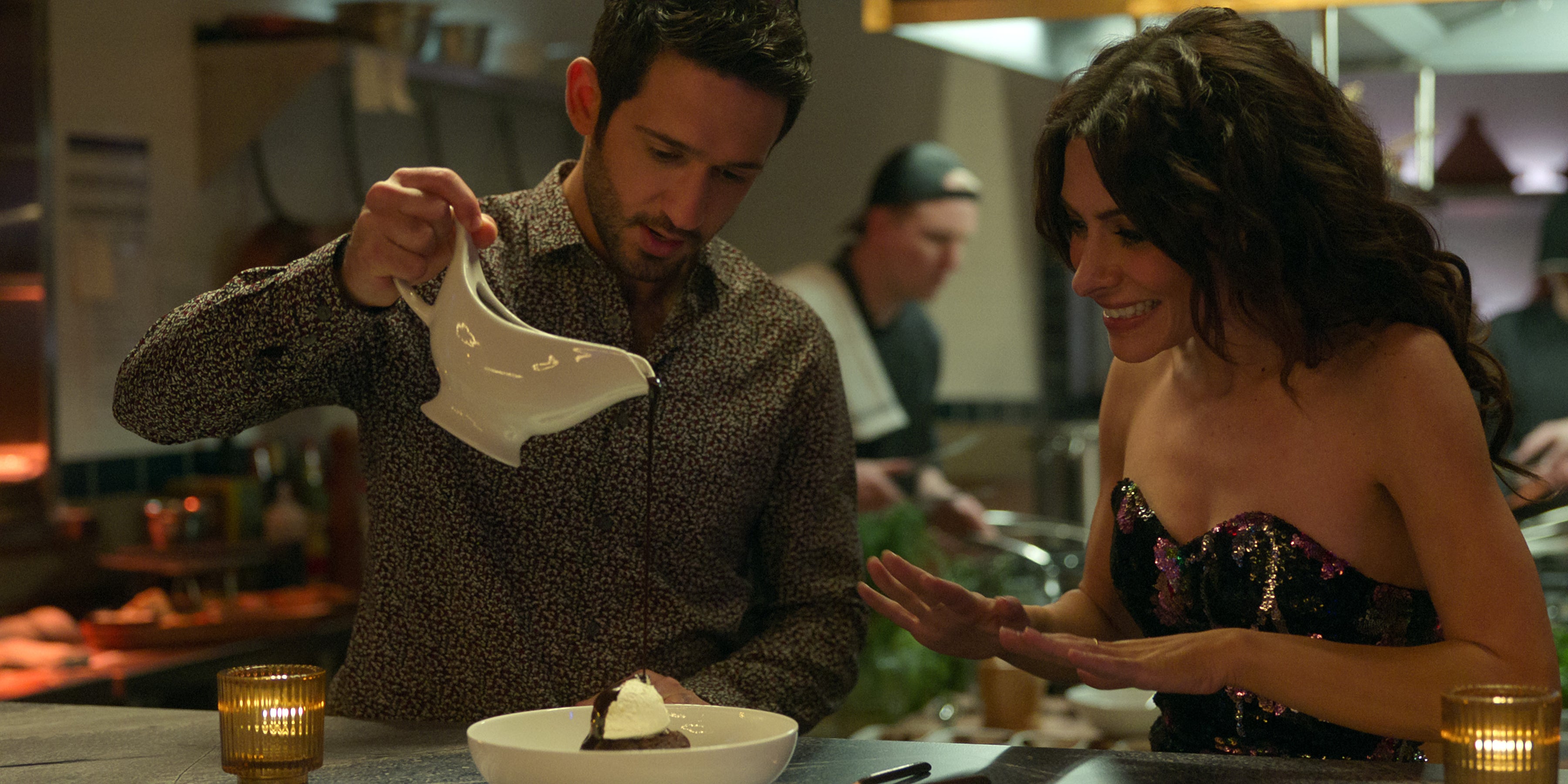 Isabelle: This show has a lot of cunnilingus in it. I guess that's good!
Rebecca: It is. I don't understand two adults in a childfree home making a batch of candy apples on a Saturday, but I like the cunnilingus parts!
Isabelle: They go on to missionary sex, but then a weird thing happens: Majid's eyes get all wide and he says, "Oh!" like he just experienced something for the first time. What was that?! They don't explain it!
Rebecca: I didn't get this either! Then when I was looking up unrelated Sex/Life facts, I saw that this was supposed to be Billie inserting a finger to provide prostate stimulation. The book this show was based on—44 Chapters About 4 Men, by BB Easton—has a heroine who does a lot more stuff like this. For this weepy, lovelorn Billie, the move seemed out of character.
Isabelle: What?! I don't get the positioning here, then—it's super hard to finger a prostate in missionary when your hand reaches over the butt, back towards the hole. You couldn't really get much of a finger in from that angle, and even if you could, it would be hard to hit the prostate like it often wants to be hit. The top of your finger (the fingernail side) would be what touches it, which isn't anywhere near as pleasurable as the much-more-dexterous bottom of your finger (the finger pad). If this confuses you, open your anatomy books to page 45.
If the show-makers were smart, they would have shown her hand reaching under his dick/ balls towards the anus—that way, she would have had much better access and control, and it would feel much better for him. Also, she doesn't use any lube? WTF, Billie?
Episode 3: 40:40: Gigi suspects Brad is thinking of Billie, and seduces him to take his mind off the past.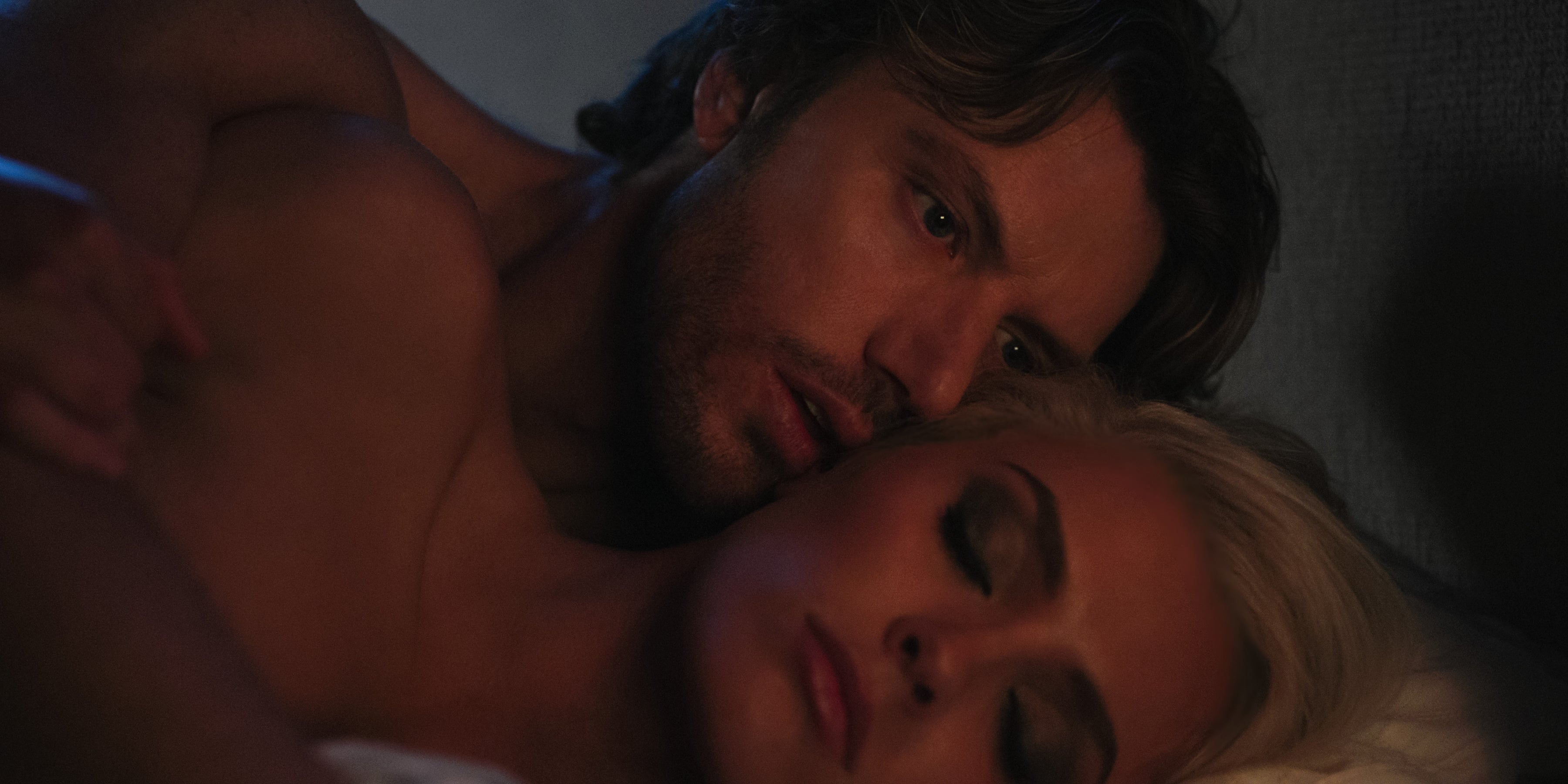 Isabelle: Gigi rides Brad in the incredibly contrived, dark blue lighting the showmakers love to use. According to Healthline—your source for all things hot 'n' bothered—cowgirl is a good position for pregnant people because it allows them to control the depth of penetration. So, not only is it lovely to see this type of sex, it's medically sound, too. Where's their Oscar?!
Rebecca: Pregnant sex! A feature of a certain kind of romance novel, and a certain kind of porn, and one not often seen on TV shows, especially not with a full-frontal nudity. Wallis Day, who plays Gigi, is rocking the fake baby bump for all it's worth. I liked this scene for that reason, and for the hand Brad reaches under the bump to give Gigi extra clitoral stimulation while she's undulating on him. This scene ends in a depressing way (Brad is still clearly not thinking of Gigi—look at his face!), but I liked how, when Gigi dismounts when they're done, she looks unwieldy, huge, and tired. Realistic!
Episode 4: 46:00: Billie and Majid go to a Ferris wheel, an entertainment popular among those who live in Manhattan, to have sex.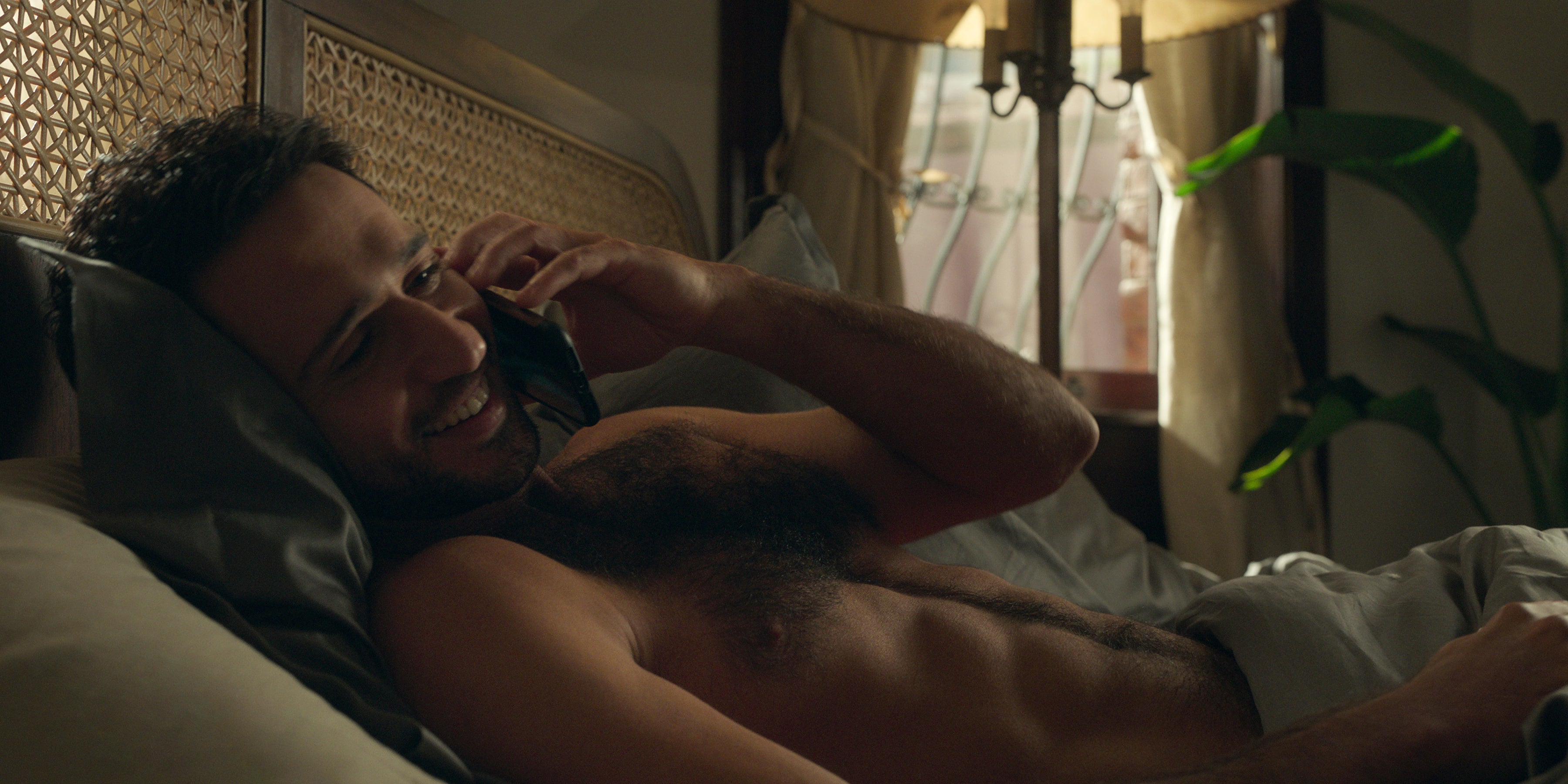 Isabelle: BOOOORING. I found this boring!
Majid, ever the good boy, asks Billie what she'd want if she could have any type of sex. I really like that question—he's so curious about her desires, and he's confident enough to fulfill them. Except, what Billie wants is more of the same sex they've already been having, only tall. That is, she wants to have sex on a Ferris wheel.
Cut to them running towards a giant Ferris wheel together in slow motion. It's kinda cute to see two giddy adults in their late 30s or early 40s so excited to fuck, but for me, the excitement ends when the bucket-list sex they have is just more P-in-V cowgirl.
Maybe I should go back to the underground BDSM lair where I belong, but I'm bored by this. Am I being an asshole?
Rebecca: The underground BDSM lair is where the Billie in Easton's book spent her teen and college years, and I think maybe I should have had you read that book instead. Also, in the book, Billie explains that she never has missionary sex because she can't orgasm in that position. That's why there is so much standing, doggy, cowgirl, etc. Now does the show get that explicit? No. Maybe you'd like it more if it did!
Isabelle: All that aside, the takeaway is that it's fucking fantastic when someone takes your desires and runs with them. And even though I literally fell asleep during Billie's big fantasy moment, I'm excited for her that she can voice her desires to a partner who's game for anything. Majid is the man.
Episode 5: 44:35: On the day Billie and Cooper's divorce is finalized, Billie invites Majid to their house in Greenwich, where they have sex. At the same time, Cooper, his asshole bro friend Dev, and two sex workers drunkenly race fancy cars along the highway, and end up getting in a crash. 
Isabelle: Finally! I have been awoken by this Michael Bay sex scene!
This one's got it all: boundary-pushing sex in the marital bed of Billie's ex-spouse. Road head. Fingerbanging. The cinematic crashing of an exorbitantly expensive car. If I didn't know better, I'd say I was watching a music video by the Weeknd!
Honestly, up until this point, the sex has been low-stakes. It's been vanilla, heterosexual, and reliant on the same three moves: cowgirl, cunnilingus, and shower sex. But now, by bringing Majid into the bed she used to share with Cooper—essentially marking her territory with her new man—Billie finally shows us some intrigue and complexity. It's almost as if she's cheating, even though she's not—she's just veering so hard into her old life with her new partner that it puts you on the edge of your seat.
Once again, I admire Majid. He's nervous in Cooper and Billie's old house, and he pauses to consider what he's doing when he sees some photos of them from a happier time. But, as a guy with a dick that just won't quit, he rises to the occasion with stunning aplomb, and he experiences exactly zero stress-related erectile difficulties despite the awkward setting. It's hot because it's wrong!
Rebecca: The awkward-hot vibes of Majid in Billie's kitchen, looking at her insane penciled-to-shit mom calendar on her fridge, realizing the degree to which she has a whole other life he doesn't know about, and diving right in anyway, are great.
Isabelle: Meanwhile, Cooper's off almost dying in car crashes with Dev and talking shit about Connecticut.
Episode 6: 18:00: Dev (Jonathan Sadowski) and Cooper meet up at the gym to play pickleball. Cooper is now sober. Dev, not so much. This is not a sex scene but it must be discussed!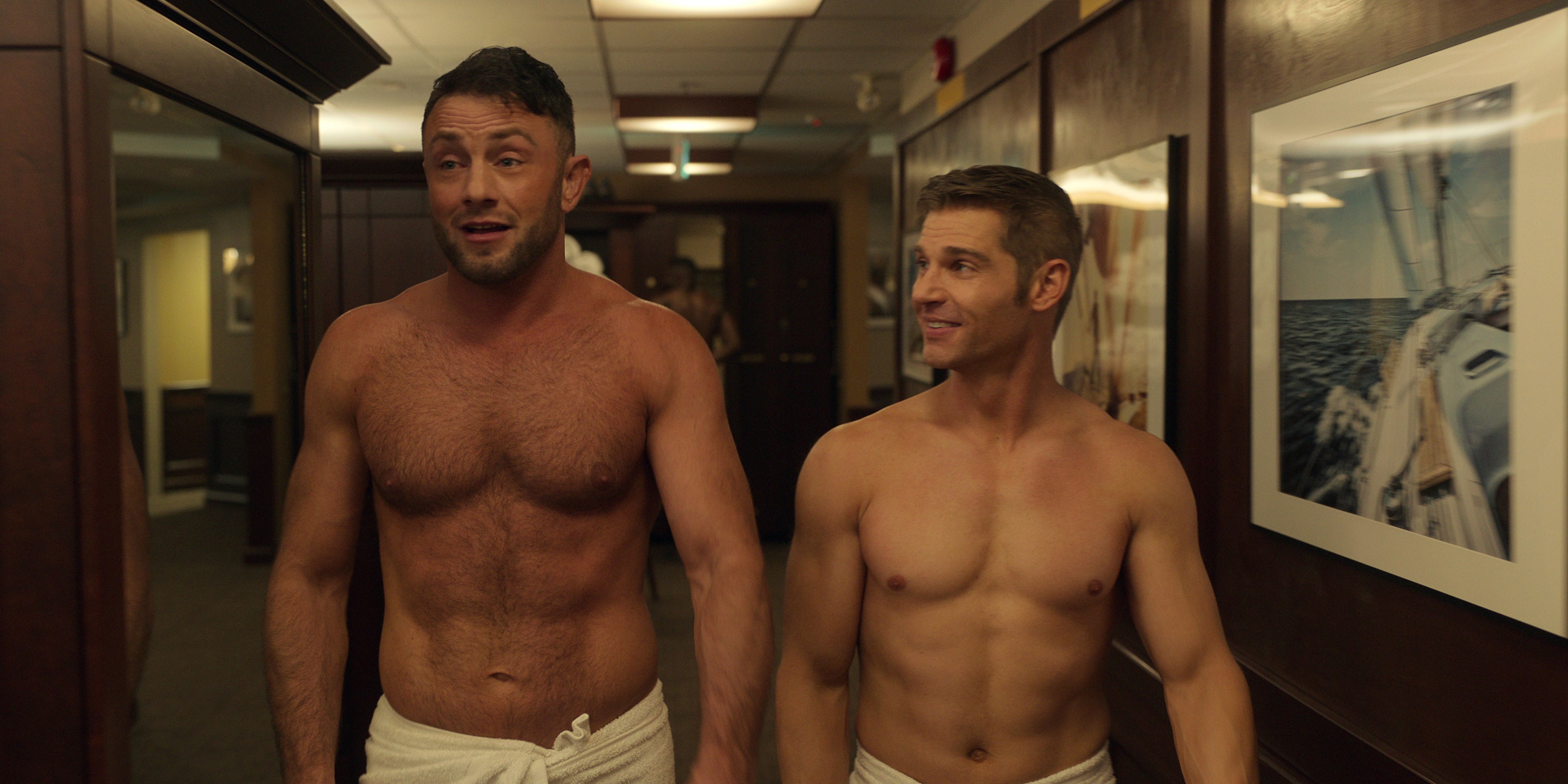 Isabelle: Unfortunately, Dev didn't die in the car accident after all, and instead had reconstructive surgery on his penis, which was bitten off during a car accident by a woman giving him road head. And you know what? He gained an inch! The surgeons cut some tendon, which "let some of his inner penis fall out." He was also outfitted with a "pump" to help his newly gigantic hog inflate even further. Thrilled, he whips out his dick—which, I gotta say: pretty nice!—and attempts to demonstrate. Soon, his toothpick turns into a Lincoln log, and we're treated to a view of his erect—if slightly wonky and mutated—dong.
But wait, there's more! It has a newly minted curve, which "chicks dig" because it's "easier to hit the G-spot."
I don't think you'll be surprised to know that this is a hilarious misrepresentation of medical science. There is a certain ligament you can cut during penis enlargement surgery that does let some of the "inner penis" fall out—this is called "suspensory ligament division"—but it only makes the penis hang lower when flaccid, and generally does not actually increase its length when erect. Also, because you're cutting a freaking tendon, the resulting penis can be unstable. Average "gains" are in the centimeter range, not inches.
As for the pump implant, that is a real thing both cis and trans men often use to help with erections. That part checks out.
Rebecca: I cheated and included this scene, despite it not being a sex scene, for three reasons. 1) Its existence shows how deeply odd this show can be, despite being very boring in many ways. 2) I wanted to know what you thought! And in that, I was rewarded. 3) There are no other sex scenes in this episode, which wraps up the whole season and—given that Brad and Billie end up not only getting married, but expecting a baby, at the end—maybe, also the show.
We usually end Sex Reviews with a judgment: How horny did consuming this cultural product leave you, on a scale of 1 to 10? For me, it's a 5, with a solid 4 of those 5 points coming from Brad's "boner pops out of the waistband" fantasy. I'll ask for a second judgment: On a scale of 1 to 10, how well does this show depict "female desire," as you know it? I'm thinking a 3, with all 3 points still coming from that breastfeeding scene from Season 1.
Isabelle: A 3 for horniness, and two of those points are for Dev's renovated penis. The other point is for the sheer fact that this show has a lot of sex in it. Even though I personally find most of it dull and formulaic, I think someone with more vanilla sensibilities would get a little flushed during the hookups, and there is a fair amount of payoff for anyone hoping the show lives up to its name.
As for "female desire," I'm gonna give a neutral 5, because desire is subjective and nebulous. This show might perfectly represent someone's desires—and there are a lot of female-pleasure-focused scenes, and there is a fair amount of female gaze—but it definitely doesn't represent everyone's. The "female desire" in this show is aggressively vanilla, cisgendered, and heterosexual, which is fine—it's just a fraction of what people crave to see.
If they're renewed for a third season, they're gonna need to make like Dev's penis and … pump it up.