RIP, Lydia Tár

10:50 a.m.: According to her official Twitter account, Lydia Tár died last night after a tragic fall down the steps of the Dolby Theater. We at Slate are shaken by this news and by the loss of a valued contributor. We hope you will enjoy her account of her final moments in tribute to her legacy.—the Editors
A Final Thought

12:00 a.m.: That's it, folks! We leave you with this thought: The Oscars are weird now. —Sam Adams
Harrison Ford Maimed With Hugs and Kisses While Presenting Best Picture

11:44 p.m.: Reunions win the night once more as Ke Huy Quan makes us all weep again by proving that he's the No. 1 fan of his Indiana Jones and the Temple of Doom co-star Harrison Ford. First, Quan gave Ford a standing ovation as the Hollywood elder walked on stage to present the award for Best Picture. Then, when Quan's film Everything Everywhere All at Once won, he ran to meet Ford onstage, embracing him tightly and kissing him on the cheek repeatedly. If there is an award for most heartwarming person alive, Ke Huy Quan definitely won it tonight. The full winners are here. —Nadira Goffe
Lydia Gets Lucky?
11:35 p.m.: I have settled down to have a drink at HomeState. I was hoping to end up some place with a little more je nais se quois, but I've been lightheaded for the past hour following a mild tumble down the stairs at the Dolby Theater. Now, I am content to spend the final act of the evening with a stiff cocktail and the hopes of something on the menu that can be consumed with silverware. I think that young musician Phoebe Bridgers may be seated nearby. Perhaps we will strike up conversation.
I did manage to find a seat in time to watch Michelle Yeoh take Best Actress. Now is probably the time to address the elephant in the room—was I expecting a Blanchett win? Did I hope for one? I have nothing but admiration for Michelle, a master of her craft, and am elated that she has finally been recognized. As for Cate? … Oh my, I am feeling quite dizzy now. —Lydia Tár
RRR? OK.

11:16 p.m.: Despite my own reservations with RRR and the awards-show fervor it's sparked, I must say I'm pretty stoked about the Best Original Song win for "Naatu, Naatu." It's rare that Indian songwriting gets recognized on such a vast stage—especially songs written in non-Hindi languages like Telugu—and one couldn't help but be charmed by composer M.M. Keeravani's Carpenters reference in his acceptance speech. I may not be too fond of RRR, but if this moment gets more Americans into South Indian kuthu, I wouldn't be mad about that. (At any rate, I prefer this Oscar win over "Jai Ho.") —Nitish Pahwa
Lydia Moves On

11:05 p.m.: I feel as though I may be enacting a scene directly from my old friend Marty's After Hours, in search of any open establishment unoffensive to the senses where I might hang up my hat. Any attempts to rectify this frankly outrageous decision to suddenly bar me from the Awards have failed. I am not one to beg, so put any imaginations of my doing so aside, but this entire debacle has annoyed me beyond belief.

Oh, yes, and of course I must fulfill my blogging obligations of providing firsthand correspondence of this glamorous affair. That young man who played Elvis Presley appears very happy to be here, Michelle Yeoh looks beautiful, and I had a brief conversation with Pedro Pascal, who seems very nice. I am off to find a more welcoming environment from which to watch the ceremony. —Lydia Tár
Jimmy Kimmel's One Good Joke

10:46 p.m.: Kimmel has been surprisingly fine all night, not even making one joke about how no one's seen most of the movies or whether anyone wants to see a movie called Women Talking. (He did get busted by Colin Farrell for recycling a gag from last night's SNL about how no one can understand the dialogue in The Banshees of Inisherin.) But he hit his one real dinger when he popped out between awards to say this. "Everybody at home, please get out your phones, it's time to vote." Was this a reprise of last year's cataclysmic "cheer moment" poll? Nope! "If you think Robert Blake should be included in the In Memoriam montage, text …" The joke trailed off after that, but just bringing up the recently deceased actor and accused murderer was enough to prompt a shocked laugh on my couch. Well done, James. —Sam Adams
Let Lydia In!

10:32 p.m.: I have spent a period of time determining alternative routes into the Dolby Theater. Surely, it would not be an issue should I sit away from the stage? I needn't be on camera, even! At every turn, I have been met by some rejected bouncer in a rented tux, reminding me not-so-gently that my presence is not permitted. My apologies, I completely forgot the film was titled CÁTE.

I listened to Lady Gaga's performance from my phone. Stefani and I have been friends for many years, famously culminating in our one-night engagement at the Hollywood Bowl. She's a marvelous performer. —Lydia Tár
Hot Dog Fingers!

10:07 p.m.: Look, is "This Is a Life" a great song? No. Is Stephanie Hsu a better singer than Mitski? No. Did we miss seeing contemporary dancers prancing all over the Oscars stage? Also no. But did our entire Oscar party burst into a cheer when David Byrne revealed his hot dog fingers during the performance of the nominated song from Everything Everywhere All at Once? Absolutely. Enjoy this weird musical performance, perfect for a perfectly weird Oscars year. —Dan Kois
All Quiet on the Go Eff Yourself

9:54 p.m.: We've got an hour to go, but the Oscars already have their worst winner of the night: All Quiet on the Western Front. It's hard to explain the academy's across-the-board fondness for this movie, already a winner in international film and cinematography, as anything but a rear-guard action against forward progress. The scrambled adaptation is unremarkable in nearly every way—except for its grating three-note score, which is actively annoying—monotonous and lumbering towards toward the grimly simplistic conclusion that war is hell but it's nobody's fault. One doesn't often get to say this about World War I, but at least as far as this movie is concerned, the Germans are right. —Sam Adams
The Cringe Wins Begin

9:51 p.m.: Remarks of mild outrage and surprise erupted at my watch party when Darren Aronofsky's The Whale—in which Brendan Fraser donned prosthetics to appear as a 600-pound man—took home the award for Best Makeup and Hairstyling. (Elvis had been favored.) Adrien Morot, who did the makeup, was lauded for making a movie that was entirely composed of all-digital prosthetics, in which computer scans and 3-D printers were used to make the prosthetics for Brendan Fraser. The movie, however, has been widely denounced as "cruel spectacle" for its treatment of the lead character, a nasty, leering portrait of a man on the brink. The Academy essentially awarded a movie that makes a grotesquerie of a fat man's body for how well it made a grotesquerie of a fat man's body.

All of this while Everything Everywhere All At Once fed makeup influencers ideas for months but was snubbed altogether? Blegh. —Nadira Goffe
We Interrupt These Ads to Bring You the Oscars

9:34 p.m. The Oscars' inexplicable airing of the entire Little Mermaid trailer, introduced by two of its cast members onstage, now seems slightly more explicable! Just half an hour later, the Oscars aired a Warner Bros. infomercial in the form of a celebration of the studio's 100th anniversary. Did the Oscars, in a sop to the companies that each year see fewer and fewer results for their awards investments, give each studio three minutes to do whatever they want with? Can't wait to see Universal's starry tribute to The Hunchback of Notre Dame (1923 version)! —Dan Kois
The Fashion Story of This Awards Season Reaches Its Exciting Conclusion

9:30 p.m.: Longtime awards-watchers have spent the season watching, above all, for one thing: Would Tár writer-director and onetime Big League Chew inventor Todd Field wear one of his signature hats?

At the Directors Guild of America awards on Feb. 18, he wore this black Stetson: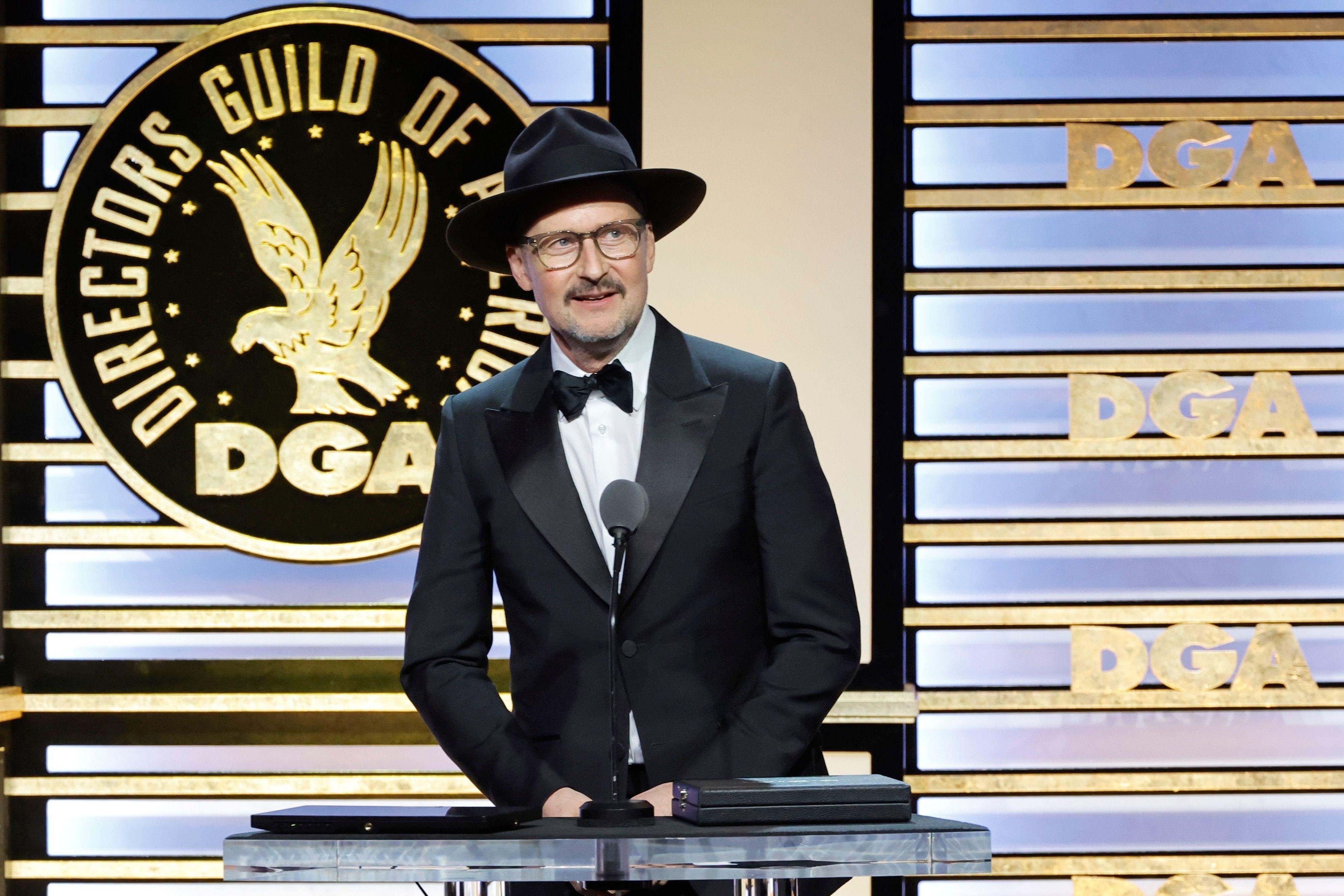 At the Independent Spirit Awards on March 4, he dressed down in this vintage baseball cap, which close followers will know he's been wearing for about a decade now: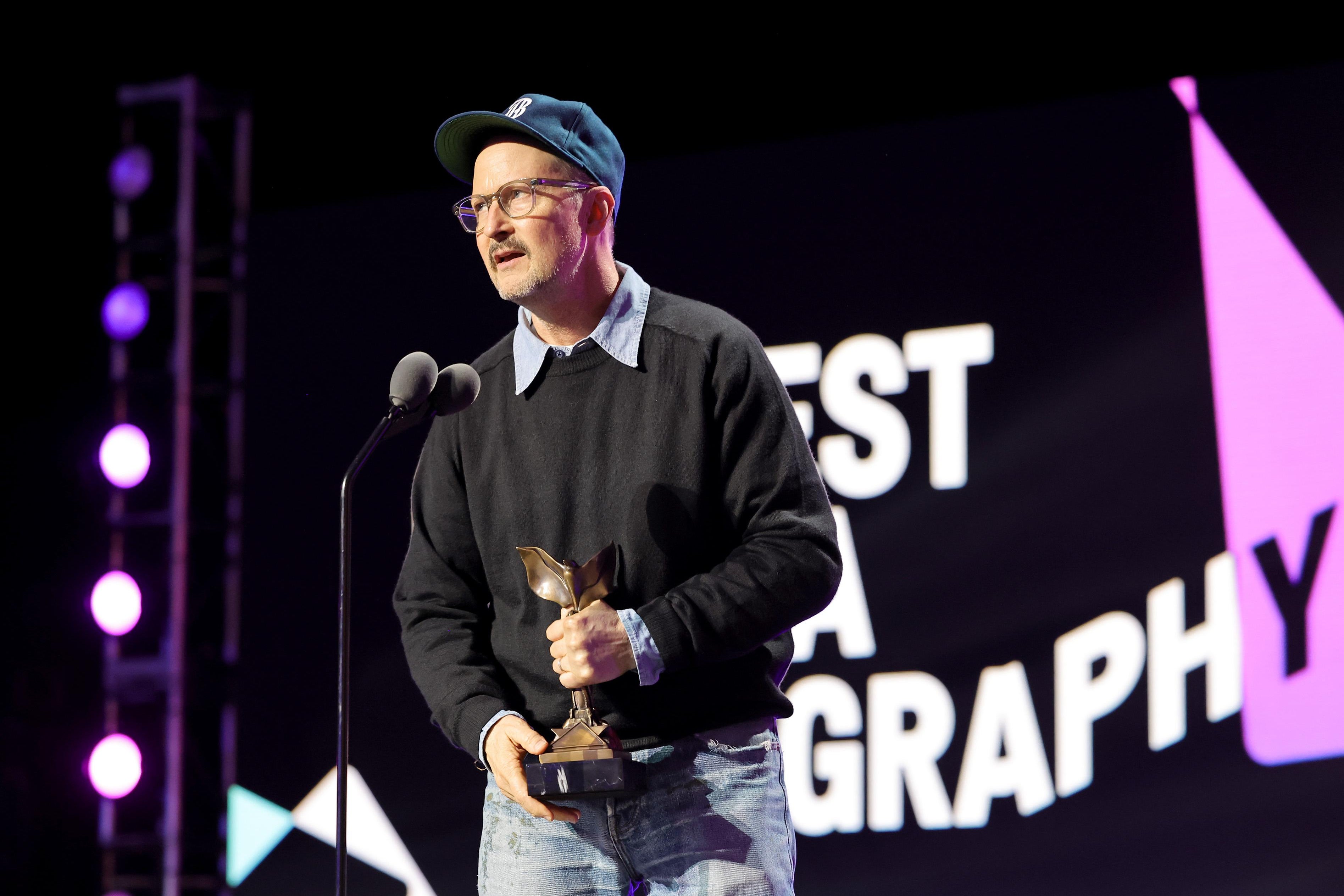 Other times, such as at the Berlin International Film Festival, he wore this tan-and-black cap, looking prepared to leave the red carpet to raid some lost arks: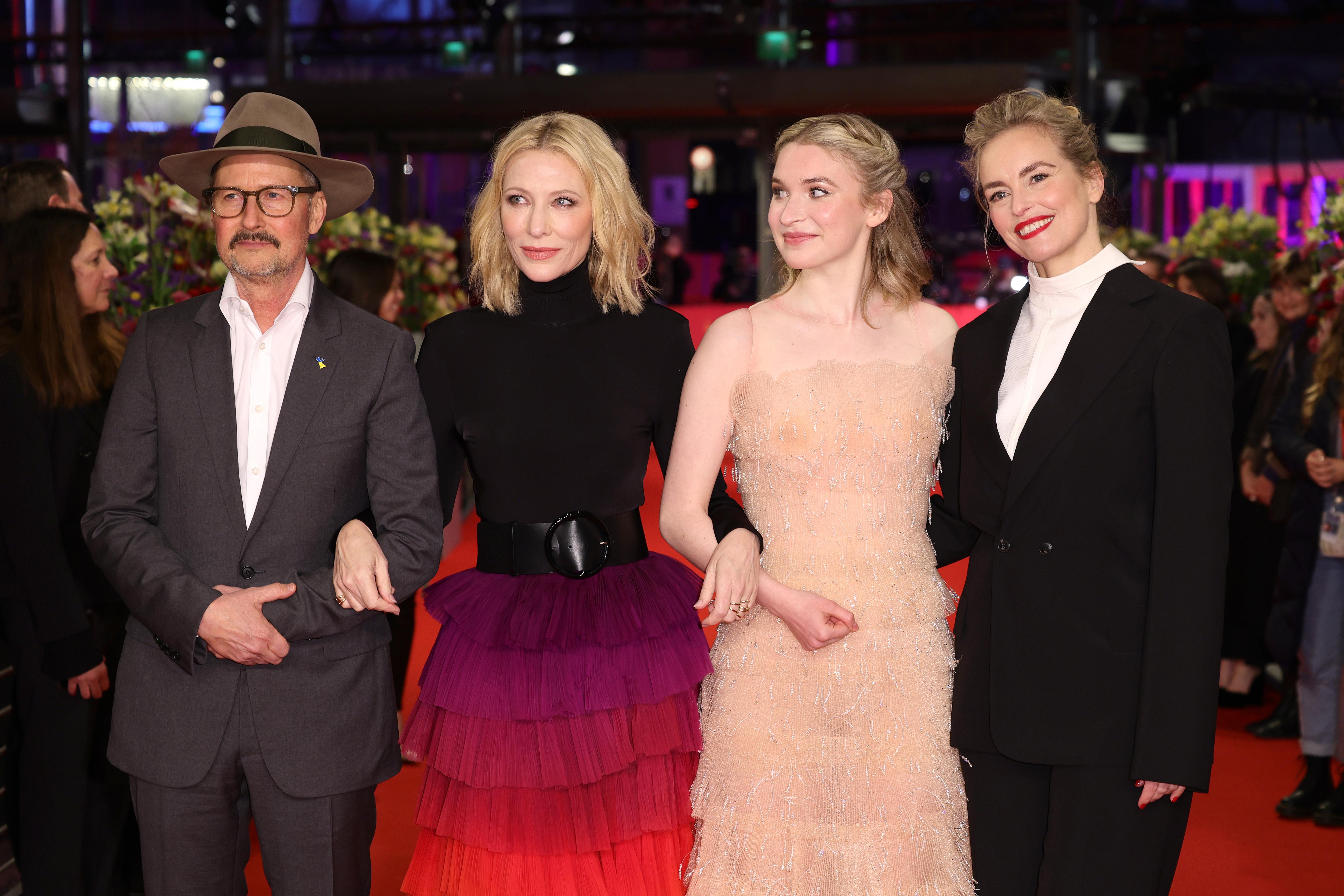 And at last week's Writers Guild Awards, he wore this black Western number, looking ready to carry at least a few gallons: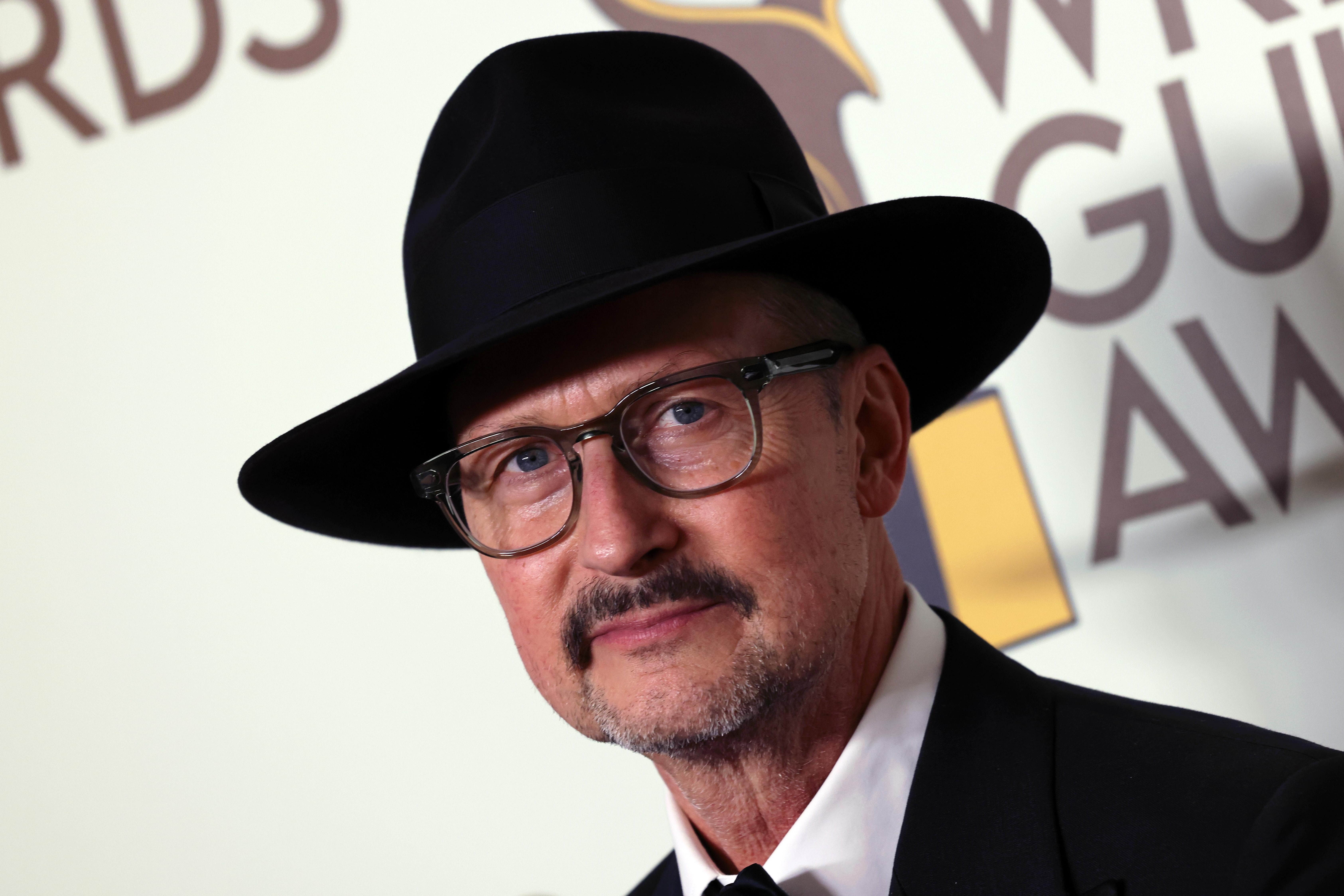 Finally, tonight, Todd Field brought this narrative to its own exciting conclusion—or was it all a dream? —Forrest Wickman
OK, Get Ready to Cry

9:01 p.m.: "Awww" count for this Best Supporting Actor win at my watch party: 3. Have Kleenex on standby.
Lydia Bárred
8:55 p.m.: Perhaps if you are currently in the midst of watching the broadcast, you may be disappointed to have observed my absence. Believe me, I am as equally perturbed! I was approached upon my arrival by two buffoons claiming to be part of an "Oscars Crisis Team"—the first I'm hearing of it!—declaring that my invite had been revoked out of "an abundance of caution" to "avoid a repeat of last year." A footnote: I did not watch the Academy Awards last year in favor of a prior engagement studying the musical potential of fungi in the woods of British Columbia. Evidently, I should've already been made aware of this decision through my assistant … who remains nowhere to be found.
I did speak briefly to some members of the press, but our conversations were cut short as I could not continue answering questions about being "the internet's mommy."
It is still unclear to me why I have not yet been allowed into the Dolby Theater. I was originally slated to conduct the performance of Diane Warren's "Applause." I do not believe that they would start the performance without me. —Lydia Tár
And the Most Disturbing Oscar Party Food Goes to …

8:50 p.m.: Behold, two truly disgusting themed food items at our suburban Oscars party! Colm's finger cookies (The Banshees of Inisherin) and a toilet full of bean dip (Triangle of Sadness). —Dan Kois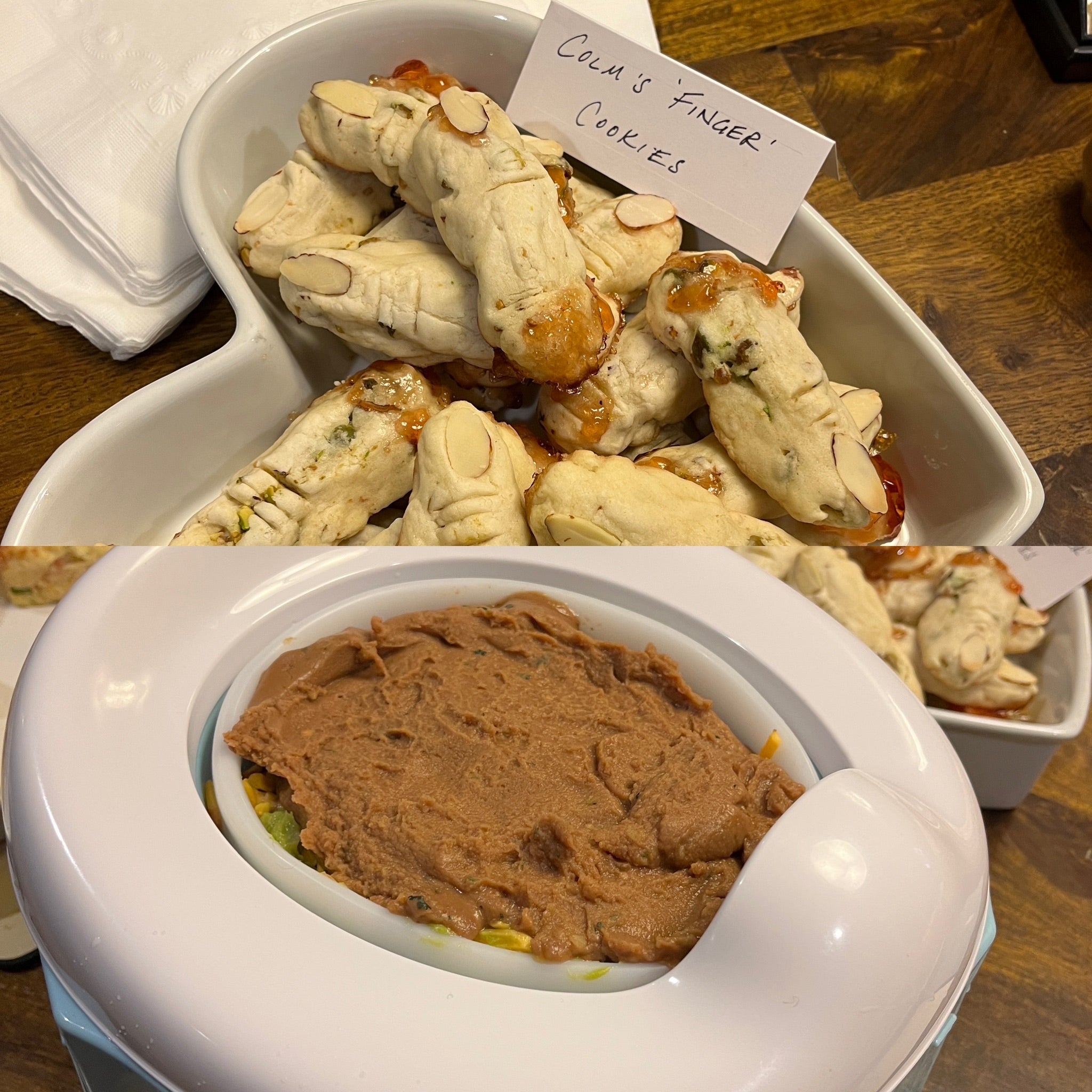 Hey Jimmy Kimmel: Leave Pauly Shore Alone!

8:26 p.m.: In his opening monologue, Jimmy Kimmel noticed something Slate pointed out last week: Best Actor nominee Brendan Fraser (for The Whale) and Best Supporting Actor nominee Ke Huy Quan (for Everything Everywhere All at Once) acted together more 30 years ago:
Two actors from Encino Man are nominated for Oscars. What an incredible night this must be for the two of you, and what a difficult night for Pauly Shore. Maybe it's time to reboot Bio-Dome.
If he had read my interview with Shore, though, he would know the opposite is true: Pauly is hella stoked!
Rude, Jimmy. Read my interview with Shore here. —Seth Maxon
Austin Butler Accent Update

8:13p.m.: We finally have the answer to this question on everyone's mind: Is Austin Butler—the Oscar-nominated star of Elvis—still talking like Elvis? Despite all of the drama surrounding his accent and the subsequent claims that he will be attempting to ditch it? Despite finishing filming on the upcoming Dune 2, in which, I'm sure, he will not be talking like Elvis? The answer is, well, kinda! During his red-carpet interviews, we deduced that he's still got a little of The King's lilt, but is not quite willing to commit to the Full Presley. Austin Butler is definitely on his way to finding himself again—much to my disappointment. #ElvisVoice4Ever. —Nadira Goffe
Lydia Tár Approaches

7:50 p.m.: As I near the Dolby Theater. I heard Mr. Hugh Grant didn't give his best interview. That's fine. I'm sure there's a reason he was asked to be one of the few presenters. I'll be watching from the back row!

I am moments from walking the "champagne carpet"—a stroke of genius for the Academy to gauchely go where no high-profile occasion has gone before. Preparation for the night's glamour brought dismay. I had hired a new assistant days ago in anticipation of this very evening, and now she is nowhere to be found. I believe the colloquial term for this slight would be getting "ghosted." I will not worry myself with ghosts this evening, however, and am looking forward to premiering a new custom-fitted Brandstetter suit for the occasion.

And yes, I did catch a glimpse of Ms. Blanchett. I think she made an interesting decision wearing a dress this evening after wearing an array of suits for many of her appearances surrounding the film. I suppose there is no need to pretend that she is the Maestro anymore. On to the next role. —Lydia Tár
A Dispatch from Lydia Tár

7:15 p.m.: The Academy Awards take place this evening, and frankly, I have found the entire affair of the past year exhausting. I am appreciative, of course, of the embarrassment of recognition that I have received following a particularly challenging and frustrating period of my career. Conversely, this is not my "first rodeo," as is often said. I have no shortage of Academy Awards, let alone the numerous, much more profound achievements I've received by my own merit. I will spend one last evening smiling and waving as is expected of me to be a good sport about the film and its representation of me as a character. On a related note, thank you to Slate for having me this evening. —Lydia Tár
Announcing: The Order of Categories

6:44 p.m.: The order in which awards will be given out has been announced. It is:
Actress in a Supporting Role

Animated Feature Film

Costume Design

Cinematography

Actor in a Supporting Role

Documentary

Short Film Documentary

Documentary Feature Film

Production Design

Sound

International Feature Film

Makeup and Hairstyling

Visual Effects

Live Action Short Film

Animated Short Film

Original Screenplay

Adapted Screenplay

Original Score

Original Song

Film Editing

Directing

Actor in a Leading Role

Actress in a Leading Role

Best Picture
Update, 8:10 p.m.: Welp, they changed it last minute. What happened there?
It's Hollywood's Biggest Night!

6: 30 p.m.: The 95th Academy Awards kick off at 8 p.m. Eastern Daylight Time (you did adjust your clocks this morning, right?) and Slate's Culture staff will be weighing on the broadcast all night: the triumphs, the outrages, the Will Smith jokes, the Rihanna—all of it. Will Everything Everywhere All at Once run the table? Will Lydia Tár crash the party? Will Austin Butler ever drop his Elvis accent? Stick around and find out.