In the 22 years since the publication of her first story collection, Stranger Things Happen, Kelly Link's fiction has crept from the status of cult favorite to something approaching the mainstream—or, rather, the mainstream has crept toward her. Link has never written a novel, only short stories (although a novel has been promised for next year), and her first two books were published by the small press she operates with her husband, Gavin Grant. Furthermore, she writes in genres once regarded as peripheral: fantasy and (occasionally) science fiction. None of this has been considered conducive to literary fame, but times have changed. Novelists ranging from Michael Chabon (a big Link fan) to Kate Atkinson have dissolved many of the boundaries between genre fiction and the mainstream. Eventually, Random House snatched Link up, she collected fistfuls of science fiction and fantasy awards, 2016's Get in Trouble was a finalist for the Pulitzer Prize, and finally, in 2018, Link won a MacArthur "Genius" grant. Consider her glorious new collection, White Cat, Black Dog, the perfect opportunity to get to know one of America's most inventive, evocative writers.
By Kelly Link. Random House.
Slate receives a commission when you purchase items using the links on this page. Thank you for your support.
Each story in White Cat, Black Dog is explicitly linked to a specific fairy tale. Link's affinity for fairy tales is partly thematic—her work is full of such magical motifs as talking animals and bizarre quests—but also stylistic. She does not explain herself. She writes about impossible things with serene, declarative sentences that brook no argument. In "The White Cat's Divorce," a young man stumbles upon a pot farm in Colorado operated by cats. When he tells the cat in charge that his wealthy father has sent him out into the world in search of "the most obedient and amiable dog a man has ever possessed," she hands him a macadamia nut within which he can hear faint barking. She tells him to crack it open when he arrives at his father's, but also, on his trip back, to "make sure you have not packed any edibles or weed, because although marijuana is legal in the state of Colorado, we've heard from our customers that they sometimes encounter difficulties getting through airport security."
Link's fiction can be funny, but it never strains to be. At its core is the tranquil authority of time-polished lore. The brevity of the short story suits her because she is a master of leaving things out, of the shiver induced by the unsaid. In her earlier collections, the stories shared many of the customary themes of fairy tales: parent-child friction, coming of age, the search for love and riches—the concerns of youth. The tales of White Cat, Black Dog, on the other hand, are haunted by the preoccupations of middle age, with loss and death.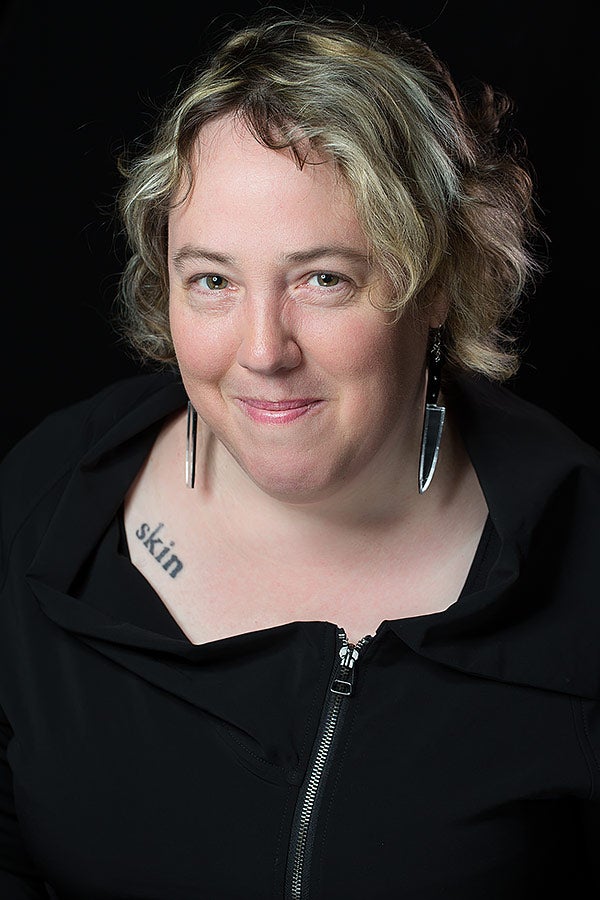 The father in "The White Cat's Divorce" (based on Madame d'Aulnoy's "The White Cat") is not a king but a billionaire, who lavishes his fortune on cosmetic surgery, hair transplants, blood transfusions, and a succession of ever-younger wives. He sends his sons off on peculiar missions not to make them better men but to get them out of the house because they remind him of his own mortality. In "The White Road" (inspired, very loosely, by "The Musicians of Bremen"), a troupe of actors tours a postapocalyptic America—shades of Station Eleven—but the plague that has wiped out most of the population isn't a virus. Instead, it's a road barely visible in the daytime but traveled by night by creatures who resemble the dead and can be repelled only by the presence of a corpse.
At least two of the stories concern the classic fairy-tale theme of the faithful lover who wrests a beloved from the clutches of sinister beings. In "The Lady and the Fox" (based on the Scottish ballad "Tam Lin"), a young woman falls in love with a ghost in a gorgeous frock coat (well, technically a justaucorps) and rescues him from the imperious queen of the fairies. In "Prince Hat Underground," the lovers are two men in their 50s who have lived together for decades, ever since the night the charming, mysterious Prince Hat walked out of a restaurant where he was dining with his fiancée to follow Gary into his normal New York City life. Unfortunately, Prince Hat's ex, Agnes, turns out to be the queen of hell, and eventually she takes her groom back. Gary, on the advice of a couple of rats in Union Square Park, goes in search of his lost love.
This old fairy tale ("East of the Sun, West of the Moon," rewritten by Hans Christian Andersen as "The Snow Queen") is one that Link has riffed on before. In the originals, the lovers are always young. As Gary embarks on a strange journey aided by inhuman helpers, he thinks, "Late in middle age, one does not expect to find oneself in a fairy tale." When he finally locates Agnes in hell (it looks like the suburbs), she's living in a ranch-style house doing Jazzercise and keeping Prince Hat in an enchanted sleep on a blood-filled water bed. Gary's is an ambivalent quest, because he's asking Prince Hat to give up immortality for a short life in a fading body, and afterward Gary will have debts to pay off in the underworld.
Sometimes the connection between a story and the fairy tale that inspired it feels tenuous, but the result is much better than the original. In "The Girl Who Did Not Know Fear" (inspired by "The Boy Who Did Not Know Fear," one of the stupider tales collected by the Grimm brothers), the titular girl appears only in a story another woman tells the narrator on a plane. The narrator—who fears nothing so much as herself—is an academic stuck in an airport hotel in Detroit while her flight home is delayed again and again. She spends the nights trying to lull herself to sleep by swimming in the "cool, green, and empty" pool in the hotel's eerily deserted atrium, a netherworld that seems a better home for her than Connecticut. She thinks about her wife and daughter, who both resemble her, and an "appointment on my calendar that could not be postponed." She has some kind of "condition" that "flares up" and that she worries her daughter has inherited. The truth about her condition slowly dawns on the reader as the narrator finally boards her plane. The story describes the advent of violence rather than violence itself, and this gives it a sleepy, atmospheric menace.
The best story in the collection comes last. "Skinder's Veil" begins as the tale of Alan, a grad student who takes over a housesitting gig from a friend. Two things bother Alan about the house in the Vermont backwoods: There are a lot of trees, and his friend's instructions are weird. She tells him to admit any guest who knocks at the back door and to refuse anyone who comes to the front—because only Skinder, the house's owner, ever knocks at the front, and under no circumstances should Skinder be allowed into his own home. During Alan's stay, guests admitted through the back door include a bear, a wild turkey, and two nearly identical sisters, one of whom sleeps with Alan and gives him psychedelic mushrooms. Alan produces a surprising amount of his dissertation for someone who is dealing with these unusual houseguests, especially because he can't remember actually writing anything.
Of course, Skinder does eventually show up at the front door. As readers, we understand and expect, as soon as we hear about the prohibition, that he will, and that Alan will let him in, if only so we can find out the consequences of doing so. But Alan, whose phobia about venturing into the thick forest alludes to his roommate's observation that he has "no inner life at all," is not one to break the rules. Besides, Skinder's appearance proves unsettling. Only at the very end of the story is the significance of Alan's obedience revealed.
Once, before fairies were neutered into tiny winged princesses by sentimental Victorians and the Disney corporation, they came in many forms, a few of them ugly and frightening. Some folklorists believe that these traditional fairies—who liked to whisk people away to other, often subterranean worlds—were in fact representations of the dead. The stories in White Cat, Black Dog are tales about this kind of fairy, the ghosts of our past and of our future—a reminder, like the billionaire's sons, of the limits on our time in the sun. Their melancholy is potent, but that only makes them more beautiful.