Most award-nominee appearances made in the lead-up to the Oscars are run-of-the-mill, but some years we are graced with one or two charming celebrities who manage to be off the cuff when the stakes are high. This year, that spot is undoubtedly taken by Jamie Lee Curtis, who is nominated in the Best Supporting Actress category for her performance as IRS inspector Deirdre Beaubeirdra in Everything Everywhere All at Once.
Ever since the release of Everything Everywhere, Curtis has been absolutely (and wonderfully) unhinged in her public appearances and Instagram posts—and thank goodness! Someone needs to be interesting! Someone needs to say the things people need to hear, defend others in the industry with inappropriate vigor, kiss their co-stars on the mouth without realizing they're doing it, and still take the time to talk about menopause! Let's take a look back at some of Curtis' best moments so far this awards season to give us an idea of what we can hope for on Sunday night.
Jamie Lee vs. Marvel
Curtis' tiff with Marvel Studios started when she went on The Talk in April of last year to promote Everything Everywhere. In an attempt to celebrate the film's rare success in making a heartfelt sci-fi film set in a multiverse, she claimed: "Marvel movies just feel very, sort of, dead to me." Though this comment caught some flak, it went mostly ignored. That is, until Curtis juxtaposed the film posters for Everything Everywhere and Doctor Strange and the Multiverse of Madness in an Instagram post in May. In the caption, she called Doctor Strange's poster a "copycat poster," and claimed that Everything Everywhere "out marvels any Marvel movie they put out there."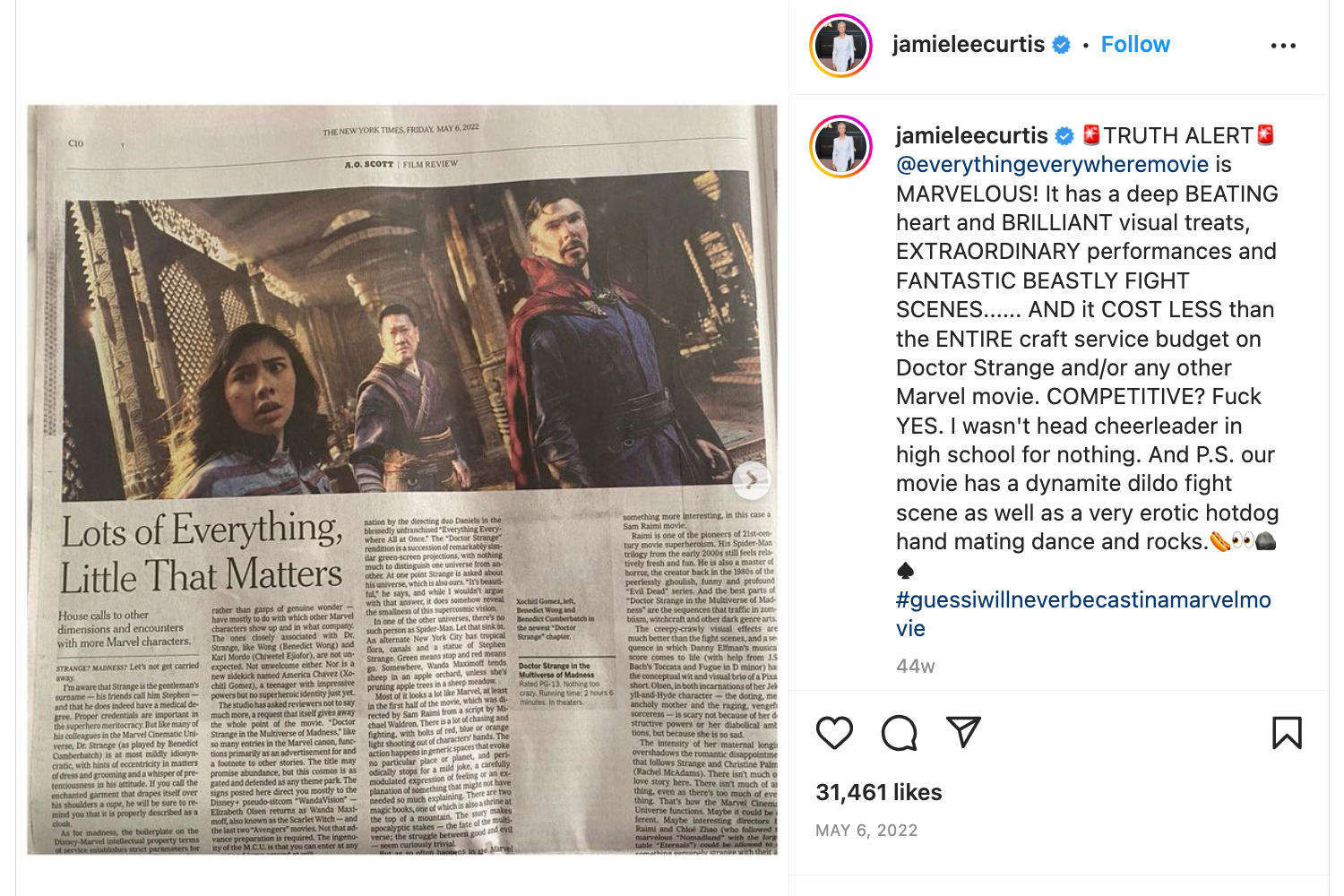 In a subsequent post that began with the warning "TRUTH ALERT," Curtis shared a picture of a print-edition New York Times review of Doctor Strange—headline: "Lots of Everything, Little That Matters"—and continued to throw shade on the Marvel film, claiming that making Everything Everywhere "cost less than the entire craft service budget on Doctor Strange and/or any other Marvel movie." She also addressed the response to her posts, stating "COMPETITIVE? Fuck YES."
However, Curtis later squashed any idea of actual bad blood between herself and the mega-powerful Marvel Studios. In a July 2022 interview with People, Curtis explained that she was trying to champion the story of "a little movie that could," and had "nothing against Marvel as an entity." She copped to trying to start a little "friendly competition." She admitted that she would love to work with Marvel, at the end of the day, but highly doubted that they'd give her a ring, explaining "I would find it hard to imagine that Marvel's going to figure out something to do with a 64-year-old woman."
Opening Up About "Trao-ma"
During press appearances for the film Halloween Ends, which premiered in October 2022 and included her final appearance in the franchise that helped catapult her career to stardom, Curtis kept stressing one of the film's underlying themes: trauma. After her consistent messaging on the topic was compiled into a supercut and turned into a viral meme, Curtis cheekily commented that she saw the meme and thought it was funny, but added: "The movie also made a fucking fortune. So fuck you."
Crying With Colin Farrell
Curtis and The Banshees of Inisherin star Colin Farrell were paired together in December 2022 for a discussion as a part of Variety's annual Actors on Actors series. They had an extremely charming conversation about sobriety, home, and the significance behind their latest projects. However, taken out of context, certain moments of the interview—like one where Curtis immediately starts tearing up when Farrell plays some Irish instrumental music—struck audiences as either deeply sincere and heartfelt, or unintentionally comedic.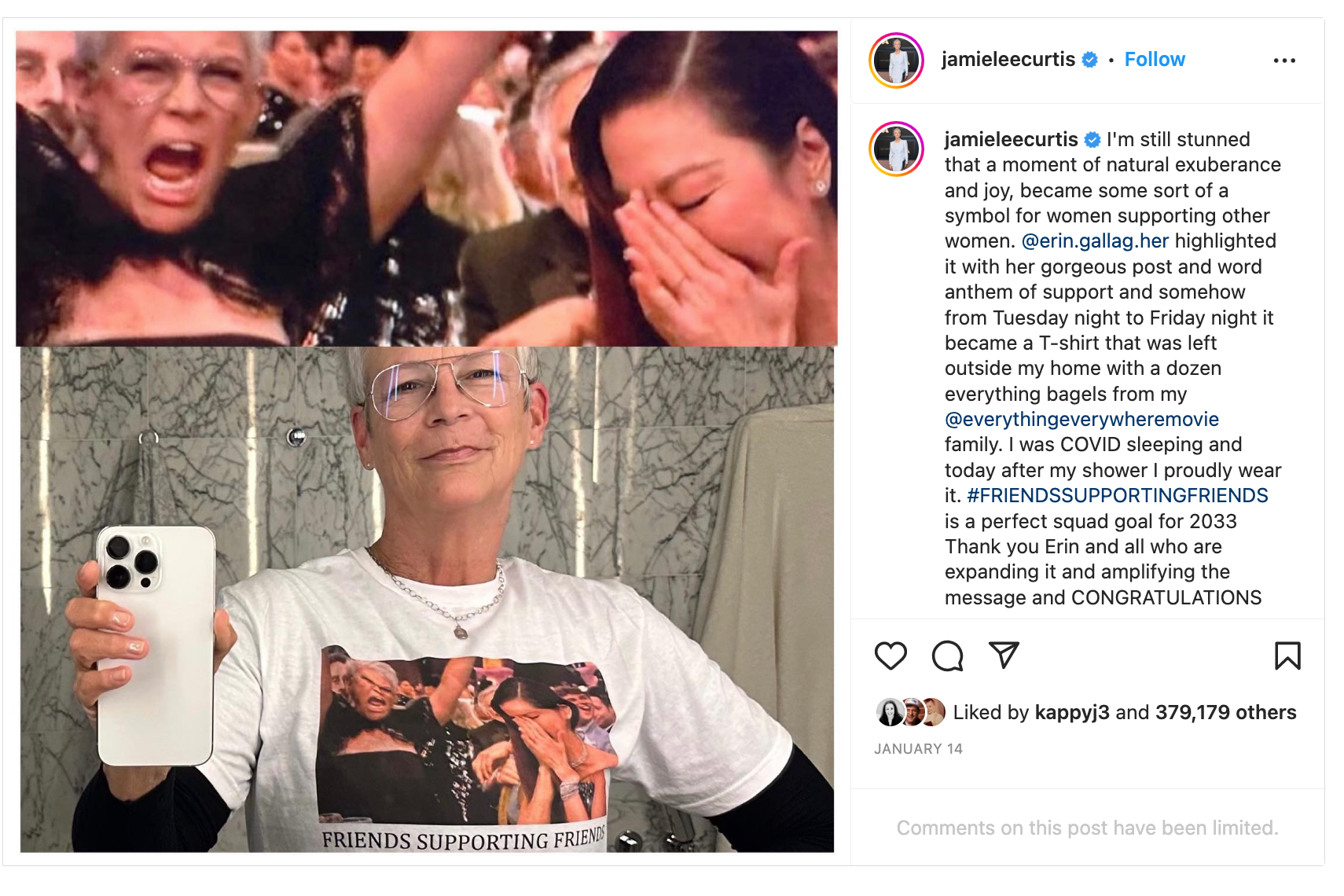 The T-Shirt
When Curtis' Everything Everywhere co-star Michelle Yeoh won the Golden Globe for Best Actress in January, Curtis gave the most memeable reaction, resulting in a photo of her yelling in joy behind Yeoh's surprised face going viral. Curtis then sported a fashionable T-shirt with the meme displayed on the front with the caption "Friends Supporting Friends," took a pic, and put it on Instagram. She wore the shirt in support of her cast as she was recovering from COVID, which caused her to miss a few industry events, including the BAFTA Tea Party and the Critics' Choice Awards—thereby depriving us of countless priceless Jamie Lee moments. Curtis' co-stars also wore the shirt as a way of honoring her absence from the red carpet and events.
What Posse? 
In an Instagram post reflecting upon receiving a career achievement honor from AARP, also in January, Curtis appears to have coined the phrases "menopause majority" and "prostate posse." Enough said.
Wine Breath
Curtis gave a particularly hilarious on-carpet interview at the British Academy of Film and Television Arts awards in February, in which she stated that she "hates parties" because they are "nothing but high voices and wine breath." She then went on to imitate the tone of voice we've all heard at parties full of sycophants, and to complain about the surprisingly cheap wine offered at these fancy Hollywood events.
Dropping F-Bombs and Kissing Co-Stars
The Screen Actors Guild Awards in February is when Curtis' awards wildness really hit a peak, starting with this hilarious moment when Curtis, rather aggressively, supported actress Ariana DeBose's viral BAFTAs rap (a performance that included the phrase "Angela Bassett did the thing," and was meme'd to death, not in a kind way). Curtis defended DeBose against critics by saying, "I'm unclear as to what the fuck people are on about." Then she listed adjectives she'd apply to the rap, including "sisterly" and "spicy." She ended her supportive DeBose rant with: "She is a fantastic talent. These people should shut the fuck up. Back the fuck off and let this woman just shine her light because she is fantastic."
Also on the SAG red carpet, Curtis met Haley Lu Richardson, of HBO's megahit anthology series White Lotus, who said that she'd love to see Curtis on the show for Season 3. When a journalist asked if Curtis would want that, she responded, "Yes. I don't even know what it is, but I will do it." She followed that statement up with a skeptical, "Where does it shoot?" (Which is funny, considering the setting of the show is not only famous for its luxuriousness, but also is integral to each season.)
Curtis ended up winning the SAG award for Best Supporting Actress that night, and a part of her surprised reaction to her win included yelling "Shut up!" (very Freaky Friday of her) and kissing Michelle Yeoh on the mouth before proceeding to the stage to accept her award. What makes the kiss even funnier is Curtis' claim later on that she "didn't know" she had "actually kissed Michelle" until she revisited the moment.
Curtis' acceptance speech for that award made the rounds on the internet, too. From referring to herself as a "nepo baby"—one of a few times she did it that night—to leading a chant in honor of Michelle Yeoh, the speech itself was a ball of fun.
A Suggestion For The Boss 
Just last week, Curtis continued her trend of funny on-carpet interviews, giving another one at the Film Independent Spirit Awards. Curtis lambasted veteran musicians like Bruce Springsteen and U2 for not catering to their own aging demographics by having matinee live shows as opposed to evening ones. "Bruce Springsteen, do a fucking matinee! You're old!" Curtis exclaimed. She followed it up by saying, "I will come and hear your 5-hour concert, Bruce, at 2 o'clock, and I'll be home in bed by 7:30." Celebrities: They're just like us!
Curtis seems to be one of the few celebrities who knows how to have fun at these Hollywood events. I can't wait to see what hilarity she gets into at the Oscars and on the red carpet. If I'm ever lucky enough to be invited to one of these awards ceremonies, please seat me at Jamie Lee's table.