Magic Mike's Last Dance, the third and ostensibly final film in the Magic Mike series, ends the nearly eight-year drought since Channing Tatum last graced the silver screen in order to hump some air (or a workbench). Steven Soderbergh, who returns to the director's chair after ceding the previous installment to longtime collaborator Gregory Jacobs, has been upfront that the new movie has "no nudity," defending the decision to Rolling Stone by arguing that "what's sexy is intimacy and genuine emotion." Still, as any fan of the franchise knows, some oiled-up abs never hurt.
So, just how demure is the closing chapter of this trilogy? To find out, we've continued our tradition of conducting a highly scientific analysis of each of the Magic Mike films. Below, the results are laid bare.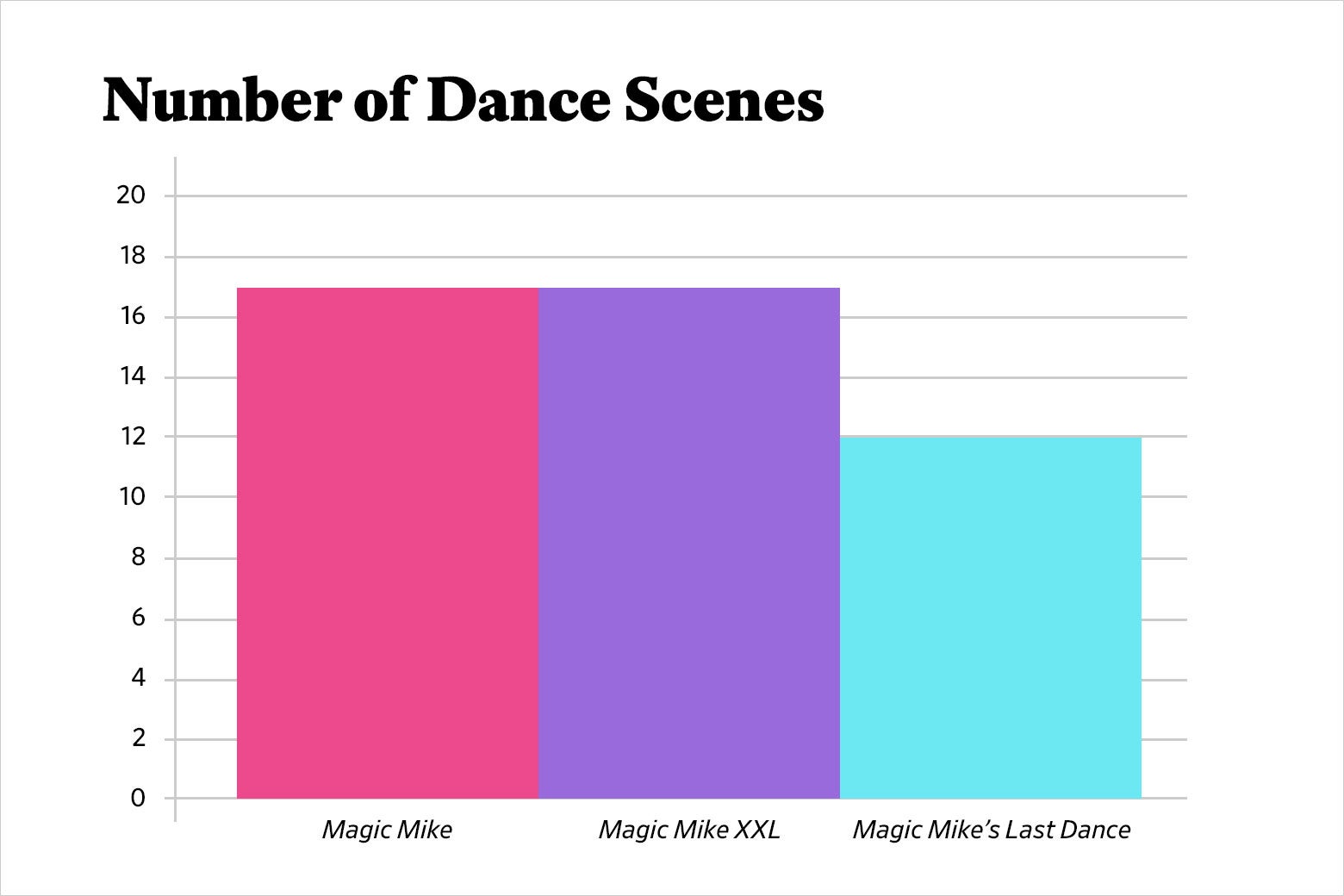 The first two films were consistent with 17 dance routines each, but the third film features only about 11, plus one audition montage, which we counted because we all know the best part of any dance film is the audition montage.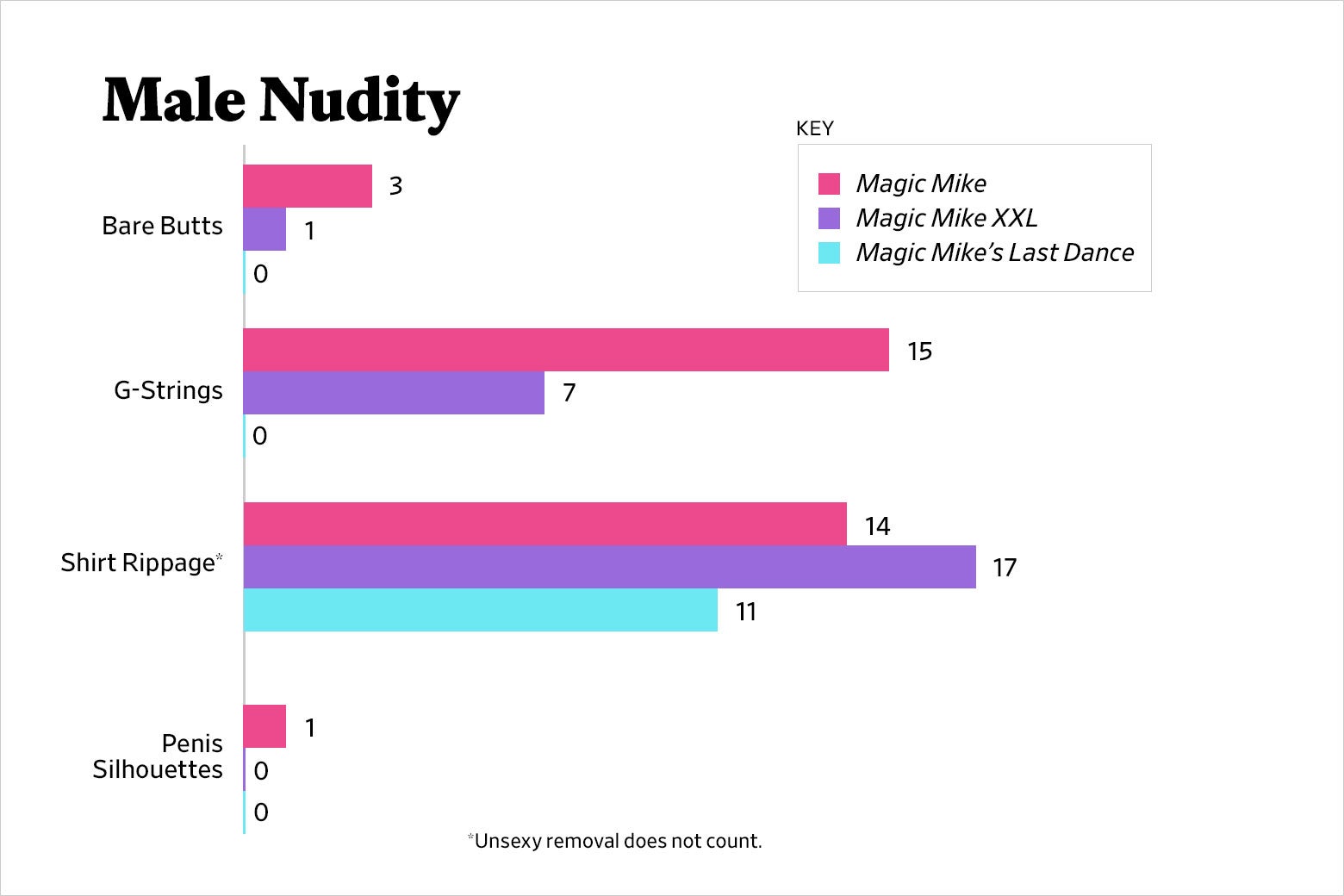 Soderbergh has already admitted that there is practically zero nudity in Magic Mike 3, so it's no surprise that the film features nary a G-string. And while Big Dick Richie does briefly appear in the new movie, his namesake does not. However, the movie does begin to compensate for this with chiseled abdominals.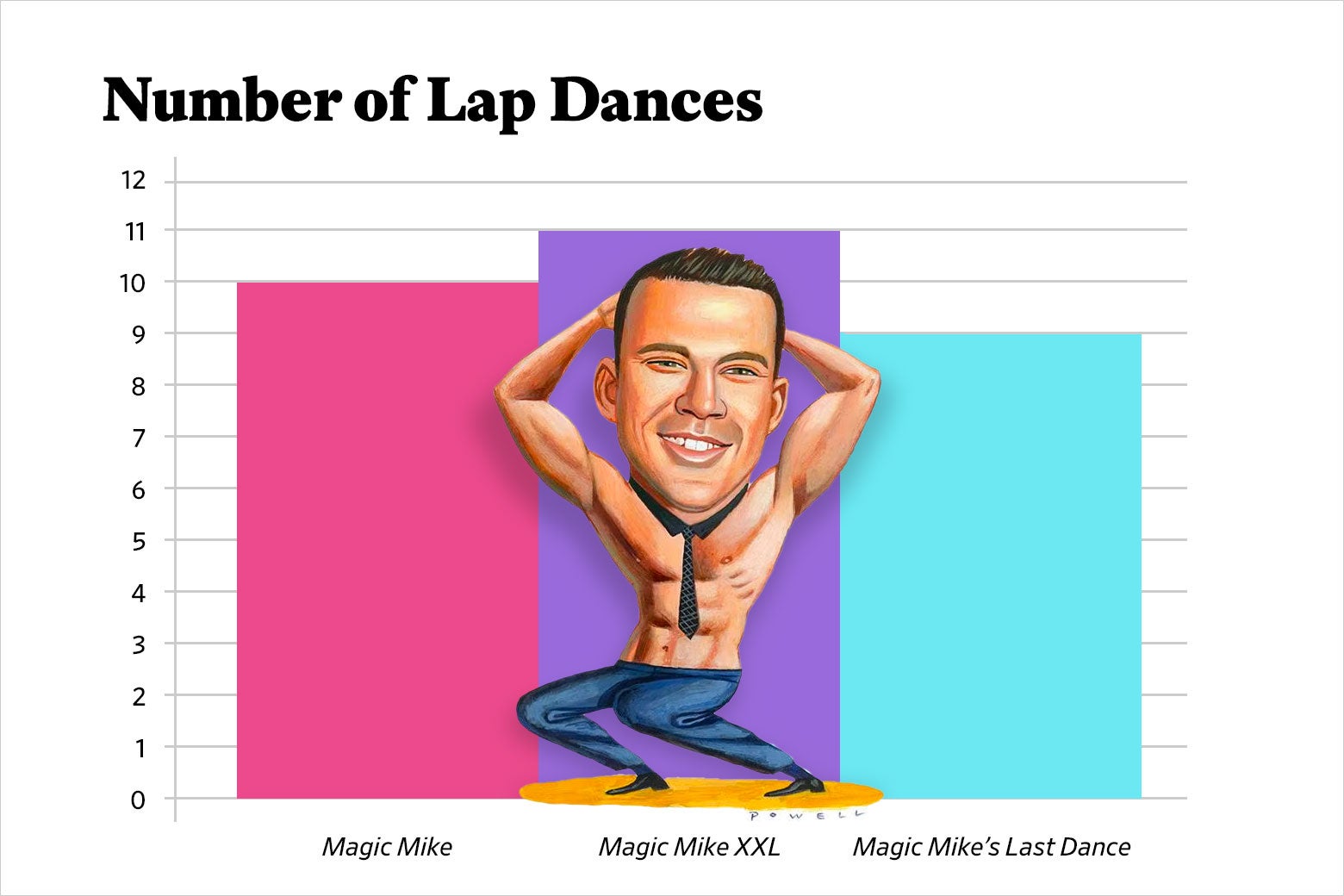 Given that Magic Mike 3 has less dancing overall, fewer lap dances are to be expected. However, there's a nice triple lap dance scene that keeps this sequel from falling too far behind its predecessors.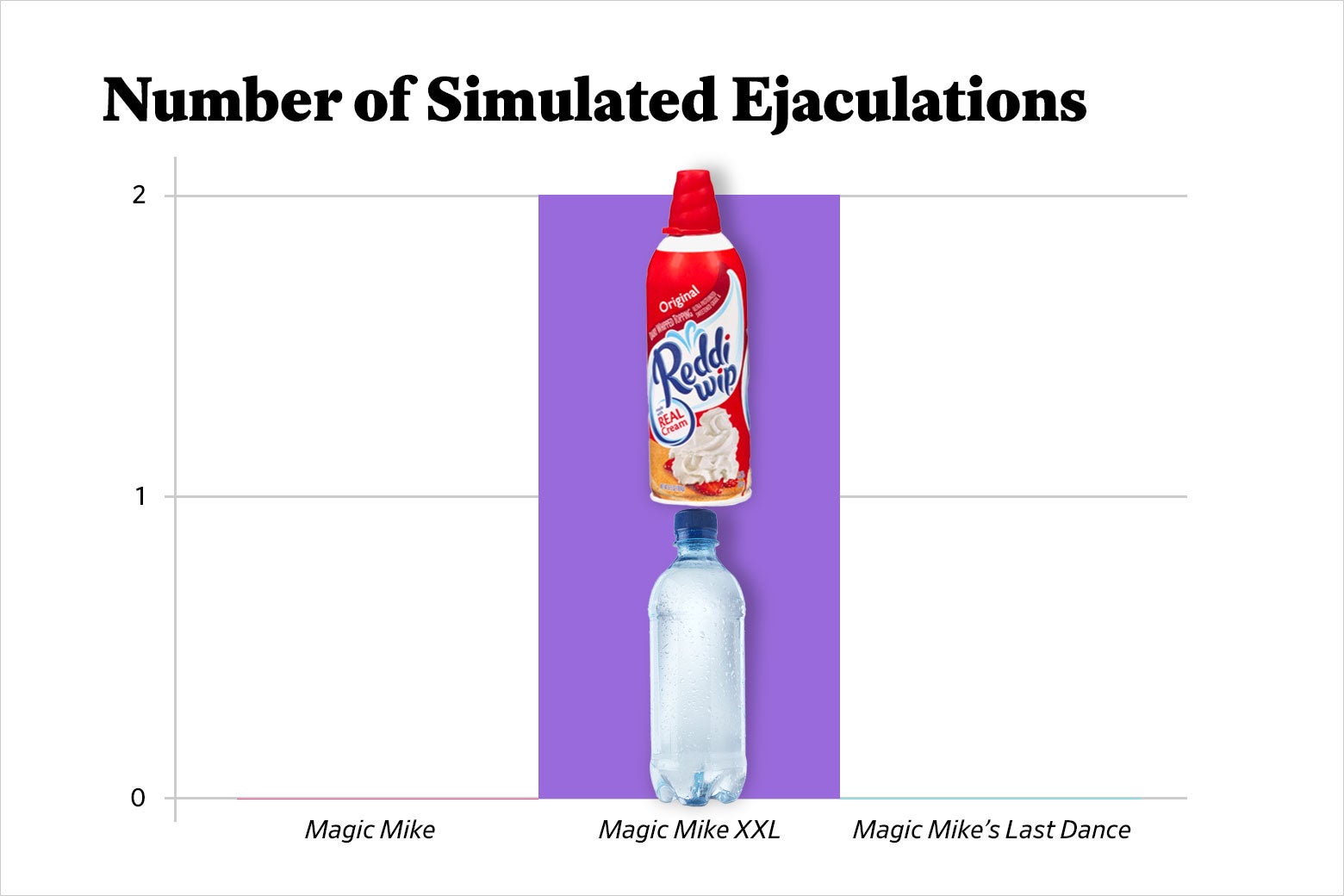 Last Dance promises a climax to the trilogy, but it fails to build on one of XXL's finest innovations.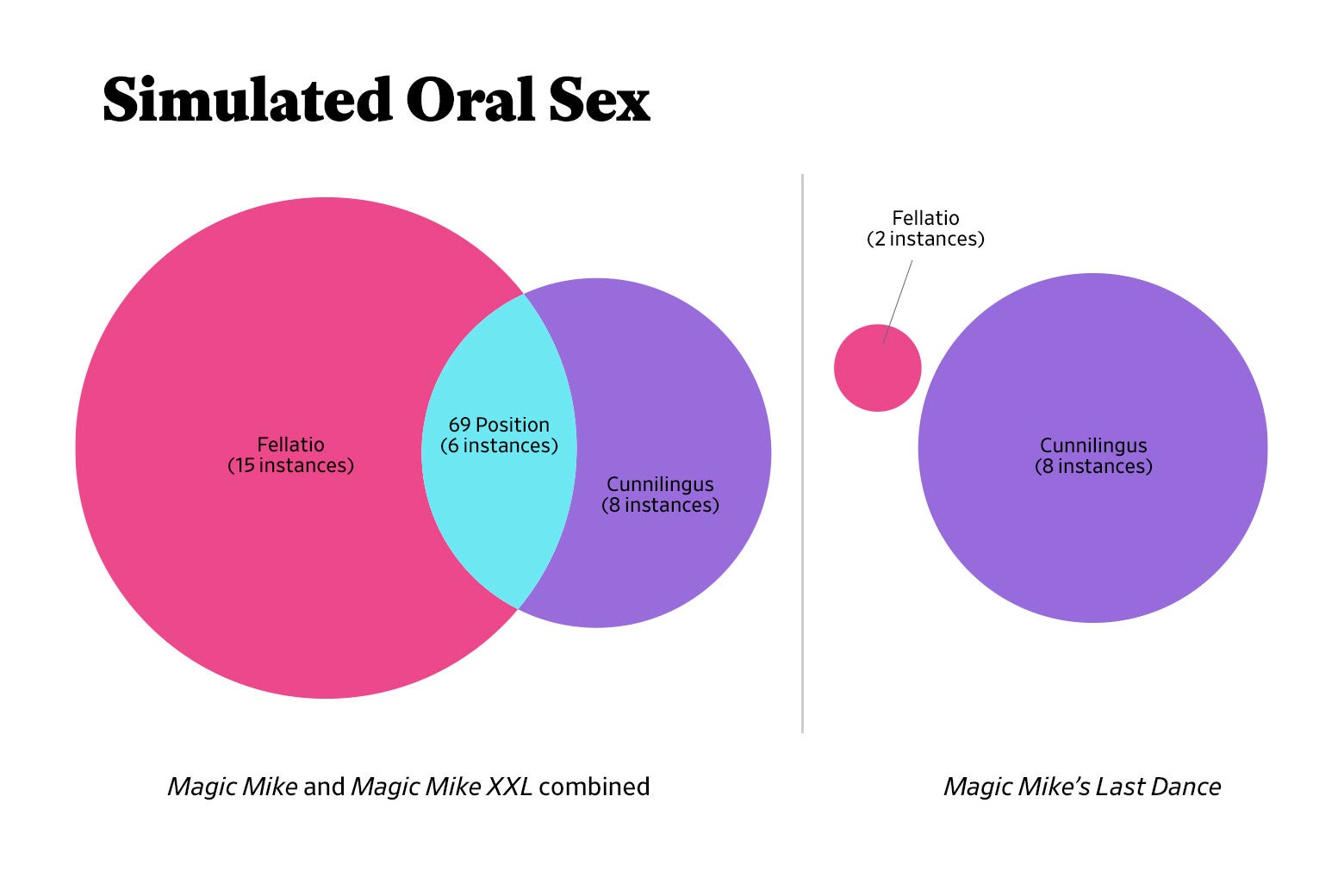 Though Magic Mike 3 doesn't have the same quantity of dance scenes, it attempts to make up for this with their quality, serving up a couple of hall-of-fame hot sequences. This goes hand in hand with the film's effort to cater even more explicitly to women. As often noted by Salma Hayek's character, the goal of her and Mike's male stripper extravaganza is female liberation, the female gaze—as she puts it, more delicately, in another scene, "No woman wants to be suffocated by testicles." The changes in simulated oral sex stats prove that Soderbergh's team was serious about this mission. The instances of men placing their faces between women's legs far outnumber the times they shove their genitals into women's faces. Perhaps this, at least, is a sign of progress.