"You always knew who your character was when they sent you the sides," said Robert Townsend of the frustration he felt as a young Black actor auditioning in Hollywood. "The name was like, 'Eight Ball,' 'Boot,' 'Midnight,' 'Licorice.' " That frustration fueled Townsend's directorial debut, the furious 1987 satire Hollywood Shuffle, which ruthlessly lampooned the industry's treatment of Black actors and Black stories. Townsend plays aspiring actor Bobby Taylor, auditioning to be the hero of a trashy "ghetto" drama called Jivetime Jimmy's Revenge. Townsend trained at Chicago's Second City, and Hollywood Shuffle, which he co-wrote with Keenen Ivory Wayans, is at heart a collection of sharply drawn comedy sketches, including a noir parody, a hilarious lineup of actors trying to be an "Eddie Murphy type," and the indelible "Black Acting School."
Hollywood Shuffle changed things for Townsend: He went on to a long career, directing everything from Eddie Murphy Raw to The Five Heartbeats and creating and starring in five seasons of the WB sitcom The Parent 'Hood. Slate named Hollywood Shuffle to its Black Film Canon, and the film was added to the Criterion Collection this month. I spoke with Townsend about terrible auditions, making a movie without your neighbors finding out, and what Eddie Murphy thought about Townsend's Eddie Murphy impression. This conversation has been edited and condensed.
Dan Kois: Hollywood Shuffle was born out of frustration, but it seems like actually making it was fun. A bunch of friends coming up with funny ideas, having a great time filming them on weekends. Is that how you remember it?
Robert Townsend: It was a lot of fun, because we made a game out of it. I came out of the theater, acting exercises and improv, so when I started to do Hollywood Shuffle, I took all of that experience with me. I mean, you know, we got Keenen on set. We're laughing. Damon Wayans. You got John Witherspoon. You got Paul Mooney. You got Dom Irrera, Lisa Mende. Just funny people.
And you had a comedy background, too.
Starting out as a comedian, you go for the funny. When you think in terms of what would eventually become In Living Color and all of that, this is us figuring out: Can we do this? Can we play in this kind of sandbox and win? At Second City, Del Close and Jo Forsberg, my teachers there—it was all about imagination and creating. And so I think in Hollywood Shuffle, we take you on that imaginary journey, though we don't have a budget or anything.
Directed by Robert Townsend. Criterion Collection Blu-Ray.
Slate receives a commission when you purchase items using the links on this page. Thank you for your support.
I have to imagine that all of those folks who were the "Hollywood Shuffle players" with you understood instantly what it was you were making fun of in this movie. They'd all had experiences in Hollywood like you'd had.
Oh man, so many. We would always laugh at the names. You always knew who your character was when they sent you the sides. The name was like, "Eight Ball," "Boot," "Midnight," "Licorice." We would be like, "We know we Black, man, you ain't got to … " Who thinks of this shit?
There was one really bad audition that Keenen and I had both went on. It was like this director from England and he was doing this exploitation, pimp, hustler, whatever the hell it was kind of movie. And he was telling me how to be Black, but he was condescending and was, it was just mean and it was vicious. [British accent:] "You're a bad mofo, you get out of the Cadillac and you pimp-slap her. Pip pip, pip pip. Stick your butt out. Can you make your nostrils flare? Make them flare!" But I wanted the job, so of course I'm doing: [Flares nostrils desperately]
And I was like, "Keenen, man, this is bullshit. We got to make our own movies, man. We're going to die doing this bullshit."
A couple of years before you made this, you were in A Soldier's Story, which was nominated for Best Picture. How was that experience making that movie different from what you had dealt with before?
A Soldier's Story changed my life. I just remember watching Norman Jewison direct, and he had done In the Heat of the Night and all these big movies. We were all young actors, but we knew something was different with this film because our opinions mattered. Norman would say, "I don't really know the Black experience. Would you do this? How would you say this?" And then when I finally saw the finished film, I was like, "This is what I want to do. This is the movies. This is it." And then my agent was like, "Robert, they do one Black movie a year. You just did it. Be happy." I was like, "Really? That's it?" He was like, "That's it. Now go back to saying, 'Man, Boot, get in here!' "
Did you have studio funding for Hollywood Shuffle?
I didn't even know to pitch it to a studio. I was like, "I got some money saved, 60 grand in the bank—I'll figure out how to make a movie." Everybody was like, "You don't have a chance in hell." I called Norman Jewison, I called Ron Schwary [A Soldier's Story producer], and Jerry Molen, who's Steven Spielberg's producer now. And I said, "I'm going to make a movie. I need the leftover film. Would you give it to me?" And they gave me the short ends from Soldier's Story.
I knew I couldn't afford permits so we shot all our outdoor stuff early Sunday mornings. The world is asleep. People are going to church, or they party too hard. The police are not out. So I did the shot list and said, "OK, meet at my house at 5 o'clock. Don't park your cars in front of my house. Park three blocks away from my house so my neighbors don't know what's going on."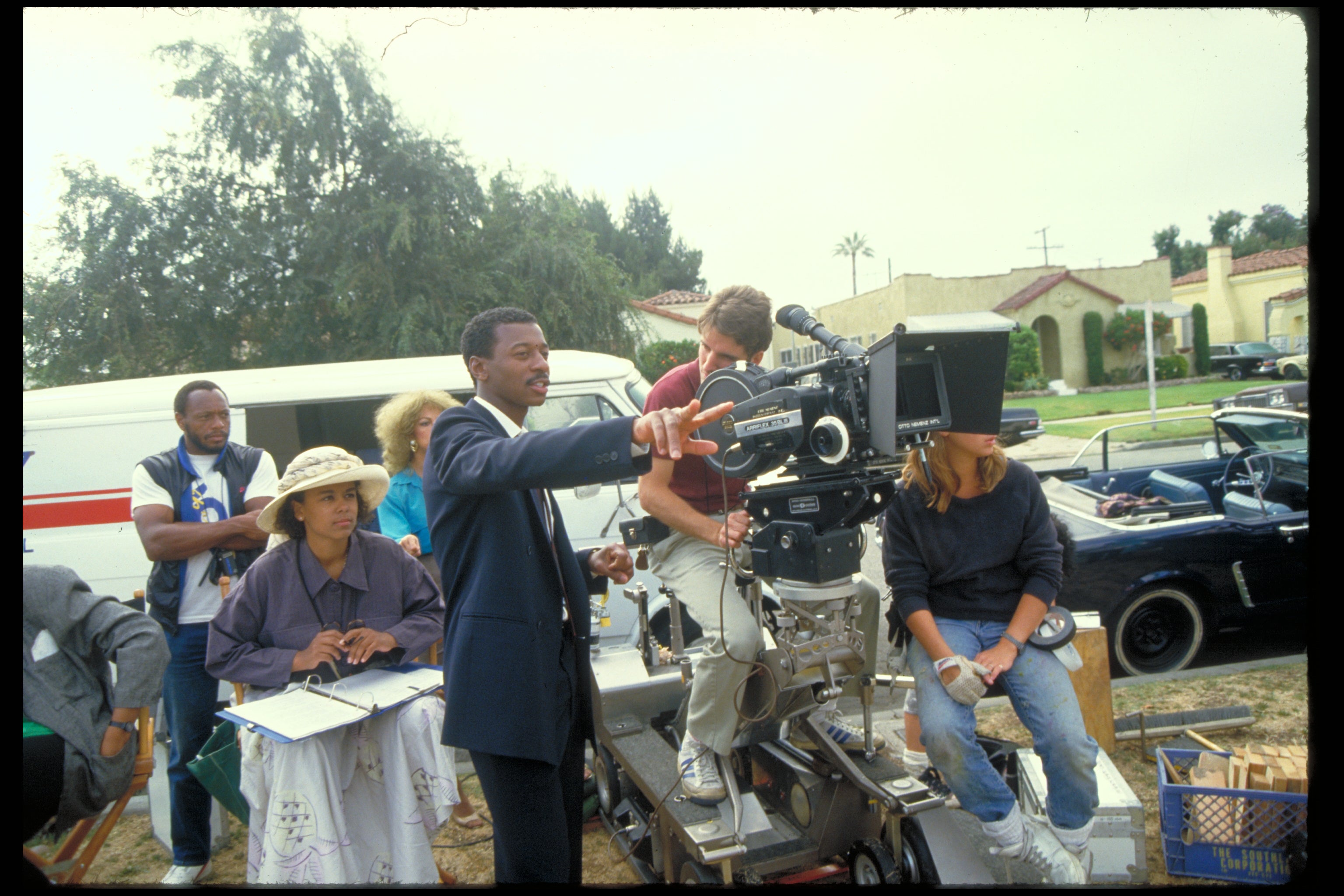 Hollywood Shuffle pokes a lot of fun at Black actors being told over and over again that what the movie really needs is "an Eddie Murphy type." Can you try to explain for readers now who don't understand the hold that Eddie Murphy had over white Hollywood's view of Black actors in the 1980s? How big was he at that time?
Like the Rock combined with Kevin Hart combined with … I don't even know who. He was the Marvel Universe by himself, I'll put it like that. So now you go on auditions, and it was still Boot. But now Boot's an Eddie Murphy type. Eddie was talking trash. He was smooth. He was cool. So they wanted that, rather than saying, "We want you to bring your original self."
They didn't understand that what made him great was that there was no one like him.
Right.
Did Eddie ever tell you what he thought of your Eddie Murphy impression?
After Hollywood Shuffle came out, the Samuel Goldwyn Company put us on a tour of Europe. And so Keenen and I, we were in France, and Keenen checked his messages, and he played it to me, and it was Eddie Murphy. And Eddie Murphy goes, [Eddie Murphy voice:] "Hey Rob, Keenen, everybody talking about this Hollywood Shuffle, man, I want to see it. Where can I see it, brother?" We were like, "Uh-oh."
And so we have a screening for Eddie at a screening room in Burbank. It's a 40-seat theater. Eddie shows up with 15 people, his entourage, and they're loving the movie, laughing, laughing, laughing. And then he gets to the part, "What we're looking for is an Eddie Murphy type." The room gets quiet and then Keenen's head goes down.
I'm like, "Oh shit. Oh shit. Oh shit." And then I hear one of Eddie's bodyguards, "Eddie they said your name. Eddie, they just said your name." And then Eddie starts laughing, his big laugh, and he just, [Eddie Murphy voice:] "Oh man, why y'all do that to me? Rob, Keenen, oh, that's messed up."
After the film was over, I go over to apologize, because I wrote the scene, and Keenen said we shouldn't put it in the movie. He says, "I'm going to do this standup concert film, and I'm looking for a director. You want to direct it? It's going to be called Raw." And that's how I got the gig.
Whoa!
It was his love in that screening room. He was just like, "It's yours." And like I said, he was a mega-wattage star. He could get any director in Hollywood, and he chose me. So it was just a beautiful day all the way around because of this little movie.