Anyone who loves singing has had the frustrating experience of going out to karaoke night and discovering that the song you've been wanting to sing just … isn't in the book. Or it is in the book, but your friendly karaoke jockey, or KJ, tells you that she actually doesn't have it. Or you plug it into the private-room system, and suddenly you're trying to get inspired by a chintzy MIDI version of "Purple Rain" that cuts out before the big finish. Unless you live in Oregon and can visit the karaoke wizard that is Baby Ketten, you probably spend a lot of your karaoke time wishing the bar had that one song you've always dreamed of.
So maybe you try singing at home, making use of the riches YouTube has to offer. Yes, there are remarkable creators out there, like American hero Lemmy Caution, using vocal-removing processors to create pro-quality karaoke videos of the types of songs you'd never see in a karaoke book. But still! Elsewhere on YouTube you've got to deal with crappy bootleg arrangements, with videos that claim lyrics but don't have them, or videos in which Lady Gaga's voice is right up there in the mix, impossible to compete with. And once you find the right video? Nothing makes karaoke night fun like sitting through a 15-second pre-roll ad for Geico.
Launched in December, Apple Music Sing purports to solve all these problems. If streaming music promised the "celestial jukebox," with every song ever recorded at your fingertips, here it promises the celestial karaoke machine, with karaoke versions of all recorded music in human history (or at least the substantial percentage of recorded music available for streaming). Combining the same kind of vocal-erasing processors used by those bespoke karaoke creators and Apple's prodigious lyrics database, Sing can instantly engineer a karaoke video out of any song in the Apple Music library, no matter how obscure. The lyrics scroll along with you, and you can control the level of the lead singer's voice—way down if you're very confident, a little higher if you need some support. And if you pick "Purple Rain" on Sing, you'll be backed by the Revolution in full Dolby sound.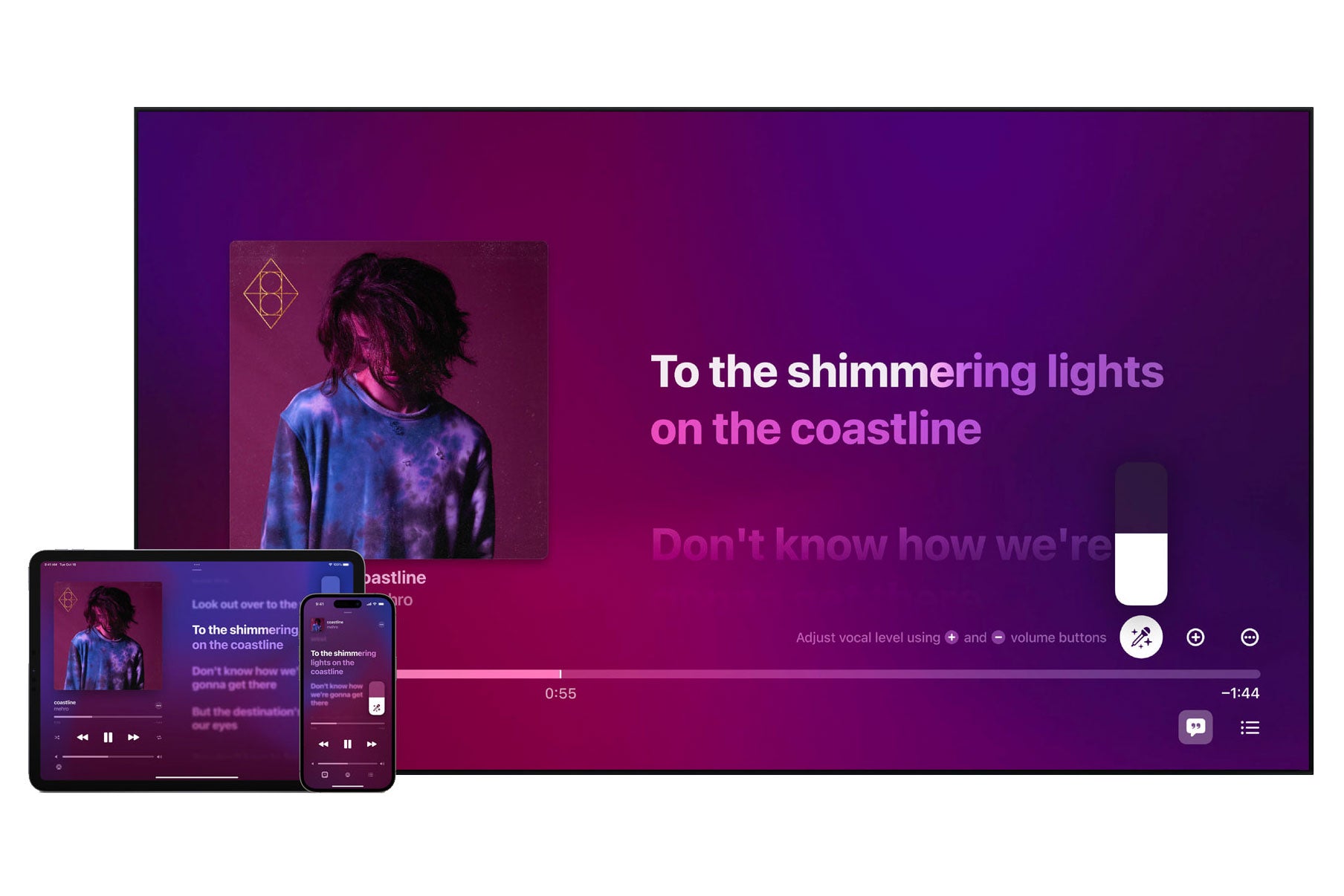 I have a lot of opinions about what makes for a great karaoke night, and so I was eager to try out Sing to see if it really delivered a superior social singing experience. Is it the karaoke killer app? I gathered with a group of friends in a suburban family room to find out.
The first problem was getting it to work. Sing comes as part of the Apple Music app, but you have to subscribe to Apple Music to get it. (That's $10.99 a month.) Even if you're already subscribed, you also need to have a relatively new device running the latest iOS, which meant that while we all drank our first rounds of liquid courage, I updated my phone's operating system. And then you need to get your song lyrics up onto a TV and your song playing through TV speakers, which is a whole 'nother problem! This is, presumably, easier if you have the very latest version of Apple TV, which supports Sing, but we were just trying to AirPlay my phone onto my neighbors' old Apple TV, which was a big mess that took forever.
But eventually, it sort of worked! There were the lyrics up on the screen, and there was Van Halen's "Panama" blasting through the speakers, and there was me on the microphone—my neighbor, a preschool music teacher, owns a microphone and an amp—doing my best David Lee Roth. (I can't do the splits.) We dimmed the lights. Our neighbors' teenage children came upstairs from the basement to mockingly rock out. Things were going pretty well!
It wasn't perfect, though. Somehow, AirPlaying with the TV meant that while we could see the lyrics, they didn't reveal themselves, follow-the-bouncing-ball-style, in the manner of a true karaoke video. Duets were also a problem: Aside from a few specially Apple-indicated songs, most duets on Sing don't delineate the lyrics by singer, which means you really gotta know which parts of "Rock Lobster" are Fred and which parts are Cindy and Kate. And whatever magical vocal-removing algorithm Apple uses also removes most of a song's background vocals, which can leave some arrangements sounding awfully empty.
Then, disaster. My friend Kevin, already a bit of a reluctant singer, finally took a turn on the mic—and the entire system went haywire. The lyrics disappeared from his TV. His phone somehow synced alongside mine, and both played the same song but at different points. He fumbled with the remote, trying to work out what was going wrong. After three or four aborted attempts at "Ants Marching," he gave up and sat back down. Reasonably, he was annoyed: It's no fun to have your singing messed up by technical glitches, and even less fun when it's you who has to troubleshoot them, not a karaoke bar's well-tipped staff. I knew it was going to take a lot to get him back off the couch.
It was when we started branching out from our karaoke standards that Sing really started to shine. I chose a Pavement song I'd always wanted to sing, but which, naturally, I'd never found in a karaoke bar. "Whoa! Listen to me! I'm on the stereo! Stereo!" I hollered, hopping around as my friends looked on with bemusement. Soon, they too were searching the catalog for karaoke obscurities, and each of us revealed sides of our taste and musical history that were complete surprises to the others. Matt, it turned out, went to a lot of clubs in the late '90s and loved singing vaguely Euro anthems like Real McCoy's "Another Night." Alia seized the opportunity to sing the songs she loves from Crazy Ex-Girlfriend, and, as everyone cracked up at "Let's Generalize About Men," she likely earned the show a few more viewers. Rachel delivered a melancholy rendition of Harry Chapin's "Flowers Are Red," a song she used to play for teachers in the school where she once worked. (It's a cautionary tale, and by the end we were all near tears.) Ashley had performed "I Sing the Body Electric" from Fame as her audition piece her freshman year in high school, and she still remembered every word. (This was lucky, as once again, the lyrics disappeared from the TV for no apparent reason.)
It turns out there are plenty of songs that can still be karaoke sing-alongs, even if they're not "Don't Stop Believin'." Adore Broadway musicals, but sick of hearing "Memory"? Apple Music Sing has every musical that's ever released an original cast album. ("I Believe" from The Book of Mormon: great karaoke jam.) Love classic rock, and wish you could sing the semi-forgotten FM radio hits that everyone knew when you were a kid? I finally got to perform Harry Nilsson's "Gotta Get Up" and Neil Young's "Everybody Knows This Is Nowhere." (Unlike Spotify, Apple Music still has Neil.) Rachel's taste in classic rock is slightly less folksy, more trashy, so she belted the J. Geils Band's "Love Stinks" in a truly bravura performance.
Does Sing replace a night at a karaoke bar? Not exactly. There's abandon in setting yourself in the hands of someone else's system, letting a KJ run the night or letting a private room become your own sweaty, disco-ball-lit party spot. I especially missed a great KJ's ability to cue up songs, to keep the party bumping, to tweak the mix so you sound better, and to alter pitch or tempo for those who want to bend the song to their will. But if the bugs get ironed out, Sing will almost certainly replace a night of YouTube karaoke at home. It's simply too amazing to be able to sing essentially any song you want. The Note I keep on my phone of songs I hope to sing at karaoke night, once only B-level Springsteen hits and Janet Jackson jams, grows exponentially as tune after tune occurs to me: "Punks in the Beerlight"! "Slack Motherfucker"! Tha Alkaholiks! They're all available.
At our neighborhood karaoke party, it was nearing midnight, and as we wound down, we searched for the perfect final sing-along. It turned out it was R.E.M.'s "Superman": a song everyone knew, a song no one had ever sung in public, and a song with very, very simple harmonies. Who seized the microphone for this grand finale? Kevin, up from the couch, doing his best Michael Stipe as we all sang our hearts out behind him.