In all of five minutes, you can have the brightest little tomatoes you've ever tasted. They will make your dal, your fried eggs, your tacos irresistible—that is, if you don't leave them behind and decide to just eat Green Chile & Cherry Tomato Pickle from here on out instead.
The genius of this recipe—the fireworks in no time flat—is all thanks to a mom with unlimited cooking talent and very limited time, and a daughter who was wise enough to recognize it.
When food writer Priya Krishna was growing up in Dallas, Texas, her mom Ritu came home every night from her job as a software programmer and cooked dinner in 20 minutes, without ever splattering oil on her clothes or losing her cool. "She was not rushing—my mom made it look incredibly easy," Priya told me. "She would come home, pour herself a glass of wine, put the ABBA on our CD player, and get to work cooking."
After watching and eating these breezy meals, Priya knew Ritu's food deserved to be in a cookbook. She also saw that any cook in America, if they had Ritu's recipes, could make excellent Indian food on a Wednesday night. That cookbook became Indian-ish, Priya's joyful ode to her mom: Ritu wrote 100 recipes; Priya tested and researched and explained why they work.
While all of the recipes in Indian-ish are weeknight-friendly by design, this one might be the fastest. Ritu makes a summery shortcut version of the achars, or pickles, that Priya's great-aunt would put up in the summer—made from fresh produce, oil, and spices, fermented into a spicy, funky condiment. "We'd have this really amazing, tangy, spicy, jammy condiment that we could put on everything—but it takes an entire summer, or at least a month." Again, Ritu's takes five minutes.
One of the keys to unleashing so much flavor so quickly is making a chhonk—sizzling spices and other aromatics in fat (in this case, oil), to both deepen their flavor and set it free, all within moments.1 In this case, the chhonk is made up of a Bengali blend of whole spices called panch phoran, which translates to "five spices"—black mustard, cumin, fennel, fenugreek, and nigella seeds in equal measure2—as well as fresh green chiles that twist and blister in the oil.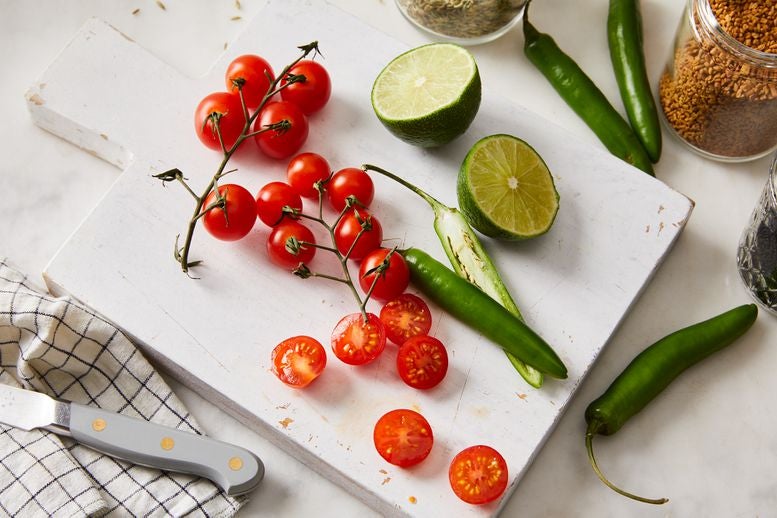 Three minutes in, the active cooking is done, and you tumble your halved cherry tomatoes into the hot, heady chhonk. They'll barely soften in the lingering heat, letting some of their sweet juices escape. A little lime juice and salt finish it off, and you have cherry tomatoes at 10,000 watts.
The first taste is of electric citrus and spice, then a crush of juicy sweetness, finally landing on a crunchy cloak of seeds that's more gripping than a potato chip. If you're like me, you'll finish the bowl and upend it to drink what's left.
"Let's put it this way," Priya told me. "I really can't think of a savory dish that this wouldn't go well alongside." After dousing it on khara huggi, crispy pork quesadillas, and lots of eggs this summer, I couldn't agree more.
(1) In Genius Recipes, we most recently saw chhonk (also known as chaunk, tadka, baghaar, and other names in regions across India) at work in Chitra Agrawal's cozy Khara Huggi.
(2) If you don't have them on hand, you can order the spices either individually or in a panch phoran blend (just be sure to get whole seeds, not ground, for the best flavor and crunch) at places like Kalustyan's and Spicewalla.
Green Chile & Cherry Tomato Pickle From Priya & Ritu Krishna

Serves 4

• 2 tablespoons olive oil
• 1/4 teaspoon fennel seeds
• 1/4 teaspoon nigella seeds
• 1/4 teaspoon cumin seeds
• 1/4 teaspoon black mustard seeds
• 1/4 teaspoon fenugreek seeds
• 1/4 teaspoon asafetida (optional, but really great)
• 4 long Indian green chiles or serrano chiles, halved lengthwise (no need to remove the stems)
• 1 cup cherry tomatoes, halved
• 3/4 teaspoon kosher salt
• 1 tablespoon freshly squeezed lime juice (from about half a lime)

See the full recipe on Food52.
More from Food52:

How to Clean & Care for Stainless Steel Pans Like a Pro
The Practically-Magic Cauliflower I've Transformed Into a Week of Meals
The Best Yellow Cake Recipe Borrows a Trick From the Box
Amanda Hesser's Very Best Tips for an Organized Kitchen
This Essential Bakery Tool Makes Any Bread Recipe Easier
The 17 Best Instant Pot Recipes to Cozy Up With This Fall