Though there have been more ambitious moments the past five months—the week of the bo ssam, every crispy cheesy pan pizza and buttermilk biscuit I've tested for this column—if I'm being honest what I've eaten is…the same two pastas. I don't think I'm alone. (Please tell me I'm not alone.)
Pasta is a last-minute pantry feast for tired anyone, not least of all us parents who've been double-dutying childcare and work (and, for some, up and moving across the country). Most nights, at I'm-not-telling-you-how-late o'clock, in the serene quiet of a toddler finally asleep, I look at my husband and, with equal parts comfort and resignation, we start moving faster: pot on, salt in, box out, go.
"This is the best thing I've cooked with the least amount of effort in the past month. "

Heidi Swanson (and soon, you)
Luckily, I've found a new favorite answer in these hungry moments, which I hope will save you in yours too—one that hinges on a handful of ingredients I always have around and comes together in the time it takes water to boil. It even has a real sauce!
It comes from Heidi Swanson, the writer and photographer behind the blog 101 Cookbooks, the shop Quitokeeto, and a gaggle of stunning cookbooks. Her next one is called Super Natural Simple, which is a perfect description of this very recipe. (Will it be in the book? We'll have to wait and see!)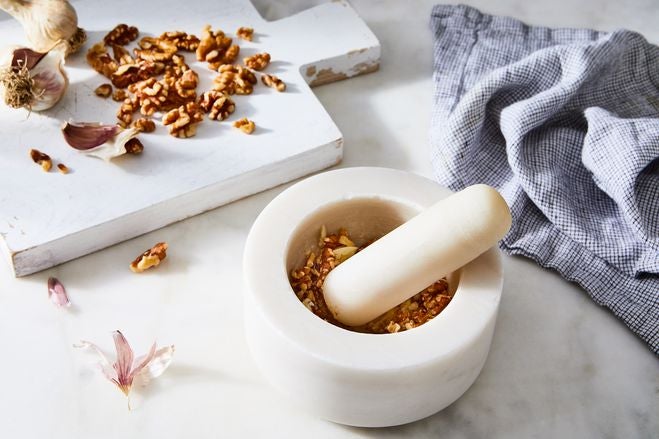 To make it, you simply crush a heap of toasted walnuts with some garlic, then swirl in grated Parmesan and some of your starchy pasta water. There is no butter, no olive oil, no cream—yet it magically turns creamy, as the oils from the nuts and cheese emulsify into the salty water. Then you doctor it with lemon juice and toss in your noodles (reginetti, fusilli, or conchiglie are a few of her suggestions, but anything short and sauce-catching is great).
You can stop right there, or fancy it up with herbs and bread crumbs and chile oil. As Heidi wrote on 101 Cookbooks back in April, "This is the best thing I've cooked with the least amount of effort in the past month." I would have to agree.
But there's more to the genius of her recipe than a brilliant, immediate meal: Heidi also gives us a jumpstart on turning this into an oft-repeated template. Swap in pecans or almonds (or a mix) and shift the sauce's character. Toss quick-cooking green vegetables, like broccoli or asparagus, into the bubbling pasta for the last minute (were you really going to make a side dish, sleepy Kristen?). Transform the leftovers into a punchy, pasta e fagioli–like stew.
All of which will help the many, many nights we'll be making this feel like something new.
Pasta With Creamy Crushed Walnut Sauce From Heidi Swanson

Serves 8.

• 2 cups toasted walnuts
• 3 or 4 cloves garlic, peeled
• 1 pound dried pasta (a short shape)
• Juice and zest of 1 lemon
• 1/2 cup freshly grated Parmesan cheese
• Lots of freshly ground black pepper
• To serve: fresh herbs, homemade bread crumbs, chile oil

See the full recipe on Food52.
More from Food52:

11 Low-Key Cakes to Celebrate Our 11th (Quarantine!) Birthday
Ina Garten's Cauliflower Cutting Trick Is Beyond Brilliant
Everything You Need to Know About Par-Baking
The Best Coffee Filter Substitutes for When You've Run Out
The 11 Best Apples for Outrageously Tasty Applesauce
27 Make-Ahead Dessert Recipes for Now Through Labor Day