This soup, which comes from our great Salt Fat Acid Heat teacher Samin Nosrat, could not be more satisfying, just as it's written. It comes together in moments, yet makes an astonishingly green soup that sings and dances and hula-hoops with flavor.
But it first grabbed me in an even more pared-down, quarantine-friendly form, as Samin talked about it in the first episode of Home Cooking, her podcast with host, producer, and pun enthusiast Hrishikesh Hirway.
Samin and Hrishikesh launched Home Cooking—which started as a four-episode miniseries and recently (thank goodness) continued with four more—to help all of us make sense of suddenly cooking a lot more, with fewer ingredients around. They've been so effective in their mission that I can listen to each episode repeatedly, plucking new dinner ideas out each time.
So when, in the burbling fountain of meal inspiration that was the first episode, Samin said we could make a vibrant green soup out of nothing more than stock, frozen peas, tahini, and lemon, plus fresh herbs if we wanted, I took my first note. I had all of those things! Why hadn't I thought to put them together?
The soup was based on a recipe Samin first wrote about for the EAT column she contributes to at the New York Times Magazine. In another moment of scarcity—a restorative cleanse Samin embarked on in the desert after two years of travel and events for her many-award-winning book and TV show—she found comfort not despite but because of the limitations she was facing.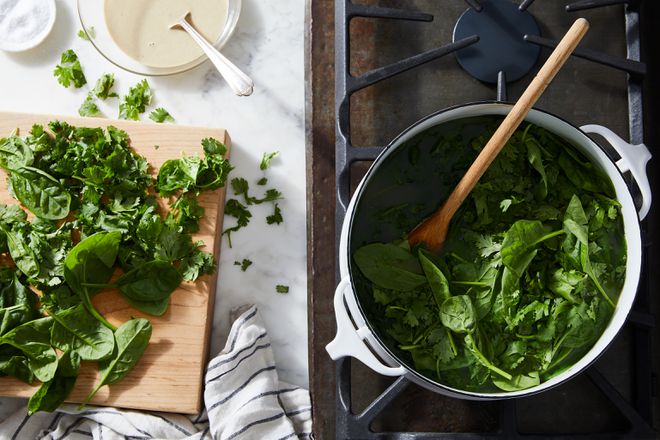 "The rules of the cleanse turned everything I'd learned about classical cooking upside down," Samin wrote. "Without potatoes, flour, other starches, or dairy to lean on, I had to look elsewhere to thicken and enrich the soup."
The answer she found was in tahini—the roasted sesame paste that's a staple in Middle Eastern cooking, used to add creamy, smoky oomph to everything from hummus to cookies. It's also conveniently vegan and, in Samin's case, cleanse-approved.
The savory richness that tahini adds is remarkable—especially in a recipe as simple as this, in which fistfuls of green things are just-melted into hot stock and blended till neon. Consider stirring in a few spoonfuls anytime your soup or stew is tasting flat.
But if you want to take it one step further, Samin drizzles in more tahini at the end—as a sauce spiked with lemon, garlic, cumin, and chile flakes. This move is just as pantry-friendly and swift, and takes the soup from very good to how did I not know soup could taste like this?
Or, as Samin put it, "It might have been created to adhere to an elimination diet, but abundance was all I tasted."
Spinach & Cilantro Soup With Tahini & Lemon From Samin Nosrat

Makes 2 quarts, but halves well.

For the sauce:
1/4 cup well-stirred tahini
1/4 cup freshly squeezed lemon juice
1 large garlic clove, finely grated or pounded to a smooth paste
3/4 teaspoon fine sea salt
1/2 teaspoon ground cumin
1/2 teaspoon red pepper flakes

For the soup:
7 cups chicken stock, preferably homemade
12 ounces baby spinach (about 12 packed cups)
4 cups roughly chopped cilantro (from 2 large bunches)
1/4 cup well-stirred tahini
2 teaspoons fine sea salt
2 tablespoons freshly squeezed lemon juice, plus more as needed

See the full recipe on Food52.
More from Food52:

A Crispy, Cheesy Pan Pizza Anyone Can Make
Making Homemade Pomegranate Molasses Is Easy As 1, 2, 3
King Arthur Flour's 2-Ingredient Never-Fail Biscuits
A Classic French Sandwich Becomes the Salad of Your Dreams
3 Slurpable Boba Recipes to Satisfy Your Fix
Dessert Tonight: Sugared Berries With Caraway Cream