In mid-June, as the pandemic surged across the country, hundreds of students were living on Liberty University's campus. Tayvion "Tank" Land was one of them, taking a summer math class with about 10 other students—half of them his football teammates.
One Thursday morning, class was partway through when the instructor told one of Land's teammates that he needed a tutor. Sensing some reticence, Land said, the instructor followed up with an attempt at a joke. "Don't be scared," he allegedly told the player. "I'm not going to pull out my whip and hit you with it."
Land and his teammate are Black, the instructor is white, and the joke came during a period of intense scrutiny of the way Black people are treated in this country, and of the unwelcoming atmosphere Black students face at Liberty in particular. In fact, Asia Todd, a top freshman on Liberty's women's basketball team, had announced earlier that month that she was transferring "due to the racial insensitivities shown within the leadership and culture" at the school.
Land had finally had enough, too. When I talked to him recently, he told me it was that moment in class that convinced him he had no choice but to transfer. He was done with the slights and general discomfort of being a young Black man on a campus where the student body, not to mention the population of professors and senior leadership, is overwhelmingly white.
"We just walked out of class," Land said of him and a few of his teammates. "It was over with." He made his announcement on Twitter the following Monday, saying he wanted to transfer somewhere "that respects my culture and provides a comfortable environment."
Land's departure was big news at Liberty, where a year before he'd been the highest-rated football recruit to ever sign with the school. His teammate, roommate, and close friend, Kei'Trel "Tre" Clark, who was also in the math class, decided to transfer as well, saying, "due to the cultural [incompetency] within multiple levels of leadership, it does not line up with my code of ethics." On July 17, a third Black teammate announced plans to leave but didn't specify why.
Together, their public statements brought to the surface a tension that has been growing at the school, between a culture of subtle—but persistent—hostility toward minorities and Liberty president Jerry Falwell Jr.'s manifest desire to turn Liberty's athletic program into one of the nation's best, a desire that depends in large part on the recruitment of talented Black athletes.
Jerry Falwell Sr., the legendary televangelist and school founder, famously talked of building a football program on the Lynchburg, Virginia, campus that could someday compete against Notre Dame. "This was when all we had was a local church and rented public school buildings. Everybody thought he was crazy," Falwell Jr. once said of his father's early aspirations. Those dreams seemed especially improbable back then, coming only a few years after Falwell Sr.  founded a K–12 school in Lynchburg that the local paper called  "a private school for white students." But Falwell Jr. has dreamed even bigger than his father, aiming to turn one of the nation's largest Christian universities into what Notre Dame is for Catholics and BYU is for Mormons: the home team for millions of believers.
Liberty's football team has indeed come a long way since its inaugural season in 1973, when the Flames lost their first game to Massanutten Military Academy by 10 points. Liberty now plays in the top division of college football, the Football Bowl Subdivision, formerly known as Division I-A, and earned its first bowl victory in December. But to get to where Falwell Jr. wants to be, the university needs the caliber of athletes—many of them Black, like Land and Clark—that he has increasingly alienated with his far-right activism. (Nearly half of Division I football players are Black, according to the NCAA's demographics database.)
"In order for them to attract the kind of players they need to become a top Division I school, they need to go recruiting people, Black and white, who aren't necessarily perfect fits for a place like Liberty," said John Fea, a historian of American religion at Messiah College in Mechanicsburg, Pennsylvania. "They've gotta go beyond the megachurch youth group."
In our conversation just before his announcement, Land made it clear that football was never a problem for him at Liberty. The training facilities at the school were top notch. He'd acquitted himself well as a freshman defensive back, playing in 11 of 13 games, including five starts, and finishing with 23 tackles. He was projected to start as a sophomore. It was everything he dealt with off the field, Land said, that made it hard for him to recommend the experience to anyone else.
"I can't tell them not to go," Land said of Black athletes being recruited by Liberty. "As far as the football program, it's great. It's on the come up. But outside of the football facilities, you will have some problems."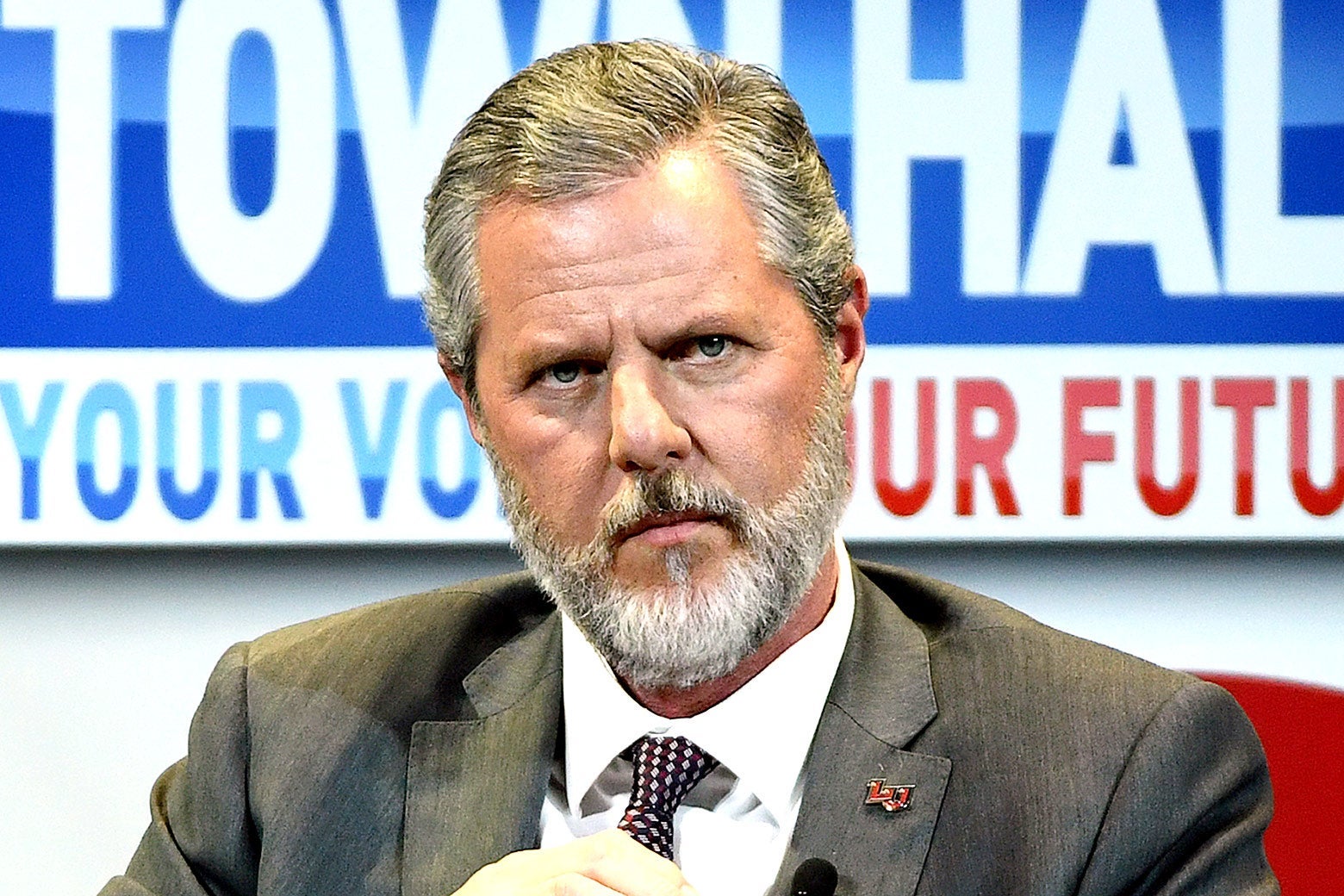 On May 27, annoyed at the state's social distancing orders, Falwell Jr. tweeted an image of a mask emblazoned with a photo from Democratic Gov. Ralph Northam's 1984 medical school yearbook of a man in Ku Klux Klan robes and another believed to be Northam in blackface. "If I am ordered to wear a mask, I will reluctantly comply, only if this picture of Governor Blackface himself is on it!" Falwell Jr. wrote.
Asia Todd, who was wrapping up her freshman year at Liberty, called the tweet her "breaking point." Todd had been an important contributor on the women's basketball team, starting 25 games and finishing fourth in scoring with 8.6 points a game. She had a bright future, confirmed by her postseason selection to the All-Freshman team in Liberty's conference, the Atlantic Sun. But like Land, Todd's moments of doubt about Liberty mostly came off the court. Life outside the gym could be isolating, she said. "There wasn't much diversity on campus. In class, I was always one of the few Black people. That makes you feel as if you don't really fit in."
That feeling was only magnified at the school's weekly convocation services, where conservative figures regularly come to address the students. Among the featured guests in the past academic year were British politician Nigel Farage (notorious for stoking xenophobia to win support for Brexit), right-wing provocateur Charlie Kirk (who has called systemic racism "a myth" and white privilege "a racist idea"), and Donald Trump Jr. (who occasionally promotes racist and anti-Semitic conspiracy theories on social media, among other things).
"A lot of stuff they said was highly questionable and made me uncomfortable—and I know I wasn't the only one," Todd said. "We would be like, 'Did they really just say that?' " Still, "I never really thought about transferring until the tweet," Todd said. "It made me question were they, like, against people of color?"
Todd wasn't alone. A handful of Black faculty and staff members resigned in protest after the tweet, including LeeQuan McLaurin, who was Liberty's director of diversity retention. There was also an open letter from 35 prominent alumni, including several former football stars. "Because of your callous rhetoric, we can no longer in good faith encourage students to attend our alma mater or accept athletic scholarships," read the letter, which was turned into an online petition that now has about 40,000 signatures. (I reached out to several of the football alums who signed, but none wanted to talk on the record.)
The petition wasn't the work of outside rabble-rousers. It was a desperate plea from longtime Black supporters of the school who'd finally grown weary of Falwell Jr. and his lack of restraint. At least a handful of Black former Liberty football players believe that Falwell Jr.'s support of Donald Trump is the reason for the school's declining Black enrollment. One Black alumnus from the 1990s told me that back then, "it was way more diverse than it is now. The percentage of Blacks has absolutely plummeted over the last four years since Jerry went all-in on Trump." (McLaurin, the now former diversity retention officer, previously told Slate that the school's internal count recorded a drop in the Black residential student population from 10 percent in 2007 to just 4 percent in 2018. I reached out to Liberty several times to confirm those numbers, to speak to Falwell Jr.,  and to ask about Land, Todd, and others' complaints about the school's atmosphere but got no response.)
The fallout from Falwell Jr.'s tweet all happened against the backdrop of increasing candor among college athletes, who have been emboldened in the wake of the killing of George Floyd. Black football players at the University of Texas, Mississippi State, and Oklahoma State, among others, have participated in street protests and demanded their schools address a range of race- and racism-related issues, from admissions policies to Confederate monuments.
In the face of the growing backlash at Liberty, Falwell Jr. deleted and apologized for the tweet two weeks after sending it. He even said he would finally make Martin Luther King Jr. Day a school holiday, a 180-degree turn from his father's sermons against King in the 1960s, not to mention his own MLK-related provocations, such as inviting Donald Trump to speak at the school's convocation on MLK Jr. Day in 2016.
The apology came too late for Todd. Two days after Falwell Jr.'s mea culpa, she announced she would transfer in a one-minute video posted to her Twitter account. "This decision was simply bigger than basketball," said Todd, wearing a "Black Lives Matter" T-shirt. "I had to do what I felt was best within my heart and stand up for what is right."
The video went viral; it now has nearly 500,000 views. Dallas Mavericks guard Seth Curry, who left Liberty after his freshman year to finish at Duke, dropped a handshake emoji in the comments section of Todd's Instagram post.
In the days after, Todd spoke with several football players and learned she likely wouldn't be the last Black athlete to leave Liberty. "They want to transfer, but they're scared to transfer," Todd told me. "Whether they feel like there's not another opportunity out there or they feel like there's not enough film" of them playing to attract the interest of other programs.
At that point, Land wasn't sure what he was going to do. He dutifully attended summer classes and continued with preparations for his sophomore season. Transferring in the summer would've been imprudent, as most college football programs have already exhausted their allotment of scholarships for the year.
But after the incident in his math class a week later, Land knew he couldn't stay. Liberty would never feel like home.
"It was not just something that came up out of the blue," he told me. "It's something we've been thinking about this whole time."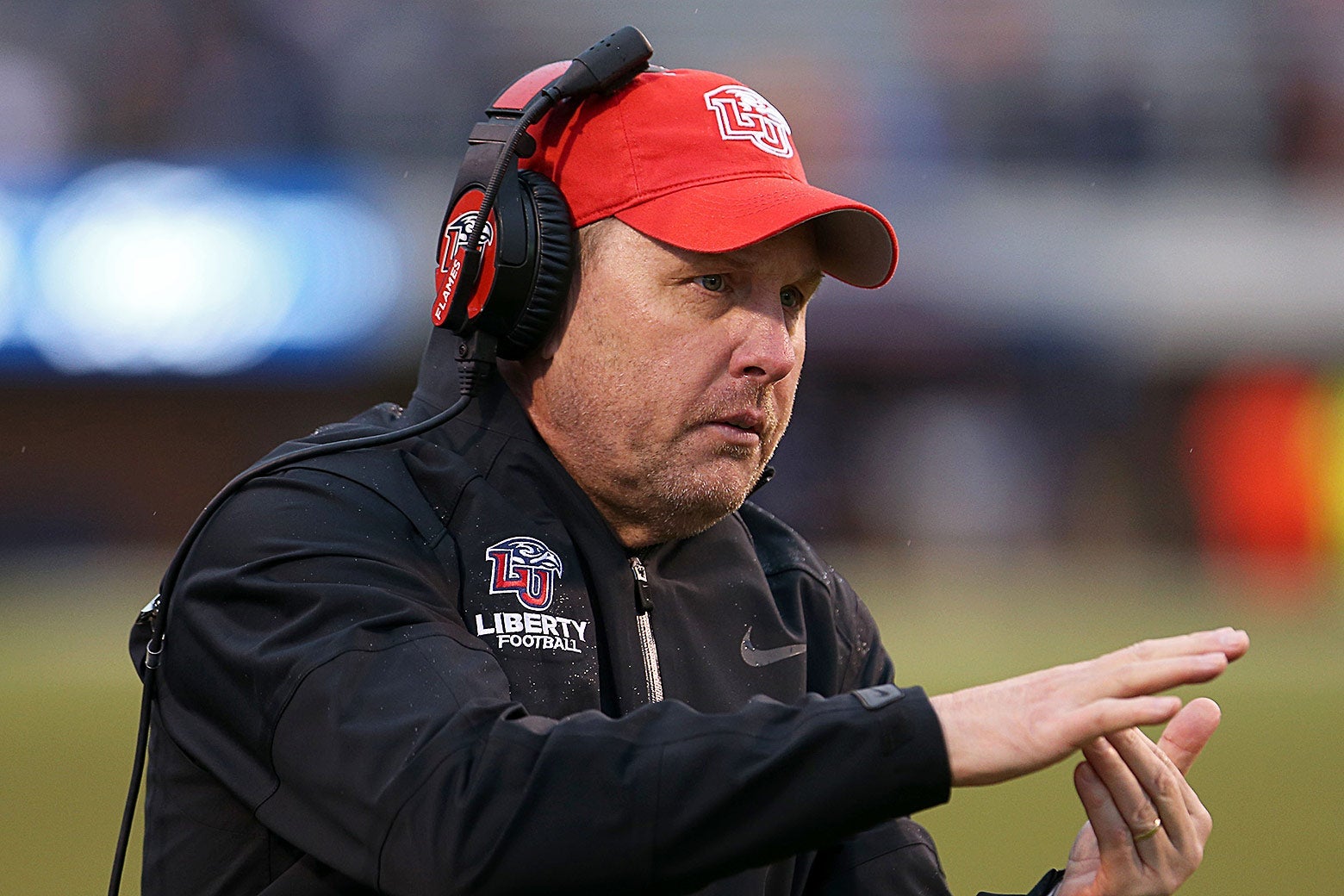 This should have been a moment of triumph for the Falwells, an affirmation that the family's pricey bet on sports was finally paying off.
In 2018, Falwell Jr. hired former Mississippi coach Hugh Freeze, heralding a new era at Liberty. In five years at Ole Miss, Freeze turned a longtime loser into a title contender before he was undone by allegations of NCAA violations and the revelation that he used his university-issued cellphone to call an escort service. Falwell saw an opportunity in hiring the disgraced Freeze, who prior to his exit was known as a devout Christian. "It's just part of Liberty's DNA to give people second, third, fourth chances," Falwell said on the day he introduced Freeze as head coach.
Freeze—used to fending off powerhouses like Alabama, LSU, and Georgia for recruits in the mighty Southeastern Conference—has paid immediate dividends on the recruiting trail. "Hugh Freeze ramped it up another level," Jon Manson, a Liberty alumnus who runs the A Sea of Red blog dedicated to coverage of the school's athletic teams, told me. "Each of the past two seasons were the highest-ranked classes in school history."
Freeze was also winning games. In his inaugural season, the Flames went 8–5, made their first bowl appearance in school history, and won. In May, receiver Antonio Gandy-Golden became Liberty's first player drafted by the NFL in six years and the team had four more players sign with NFL teams, tying a record for the program. And that's just football. The men's basketball team won a school-record 30 games and a league title. The women's basketball team went 20–11 and advanced to the conference championship game, which was canceled because of concerns about coronavirus.
None of this success came cheap. Liberty has spent more than $150 million on athletic facilities in the past four years, including $29 million for an indoor football field, $40 million to expand the football stadium, and $20 million for a new three-floor, 65,000-square-foot football operations center that opened in April.
"You hear that from the recruits: They are just blown away by what's there," Manson told me.
That was the plan dating back to the 1970s, when the fledgling college shared facilities with a small private school and a Baptist church. For many years, it didn't seem likely that a strong athletic program could be built from that meager start, not to mention in the sort of restrictive, evangelical environment that is part of the fabric of Liberty—not exactly an alluring pitch for the average 18-year-old athlete. Even Falwell Sr. admitted to the Cleveland Plain Dealer in 1993 that "some spiritual cadets grow weary under the onslaught of rules. The rules put a degree of difficulty into the easy work of believing." But "by the early 21st century we'll be formidable," he vowed.
When Falwell Sr. died in 2007, Liberty was on track to meet at least some of his ambitions. That's when his son took over and jump-started the school's investment into athletics, understanding that the school could more quickly build up a national brand with a good football team. "A crucial part of Rev. Falwell's vision for making Liberty a world-class institution was having a world-class football team," Donald Trump said in his 2017 Liberty commencement address. "From the most humble roots, you've become a powerhouse in both education and sports."
"Athletics is the most important thing at Liberty," said Joel Schmieg, a former sports editor of the campus newspaper who graduated from Liberty in 2018. "It's not stated that way. I think it's pretty obvious from the campus."
In 2016, Falwell hired athletic director Ian McCaw, who had been pushed out of Baylor earlier that year following a sexual and domestic assault scandal in the football program that also resulted in the ouster of the school president and head football coach. McCaw was tainted, yes, but it was hard to argue with his results at Baylor, where he built a competitive program at the world's largest Baptist university and raised nearly $400 million for the athletics department.
For Falwell and Liberty, that made McCaw the perfect fit to usher the move into the FBS—the most-competitive and most-lucrative level of college football. "That was the moment that Liberty decided that sports was above everything," Schmieg said of McCaw's hiring. "I was shocked. But [any outrage] died away as quickly as it came, and it's not even spoken of there now."
A few months after Liberty made the move into the FBS, the men's basketball team advanced to the NCAA Tournament for the first time in five seasons. The game, against the higher-seeded Mississippi State, should have been a formality, an obvious mismatch for Liberty. Instead, the Flames recovered from a 10-point deficit late in the second half, pulling off an 80–76 upset and clinching the first tournament win in school history.
Falwell missed the game that night; he was interviewing Alan Dershowitz for a convocation on campus. But I was there, covering the game for ESPN. I don't remember anyone mentioning McCaw's past troubles or Liberty's climate of intolerance or Falwell Jr.'s Trump support. Liberty had won the game, and also the PR contest, becoming the little school that could.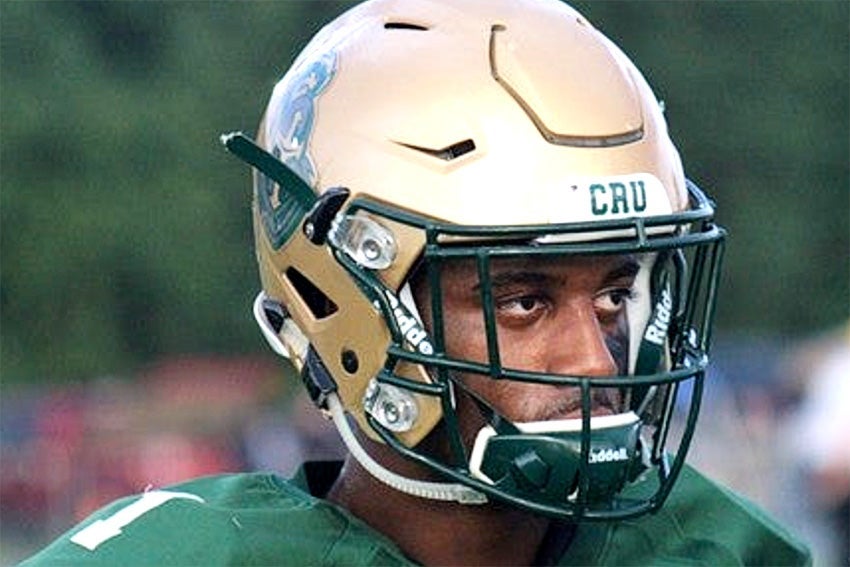 In the summer of 2019, Tayvion Land arrived at Liberty as the best football recruit to ever sign there. And it only happened because his top choice evaporated at the last minute.
Land had been committed to Maryland for more than a year and planned to sign with the school in February. But Maryland had recently hired a new head coach who preferred bigger, stronger athletes, leaving the 5-foot-8, 166-pound Land looking for another school only a few days before national signing day.
"That stuff unfortunately happens. So I was doing everything I could to touch base and found him a home at Liberty," said Joe Jones, Land's coach at Ocean Lakes High School in Virginia Beach.
Land, who was ranked one of the top 20 recruits in talent-rich Virginia by most scouting services, was not psyched. He'd previously held scholarship offers from schools like Auburn, South Carolina, and Virginia Tech. But now he was running out of options. So he hustled to make the four-hour trip to Liberty the weekend before he had to decide.
"I thought it was a Christian school and I didn't feel like doing all of that. I didn't know anything about Lynchburg or Liberty at all," Land said. But he needed a place to play, and those facilities Falwell and McCaw pumped tens of millions of dollars into gave the program the sheen of promise. His friend Tre Clark was also going there, so it seemed like a good enough fit.
"So we went and it was straight. Everything was cool," Land told me. "They had some sweet facilities and all of that." In his announcement on Twitter, Land said, "through much doubt and oversight, I'm blessed to have found a place that has accepted ME for ME!" Liberty was blessed too; the school was unaccustomed to landing a player as highly touted as Land.
While Land knew very little about Liberty before crash-landing there, Asia Todd actually chose it. Todd had a number of scholarship offers to play college basketball coming out of Clayton High School, about 20 miles outside of Raleigh, North Carolina. Before her senior year, Todd narrowed her options to a handful of midmajor programs, including Butler, Florida Gulf Coast, and Liberty.
Todd told me she felt at home on her official visit to Liberty. She felt an instant connection with the coaching staff, who made it clear she was their recruiting priority. And as the daughter of a pastor, Todd was drawn to the school's religious foundation.
"I definitely felt like God did lead me to Liberty," she told me, recalling a dream in which God actually said she should sign with the school. Her father, James Todd, didn't want to interfere with her divine inspiration, but he had his reservations. He knew all about Falwell and his politics, including his unabashed support for Trump's campaign in 2016, which was divisive even among Liberty's supporters.
"I didn't think she had a great understanding of the political ideology that was going to be prevalent," James Todd said. "So I think for her, that was a major culture shock."
It didn't take long for Asia Todd to understand her father's concerns. She specifically recalled a convocation in September when the speakers were conservative commentator Candace Owens and her husband. Falwell and his wife, Becki, joined them onstage while Owens talked about "Blexit," her proposal for Black voters to abandon their support of the Democratic Party. Her goal was to "challenge Black Americans to consider what Trump actually asked of [them]," Owens told the crowd. She said concerns about police officers shooting unarmed Black men were overblown and repeated a false claim that "police officers were 18 and a half times more likely to be shot and killed by a Black man than the other way around." She also called modern feminism "a scam."
Todd and her friends—most of them Black—looked around the arena that morning, taking in the scene of the overwhelmingly white audience applauding and nodding along with Owens.
"I can say that my parents did warn me about some of their ideology and that it didn't align with things that they raised me and stuff they stood for," Todd said. "I definitely should've listened. I feel like if I did know more about [Falwell] and what he stands for, I don't know if I would've gone there."
At the end of his freshman year, Land felt the same way. He talked of constantly feeling out of place whenever he left the football facilities. On campus and in class, Land told me, he felt the judgment of his white classmates and professors.
"I'd feel the energy of people staring at me the wrong way, small things like that," Land said. "It was kind of shady sometimes. Most times, I stayed to myself."
By the time Land went to the coaching staff to tell them he'd decided to transfer, they seemed to understand.
"They didn't beg me to stay," he told me. "They said, 'It's hard to see you go and we wish you the best.' "
As for Liberty, the official response to Land's announcement came in a tweet. "Saddened to see you transfer, especially in the wake of totally inappropriate comments by a professor who has been terminated," the school tweeted in response to Land and Clark's announcements. (I asked Liberty for more details on the professor's termination, but the school did not reply.) "You will always be a part of the LU family, and we will support and pray for you wherever you are."
Todd, Land, and Clark's departures generated the sort of headlines that no school hoping to recruit top athletes wants to see. "Falwell's Blackface Tweet Brings Racial Dissent to Liberty University," read the New York Times. "Liberty Basketball Player Asia Todd Transfers Due to 'Racial Insensitivity' From Leadership," wrote USA Today. And Bleacher Report ran a story titled, "Liberty CFB's Tayvion Land, Tre Clark to Transfer, Citing 'Racial Insensitivity.' "
For all the work and money Falwell has poured into Liberty's athletic program, he's risked damaging it all with his inflammatory politics and inhospitable campus.
"The headlines right now are terrible for the football program," one Black alumnus and football player from the 1990s told me. "I know high school kids who have declined scholarships there."
In a moment where so many of the nation's institutions are at the very least acknowledging their own failings in addressing racism and other kinds of bigotry, Liberty seems mostly unwilling or ill-equipped to do the same. It is Liberty, after all, that has a school of government named for the late Sen. Jesse Helms, a renowned segregationist and homophobe. In November, the school launched an on-campus think tank with conservative activist Charlie Kirk. The Falkirk Center—a mash-up of the names Falwell and Kirk—recently posted on its Facebook page that "the Black Lives Matter organization … has decided to capitalize on only certain injustices to paint a narrative of systemic oppression where there isn't one." And just last week, Kirk tweeted, "Hilarious to see Black NBA players who make millions a year take a knee to try and tell us black people can't succeed in America. Kick them out of the league."
"This school was borne out of a culture that was systemically racist," said Fea, the Messiah University professor who has written extensively about Liberty on his website. "And they won't address that because they don't even believe in it."
"It's almost as if Liberty is approaching a breaking point," Manson, the Sea of Red blogger, told me. "Either they're going to break through and explode onto the national scene in an even bigger way athletically. Or Jerry Falwell Jr., and the publicity that he brings, could send it the opposite direction."
On July 6, Land announced that he planned to transfer to Norfolk State, a smaller, historically Black university much closer to his family in Virginia Beach. It wasn't a surprise, as Land hinted for weeks that he would choose a Black college this time around. "My choice is to be surrounded by people with similar backgrounds and cultural experiences," he explained in his statement on Twitter.
Todd decided to transfer to Central Florida, where she plans to sit out a year and retain three years of eligibility. "UCF is a diverse institution," she told me. "And the coaching staff, they were culturally competent. I felt like it was a place where I could thrive, and not just on the floor."