After swirling it into the $275-a-plate white truffle risotto while working the vegetable station at Per Se restaurant in New York City (and finishing her shift spooning it out of a deli container at 2 a.m.), Whitney Wright1 brought it with her to Gilt Taste, the award-winning online food media arm of the flash sales site Gilt Groupe, where she pitched it as "Amazing One-Ingredient Corn 'Butter'" in 2012.
As Whitney told me, it was nearly impossible to come up with ideas that then Editorial Adviser Ruth Reichl hadn't heard of, yet this one impressed her. "I don't know anybody in the world who knows more about food than she does," Whitney said. "And she said, 'This is so cool. I've never seen anything like this—let's run it.'" Out into the hungry world it went.
What the world learned is that, when you wrest the milky liquid from fresh corn2 (by de-kerneling, blending like mad, and straining away the pulp), then heat it on the stovetop, it quickly thickens into smooth, sweet, spreadable butter. The texture and spirit is a bit like apple and pumpkin butters, but without the need for added sweeteners or spices—and it's ready in four minutes instead of 45. But how?
"Corn is made up of a lot of sugar, particularly the corn that we eat," Whitney said. "And when they harvest the corn, that sugar starts turning into starch, almost immediately." So the ears that were just harvested hours ago? Eat those right off the cob, typewriter style. From that day forth, they'll be great candidates for butter-ing.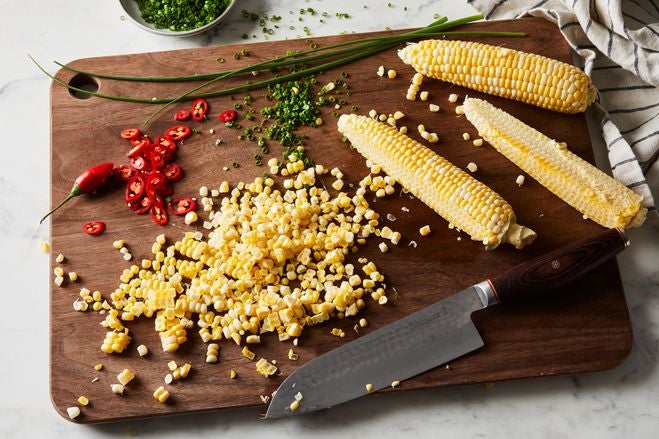 Sadly, since Gilt Taste folded in 2013, the only place you could find the recipe was in our Genius Recipes cookbook, where I'd nestled it after Food52 community member jbban tipped me off.3 Even Whitney couldn't access her original version anymore.
Lucky for us, she had generously sent me the first draft of the article when I'd asked for it for the cookbook, so now we can not only share the magic of corn butter—but also Whitney's list of brilliant ways to use it.
So here, resurrected from the churning maw of the internet, are those thought starters."There are a zillion ways to eat or cook with this stuff," Whitney wrote on Gilt Taste in 2012. Her genius suggestions:
• Slather onto cornbread or a muffin instead of butter

• Use it on sandwiches instead of mayonnaise

• Fold it into sautéed spinach with onions, and finish with just a touch of cream for killer creamed spinach

• Dribble it onto a hot dog (it'll remind you of a corn dog)

• Stir it into risotto and finish with Parmesan

• Blend it with vanilla ice cream for a crazy delicious milkshake

• Top tacos or fajitas with it

• Mix it with shredded cheese, a little sour cream, and a jar of drained jalapeños, bake and serve as a LIFE ALTERING dip for tortilla chips
Now your turn. If we can stop ourselves from slathering it on every biscuit and English muffin we see, what else should we do with our corn butter?
Sweet Corn Butter From Whitney Wright

Makes about 3 cups, but scales up or down well.

• 8 ears fresh sweet corn, shucked
• Butter and salt, to taste (optional)

See the full recipe on Food52.

1After working in food media, restaurants, and an investment fund, Wright is now the co-founder of Athena Collective, a gender equity nonprofit in Birmingham, Ala., and founder of the empowerment theory–driven Elia Fulmen Jewelry Co.

2After draining the corn milk to make butter, you'll leave behind the dry pulp of the kernels. At Per Se, Whitney said it was repurposed to clarify (and add flavor to) stocks, and I think it would be good stirred into rustic breads or polenta. Any other ideas?

3jbban had more ideas for corn butter that are too good not to share: "This morning, I mixed it with some softened cream cheese to dollop on zucchini bread pancakes. I can't stop thinking about turning it into caramel, possibly as the base for an ice cream, or just to drizzle on ice cream (peach flavored, perhaps?)"
More from Food52:

Tiny Cheese Plates Are *The* No-Cook Summer Dinner
Summer Calls for Pisto Manchego—With a Fried Egg on Top
A Bite-Size Look Back at the 40-Year History of Cape Cod Potato Chips
7 Cozy Instant Pot Soups & Stews to Warm Your Home (& Heart)
Wait—Have We Been Grilling Burgers All Wrong?
How to Make the Creamiest, Dreamiest Pudding (a Highly Underrated Dessert)