Taylor Swift surprised-released a new album called Folklore on Friday, and like all her albums, it's bound to be a hit. But will Folklore live on in folklore? Will we pass it on, generation to generation, around a campfire? I don't know, it could; maybe someone will think to save it because it literally says "folklore" on it? And just how folkloric is this thing, anyway? (Are these true stories of the common people? Myths handed down through the decades? Pastoral tales of the American countryside?)
In the spirit of treating this album as an important historical artifact, here is an analysis of the subjects Taylor Swift sings about on it. People! Places! Things! Planets? Read on for a breakdown.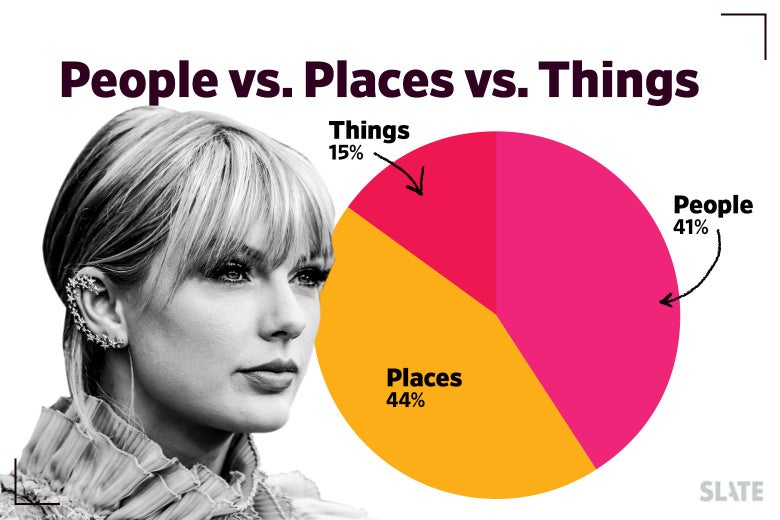 People
Real
• Bill: His full name is William Hale Harkness, and he was Rebekah West Harkness' second husband (of four). On "The Last Great American Dynasty," a song about his wife, Rebekah (about whom there is more below), Swift does a good job telling listeners what the other important thing to know about him is: He "was the heir to the Standard Oil name and money."
• The Bitch Pack: This is the name for Rebekah West Harkness' group of friends (you might say, squad), who helped Harkness gain her reputation for being outrageous. We're not sure, based on available info, who was in the Bitch Pack or how many members it had, so we're going to make some assumptions out of quantitative necessity. For the purposes of our statistical analysis, let's say that there were three Bitch Pack members, because with Rebekah, that makes four, and everyone knows the best cliques have four members.
• Dalí: Salvador Dalí was a painter known not only for his surrealist, Dada work, but also for his eccentricities, particularly his signature pencil mustache. If Rebekah Harkness was playing card games with him, it means she kept some pretty wild company.
• Rebekah West Harkness: A 20th-century socialite (she died in 1982) who used to own Taylor Swift's Rhode Island mansion. Seems like a good bet that her story resonated with Swift: She was one of the richest women in the world as well as a target for media criticism and public disdain.
Fictional

• Peter: As in Pan, the title character in J.M. Barrie's classic story. Peter is our cultural shorthand for immaturity and the struggle of leaving adolescence.

• Wendy: The other main character in Peter Pan, the one who ultimately did the responsible thing and left childhood behind.
Unclear

• Betty: The person who is being addressed in the song "Betty." James, the narrator, knows he messed up and is asking if she'll ever grant forgiveness. As to whether she's a real person, there's not a whole lot to go on—and yet that hasn't stopped fans from speculating that she's named after everyone from Blake Lively and Ryan Reynolds' third daughter (the other two are named James and Inez, which, see below) to Karlie Elizabeth Kloss to Rebekah Harkness, nickname Betty.

• Inez: Someone who passed gossip concerning James onto Betty. It's unclear if she's the other woman in a love triangle with Betty and James or just a generally loose-lipped person.

• James: The narrator of the song "Betty," the one who wants to be forgiven. Fans offering queer readings of the song suggest that James could be a woman, like one of Lively and Reynolds' daughters, or like Ms. Swift herself, who was named after James Taylor.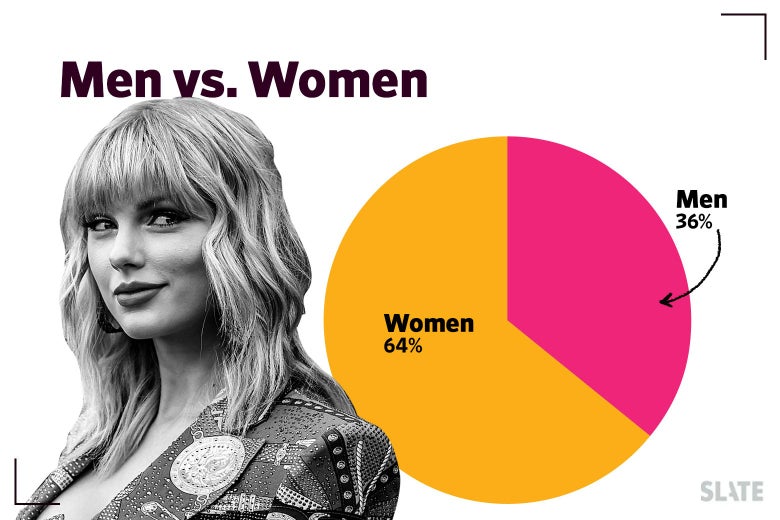 Places
Urban

• LA: A city that Taylor Swift (or the narrator) traveled to with a love interest early on in their relationship, as recounted in the song "Invisible String." Also a notable city for a lot of other reasons, obviously.

• New York: Taylor's home base for a few years and the city she sings about on 1989's "Welcome to New York." She continues to keep a residence there. And sing about it, apparently!

• St. Louis: The Missouri city Rebekah West Harkness came from.
Rural/Pastoral

• Holiday House: The historic name for Swift's mansion in Rhode Island, which dates back to Rebekah West Harkness' years there.

• The Moon: A rock that's orbiting our planet, and Swift compares its distance from Earth to how much she loves someone in "Seven." May not technically qualify as rural or pastoral, but it definitely ain't urban.

• Saturn: A planet that Earth shares a solar system with. By the rules of My Very Educated Mother Just Served Us Nine Pizzas, there are three planets between it and us. Once again, its great distance from us is meant to represent the copious amounts of love Swift has for the subject of "Seven."

• The Lakes: Probably referring to the Lake District in England, a historic national park that's home to many lakes, although we'll know better once we've heard Folklore's bonus track of the same name. It seems more likely to be those lakes than the U.S.'s Great Lakes or another group of lakes because Taylor Swift is dating an Englishman, actor Joe Alwyn, and as you might have heard, she has spent time with him in England.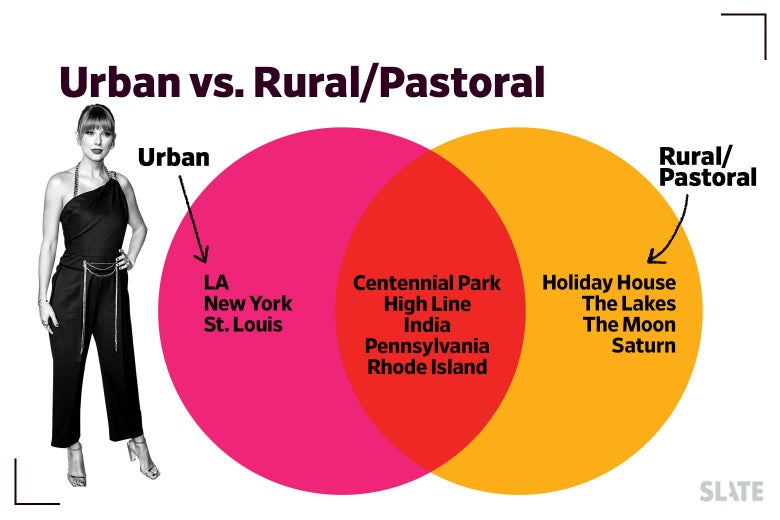 Both

• Centennial Park: There are several parks with this name, but "Invisible String" is probably referring to the one in Nashville, where Taylor Swift lived for years and still keeps a home.

• The High Line: A park in New York City built on out-of-service railway tracks, but also a backdrop for romantic moments in ballads.

• India: A country in South Asia that's home to more than 1.3 billion people, and also, for the purposes of this song, a place that the young protagonists in "Seven" hope to escape to avoid a seemingly abusive father.

• Pennsylvania: A large state with many cities and towns in it that is most notable for being the U.S. state where Swift grew up—specifically at a Christmas tree farm in its southeastern region.

• Rhode Island: The smallest state, and the one that contains the mansion owned formerly by Rebekah Harkness and currently by Taylor Swift, the site of historically important 4th of July parties.
Things
Brands

• Levi's: A brand of jeans worn by someone who is an object of the affection of the narrator of the song "Cardigan."

• Standard Oil: A now-defunct oil company that was dismantled for its monopolistic activities but not before robber barons used it to become filthy rich. This money was eventually passed on to heirs, and in the case of Standard Oil, much of it went to William Hale Harkness, Rebekah West Harkness's second husband.
Periods of Rest

• August: Many people's least favorite month, making it a thematically appropriate time in which to set songs about failed love affairs, such as the Folklore song of the same name, "August."

• Sunday: Either the seventh or first day of the week, depending on who you ask, and if you're Taylor Swift, a good day to take in a matinée—while contemplating loves lost.