If you think of scallions strictly as a garnish or seasoning, you're in for a rather life-changing surprise.
Because, once you know their secret, you'll be able to cook them as a fresh, sweet green vegetable to pour, still-sizzling, next to creamy beans or crisp chicken or scrambled eggs—in five minutes, barely having lifted a knife, with just one other ingredient at hand.
I first lit on this recipe when we started quarantining at home in March, when everything about our new reality was leaving me frazzled and lost. Re-reading Edna Lewis's breakout 1974 cookbook The Taste of Country Cooking before bed each night was a balm.1
Her voice is graceful and clear as she describes the happy rhythms of life in the small farming community where she grew up, Freetown, Virginia—so named by her grandfather and two others who founded it, newly free from chattel slavery. Every recipe and menu in the book, both for celebratory feasts and everyday suppers, is tied to the season, and whatever had been growing and hatching and curing.
Her Skillet Scallions, which appear as part of the menu called "An Early Summer Dinner"—with sautéed veal kidney, spoon bread, salad of Simpson lettuce and young beet tops, strawberries and cream, and sponge cake—stuck in my mind, in part because of its ease and rare honoring of scallions in their whole form. But perhaps even more because of Edna Lewis' definitive final sentence: "No salt or pepper will be needed."
Piled in a skillet with only foaming butter and the water still clinging from rinsing, the scallions quickly steam and soften, losing their sharp funk and leaving behind a mellow sweetness that's so fully flavored as to not need anything else.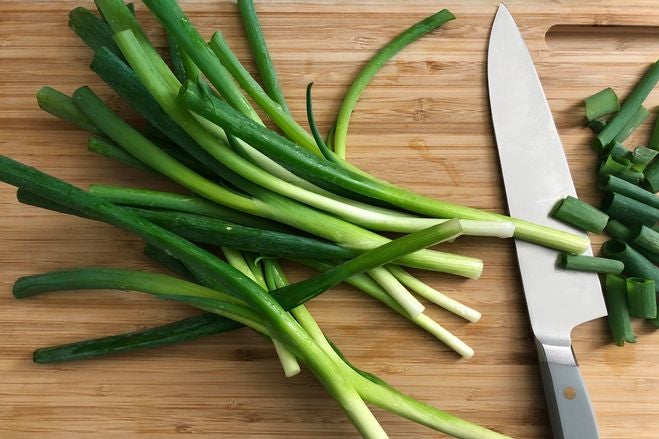 "In my opinion, they are an underused vegetable and taste almost as good today as they did years ago," she wrote in a later recipe for Creamed Scallions in her following cookbook In Pursuit of Flavor. So, if you haven't yet, you may want to start regrowing your scallions now.
Of course, as you work these into your own rhythms, you could play around with any seasoning you like—a sprinkle of lemon juice, a pinch of ground chile, a few slices of ginger. Or throw them into the skillet after having seared other things like steak or chicken thighs, as I've started to do to save washing a pan.
But you needn't and I hope that, at least the first few times, you won't, to understand the simplicity that Edna Lewis wanted us to taste.
1 To learn more about Edna Lewis's life and impact on the food world, I highly recommend Francis Lam's New York Times Magazine essay Edna Lewis and the Black Roots of American Cooking.
Skillet Scallions From Edna Lewis

• 4 bunches scallions (or as many as you'd like to cook, see Author's Note above)
• 3 tablespoons unsalted butter

See the full recipe on Food52.
More from Food52:

Our 12 Favorite Summer Beers for When We Need a Frosty One
The Unforgettable Pasta That Makes Me Long For Italy
Khara Huggi or Pongal From Chitra Agrawal
The Tumultuous History of Atlantic City's Salt Water Taffy
Pad Thai From Kris Yenbamroong
13 Ways Chicken Thighs Are Winning Dinner