It's 7 a.m. What I want is the strength and staying power of chewy, creamy, whole-grain nubbles of steel-cut oats. What I get is the quick-cook kind, zapped in haste at the last possible minute. If I'm lucky, it doesn't explode in the microwave.
While I'll never pass judgment on the panic-button sort, given how many times it's spontaneously righted a shaky morning (or night) and tasted perfectly good, I'm nonetheless thrilled there's a shortcut to the steel-cut oats of my dreams—one that will deliver them in a casual seven minutes instead of 30, and with more color and life than I'd ever thought to stir into my porridge before.
The recipe comes from Maria Speck, author of Simply Ancient Grains and our foremost expert on both making the most of whole grains and fitting them into our busy lives. Much like her shortcut polenta that I highlighted as a Genius Recipe in 2016, this technique relies on thinking ahead (we can do it!) to shave off far more time later on.
The night before you want your quick, creamy, package instruction-defying oats, simply pour boiling water over them. For extra flavor and natural sweetness, Maria adds a cinnamon stick and a handful of dried cranberries; you could infuse whatever you'd like: star anise, strips of orange peel, even a bay leaf or Parmesan rind for savory oats.
But why do soaked oats need dramatically less active cooking time? As Maria discovered after writing to food scientist Harold McGee, grains rely more on the absorption of water than heat to cook through—and the boiling water at the beginning is a particularly good jumpstart. So by the time you're looking for breakfast, your steeped, infused oats are just about ready to eat. (And if you don't end up with seven minutes to cook them—no worries! You can pop them in the fridge to buy another day or so.)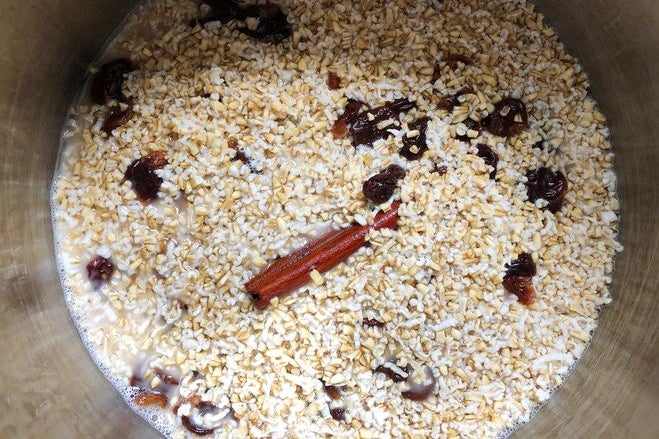 In the morning, you'll add in a bit more liquid—here it's milk and water, but it could be juice or stock instead—and finish cooking the oats, watching them go from just-plumped to creamy and porridgey, fast. You could keep it simple and comforting, using this basic technique to make oatmeal just the way you've always liked it.
Or you could follow Maria's artful lead, adding frozen or fresh berries for brightness and tang, more dried fruit for pockets of soft, winey chew, and just a tablespoon of raw sugar for four to six servings—with the rest of the ingredients' natural sweetness, it's all you'll need. Finally, the toppings: toasted pistachios, Greek yogurt, more berries, a sprinkle of cinnamon (or—you know where I'm going with this—anything you'd like).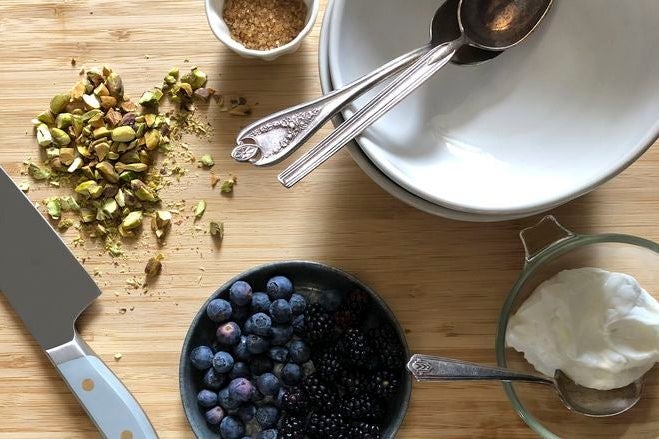 The speed and thrill of this recipe were more than enough to sell me—not to mention it's one of maybe four things my daughter has been excited to eat this week—but then Maria revealed the real inspiration:
"I don't know how it is for you, Kristen, but when I cook steel-cut oats for 30 minutes, my stove is a veritable mess," Maria told me in the video above. "I was just totally helpless—I love steel-cut oats and they were just always boiling over."
With the oats having done most of their cooking on their own time, the final simmer is swift and tidy. Which means, of course, the poor microwave is spared, too.
Serves 4-6
Steel-Cut Oats:
• 1 cup steel-cut oats (gluten-free if desired)
• 1/4 cup dried cranberries or cherries
• 1 (2-inch) cinnamon stick (optional)
• 1 1/2 cups boiling water
Porridge:
• 1 cup whole or low-fat milk
• 1 cup water
• 1 1/2 cups fresh or frozen raspberries (no need to thaw if frozen), plus any berries you like for garnish
• 1/4 cup dried barberries, sour cherries, or cranberries
• 1 to 2 tablespoons turbinado sugar, plus extra for sprinkling
• Pinch of fine sea salt
• 1 to 1 1/2 cups whole or low-fat Greek yogurt
• 2 tablespoons chopped lightly toasted shelled pistachios
• Ground cinnamon, for sprinkling
See the full recipe on Food52.
More from Food52:

21 Black-Authored Cookbooks to Add to Your Shelf
10 Black Food Bloggers to Follow
This Comforting Dish Connects Me With My Cuban Roots—but It's Complicated
3 Ways to Support the Hospitality Industry—From Your Phone
How To Buy Wine in the Coronavirus Era
A Certain Dish for Uncertain Times