When we're casting about the kitchen for a quick lunch or dinner (that isn't cereal) (again), canned beans are there for us. But we're not letting them show off as much as we should.
We send them into soups, smashes, and other cozy mushes, but—in the time it takes to gather the rest of your meal (and yourself)—you could be eating those same canned beans with shimmery, crackling surfaces like hot French fries. In fact, you will eat a couple handfuls before they make it to the plate—maybe budget that in.
As you start throwing your meal together, just rinse, drain, and lovingly towel off your beans, toss them in olive oil and salt, and stick in the oven for 20 minutes to crisp and sizzle (1). That's it.
"The roasted beans here make an appearance in many of the recipes," Allison Arevalo (2) writes in her newest cookbook, Pasta Friday. "And that's because I eat them. All. The. Time. I eat them with pasta, with bread, with a spoon, and my picky children eat them, too, so they're on a steady rotation at my house."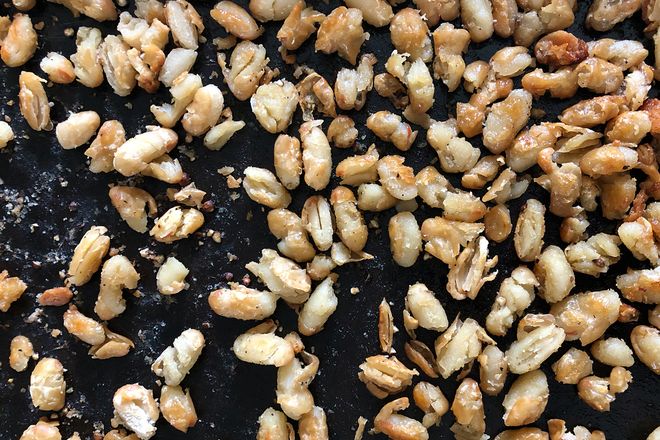 Though this recipe calls for cannellini, any canned bean will be improved by this simple technique. I've been doing it to a lot of chickpeas lately, which we already know love to crisp.
And if you're working your way through a pot of beans you simmered from dried: For one thing, I envy your meal-planning and for another, yes, they will also respond well to this olive-oil-and-dry-heat treatment. For all of the above, the key is drying them well.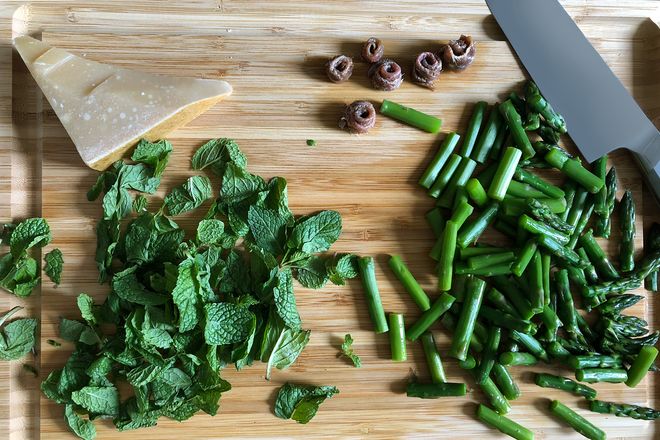 There are few meals crispy beans wouldn't improve, but I especially loved them starring in a springy salad from Allison that changed what I think a salad needs. Because, apparently, the lemon (or other acid) that I mindlessly pour over my lettuces has been keeping me from tasting much else: the green wildness of asparagus, the peppery nip of arugula, the chill of fresh mint—not to mention the creaminess and comfort of a good crunchy bean.
Allison doesn't make a dressing at all, just olive oil and flaky salt, and lets the ingredients hold their own. Next time you're making a salad—whether it's this one or using up whatever you've got in the crisper—consider giving your vegetables the same opportunity. And get some beans in the oven, too.
(1) You can also crisp beans on the stovetop if you'd rather not turn on the oven (just dry them well first). See Heidi Swanson's Pan-Fried Giant White Beans With Kale for one way to doll them up.
(2) Yes, the same Allison Arevalo from this New York Times story about selling 120 pounds of homemade pasta a week from her stoop in Park Slope, Brooklyn, while she waits to be able to open her new restaurant Pasta Louise.
Serves 4-6.
• 1 (15-ounce) can cannellini beans, drained and rinsed
• Kosher salt
• 8 ounces asparagus
• 6 tablespoons extra-virgin olive oil, divided
• Freshly ground black pepper
• 4 ounces wild arugula
• 3 ounces shaved Grana Padano or Parmigiano-Reggiano
• 1 cup chopped fresh mint
• 1 (1.6-ounce) can anchovies, drained, fillets rolled into little spirals (optional but recommended)
• Flaky sea salt
More from Food52:

This Comforting Dish Connects Me With My Cuban Roots—but It's Complicated
9 Types of Indoor Fruit Trees You Can Grow in Your Living Room
Here's Why All the Yeast Is Sold Out Right Now
3 Ways to Support the Hospitality Industry—From Your Phone
How To Buy Wine in the Coronavirus Era
A Certain Dish for Uncertain Times