Anyone can make a great biscuit—even if you didn't grow up patting out dough, even if you don't possess baker's intuition or cold hands or a proper cutter. Carla Hall will make sure of it.
Carla—who we know and love from Top Chef and The Chew, her award-winning cookbooks, and her inspirational hula-hooping on Instagram—started late herself. She may have grown up in Nashville loving the crispy-bottomed biscuits she'd eat on visits to her grandmother's house, but didn't bake them at her side.
In 1990, Carla started a lunch delivery service "as a fluke," she says, and wanted to offer biscuits with smoked turkey—but she had to teach herself how to make them first. "It was a process," Carla told me. Having just lived in London, she started with a scone recipe from the Guardian as a base, then added in the tips she'd picked up from her grandmother. "I literally took something from England and this Southern recipe and mushed them together for my perfect recipe," she said.
She's been perfecting them since, working in tricks from her own happy discoveries (like the very best way to get still-tender biscuits out of the scraps) and conversations with other biscuit obsessives (like Nathalie Dupree, who enriches her buttermilk by blending in lard—Carla goes for sour cream). And when she launched her restaurant Carla Hall's Southern Kitchen in Brooklyn in 2016, because she was teaching biscuit novices (and because the last biscuits needed to be just as good as the first), she had to make sure her recipe was both beginner-friendly and consistent. We are all the beneficiaries.
The secrets to her fluffy, flaky, completely unintimidating biscuits are tucked into this recipe from Carla Hall's Soul Food, and brought to life in the video, in which Carla walks me through the best biscuits I've ever made (so that you can do it, too).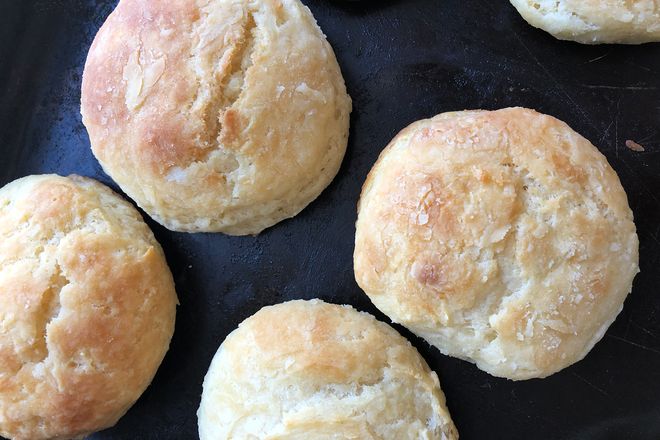 There is more genius contained in this recipe and in Carla's coaching than I can do justice to here, but below I'll highlight what I found to be the most surprising, helpful, and memorable parts of her technique:
Rub a couple tablespoons of shortening (or neutral oil, in a pinch) into the dry ingredients before bringing out the butter. This makes for extra-crispy edges. But it also coats the flour's proteins, preventing them from linking up and forming extra gluten—aka keeps the biscuits tender and harder to overwork. (Carla is a big Shirley Corriher baking science fan, too.)
Grate in a frozen stick of butter—either by hand with a box grater or in a food processor—to make consistent pockets of butter to puff up and make flaky layers, without needing to know exactly how the dough should feel. Double genius: Dunk the stick of butter in the flour at the beginning (and any time it starts to get slippery).
Carla loves thick, rich, whole-milk buttermilk, but if you can only find low-fat (or none at all), make a substitute with enough fat to get the job done: whole milk (or low-fat buttermilk) plus sour cream (or yogurt), in roughly equal proportions. It should be a little thicker than heavy cream. That vinegar-plus-milk hack won't cut it here.
Make your batter wetter than you think it should be. Bat it around in a thin coat of flour, like a kitten playing with a ball of yarn, to keep it from sticking. Then pat in a few loose turns like you'd fold a letter, a much more relaxed version of puff pastry.
A hollowed-out can is a better makeshift biscuit cutter than a drinking glass because it lets the air escape out the top (and the biscuits, not stuck in a vacuum, gently slide out the bottom).
After cutting the biscuits, flip them over on the sheet pan. That cutter-pinched edge being on top yields an extra 1/8 to 1/4 inch of height, since the rest of the biscuits below the pinch can rise unimpeded.
Bake your biscuits spaced-out on a buttered sheet pan (not parchment) for extra-crispy bottoms and crunchy edges all around.
But as wonderful as fluffy-perfect first-timer biscuits are all on their own, as Carla notes, "It's all about how you eat them." For her: Melted butter, two kinds of jam, save the crispy bottom for last. You?
Makes about 16 biscuits.
• 8 tablespoons (4 ounces) unsalted butter, frozen, plus more, for the pan
• 2 1/2 cups (310g) all-purpose flour, plus more for shaping the dough (if measuring by cups, be sure to stir the flour in the container first, scoop into the cup, then level off, without tapping the flour down)
• 1 tablespoon baking powder
• 1 teaspoon granulated sugar
• 1 teaspoon salt
• 1/2 teaspoon baking soda
• 2 tablespoons vegetable shortening, at room temperature
• 1 1/2 cups whole-milk buttermilk, cold
More from Food52:

Michelada Ribs Are Peak Summer
Black Lives Matter. These Organizations Need Our Support.
Andrew Chau & Bin Chen's Roasted Banana Milk
4 Practical Ways to Prepare Your Home for a Pandemic
Why Home Is More Important Than Ever
10 Black Food Bloggers to Follow