When King Arthur Flour's team of bakers sets out to create their Recipe of the Year, they spend months developing and cross-testing to make exactly what they want—with the hopes of ending up with a recipe that will be loved by everyone who tries it, from pro bakers to first-time flour buyers.
For 2020, inspired by the pizza nights they're known for hosting in their local community in Norwich, Vermont, they were looking for a very specific type of pizza: one with the crispy edges of Detroit-style (or, yes, Pizza Hut-style), the fluff of focaccia, and the sauce-atop-cheese inversion of Chicago deep-dish (there's a smart reason for this simple rebellion, as you'll see).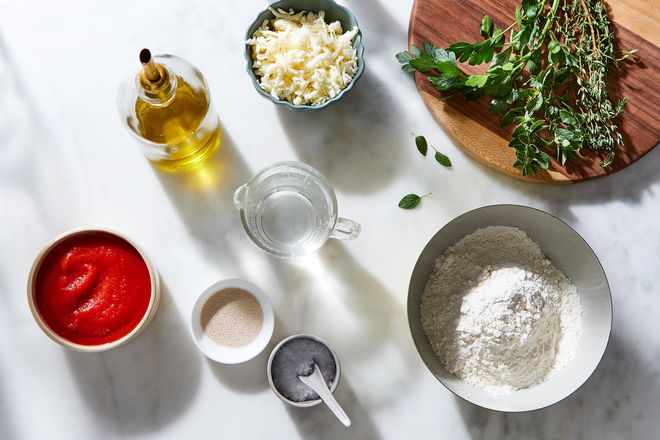 For this crispy-cheesy-floofy cloud of pizza, you won't need any dough skills, but you will need a bit of time. Not active time, mind you—each step takes roughly 10 seconds of your attention. But the passive, let-it-be sort of time (namely, a cold rise overnight in the fridge, plus a two-hour rise before hopping in the oven) to make the dough do the lion's share of the work while you settle in with a good book or puzzle (or follow your toddler from room to room, if you're me).
It's the thoughtful, well-planned style of recipe that, in my tendency to not think about dinner until 9 p.m., I might have bookmarked and forgotten about. That is, until I made it three times in the past week. And I'm already wondering when I can have it again. (1)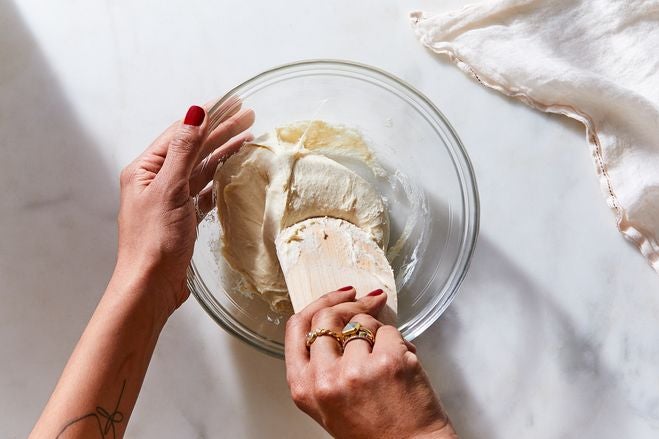 There are so many Genius elements to this recipe that I feel compelled to write them in list form:
There's no kneading, only folding. Just like a T-shirt. This move is all you need to create enough structure for the dough to capture air pockets and puff up in a hot oven. In only four folds, you'll see the dough turn from stiff and shaggy to glossy and loose (like the kind you might buy at the grocery store), as the flour hydrates and the gluten relaxes. (2)
A slow, cold rise makes for the best flavor and most flexible timing. Because it has little risk of overproofing, the dough can hang out in your fridge anywhere from 12 to 72 hours before you pull it out to rise in the pan. So if you realize—oops—no time for that last 2-hour rise in the pan tonight? Tomorrow it is!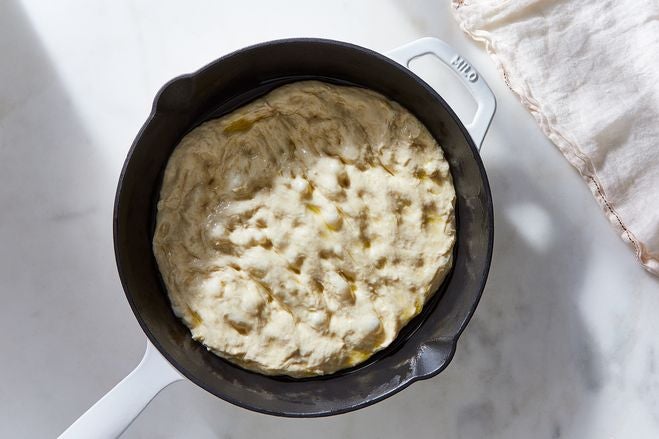 The pan is a very supportive friend to pizza (and you). Baking in an oil-smeared pan means that there's no need for shaping a very wet dough, or sliding it from peel to pizza stone. It also means the crispiest edges imaginable.
And while the recipe was designed for the heft and even heat of a cast-iron skillet, it will work in all sorts of square and round cake pans, too. "It's pretty much indestructible," King Arthur Content Editor (and longtime Food52 contributor) Posie Brien told me.
Cheese before sauce is a legitimate reordering. Because a thorough melty barrier against sauce means no soggy crust. And by sprinkling the cheese layer all the way to the edges, it melts and toasts at the sides of the pan, forming the most glorious, crackly, frico-like crust.
You'll only modestly dollop on the sauce, which won't feel like enough, but it means you'll get little caverns of tomato with molten mozzarella, and well-poufed cheesy focaccia all around them (you'll see exactly what I mean in this video).
Because it's their Recipe of the Year, King Arthur has been making variations every month on their Instagram, from fennel and radicchio to chili cheese fries. So, while I'm partial to the pure joy of the jarred pizza sauce and gooey cheese, you can tap your own fridge stores and creativity every time you make it.
(1) If you're in an area with yeast shortages, here are a number of breads you can make at home without store-bought yeast.
(2) We've seen this trick before, in Jessica Fechtor's Five Fold Challah—another rewarding, very beginner-friendly dough.
Makes one 9 to 10 inch pizza, but scales up well.
2 cups all-purpose flour (such as King Arthur Unbleached All-Purpose Flour)
3/4 teaspoon fine salt (like table salt or fine sea salt)
1/2 teaspoon instant yeast or active dry yeast
3/4 cup lukewarm water
1 tablespoon olive oil plus 1 1/2 tablespoons olive oil for the pan
6 ounces low-moisture mozzarella, grated (about 1 1/4 cups, loosely packed)*
1/3 to 1/2 cups tomato sauce or pizza sauce, homemade or store-bought
Freshly grated hard cheese and fresh herbs for sprinkling on top after baking, optional*
See the full recipe on Food52.
More from Food52:

Here's Why All the Yeast Is Sold Out Right Now
3 Ways to Support the Hospitality Industry—From Your Phone
How To Buy Wine in the Coronavirus Era
5 Vegetables You Can Regrow Indoors With Just Water and Sunlight
A Certain Dish for Uncertain Times
The Simplest Stir-and-Bake Vanilla Cake