Ragùs are slow, meditative things, with a circus of vegetables and meats cut to bits and stewed for hours. Or, counterpoint: They're not?
The first week of sheltering in place in New York City, former Food52 editor and current New York Times senior software engineer Nozlee Samadzadeh sent me a text: "I am eating the most genius and also quarantine-friendly dinner and the recipe comes from the blog of a baby website?" Having done my homework for me, she went on: "There are a few other tomato-bacon-fennel recipes on the wider internet, but not like this!"
This recipe flouts everything we know about slow-simmered sauces, and seems almost destined not to work. To make it, you pile nearly every ingredient in a food processor at once (1)—two to three bulbs of fennel, plus bacon, garlic, and a few spicy influencers (fennel seeds, chile flakes, fresh rosemary needles). Then you briefly soften the finely-mulched bits in a pan, stir in canned tomatoes, and stick it in the oven for half an hour while you boil some pasta.
It's like the speediest-possible mirepoix (or sofrito, battuto, and so on), with some flubber thrown in just to make it interesting for your Cuisinart.
I had so many questions. Wouldn't this much fennel be overpowering in a tomato sauce? (No, not in the slightest.) Wouldn't uncooked bacon (2) gum up the food processor? (Nope, thanks to an efficient blade and those vegetable buffers.) Wouldn't we lose control over the exact shape of our chopped vegetables and meat? (Yes—but, as it turns out, this is a place we can relinquish control. Let's seize the chance!)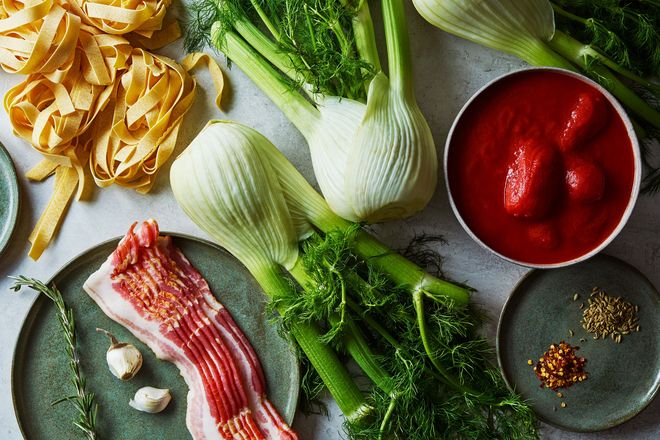 That baby site where Nozlee stumbled on this recipe is the online shop and blog Babyccino, from their contributor Lyndsay Bettles, a recipe developer based in Dubai. Lyndsay's mission, as she wrote to me in an email, is to encourage cooks to try new flavors in simple, stripped-back recipes.
"A lot of parents shy away from strongly flavoured vegetables like fennel and aren't too sure what to do with them," Lyndsay told me. "But there is nearly always a way to cook your vegetables so that kids will love them." As a former picky eater and mom to a one-year-old with impressive strength for whipping noodles onto the floor, this gives me hope.
In this case, the anise-y flavor of fennel softens and sweetens extra-quickly after being pulsed into confetti, especially in the company of bacon, tomato, garlic, and rosemary. The sheer volume of vegetable matter also helps the sauce feel fresh and vibrant—similar in spirit to rich, burly long-simmerers, but with a welcome sunny glow.
There are lots of ways to love this sauce, which is handy, because it makes a generous amount. Lyndsay writes, "We love it tossed through pasta or combined with beans to make a wintry stew (with plenty of bread to mop up the sauce)." I've used it as a layer in grilled cheese, a pizza topper, a braising base for vegetables like zucchini and flavor-appreciating proteins like chicken breast and shrimp. I've also made it extra spicy, diavolo-style, before tossing with pasta and spooning crème fraîche over the top. We might need to ease the noodle-thrower into that one.
(1) If you don't have a full-size food processor, you can still make this recipe! For years, I used a mini chopper for recipes like this (and just broke them up into many batches)—or you can hand chop it all while breathing deeply, which doubles as meditation.
(2) If you want to skip the bacon, Lyndsay recommends sausage, or ground beef or chicken instead—or even leaving out the meat entirely. If you make it meatless, it will need a bit more seasoning, and smoked salt (or smoked paprika) would go a long way.
Makes 1 1/2 quarts of sauce.
• 2 large or 3 small fennel bulbs, roughly chopped
• 8 strips smoked bacon, roughly chopped
• 2 garlic cloves, roughly chopped
• 1 sprig of rosemary, picked
• 1/2 teaspoon chile flakes
• 1/2 teaspoon fennel seeds
• 2 tablespoons extra-virgin olive oil
• 1 liter (1 quart/32 ounces) tomato passata (see full recipe)
• Sea salt, to taste
• Cooked pasta, to serve (or see full recipe for more serving suggestions)
More from Food52:

This Comforting Dish Connects Me With My Cuban Roots—but It's Complicated
9 Types of Indoor Fruit Trees You Can Grow in Your Living Room
Here's Why All the Yeast Is Sold Out Right Now
3 Ways to Support the Hospitality Industry—From Your Phone
How To Buy Wine in the Coronavirus Era
A Certain Dish for Uncertain Times
Support our independent journalism
Readers like you make our work possible. Help us continue to provide the reporting, commentary, and criticism you won't find anywhere else.
Join