Once a year, the National Football League canvasses every business, political campaign, and private equity bust-out operation in the country to ask them one important question: Do you love professional football so much that you are willing to pay $10 million a minute for access to the personal eyes and ears of your fellow football fans? The result is a comprehensive list of the products and services true football fans should purchase in 2020, both to demonstrate their love of the sport and to reward the corporations who helped fund the Big Game. It can be a daunting task, so to help you out, this year Slate is building a shopping list of every product advertised during Super Bowl LIV, complete with the estimated price and the grand total to buy one of everything. Are you a big enough football fan to collect the whole set?
A few notes on the methodology: Only full-screen Super Bowl ads during the game counted—get out of here with your pre-shows and network bugs—and local ads were taken from the broadcast on KTTV in Los Angeles, California, the home of Slate's Center for Extremely Useful and Important Consumer Research. We used $9.08, the average price of a movie ticket nationally, as the cost for any upcoming movies advertised during the game. For items for which a national average price was not readily available, we used the price at Super Bowl advertiser and frequent labor law violator Walmart, and we recommend you show your support for your favorite football team by doing the same.
One Ticket to See Fast 9 – $9.80
Fast fast fast fast fast fast fast fast fast. That's the Fast 9 promise!
One Year of Quibi – $59.88
You could upgrade to an ad-free version of Quibi for an extra $34.92 a year, but then how would you know what products or services to buy to show your support for Quibi?
Tide Power PODS Heavy Duty, 48 Ct. – $21.44
Make next year's Super Bowl party a night to remember by feeding your hungry boys a tray of delicious heavy duty Tide Power PODS!
The Masked Singer's Post-Super Bowl Episode – Free!
All you have to do is leave your TV on after the game, and you've already started your journey toward true football greatness.
The Daytona 500 on Fox – Free!
Assuming you already own a television and live near a Fox station, all it will cost you to watch football's biggest automobile race is a few hours of your life. And you've got plenty of those, right? Right?
Donald Trump 2020 – Your soul, your future, your children's lives
I'm not going to lie to you: voting for Donald Trump for president in 2020 to show that you're a good football fan is an expensive proposition. But it costs a lot to put on a Super Bowl every year, too, and you don't hear the NFL complaining about that. Do your part!
A Ticket to See Black Widow – $9.08
Marvel Studios continues to make major strides towards a world in which women and men are equally free to star in two-hour advertisements for the United States military. If you don't watch this movie, you are part of the problem.
A Mortgage from Rocket Mortgage – $153,720.27
The median price for a U.S. home in September of 2019 was $299,400, according to the census bureau; the current rate for a Rocket Mortgage 30 year fixed rate mortgage is 3.625%. With a 20% down payment, you'll pay Rocket Mortgage $153,720.27 in interest over the life of the loan. The cost of the house is not included in this calculation, because you can resell it—without hurting the NFL!—just as soon as you've paid off the loan, in February of 2050. Probably don't buy near the coasts.
One 2020 Porsche Taycan – $103,800
Environmentalists agree that the single most important thing you can do to help fight climate change is buy a brand new electric Porsche.
Snickers Candy Bars, 4 ct. – $8.87
Can you resist Mars, Incorporated's signature concoction? Why would you want to? You might fix the world in the process, or at least get to throw your enemies into a pit.
One Year of Hulu – $71.88
Hulu is the exclusive home of The Handmaid's Tale, the official Margaret Atwood television adaptation of the National Football League. Can you afford not to subscribe?
Lego Masters – Free!
It won't cost you anything to watch this, because you've already subscribed to Hulu. Lego!
A Four-Pack of Six-Packs of Mtn Dew Zero – $16.98
Why does Walmart make you buy these in packs of 24? Because you can't have too much of the great taste of Mtn Dew Zero! Drink it by the gallon, just like your favorite football players.
Website Hosting From SquareSpace for One Year– $144
The perfect place to host the website you'll need to raise the money to pay for the rest of your football/consumer journey!
$1 Million in Whole Life Insurance From New York Life – $12,563
We're using Nerdwallet's average cost for one million dollars in whole life insurance for a 40-year-old man. When you place your bet on the proposition that you will die in the next year, you may have to pay more or less.
One Year of Internet Service from FIOS by Frontier – $479.88
Actual speeds may vary. Installation, Equipment fees, Internet Infrastructure Surcharge, taxes & other fees apply. Services subject to availability and all applicable terms and conditions.
A 2020 Hyundai Sonata – $23,600
According to Hyundai's website, innovation after inspired innovation after inspired innovation make the all-new Sonata the best thing to happen to sedans in forever, astonishing the world with reimagined everything. Astonishing the world!
One 7 Ounce bag of Cheetos Cheddar Flavored Popcorn – $2.98
We're told "it's a Cheetos thing," but not what "it" is. Better stick to the 7 ounce bag until we figure out what's going on around here.
One Jar of Olay Regenerist Whip – $29.27
This stuff includes something called "Active Rush Technology" and is formulated with advanced Amino-Peptide Complex II! Whatever they're charging, it's not enough.
One 12 Pack of Michelob ULTRA Pure Gold Organic Light Lager – $14.48
Apparently if we all buy enough beer, we can end industrial agriculture forever. Look out, Monsanto, America is getting smashed!
Two Avocados From Mexico – $1.76
The average price of a Haas avocado nationally is $0.88, according to the United States Department of Agriculture's National Retail Report – Specialty Crops for Jan. 31. The ad is for "Avocados From Mexico," not "An Avocado From Mexico," so we are listing this at $1.76.
A One-Night Stay at the Seminole Hard Rock Casino and Hotel in Hollywood Florida – $814.87
That's the price for a Deluxe King Non-Smoking on the night of Saturday, Feb. 15, plus the occupancy tax and a $25.00 resort fee. You'll have to pay your own travel costs and handle your own gambling losses, but this is still the most convenient way to get a taste of that famous Hollywood glitz and glamor.
Pringles Variety Packs, 27 Ct. – $8.98
Each Pringles Variety pack contains 6 original flavor chips, 6 Sour Cream & Onion flavored chips, 6 Cheddar Cheese naturally flavored chips, 3 BBQ flavored chips, 3 Pizza flavored chips, and 3 Cheddar and Sour Cream naturally and artificially flavored chips. Assuming that the order of chips doesn't matter, but the number of chips does—i.e., a stack from two pizza chips and two original flavor chips tastes different than a stack with one pizza chip and one original flavor chip—how many different flavors of Pringles can be created from one variety pack? And will any of these flavor combinations consist of more than 42% potatoes?
One Copy of TurboTax Deluxe Edition – $40 (State Extra)
Not only will the money you pay for the software you need in order to pay your taxes help support the National Football League, it will also help pay for amusing Super Bowl ads, plus pay the salaries of an army of lobbyists who are working tirelessly to make sure it's impossible to pay your taxes without Intuit getting its taste.
One 2021 Genesis GV80 – $50,000
That's Car & Driver's estimated MSRP for the official SUV of football fans and EGOT winners, by which I mean it is the official car for people who are both football fans and have won an EGOT, not that it is the official car for both people who are football fans and people who have won an EGOT. If you're just a run-of-the-mill football fan, you can, should, and must purchase a 2021 Genesis GV80, but it cannot be your official car without the express written permission of Major League Baseball, which has jurisdiction over these matters.
One Can of Coca-Cola Energy Drink – $1.88
Will one can provide enough energy to keep you going until the next Super Bowl? It'll have to, because buying that electric Porsche wiped out the entire Coca-Cola Energy Drink budget.
One 52 Oz. Can of Planters Dry Roasted Peanuts – $7.98
OK, Oscar Meyer and Kool-Aid are both owned by the Kraft-Heinz Company, so presumably Kool-Aid Man and the Weinermobile were at Mr. Peanut's funeral out of professional obligation. Mr. Clean, however, is a Proctor & Gamble product. Is he a dear friend of the Planters Peanut, or was the funeral some kind of cross-brand truce social occasion like a Corleone wedding? What I'm saying is the NFL wants you to eat some peanuts.
One Ticket to See No Time to Die – $9.08
For the first 35 years of James Bond movies, dying was only mentioned in the title of one movie, 1973's Live and Let Die. Since 1997, we've had Tomorrow Never Dies, Die Another Day, and now, No Time to Die. Do you see what is happening here?
Google Assistant – Free!
Google makes it easy for you to install microphones and cameras everywhere you might express a consumer preference, inadvertently reveal a secret, or let some underpaid contractor eavesdrop on your sex life. So although you could spend $35 on a Nest Mini with Google Assistant, odds are pretty good that you already own plenty of devices that allow Google to keep an eye on you, from Android and iOS phones to TVs and even cars! They might be listening to you right now. And best of all, it's free!
One Five Pound Tub of Sabra Classic Hummus – $13.69
This is how we 'mmus: with a five pound industrial-sized tub of hummus from a restaurant supply store!
One WeatherTech Sunbrella Outdoor Car Cover for a Genesis G80 – $599.99
In lieu of a commercial encouraging football fans to buy WeatherTech products, the company encouraged them to donate to the University of Wisconsin School of Veterinary Medicine. You can do that here, and the amount you donate is up to you—100% goes to support cancer and animal health research and no amount is too small to show your support of football. However, you'll want your friends and neighbors to know what a big football fan you are, plus throw WeatherTech a little business for doing good, so you should also pick up an outdoor car cover for one of your brand new cars.
One Year of Verizon's "Start Unlimited" Phone Service – $980
Wow, it sure seems like Verizon loves America's first responders. There's even a wire photograph from the 2015 Rough Fire, and as a California resident, I was really moved by Verizon's salute to California firefighters in particular.. It's weird that they didn't include a photo from something more recent, like 2018's Mendocino Complex Fire, but … oh. Anyway it's $980 a year. The cost includes a $20 activation fee, $80 a month thereafter, phone not included.
One GMC Hummer EV – $70,000
$70,000 is Car and Driver's estimated cost for the first environmentally-friendly automobile offered to civilians that is specially crafted to closely resemble the least environmentally-friendly vehicle ever offered to civilians. A bargain!
One Box of Pop-Tarts Pretzel Cinnamon Sugar Artificially Flavored Toaster Pastries – $3.68
It is probably not worth inquiring into the reason that both the voiceover for this ad and the marketing copy on the Pop-Tarts website use the phrase "cinnamon-y sugar" instead of "cinnamon and sugar." Pop-tarts cost like thirty cents per pastry, were you expecting the Kellogg Company to send three sturdy galleons to Sri Lanka to load up on Ceylon at that price? You'll eat all twelve of these and like them, for the glory of football.
One Ticket to see Minions: The Rise of Gru – $9.08
Get ready for the Minions! You don't seem to be ready for the Minions! I can't help noticing that your Minion preparations are not on-schedule! Look: the NFL can make you buy the ticket, but there's no law that says you gotta sit in the theater.
A One Year Subscription to Fox Nation – $66.88
Finally, a way to ensure more of your money is spent producing the kind of quality programming Fox News is known for! A subscription is $5.99 a month, but the first month is only $0.99 if you enter promo code SUPERBOWL during checkout. If you think you love America now, imagine how much you'll love it once you can binge watch quality programming like 24 Hours on the Hunt with Tomi Lahren, in which Tomi Lahren accompanies ICE agents "as they plan and execute their mission to track down and arrest criminal illegal aliens," according to the website. Fox Nation and the National Football League: Partners in Freedom!
One Viewing of the Deonte Wilders vs. Tyson Fury II Premiere Boxing Champions Pay-Per-View Match – $79.99
Boxing! $79.99 is a small price to pay for the chance to closely observe the purest sport ever invented. No one has articulated the heady thrill of the sweet science better than Thom Jones, in this famous passage from "The Pugilist at Rest":
Has man become any better since the times of Theogenes? The world is replete with badness. … How hollow and unreal a thing is life, how deceitful are its pleasures, what horrible aspects it possesses. Is the world not rather like a hell, as Schopenhauer, that clearheaded seer—who has helped me transform my suffering into an object of understanding—was so quick to point out? They called him a pessimist and dismissed him with a word, but it is peace and self-renewal that I have found in his pages.
Sold!
One 2021 Ford Mustang Mach-E – $59,900
When you want people to know that you appreciate the hard-driving style of classic American muscle cars, but you also want them to know that you appreciate the fact that the hard-driving carbon emissions of classic American muscle cars helped contribute to the climate change inferno, and furthermore, you would like it noted that at least you're not driving that electric Hummer.
One Year of "Minimum Coverage PPO" Health Insurance from Blue Shield California – $5,030.40
This is the cost for the cheapest plan available to me, personally; your cost may vary depending on your age, health, wealth, and the relative cruelty of your state or local government.
Thai Chicken Wings from Postmates – $9.99 Plus Delivery Fees and Tip
How much are Thai chicken wings from your favorite Thai restaurant that serves chicken wings and delivers through Postmates? At mine, they are $9.99, plus fees and a tip.
A One Year Splunk Enterprise Plan – $1,800
Bring data to everything, even this post. For example: 70695 36534 94060 34021 66544 37558. And furthermore, 31501 97016 51511 68517 14376 57618. Now are you beginning to see the power of Splunk?
A Delta Skymiles American Express Platinum Card – $250 Annual Fee
You know, if you play things juuuuust right, you could probably trick American Express into buying you everything else on this list, then fake your own death. Imagine attending your own NFL Superfan In Memoriam ceremony at next year's Super Bowl!
A One Year Premium Subscription to Dashlane – $59.88
By subscribing to Dashlane, you'll not only be supporting the National Football League, you'll be supporting the former staff of Deadspin, because Dashlane was responsible for funding the one-weekend only, herb-free Deadspin revival site Unnamed Temporary Sports Blog Dot Com.
One SodaStream Aqua Fizz Starter Pack – $159.99
Just the thing when you need to ruin a billion dollar Mars expedition!
Tomorrow Night's Episode of Prodigal Son – Free!
On Monday night, an entire episode of Prodigal Son—every frame, every sound—will be converted into radio waves and beamed at great power into your skin, your bones, your very flesh. Your local Fox affiliate provides this service at no cost to you!
Michael Bloomberg for President – Your Guns
It's free to vote for Michael Bloomberg for President (apparently the NFL wants us to vote Bloomberg in the primary, Donald Trump in the general election), but if he wins, he's going to take away all of your guns. Still, no matter how powerful Bloomberg becomes, he can't take away the flesh gun hidden deep inside your own abdominal cavity. Death to Videodrome—long live the new flesh.
One Year of Amazon Prime – $119
It would be nice if there were a way to support shows like Hunters without helping to fund Jeff Bezos' empire of misery, but there isn't. That's how they get you!
18 12 ounce cans of Pepsi Zero Sugar – $7.47
It's a long way from Mick Jagger howling that he wants the sun blotted out from the sky to Missy Elliot singing that she is unapologetic and does her own thing. Bring along some Pepsi Zero Sugar in case you get thirsty along the way!
A 114 Ounce Jug of Heinz Tomato Ketchup – $6.48
How much Heinz Tomato Ketchup is too much Heinz Tomato Ketchup? To find out, simply buy a 114 ounce jug. Heinz Tomato Ketchup's well-known pourability issues will no longer be a problem: you can simply fit your entire hamburger into the Heinz Tomato Ketchup ketchup jug and dunk it! Plus, buying ketchup is good for football, somehow.
Walmart – A Little Bit Off the Top of Everything
You'll never know exactly how much of every dollar you spend at Walmart goes to the Waltons. All you'll know for sure is that you're helping the National Football League, while hurting American workers and small businesses!
One Bud Light Seltzer Variety Pack and One 12-Pack of Bud Light – $24.45
Back in my day, Bud Light only asked you to purchase one type of beverage to show your support for the great sport of football. Those years are gone. When there was a chance of happiness. But I wouldn't want them back. Not with the Bud Light Seltzer in me now. No, I wouldn't want them back.
One Little Caesar's 3 Meat Treat Pizza – $10, plus tip and delivery fee
Do the people at Little Caesars mind if you insist on calling this pizza the "Threet Meat Treat," to preserve the rhyme scheme? There is only one way to find out, but it'll cost you $10, plus a tip and delivery fee.
One "Party Size" Bag of Doritos Cool Ranch Flavored Tortilla Chips – $3.98
These are much tastier than the Doritos Spahn Movie Ranch Flavored Tortilla Chips I made do with before this Super Bowl ad let me know there was a better way.
One 2021 Kia Seltos – $21,990
It's beginning to seem like the NFL has unrealistic expectations about just how much parking space is available to the average football fan. But you don't have to park if you never stop driving!
One Round Trip Ticket from Los Angeles to Istanbul from Turkish Airlines – $1875.11
This year, why not spend Thanksgiving in Turkey? Spare yourself some confusion, though: Over there, the word for "soccer" is "futbol," and the word for "football" is "kronik travmatik ensefalopati."
One Reese's Take 5 Candy Bar – $0.70
What makes a Reese's Take 5? Five of the tastiest ingredients in the history of candy: Peanut butter, peanuts, pretzels, caramel, and chocolate! Plus, disodium phosphate, lecithin, mono- and diglycerides, high fructose corn syrup, and vegetable oils: palm oil, shea oil, sunflower oil, palm kernel oil, and/or safflower oil!
Amazon Alexa – $29.99
Amazon doesn't make it quite as easy or inexpensive to convert your home into a panopticon as Google does, but when it comes to paying a large corporation money in exchange for letting them install microphones and cameras all over your home to learn more about your consumer preferences and provide ads that are more relevant to your interests and blind spots, $29.99 for an Amazon Echo Dot—down from $49.99!—seems more than reasonable.
Student Debt Forgiveness Courtesy of Your Helpful Southern California Honda Dealer – -$22,449
You might have noticed that neither of the official presidential candidates of the National Football League offers much in the way of student debt cancellation. That's where your SoCal Honda Dealer comes in! Simply go to TackleYourStudentDebt.com for the chance to win the opportunity to attempt to tackle a smiling mascot holding a giant football with the exact amount you owe your lenders printed on it in giant, shameful letters. It's too bad that there's no other way to run a higher education system, but no other countries have ever come up with anything better than "tackle the cartoon Honda man or live in poverty and squalor forever."
Scientology – Free!
There is absolutely no downside to becoming a Scientologist and this ad proves it. Go Kansas City! Go David Miscavage! Go football!
One 2020 Toyota Highlander – $34,600
That's the starting MSRP—the Platinum Hybrid 4WD will run you $48,675. But the most interesting thing about this ad is the disclaimer, which reveals that the scene in the commercial in which Cobie Smulders' 2020 Toyota Highlander is attacked by a store-brand The Thing is a dramatization. In the real world, the Toyota Highlander's roof would crush the passengers like a steam hammer the second the store-brand The Thing put its full weight on the optional power tilt/slide moonroof.
One Discover Card – Free!
The Discover Card is the only credit card that was once part of the Sears Financial Network, and it's still the best way to infuse every purchase you make with the melancholy that comes from contemplating the decline and fall of Sears, Roebuck, and Company. Rumor has it that if you use a Discover Card to purchase one of Brandon Bird's Sears paintings, Richard Warren Sears himself will return from the grave and lead the nation into a period of great prosperity.
One Year of Disney+ – $69.99
Remember: Disney+ is the exclusive online home of The Barefoot Executive, a 1971 Kurt Russell movie that suggests that a chimpanzee wearing a stupid hat would be able to predict which television programs people would want to watch. It's also the exclusive online home of all your favorite Marvel and Star Wars television programs!
Watching XFL Games – Free!
Although it is true that it won't cost you any money to watch the XFL, please note that purchasing products and services from all the advertisers for two professional football leagues may put an undue strain on your family's finances.
One Year of Verizon's "Start Unlimited" Phone Service – $980
Wow, it sure seems like Verizon supports America's first responders! There's even a wire photograph of the 2015 Rough Fire, which speaks volumes about Verizon's commitment to California firefighters, specifically. It's a little weird they didn't include a photo from something more recent, like 2018's Mendocino Complex Fire, but … oh. Anyway it's $980. The cost includes a $20 activation fee, $80 a month thereafter, phone not included.
One Year of "Magenta Plan" Service from T-Mobile - $850
Phone not included. Price covers 12 months at $70/month for a single line T-Mobile Magenta plan (taxes included), plus a one-time fee of $10 for a new SIM card.
One 12-Pack of 12 Oz. Bottles of Budweiser: King of Beers – $9.47
This commercial features an extreme closeup of someone using a bottle opener to remove the twist-off cap from a bottle of Budweiser. Typical Americans!
A 5 Pound Caddy of Refined Family Lard from Proctor & Gamble – Send for Price List
Proctor & Gamble's Super Bowl ad encourages football fans to purchase Proctor & Gamble products without specifying which one, so we have selected Proctor & Gamble's Refined Family Lard, last advertised for sale in 1869: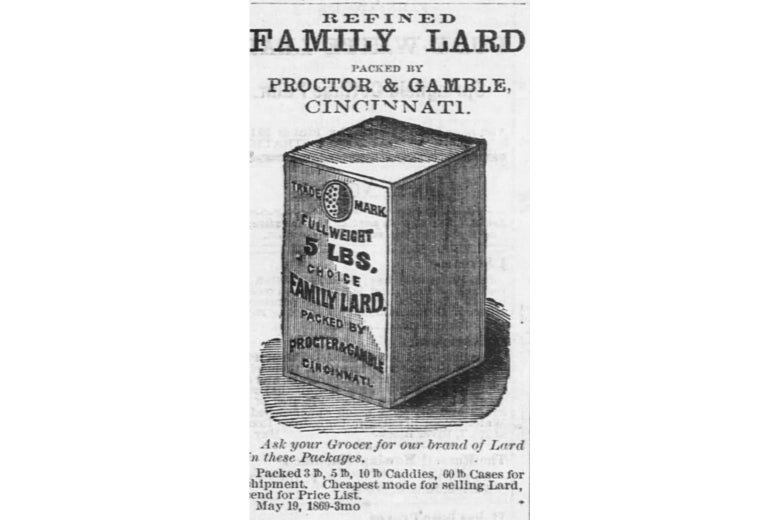 They say lard ages like wine, don't they?
One Microsoft Surface Pro 7 – $675
Will you use this to coach a professional football team all the way to the Super Bowl, or to read @dril tweets while using the toilet? Only your Microsoft dealer knows for sure.
One 2020 Audi E-Tron SUV – $74,800
Buying a brand new electric Audi isn't quite as good for the environment as buying a brand new electric Porsche, but don't worry: This year, the NFL wants you to buy one of each.
One Facebook Account – Any Hope of Fair Elections, Plus Whatever Shreds of Personal Privacy Are Left After Amazon and Google Are Done With You
It's true that a Facebook account is kind of expensive, but it's the only conceivable way to meet people who share your interests, so what can you do? Not support the National Football League and the people who purchase advertisements on their Super Bowl broadcast? Not embed the official music video for Twisted Sister's "I Wanna Rock" immediately below this ad so people can remember that the song is supposed to convey a positive message about enraging authority figures, instead of a negative message about the death of self-government? Well, all I gotta say to you is time and time again I say no! (No!) No no, no no, no.
That's a grand total of $597,992.85, plus taxes, delivery fees, tips, your guns, your hopes for fair elections, your privacy, your soul, your future, and your children's lives, plus you have to become a Scientologist. But ask yourself this: is any price too high to pay to support football?