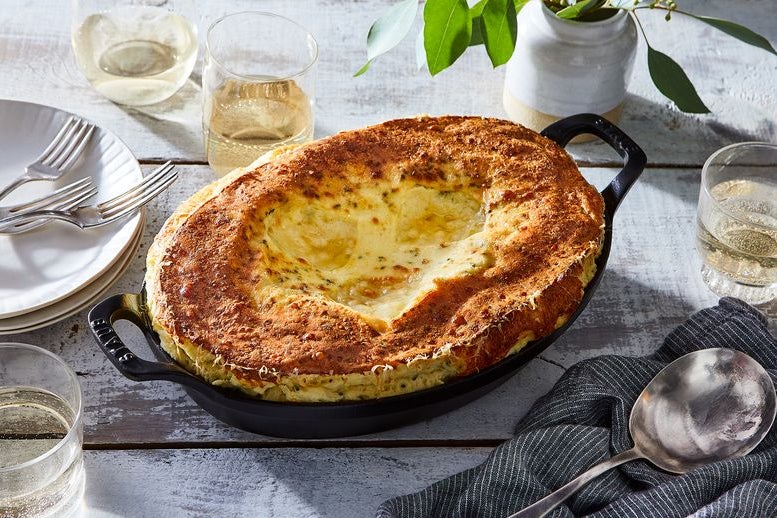 Have you heard the one about Jacques Pépin's mom and the cheese soufflé? With a recipe and story this good—and with Pépin's career teaching us all how to cook reaching a sixth decade—chances are you have.
But you may have missed the very simplest way it can fit into your life.
As the story goes, when his mother was newly married at 17, she made her first soufflés without separating and whipping the eggs, thereby discovering you don't need to. The eggs still rise, a golden dome still forms, your spoon still slides into airy custard, again and again. It isn't quite as cloud-like, but some might argue it's even better.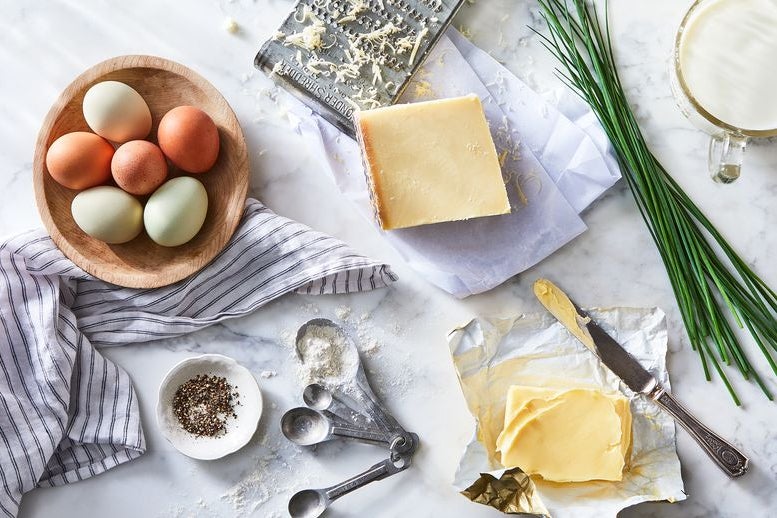 In all the delight at this origin tale and the comforting prospect of a cheesy pouf without any egg-whipping anxiety, what you may not have noticed is that this also means the soufflé's base is sturdier and can be made well in advance. In the video above, Pépin points out you can't leave a traditional soufflé much more than an hour, but this one you can make several hours or a day ahead.
Even, Pépin joked,"A year ahead! Five years ahead!"
In further departure from tradition, Pépin likes to make this soufflé in a shallow gratin dish instead of the traditional high-sided ramekin, for more crusty surface area, so everyone can have a little of the best part.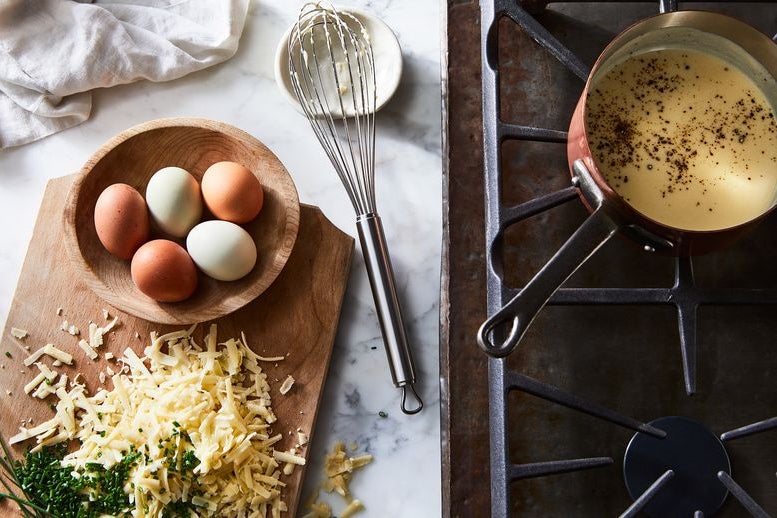 But you can also divvy this out into individual molds, and, in one version he shared with the Washington Post, you can customize them. Add in whatever toppings you like—he's layered in wilted Swiss chard or fresh corn and chile; his daughter Claudine has added cooked zucchini or cauliflower and cut back on the cheese ("Cover your ears!" she told her dad.)
As for how and when to serve it (besides absolutely any time you're in the mood for cheese), Claudine writes at the Jacques Pépin Foundation that in their family, "We usually serve it as a first course, but we love it for brunch and meatless dinners as well."
A green salad and a bottle of white wine are all you need—you have the grand soufflé and the storytelling covered.
Serves 4.
• 6 tablespoons unsalted butter, plus additional to butter a 5- to 6-cup gratin dish
• ¼ cup finely grated Parmesan cheese
• 6 tablespoons all-purpose flour
• 2 cups whole milk
• ½ teaspoon salt
• ½ teaspoon freshly ground black pepper
• 5 extra-large eggs (or 6 large ones)
• 2 ½ cups grated Swiss cheese, preferably Gruyère (about 6 ounces), plus three more optional slices for garnish (roughly 2-inch by 3-inch)
• 3 tablespoons minced chives
See the full recipe on Food52.
More from Food52:
29 Side Dishes That Would Be A++ With Lamb
How to Tie *Much* Better Bows (& 3 Great Ribbons to Use)
This Is the Only Anthropologie Candle I'll Ever Need
The Hot Chocolate Bread Pudding That Makes My Peruvian Christmas
Home Alone for Christmas? You're Not the Only One.
Pizza Mussels for One
---