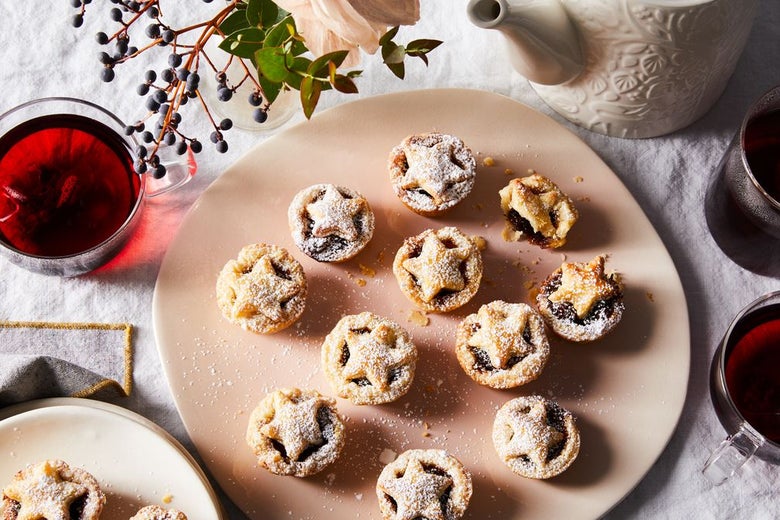 Mince pies have a misleading name. (There, I said it.) For those unfamiliar with the classic British Christmas dessert, they're little fabled tartlets the size of peanut butter cups, commonly filled with raisins, sultanas, cranberries, and other dried fruits, all macerated and cooked in heavily-spiced brandy or port. As their name suggests, mince pies traditionally did at one point have minced beef or lamb mixed in with the dried fruits. Some versions even used suet (beef fat) or lard to bind the filling together. Thankfully, most modern iterations of mincemeat—the filling of mince pies—have done away with the "meat" part, opting instead for the agreeable boozy dried fruit filling that's ubiquitous in England, especially around the holidays.
While mince pies aren't all that common in the U.S., they're a non-negotiable festive tradition in the U.K., like watching the Queen's Christmas message on the telly. For me at least, they come to mind when British food writers like Nigel Slater and Nigella Lawson wax lyrical about them, or in random movie cameos, like that scene in Harry Potter and the Half-Blood Prince when Ginny awkwardly feeds Harry a mince pie.
Local bakeries will start baking them as early as September. English families will serve them for tea. And you'll even find them at supermarkets like Tesco's and Sainsbury's (the British equivalent of Kroger) at less than £5 ($6.50) a dozen.
Now let me be clear: I wasn't always a fan of mince pie. Like most eventual converts, my road to mince pie piety was long and contentious. My first taste was definitely one to remember, for all the wrong reasons. It was a cold, stale, brick-like pebble gingerly served to me at the customary Christmas dinner at boarding school, with its plastic Tesco's wrapper still on. Barely a bite into it, and a wave of acrid, aniseed-heavy, cough syrup–like flavor hit my tastebuds and burned the back of my throat. This was followed by sandy clumps of pastry that scraped its way down my esophagus. It was a horrendous experience to say the least, so naturally I swore to never touch a mince pie again.
But fate can be funny sometimes, as I spent the next six years furthering my studies in the U.K. And let me tell you, six years is a lot of mince pie encounters. Not a year into my abstinence, I was faced with yet another mince pie. This time it was one freshly baked by my college lecturer's spouse, offered to me at one of those intense 2-on-1 Cambridge classes (supervisions, we called them). With my grades possibly hinging on it, I obliged—and boy was I glad I did! The filling was sweet and punchy with a nice kick of brandy, and so wholesomely spiced, it started a holiday party in my mouth. All of this, encased in a crumbly, buttery shortcrust, was to me the culinary epitome of Christmas magic.
Six years and many mince pies later, I've grown to be more discerning of this classic Christmas treat. Since store-bought mince pies are almost never pleasant—often cardboard-dry with an overload of sugar and spice, my preferred mince pies have always been the freshly-baked sort. Even better are those you bake yourself, as you're then able to cut down on the amount of sugar (I find that the dried fruits in the filling provide plenty of sweetness on their own), and use some fine brandy or wine with which to infuse the mincemeat. Another benefit of making them on your own is that you can use the very best shortcrust pastry recipe to complement the filling. I always default to Stella Parks's No-Stress, Super-Flaky Pie Crust, which, as Food52 Creative Director Kristen Miglore can probably attest to, is a wondrous workhorse.
So whether you're a mince-pie virgin, a mince-pie abstainer, or just one who regularly partakes in the glorious English custom of eating 12 mince pies over the 12 days of Christmas, bake some mince pies this holiday season. Because even if you manage not to finish them all in one sitting (like I do), they're always handy to have on standby for when it's snowing outside and you're all wrapped up in front of the fireplace, Michael Bublé playing in the background, and all you need to cap off this token Christmas scene is a sultry sweet treat.
Makes 2 dozen mini pies.
• 3 cups dried fruit (I use 50g, around 1/3 cup, each of dark raisins, golden raisins, currants, figs, apricots, cranberries, blueberries, mulberries, and cherries, but most combinations will work well)
• 25 grams candied ginger
• 1 apple, peeled and sliced into 1/2-inch cubes (Braeburn or Granny Smith work well)
• 1 orange, zested and juiced
• 1 cup (240ml) port (can be substituted with red wine)
• ½ stick (60g) butter
• ⅓ cup (70g) dark brown sugar
• ½ teaspoon ground cinnamon
• ½ teaspoon ground ginger
• ½ teaspoon ground cloves
• ½ teaspoon ground allspice
• ½ teaspoon ground nutmeg
• ½ salt
• ¼ cup (60ml) brandy or cognac
• Your favorite pie dough recipe (I used Stella Parks' No-Stress, Super-Flaky Pie Crust x2)
• 1 egg, whisked together with one tablespoon water (for egg wash)
See the full recipe on Food52.
More from Food52:
The Hot Chocolate Bread Pudding That Makes My Peruvian Christmas
Home Alone for Christmas? You're Not the Only One.
Pizza Mussels for One
My Family Hadn't Been Kosher for 76 Years. Then My Brother Came Along.
Cheesy Squash Rigatoni & More Recipes We Want Right Now
How to Make Eggnog. Truly Good, Light, Frothy Eggnog.
---