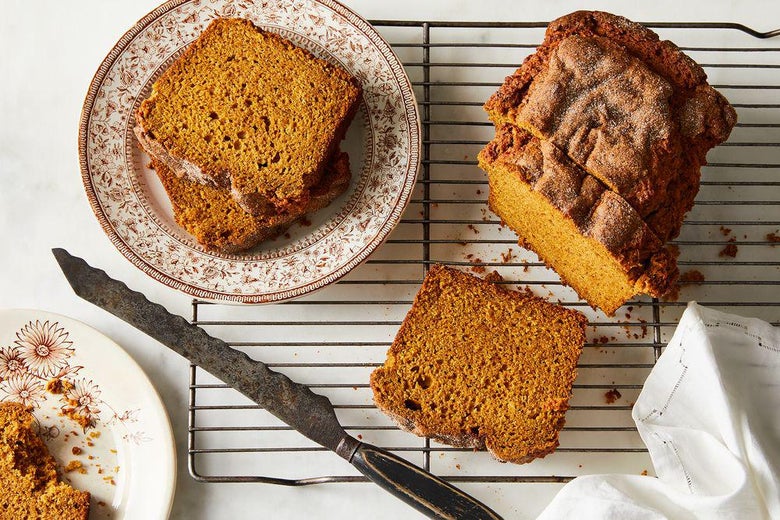 Picture this: It's the weekend and you're baking a pie, not because you have company coming over, just for fun. You're wearing a thick sweater, thicker socks, and you turn on the oven. While that heats up, you gather ingredients: flour, sugar, eggs, pumpkin puree and—oh no. You're out of pumpkin pie spice. But don't worry: We can fix this!
What Is Pumpkin Pie Spice?

Pumpkin pie spice is a cozy, earthy, mildly kicky American spice blend (that, just to be clear, contains absolutely no pumpkin). Odds are, several of the components are already in your pantry. The ingredient list leans heavily on baking spices, such as cinnamon, nutmeg, cloves, and ginger, but the specifics depend on the brand. Let's review a few for inspiration:

• McCormick: cinnamon, ginger, nutmeg, allspice, sulfiting agents.
• The Spice Hunter: cinnamon, ginger, lemon peel, nutmeg, cloves, cardamom, star anise, fennel, black pepper.
• Frontier Co-Op: cinnamon, ginger, cloves, nutmeg.
• Simply Organic: cinnamon, ginger, nutmeg, cloves.

The biggest takeaway here is that cinnamon is the first ingredient in every single one. Because ingredients are ordered by quantity (from largest to smallest), this tells us that cinnamon is pumpkin pie spice's dominant flavor. But from there, it's a free-for-all. So let's have some fun.

As long as cinnamon is leading the band—with a few backup instruments like ginger, nutmeg, and cloves—pumpkin pie spice can be many things. What matters is that the blend tastes delicious to you. Here, we'll share a few different versions, depending on what you're baking (or how you're feeling that day). Note: You can absolutely scale up these recipes to keep a bigger jar in your pantry. It will stay good for months.
Our Favorite Pumpkin Pie Recipes

Meta Given's Pumpkin Pie
Don't let this pie's classic good looks fool you. Its flavor is dialed up, thanks to a Genius step: caramelizing the pumpkin puree.

Pumpkin Pie Cobbler
"Because the pie crust is on the top rather than the bottom," author Erin McDowell writes, "there's no fear of soggy bottoms, and no need to par-bake." Yahoo!

Pumpkin Pudding
Aka, pumpkin pie, without a crust. If the thought of making flaky pastry gives you goosebumps, this one's for you—just don't skimp on the whipped cream on top.

Pumpkin Sugar Pie
The secret to the top of your pumpkin pie never, ever cracking, even if leave it in the oven too long? Mix some flour into the filling.

Pumpkin Cream Pie
A cold, creamy take on pumpkin pie. This version has a gingery graham cracker crust, filled with spiced pumpkin pastry cream, and topped with a tangy sour-cream whipped cream.
Beyond Pumpkin Pie

I'll be the one to say it: Pumpkin pie spice's name is holding it back. This blend is good for a heck of a lot more than pumpkin pie, so don't let that jar go to waste. Here are some recipes to get started (for the ones that don't call for pumpkin pie spice in the ingredient list, just add it to taste).
Add to any pumpkin recipe.

We're talking pumpkin bread (psst: we just published our test kitchen's best version!), pumpkin cheesecake, pumpkin cookies, pumpkin brownies, pumpkin flan, and so much more.
Use as a substitute for cinnamon.

If a recipe calls for cinnamon and you want to up the ante, swap in an equal amount of pumpkin pie spice.
Make fall and winter vegetables even cozier.
While pumpkin pie spice was made with dessert in mind, it's just as valuable when it comes to dinner—especially with vegetables.
Spice up a crispy chicken crust.
You've probably rubbed spices on a roast chicken or stirred some into the breading for chicken cutlets, yes? Let's fall-ify that (the Spicy Pumpkin Pie Spice great here).
What's your favorite way to use pumpkin pie spice? Let the community at Food52 know!
Support our independent journalism
Readers like you make our work possible. Help us continue to provide the reporting, commentary, and criticism you won't find anywhere else.
Join Slate Plus
Join
---