If I whispered to you that the secret to the lightest pancakes ever was—shhhh—cottage cheese, you might be inclined to toss a 1980s diet book in my general direction.
But it's true! Although it's not quite that simple. The secret has to do not just with the squeaky, protein-rich cheese you choose, but with how much, as well.
There are plenty of cottage cheese pancake recipes out there—give or take 25 million, in fact. There are three-ingredient and keto versions, and perfect cottage cheese pancakes for one. I even included an excellent recipe from Deborah Madison featuring sweet, winey pops of currant in the Genius Recipes cookbook.
In all of these places, the mini curds of cheese bring tons of moisture and almost imperceptible blips of creaminess. And sometimes, when the curds skew large, a few sink down and kiss the pan, browning and sticking just a little.
But it's this particular Genius Recipe, from the legends behind Cowgirl Creamery and Bette's Oceanview Diner in Northern California, that makes the lightest pancakes I've ever tasted. It puts all its money on the cottage cheese and scales most everything else back—especially the flour, which would be a nonnegotiable pillar of most other recipes. There is five times as much cottage cheese as there is flour here, by weight.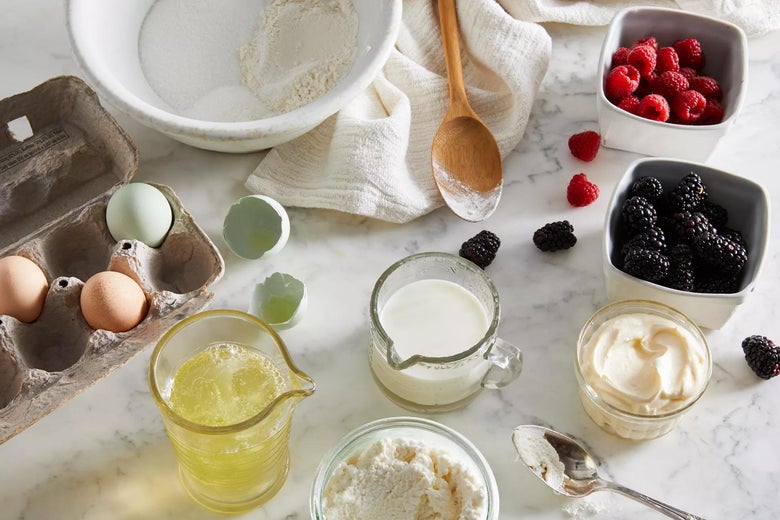 There's also no standard chemical leavener, in the form of baking soda or powder, as a crutch. Instead, you will definitely have to whip egg whites (unlike in other Genius pancakes past (1)), but you'll be rewarded when they meld with the cottage cheese to suspend the batter in air as if by magic.
The pancakes came from a decades-long collaboration between friends and iconic Northern California food destinations, starting when Bette Kroening and Sue Conley founded the Berkeley institution Bette's Oceanview Diner in 1982. They would later write The Pancake Handbook with their friend Steve Siegelman in 1994.
"When I left to start Cowgirl Creamery in 1993, the first cheese we developed was Clabbered Cottage Cheese, and Bette used our cheese at the diner for the Cottage Cheese Pancakes, which became a popular Tuesday Special," Conley wrote to me, saying that their extra-luscious cottage cheese was key (so aim for theirs if you can, or the richest cottage cheese you can find). "Seriously, it made a huge difference."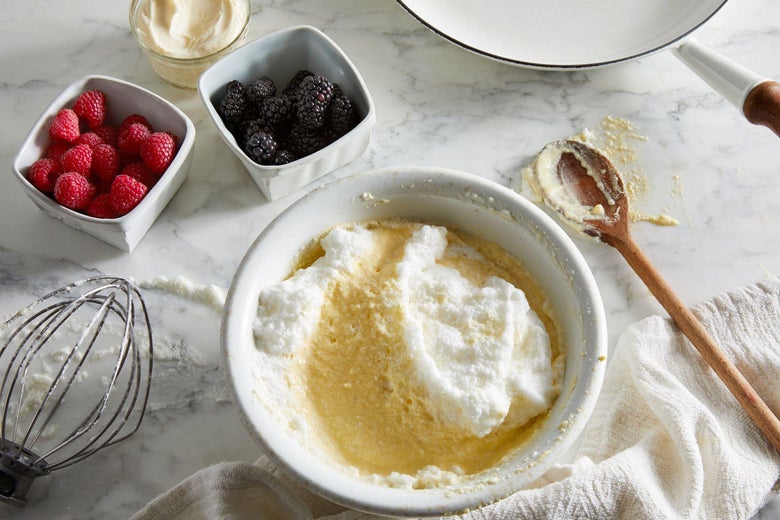 I will note that this is where light pancakes and fluffy pancakes part ways. Do not make this recipe expecting these pancakes to have any semblance of chew, as in the cakey, butter-soaked layers of a standard stack of buttermilk pancakes. Instead, you should expect almost-weightless tufts, self-contained mini soufflés, or, as I inarticulately describe in the video, "like eating nothing."
They will pouf in the pan and then deflate a little on the plate, but, as Conley explained, this is as it should be: "Even though they present as thin, flat pancakes on the plate," she said, "they should be lighter than air."
• 1 pint fresh fruit, such as berries or sliced nectarines in summer, figs in fall (or frozen fruit anytime)
• 1/2 cup sugar
• 6 eggs, separated
• 1/2 cup whole milk
• 1 1/2 cups full-fat cottage cheese or ricotta cheese
• 1/2 cup all-purpose flour
• 1/2 teaspoon kosher salt
• 1 tablespoon sugar
• Vegetable oil for the griddle
• Crème fraîche for accompaniment
See the full recipe on Food52.
(1) See also these pancakes (where you don't have to whip!): The Kitchn's Lofty Buttermilk Pancakes and Cynthia Chen McTernan's Buttermilk Mochi Pancakes.
More from Food52:
A Genius Peach Cobbler With a So-Wrong-It's-Right Hot Sugar Crust
Oatmeal Cookies Grow Up, Have a Steady Income & Go to Bed at a Regular Hour
Aunt Ruby's Signature Sour Cream Pound Cake (& Its Many Origin Stories)
A Citrus Upside-Down Sheet Cake for the Final Days of Winter
How to Make Mousse, According to an Expert
The Easiest Stovetop Mac & Cheese (With 2 Secret Ingredients)
Support work like this for just $1
Slate is covering the stories that matter to you. Become a Slate Plus member to support our work. Your first month is only $1.
Join