To hear "Hot Topic" and see our annotated lyrics, click above.
"Hot Topic" is a song of joy that comes from a place of frustration. "It was 1999 and the Riot Grrrl movement was kind of over, or it had imploded," Kathleen Hanna says. The former Bikini Kill frontwoman had formed the feminist queer electropunk band Le Tigre, and she was determined to make a song to counteract how depressed she and her bandmates were about the tenor of the times. "Look," she remembers the band deciding, "to get us out of this funk we need to celebrate all of the people who do inspire us."
The result was the dance music of our Gen X, feminist dreams.
Founded by Hanna, writer/musician Johanna Fateman, and artist Sadie Benning, Le Tigre released its self-titled first album 20 years ago this month. For twentysomething feminists in 1999, no song captured the inspirational jolt we needed quite like "Hot Topic," Le Tigre's exuberant tribute to feminist and queer champions of the '90s and earlier. Part singalong, part encyclopedia, and catchy as hell—sans profanity and feminist references, it fit perfectly in a Kohl's commercial for kids' clothing—it's both a bouncy dance number and a who's who of end-of-century queer feminist thought, captured in three minutes and 45 seconds.
"Hot Topic" was the perfect way to close out a decade that had seen the feminist ire that had once animated Riot Grrrl defanged and repackaged into more palatable "girl power" pop music. "A lot of the things that had happened [in Riot Grrrl] were kind of like a lot of what's happening now," Hanna says. "You know, there's effective call-out culture where productive dialogues begin, and then there's really ineffective call-out culture where it's just about winning a contest," she says. "In Riot Grrrl, it was very much white middle class women trying to prove that they were less racist or less classist than someone else. And so it kind of became this, like, downwardly mobile beauty pageant in reverse."
Inspired by Althea & Donna's 1977 "Uptown Top Ranking" and Stevie Wonder's 1976 "Black Man," "Hot Topic" was a conscious response. "With both its somewhat goofy groove and very earnest lyrics," Johanna Fateman recalls, the song declares "that affirmation, admiration, and celebration are emotional registers available to feminist punk." The lyrics were a collaborative effort between Hanna, Fateman, and Benning: "We just all made lists and then we figured out what rhymed and put those people in," Hanna says. This slightly haphazard approach resulted in a song that is both an essential and idiosyncratic list of feminist people and personalities, centered in New York City and Olympia, Washington, but including a North Carolina novelist, a Canadian cartoonist, and a Japanese artist.
But making any list of this sort carries some risks. "There was this fear like, oh, we're gonna get attacked because we didn't mention someone or we did mention someone," Hanna says. "To me, that was a really important moment for the band. To say, 'OK, so maybe people will come after us for not mentioning this person or whatever. But it's just a fucking song. And it's just a fucking snapshot. It doesn't have to be perfect.' "
Fateman echoes that sentiment: "Ultimately, as we are against canon building, and the list is arbitrary in some ways due to it its inherent state of incompletion, to me it represents our spirit of experimentation and excitement at the time," she says.
"Hot Topic" performed a neat feat by democratizing a lot of feminist knowledge: The song name-checked people many of us only learned about in our college women's studies courses or in the pages of Bitch or Bust magazines. (Don't forget that in 1999, we were still accessing the internet via dial-up and Wikipedia was two years away from being launched.)
"From the beginning people told us they looked up all the people we list," Fateman says. "I've heard from art critics, curators, and collectors that they learned of artists from the songs; I've seen people discuss on Twitter how 'Hot Topic' was their gateway drug into Leslie Feinberg or Yoko Ono or Vaginal Davis. I've heard it's the reason someone became a poet, a sculptor, started to make video art." Some fans have gone even further: In the early 2000s, Canadian artist Kirsten McCrea painted portraits of every single person named in "Hot Topic." (Those paintings illustrate our annotated lyrics, above.)
The song also afforded the band the opportunity to meet some of the feminist heroes they shouted out. Hanna was once on a panel with Carolee Schneemann, and the first thing the trailblazing feminist artist said to Hanna was, "It's SHNAY-man, not SHNEE-man." "She chastised me for pronouncing her name wrong," says Hanna, "And I was like, Oh no, SHNAY-man's mad at me. And then she asked for an autograph! And I was like, I can't believe Carolee Schneemann is asking me for an autograph."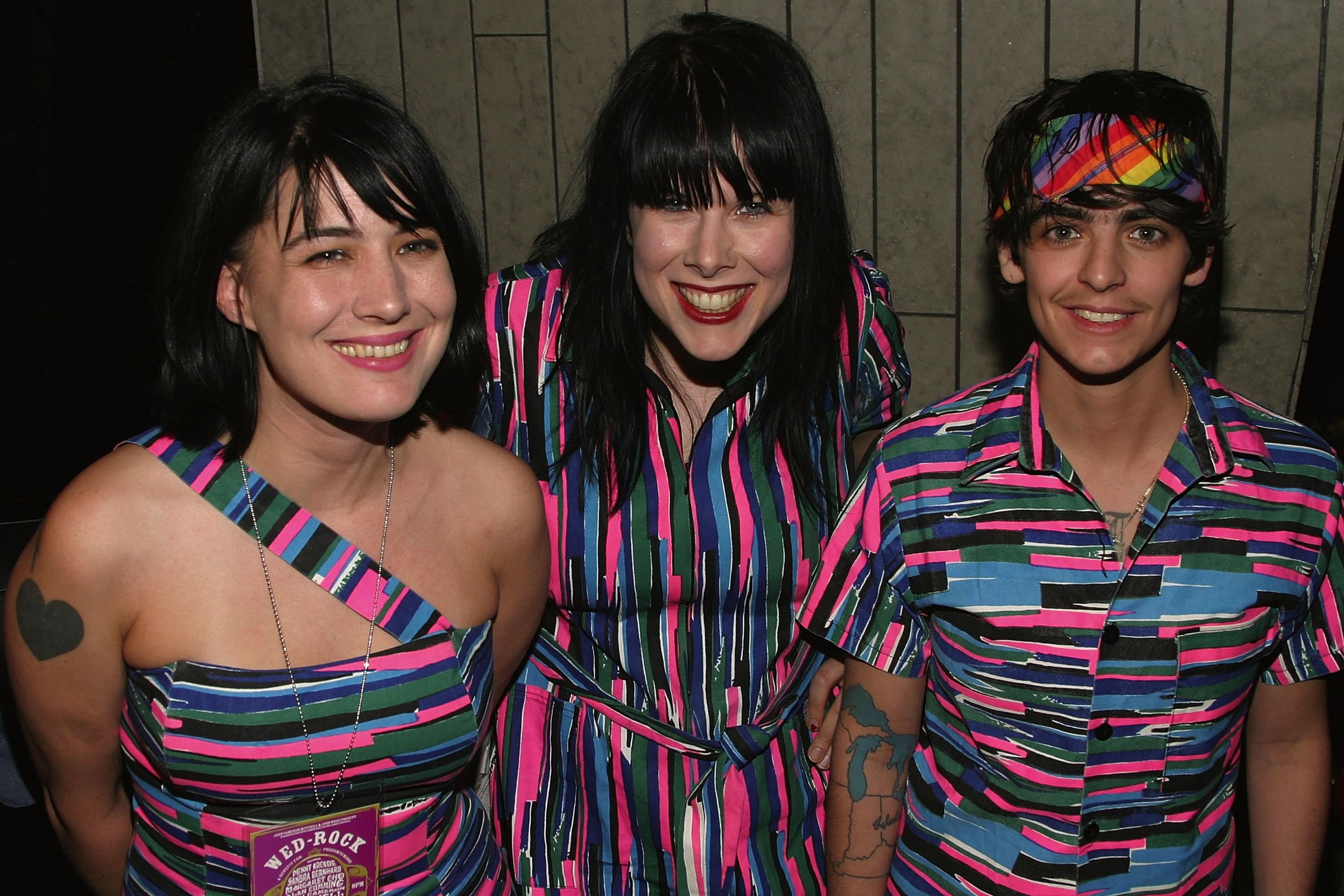 SHNEE-mans and all, "Hot Topic" is an impeccable artifact of '90s third-wave feminism, deeply personal and rich with intersectional aspiration. As a feminist in my 40s, I can see the generational fault lines around "Hot Topic." Many of the artists referenced were trailblazers in decades past and their achievements were—and still are—radical. Yet, much of their work was grounded in white feminism, along with essentialist ideas of gender and identity that feel out of step with the trans-inclusive and gender nonconforming emphasis of younger feminists. To take just one example: Le Tigre and several of the musicians referenced in the song played the now-defunct Michigan Womyn's Music Festival in the late '90s and 2000s, and were caught up, to varying degrees, in the decadeslong, painful controversy around the festival's trans-exclusionary booking policy, which indisputably contributed to its declining relevance among younger people.
Two decades after it was released, "Hot Topic" continues to resonate with its call to celebrate the people who have done, and who are doing, the work. (When I asked Fateman whom she would include if she were to write a new "Hot Topic" today, she sent me a list of more than 70 people that ranged from Stacey Abrams and Phoebe Waller-Bridge to Nobel Prize–winning Austrian writer Elfriede Jelinek. If Hanna were writing it today, she'd include a lot more comedians in it. "Feminist comedy is the new punk rock," she says.) And—because it's such an artifact of its time—"Hot Topic" is a perfect primer for twentysomething and younger feminists seeking out inspiration from feminists of my generation and those who inspired us. To celebrate two decades of "Hot Topic," here's an annotated guide to every person name-dropped in the song, a pre-Wikipedia compendium of '90s feminist knowledge transmitted to you via blazingly fast 5G.
Hot topic is the way that we rhyme
Hot topic is the way that we rhyme
One step behind the drum style
One step behind the drum style
Carol Rama and Eleanor Antin
Yoko Ono and Carolee Schneemann
You're getting old, that's what they'll say, but
Don't give a damn I'm listening anyway
Stop, don't you stop
I can't live if you stop
Don't you stop
Gretchen Phillips and Cibo Matto
Leslie Feinberg and Faith Ringgold
Mr. Lady, Laura Cottingham
Mab Segrest and the Butchies, man
Don't stop
Don't you stop
We won't stop
Don't you stop
So many rules and so much opinion
So much shit to give in, give in to
So many rules and so much opinion
So much bullshit but we won't give in
Stop, we won't stop
Don't you stop
I can't live if you stop
Tammy Rae Carland and Sleater-Kinney
Vivienne Dick and Lorraine O'Grady
Gayatri Spivak and Angela Davis
Laurie Weeks and Dorothy Allison
Stop, don't you stop
Please don't stop
We won't stop
[Spoken]
Gertrude Stein! Marlon Riggs! Billie Jean King! Ut! DJ Kuttin Kandi! David Wojnarowicz! Melissa York! Nina Simone! Ann Peebles! Tami Hart! The Slits! Hanin Elias! Hazel Dickens! Cathy Sisler! Shirley Muldowney! Urvashi Vaid! Valie Export! Cathy Opie! James Baldwin! Diane DiMassa! Aretha Franklin! Joan Jett! Mia X! Krystal Wakem! Kara Walker! Justin Bond! Bridget Irish! Juliana Lueking! Cecilia Dougherty! Woo, Ariel Schrag! The Need! Vaginal Creme Davis! Alice Gerrard! Billy Tipton! Julie Doucet! Yayoi Kusama! Eileen Myles!
Oh no, no, no don't stop
Paintings by Kirsten McCrea. Interactive by Jonathan Zuckerman.