The Mascot Hall of Fame, which opened the day after Christmas in the industrial village of Whiting, Indiana, is a surreal sight both outside and in. The hall is located just north of an oil refinery spewing flames from its chimneys and just south of some railroad tracks occupied by boxcars blocking the view of Lake Michigan. On a late December day, it's the only splash of color in a gray vista of lake-effect clouds and refinery smoke. Just outside the front doors, Mr. Met fields a baseball atop a red conversion van labeled Mascot University, and the Phillie Phanatic flashes the victory sign beside a park bench.
Inside the front doors, the inflated heads of Hall of Fame inductees dangle from the ceiling, like decapitated Thanksgiving floats. There's Sluggerrr, the Kansas City Royals' lion with the sea monkey head; Ohio State's Brutus Buckeye, the only edible, non-sentient member of the hall; and Benny the Bull, of the hometown basketball team (in Northwest Indiana's Calumet Region, sports loyalties are attached to nearby Chicago, not Indianapolis).
Why is there a hall of fame for sports figures who aren't athletes, or even actual human beings? And why is it in Whiting? Appropriately, for Northwest Indiana, there's a Polish food–based answer to both questions. The first has to do with sausages; the second, with pierogies.
First, the sausages. On July 9, 2003, at Milwaukee's Miller Park, four costumed sausages jogged past the Pittsburgh Pirates' dugout as part of the Sausage Race that takes place during every Brewers home game. Pirates first baseman Randall Simon extended his bat over the railing and bopped the Italian sausage on the head, causing the college student inside to lose her balance and tumble to the grass.
Simon was fined $432 for disorderly conduct, suspended for three games—and became the catalyst of the Mascot Pride Movement.
David Raymond had performed as the Phillie Phanatic from the mascot's debut in 1978 until 1994, when a career of stomping on an effigy wearing Tommy Lasorda's jersey began to wear on him. After Simon assaulted Guido the Italian Sausage, Raymond "got calls from every single news outlet," asking for the view from within the costume. (After retiring as the Phanatic, Raymond founded Raymond Entertainment Group, a mascot creation and training outfit.)
Simon "didn't get that there's a person inside," Raymond told reporters.
To get that message out, Raymond organized a group of southeastern Pennsylvania mascots to march on Philadelphia City Hall, where they read a "Mascot Bill of Rights."
"Mascots are there for the fans, and they're somewhat the unsung heroes," says Raymond. "After that, we started thinking a mascot Hall of Fame is something we can do."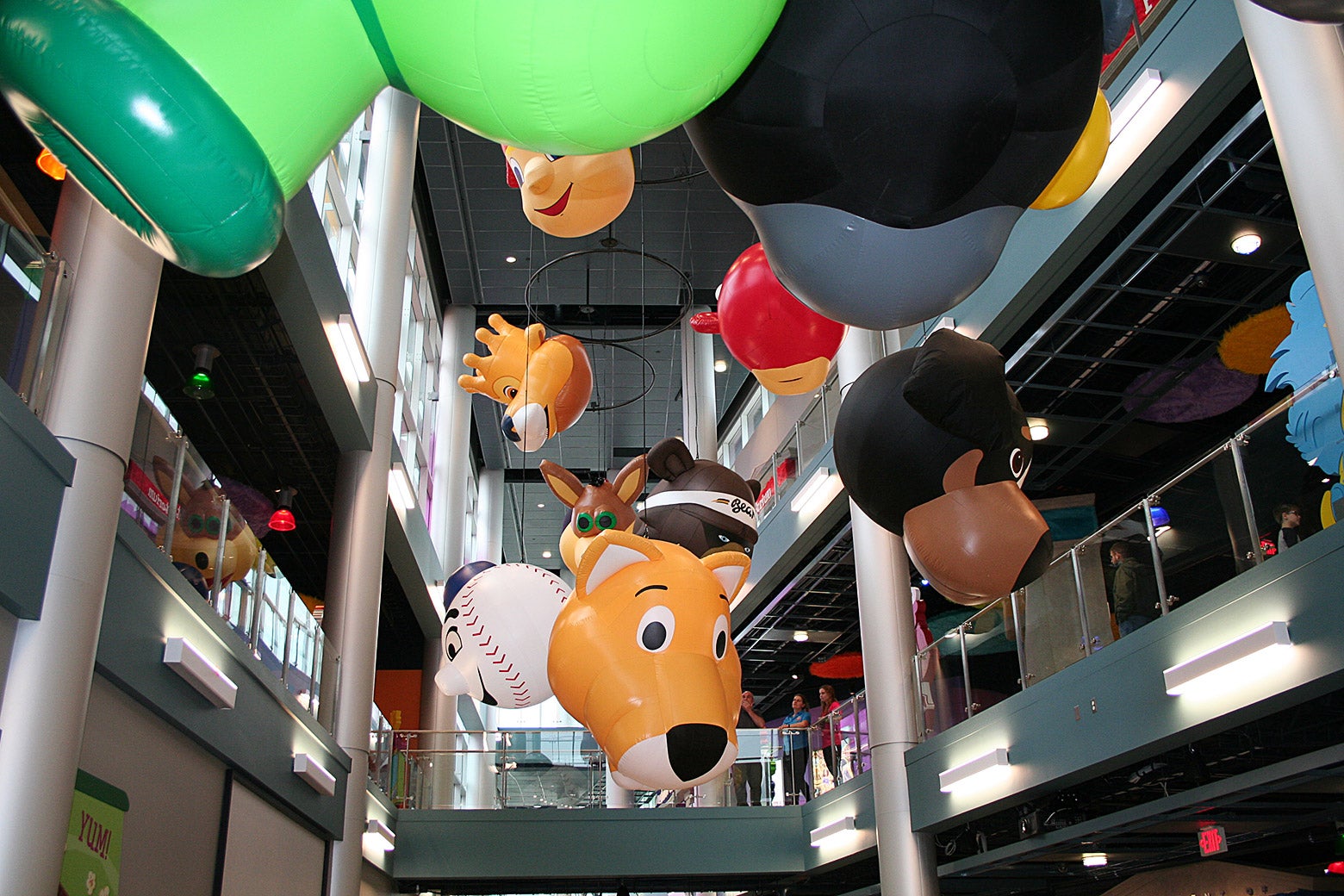 At first, the Mascot Hall of Fame was a virtual enterprise. After a couple sparsely attended induction ceremonies in Philly, Raymond began traveling to mascots' home arenas and stadiums to induct them in front of their fans. To Queens, for Mr. Met. To Bowling Green, for Western Kentucky University's Big Red, an amorphous mascot which has been described as "a large, fuzzy, red blob."
"We did it first and foremost to bring media attention to mascots being important," Raymond said.
OK, that's the sausage part. Now, the pierogi. Whiting, a town of 4,997, is best known as the home of Pierogi Fest, a carnival of gluttony that draws 300,000 visitors each summer to eat pierogies—meat and cheese–filled Polish dumplings—and anything else that can be fried, covered in chocolate, or covered in fried chocolate. But Pierogi Fest is only one weekend in July. Whiting wanted a year-round attraction to bring tourists to Northwest Indiana, something to compete with the casino in Hammond and Gary's minor league baseball team and ruin porn. Local officials discovered the Mascot Hall of Fame's website. It sounded like a worthy competitor to those attractions, and a worthy companion to the zany Midwestern kitsch that is Pierogi Fest. "So, we called David," says Whiting Mayor Joe Stahura.
"I thought they were crazy," says Raymond, who, since locating Whiting on a map, has visited four dozen times.
Whiting floated an $8.5 million bond to construct the three-story hall of fame. To run it, the city hired Orestes Hernandez, a former Florida Marlins business development executive who agreed to move to Indiana from Coral Gables, Florida. (As he goes about his rounds, Hernandez sports an enormous 2003 World Series ring.)
"This is gonna have a national audience," predicts Hernandez, who is expecting 50,000 visitors a year. He's planning a boot camp for high school mascots and an induction ceremony the second weekend of June, which will feature a car parade and, he hopes, be televised on ESPN or Nickelodeon. (The Class of 2019, which was elected by an executive committee that includes Tim McCarver: Sluggerrr, Benny the Bull, the Chicago Blackhawks' Tommy Hawk, and Penn State's Nittany Lion. Gritty, the Philadelphia Flyers' terrifying new mascot, is ineligible because he's been in existence less than five years, but "he's on the right track," Hernandez says.)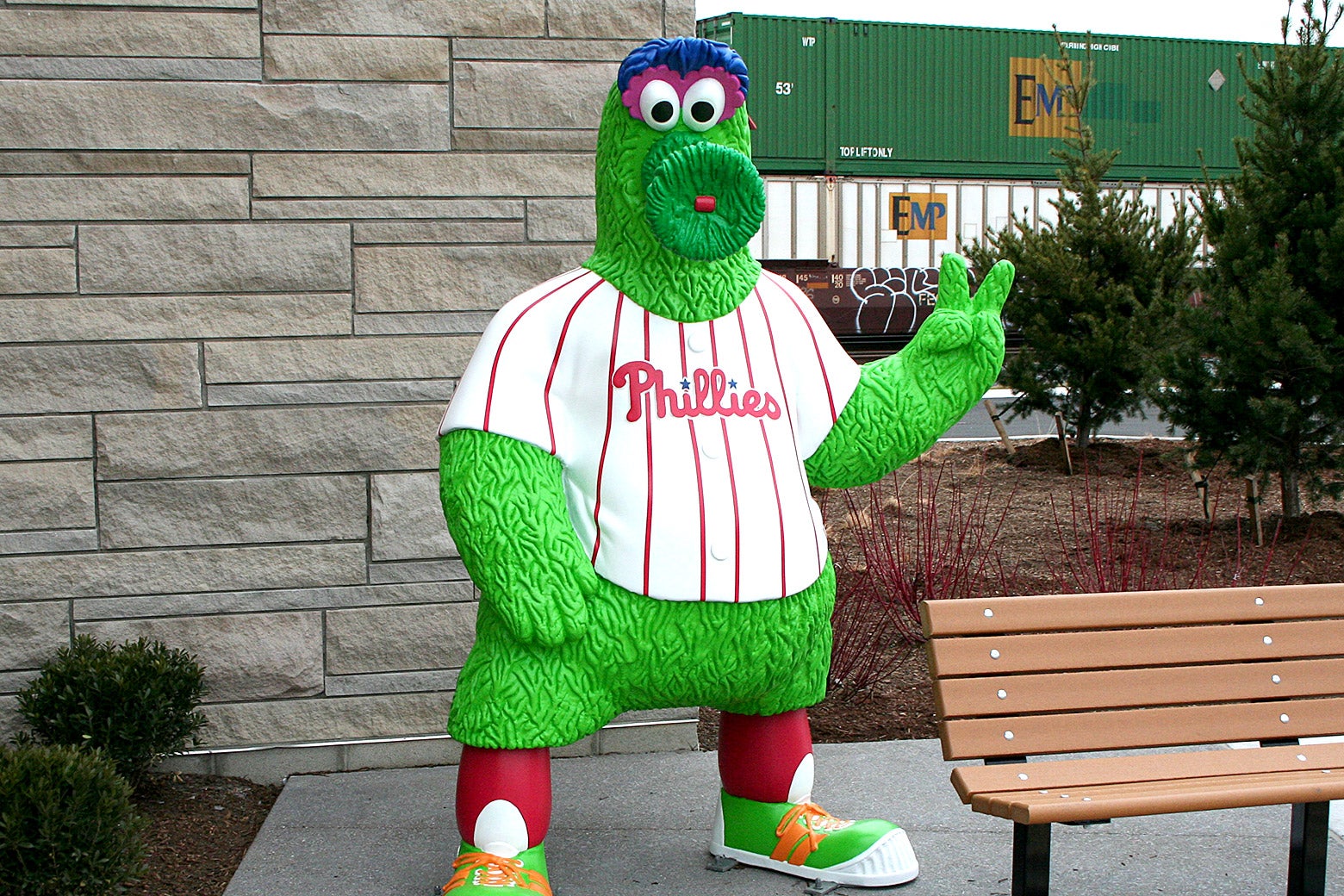 The museum seems to be trying to appeal both to families and aficionados of roadside Americana. Most of the interactive exhibits are aimed at children: an area for launching real T-shirts at a screen depicting a crowd of human heads on animated bodies; a computerized kiosk on which visitors can design their own mascots; a costume shop with tiny jerseys and athletic pants for dressing up stuffed bears. (A miniature basketball court and pitching range is called the Department of Phuzzical Education, one of many fur-based puns here.)
There's also a room tracing the history of mascots, from Chinese dragons to court jesters to La mascotte, Edmond Audran's operetta about a servant girl who brings good luck, which introduced the word to English. The history includes a stock photo of the Chicken, a charter inductee who is otherwise unrecognized in the museum, due to creator Ted Giannoulas' refusal to participate. That's a bummer, because the museum considers the Chicken the first modern mascot, a costumed creature who interacted with fans.
"The Chicken has steered clear," Hernandez lamented. "We'd love for him to be involved, because a Mascot Hall of Fame without the Chicken wouldn't be right. It's like the Baseball Hall of Fame without Cal Ripken."
The Mascot Hall of Fame even has its own mascot: Reggy, a fuchsia muppetoid who appears to have French fries springing from his head and is integrated into the building's exterior design. (According to a film shown in one of the hall's theaters, Reggy was a mascot in search of a home when he stumbled on Pierogi Fest, where he was adopted by a team of dancing babushkas.)
If the whole experience feels incredibly corny, that's intentional. A mascot hall might not work in Philadelphia, or New York, or even Chicago, but this is Indiana, where the Quayle Vice Presidential Learning Center in Huntington is still in business a quarter-century after it opened, kept alive by visits both sincere and satirical. Indiana is a drive-thru, not a destination; enticing visitors to pull over for a look at something weird is a solid tourism strategy. The Mascot Hall of Fame is a 30-minute drive from downtown Chicago, but more importantly, it's just off Interstate 80, a major transcontinental highway, and it seems destined for inclusion in the next edition of Oddball Indiana: A Guide to 350 Really Strange Places. If this hall survives, it will not be because it's a shrine of reverence, like the Baseball Hall of Fame—who can feel reverence toward that genderless, speciesless dancing puppet, the Phillie Phanatic?—but because, in the words of Raymond, "it's absolutely promoting whimsy; it's not formal, it's not static. Every single exhibit, you must engage in."
Well, not every exhibit. In a corner of the second floor, there is an actual hall, with plaques for all the inductees. A few feet away, though, is the computer kiosk where I designed my own mascot, a bear/wolf hybrid with a sideways baseball cap and purple legs. I emailed my creation to myself, and it appeared as a postcard that read "Greetings From Whiting, Indiana"—a final oddball touch from one of the oddest museums I've ever visited.