It's been a lousy year for most things, a very good year for jazz. Pianists have grabbed a particularly bright spotlight, but trumpeters, saxophonists, bassists, and singers have shined too. And musicians of all ages, from 29 (the singer Cécile McLorin Salvant) to 80 (the saxophonist Charles Lloyd) and many in between, have released highlights.
So here is the list of my Top 10 new recordings and Top 2 historical discoveries, starting with the best. (On the new albums, I'm firm on my No. 1 pick, but most of the others, especially Nos. 2 through 6, are interchangeable depending on mood.)
Recorded live at the Teatro La Fenice, in Venice, in 2006, this two-CD set is one of Jarrett's best piano solo albums ever, and that's saying a lot. Disc 1 features knotty, breathtaking improvisations, with dense clusters, jangled rhythms, mind-blowing speed but sharp clarity (think Debussy or Cecil Taylor, but more swinging). Disc 2 sports gorgeous ballads and covers, with seamless Alpine runs and rich, inventive harmonies. In some cases, the fever is so pitched that when he segues into an elegy, it feels like some barrier has been broken; the effect is heroic.
Fresh off her masterly live two-CD/three-LP quartet album Dreams and Daggers (the best album of last year), singer Cécile McLorin Salvant this time does duets with pianist Sullivan Fortner, who plays like Erroll Garner channeled through Chico Marx. They plumb the depths of songs by Bernstein, Cole Porter, and Rodgers and Hammerstein, plus some other showtunes, a couple of French ditties, and a shiversome cover of Stevie Wonder's "Visions." A very different vibe, but almost as appealing.
One of the most lyrical jazz pianists, Hersch is known for his lush harmonies and galvanic rhythms. In this album, maybe his best trio session, he steps up the adventurousness—a dollop of dissonance, a touch at once fleet and percussive—while performing a wide-ranging disparate songbook including two tunes by Thelonious Monk (I especially liked "We See" ridden like a jitterbug), two by Wayne Shorter, and six originals, all joyous.
This is a tribute album to guitarist Jim Hall and reedman Jimmy Giuffre, who have rarely been covered, but Quiet Revolution proves they ought to be. Their style of jazz has been dubbed "chamber," "cool," and "free" (hence the title), and this trio of top-notch longtime collaborators—bassist Ben Allison, saxophonist Ted Nash, and guitarist Steve Cardenas—goes deep into all three traits at once.
(Preview the full album on Allison's website.)
Brazen Heart is one of trumpeter-composer Dave Douglas' most exhilarating quintets, and this two-CD album lays down the 7:30 and 9:30 sets from a Saturday night in 2015 at New York's Jazz Standard. (You can also buy, all in one package or separately, Thursday, Friday, and Sunday, but I think Saturday is the best.) The music is a mix of sonorous hymns, post-bop reveries, lilting ballads, and virtuosic dazzlers, imbued with a restless spirit: shifting keys, tempos, and moods, but the band is brick tight.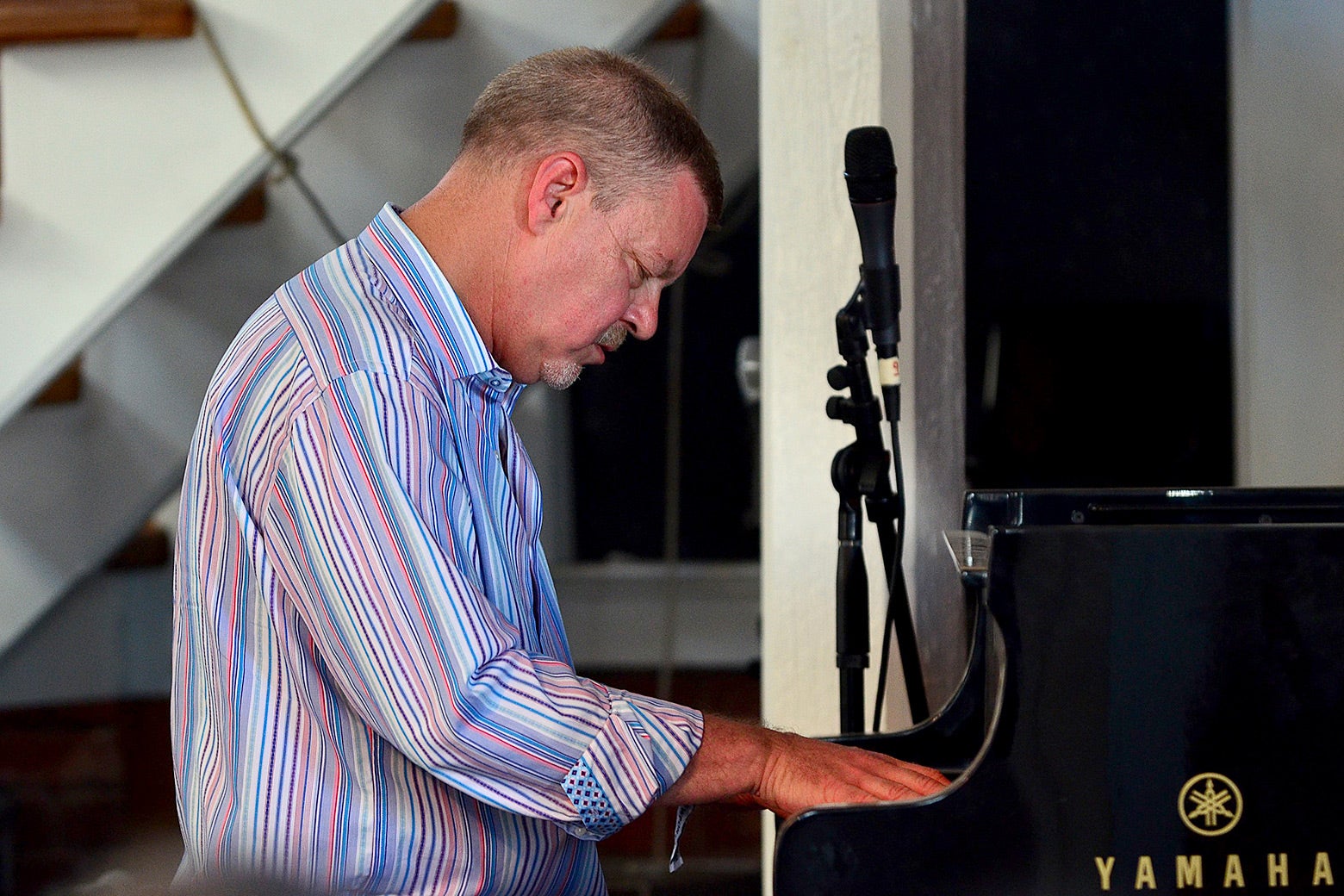 This is an ambitious project: six CDs, 70 tracks, covering every composition by Thelonious Monk, some famous ("Round Midnight," "Ruby, My Dear"), some very obscure ("Brake's Sake," "North on the Sunset"), most hard to play, almost all bracing to hear. Monk is a bit outside the zone for Kimbrough, a master of layered harmonies and a devotee of the sustain pedal, but he adapts to Monk's percussiveness and—while some may miss the original's fierce stride—he lassos the essence of these tunes. Scott Robinson, on every kind of saxophone, supplies playful wit, a stretched versatility, and, on ballads like "Ugly Beauty," a fine grace. Veterans Rufus Reid on bass and Billy Drummond on drums anchor the voyage, plus some.
Recorded in 2007, this is a lovely session of bass-piano duets, not quite as magical as Haden's duos with Keith Jarrett (from the same year) but still wondrous. Best known for his work in Ornette Coleman's classic quartet, Haden (who died in 2014) was often linked to "free jazz," but that only meant he glided through a song on whatever paths he chose, shifting from melody to counterpoint to time-keeping to plucking some pattern that went with the mood—and it all worked, especially with ballads, which he treated with romantic flair in offbeat cadences. Mehldau soars and dips, knowing the bass line will keep him afloat.
Alto saxophonist-composer-impresario Steve Coleman has long been fascinated with patterns of motion in nature and how to capture them in music. In this two-CD session with his Five Elements quintet, one of the most tight and limber bands around, he probes the motions and rhythms of boxing (he's a major fan). Like the sport, it starts out a bit tentative but soon struts, dances, lands punches, draws cheers, and just mesmerizes.
Another Douglas entry, this one with tenor saxophonist Joe Lovano and their quintet Soundprints, a play on Wayne Shorter's album Footprints, which explores a few Shorter tunes but, more than that, his sensibility: its mid-tempo exuberance, infectious hooks, and complex two-horn harmonies. Bassist Linda May (who's also on Brazen Heart), drummer Joey Baron, and pianist Lawrence Fields supply stellar backup. This studio album doesn't quite project the ecstatic joy that I've seen in live concerts, but it will more than do.
Some may call this country or bluegrass, especially the tracks where Lucinda Williams sings, but Charles Lloyd blows the tenor sax, Bill Frisell picks the electric guitar, and that makes this jazz.* It's a heady hoe-down fusion, whatever you call it: lots of smiles, sways, and head-nods. Soulful fun.
The Year's Best Historical Releases
I wrote about this four-CD album in Slate earlier this year. Suffice it to say that these highlights of 1960 concert dates in Europe—the last times Miles and Coltrane played together—are among the most thrilling tracks in modern jazz. Trane's blizzards-of-sound "New Thing" rubbing against Miles' walking-on-eggshells elegance. There still isn't anything else like it.
Through the 1950s, Erroll Garner was the most famous jazz pianist in the world. Songs he wrote, like "Misty," were performed everywhere, and his Concert by the Sea was the best-selling live jazz album of all time. He had a contract dispute with Columbia Records, and over the subsequent decades his manager hoarded hundreds of tapes, recorded live and in the studio. When she died, the manager's niece and surviving heir, Susan Rosenberg, started sifting through the stacks and turned up gems, including this—a live midnight concert at the Concertgebouw in Amsterdam in 1964: sparkling, explosive, head-shaking, romantic, elegant.
*Correction, Dec. 10, 2018: An earlier version of this article misstated that Charles Lloyd played the alto saxophone. He plays tenor saxophone.