The late Stan Lee, co-creator of many of Marvel Comics' best-known characters, famously made cameo appearances in almost all of Marvel's movies. (His favorite joke in recent years was wondering out loud if there was an Oscar for "Best Cameo.") But Lee also turned up as a character in Marvel's comics for 75 years.
Lee began working at Timely Comics, the company that would later change its name first to Atlas and then to Marvel, as a teenager in 1940.* An editor called "Stanley Dee" (of "Crimely Publications") is briefly seen in 1942's Mystic Comics No. 10, but Lee's first appearance on panel under his own name was in a real obscurity: Terry-Toons Comics No. 12, cover dated September 1943. (At the time, Lee was in the Army, but that issue's credits list "Pvt. Stan Lee" as a "consulting editor.") It's a peculiar anthology of funny animal stories. One of its features, "The Ginch and Claude Pennygrabber," involves a conflict between its characters and the artists who draw them. In the final panel, the young Lee—whose desk's nameplate identifies him as "3rd Assistant Office Boy"—apologizes: "Next week maybe we'll have a real story!"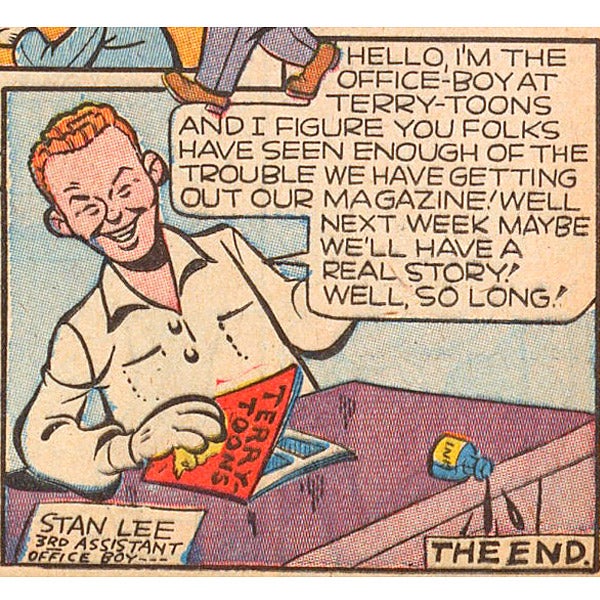 After he returned from his military service, Lee became the editor and head writer of the company's comics line. 1953's Suspense No. 29 includes a story called "The Raving Maniac," drawn by Joe Maneely, in which an angry man pigeonholes Lee in his office to complain about the comics he edits. For the next decade, as Lee cranked out hundreds of short sci-fi and horror stories for anthology comics like Journey Into Mystery and Strange Tales, he occasionally went back to the well of "strange goings-on in the offices of a comic book publisher." Sometimes those stories identified him by name ("Something Fantastic?" in 1962's Amazing Adult Fantasy No. 12), and sometimes they didn't but still made it clear who he was ("X, The Thing That Lived!" in 1961's Tales to Astonish No. 20). Another plot Lee recycled more than once was characters visiting his office to complain about how they were represented in his comics—he and artist Dan DeCarlo got visits from the irate protagonists of both My Friend Irma No. 41 (1954) and Homer the Happy Ghost (1958), and Lee reused that gag in 1972's Millie the Model No. 195.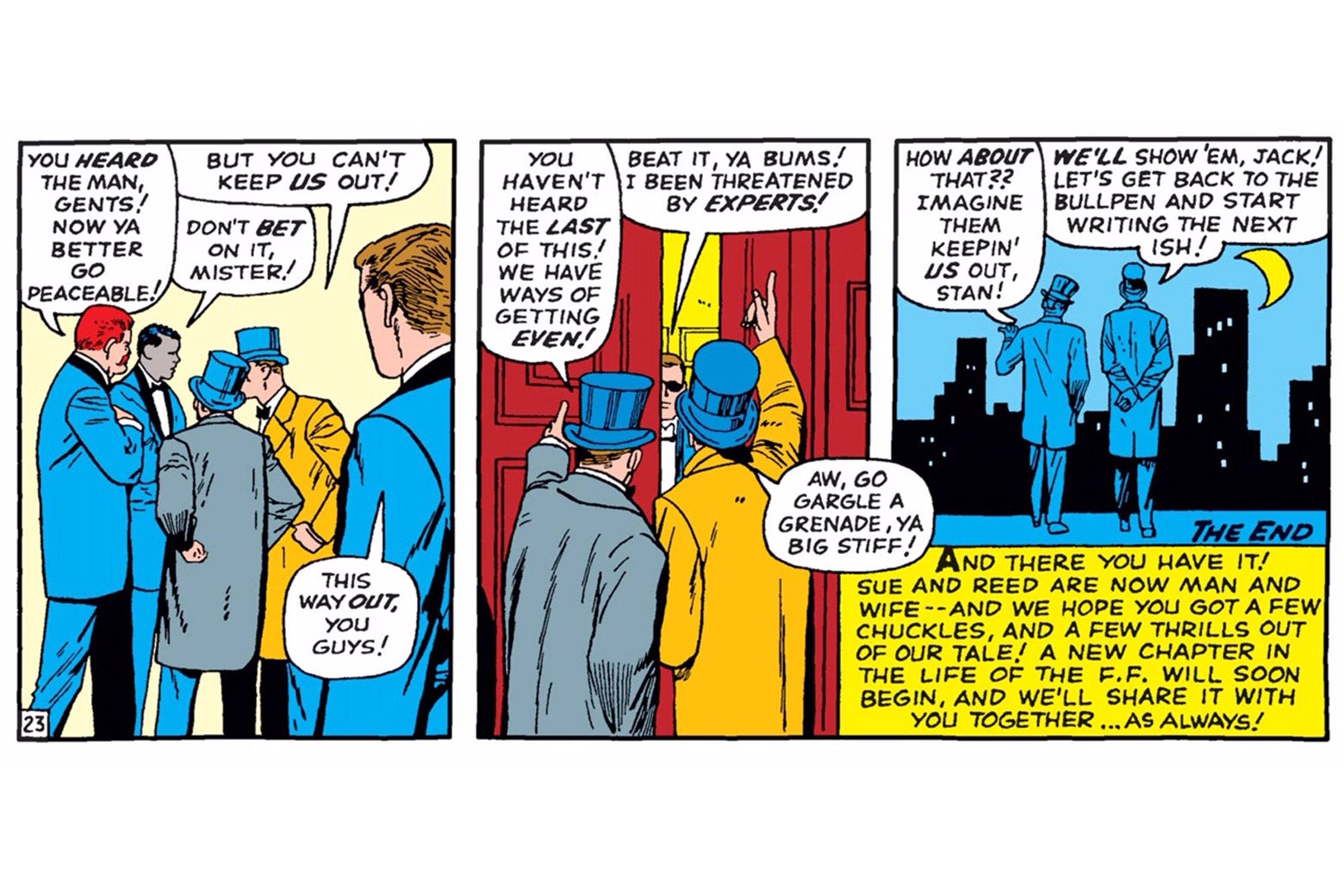 That kind of metafictional silliness had rarely been seen in superhero stories before the glory years of Marvel Comics, but Lee was always happy both to pump up his reputation and to deflate it. 1963's Fantastic Four No. 10 found Doctor Doom paying a visit to Lee and artist Jack Kirby at their studio. Two years later, in Fantastic Four Annual No. 3, Lee and Kirby attempt to crash the wedding of Mr. Fantastic and the Invisible Girl but are thrown out by none other than Nick Fury. A string of bonus features in Marvel's oversize annual comics, around the same time, purported to be "behind-the-scenes" documentation of how the heroes' stories were created. Written by Lee, they depicted him as constantly making impossible demands on exasperated artists. "Waddaya mean we??" Steve Ditko complains in 1964's Amazing Spider-Man Annual No. 1. "I do the drawing while you practice signing your name all over!"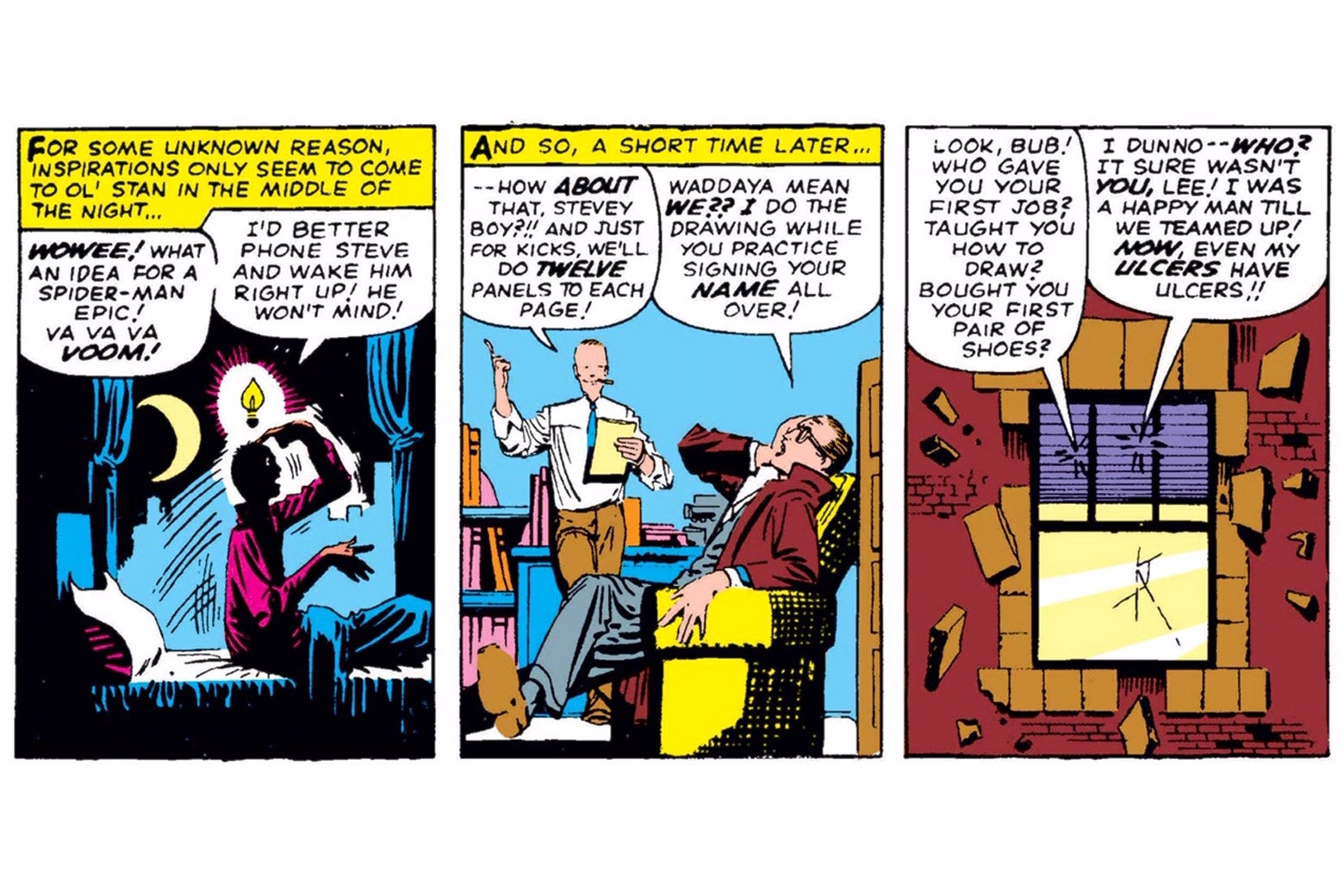 Even after Lee stopped writing most of Marvel's superhero comics, though, he continued to make cameo appearances in them. He and his wife, Joan, run into Daredevil (who waves him off with "Greetings, fearless leader! Sorry I don't have time to stop and rap!") in 1971's Daredevil No. 79. In the next year's Sgt. Fury and His Howling Commandos No. 100, Lee, in beard and turtleneck, is the emcee of an event honoring Nick Fury's World War II squad, having apparently forgiven Fury for the earlier snub at the wedding.
After parodying Lee as the huckster Funky Flashman in DC Comics' Mister Miracle, Jack Kirby returned to Marvel in the mid-'70s. He and Lee appeared together in 1976's Fantastic Four No. 176. The issue's writer, Roy Thomas, and artist, George Pérez, are complaining that they can't put together a new issue if the Four don't tell them about their recent adventures. Kirby suggests that they just "make up some stories about the F.F." Lee, shocked, replies, "Nice try, Jack… but it just isn't done." Kirby both wrote and drew 1977's What If? No. 11, which imagines, "What if the Fantastic Four Were the Original Marvel Bullpen?" (The answer is that Lee, depicted with surprising affection, would have become the group's leader, Mr. Fantastic, and Kirby would have become their powerhouse, the Thing.) That era's weirdest collision of real-life and comic book characters, though, was 1978's Marvel Team-Up No. 74, starring Spider-Man and the cast of Saturday Night Live, in which Lee appears as that week's guest host of SNL and John Belushi fights the Silver Samurai.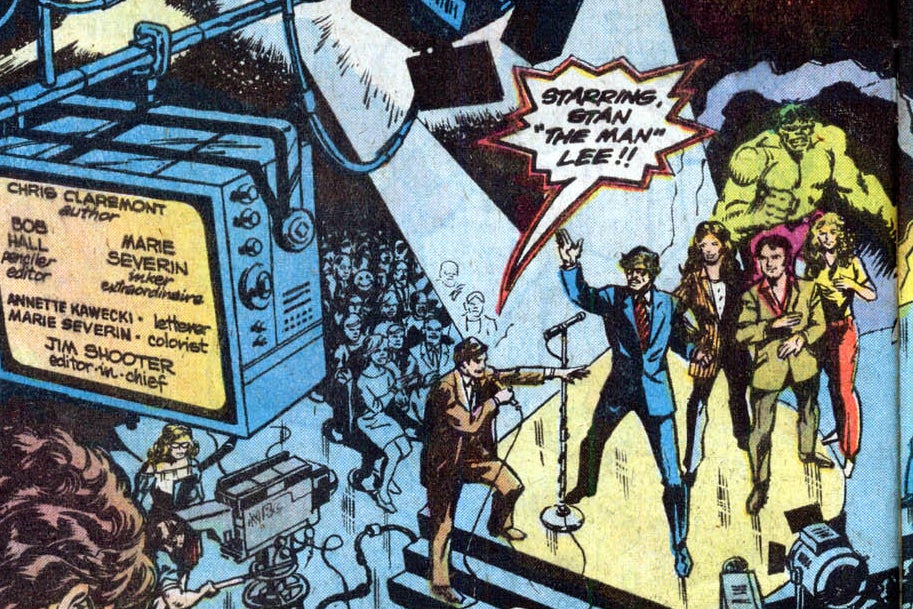 Over the next few decades, Lee continued to turn up briefly in Marvel's comics, mostly in crowd scenes. (In July 1997, the entire Marvel line was devoted to flashback issues—numbered "minus one"—and other writers' versions of Lee appeared as the narrator of most of them.) In the 2000s, though, he returned to writing one-off stories for various series and usually wrote himself into them. Lee's feature for 2007's Fantastic Four No. 543, for instance, involves him convincing the Mole Man to call off an attack on the surface world by promising him a cameo in the next Marvel movie. He also wrote a string of five one-off special issues, Stan Lee Meets … , in which he encountered his co-creations Spider-Man, the Thing, Doctor Strange, Doctor Doom, and the Silver Surfer.
Lee's appearances in comics written by other people in recent years generally treated him as an elder statesman. The tenderest tribute to him from recent years appears in a story by Mark Waid and Dale Eaglesham in 2009's Captain America No. 600: As an auctioneer shows a photograph of Captain America in action alongside American troops at Guadalcanal in 1942, an elderly soldier in the audience—clearly drawn by Eaglesham as the frail older Lee—remembers his younger self in that moment. And the officiant at Luke Cage and Jessica Jones' wedding in Brian Michael Bendis and Olivier Coipel's New Avengers Annual No. 1 is Lee as he presented himself for the latter half of his career: wearing sparkling sunglasses, graying, perpetually smiling. He didn't create either of those characters, but he built their world, and sometimes he got to be a little part of it.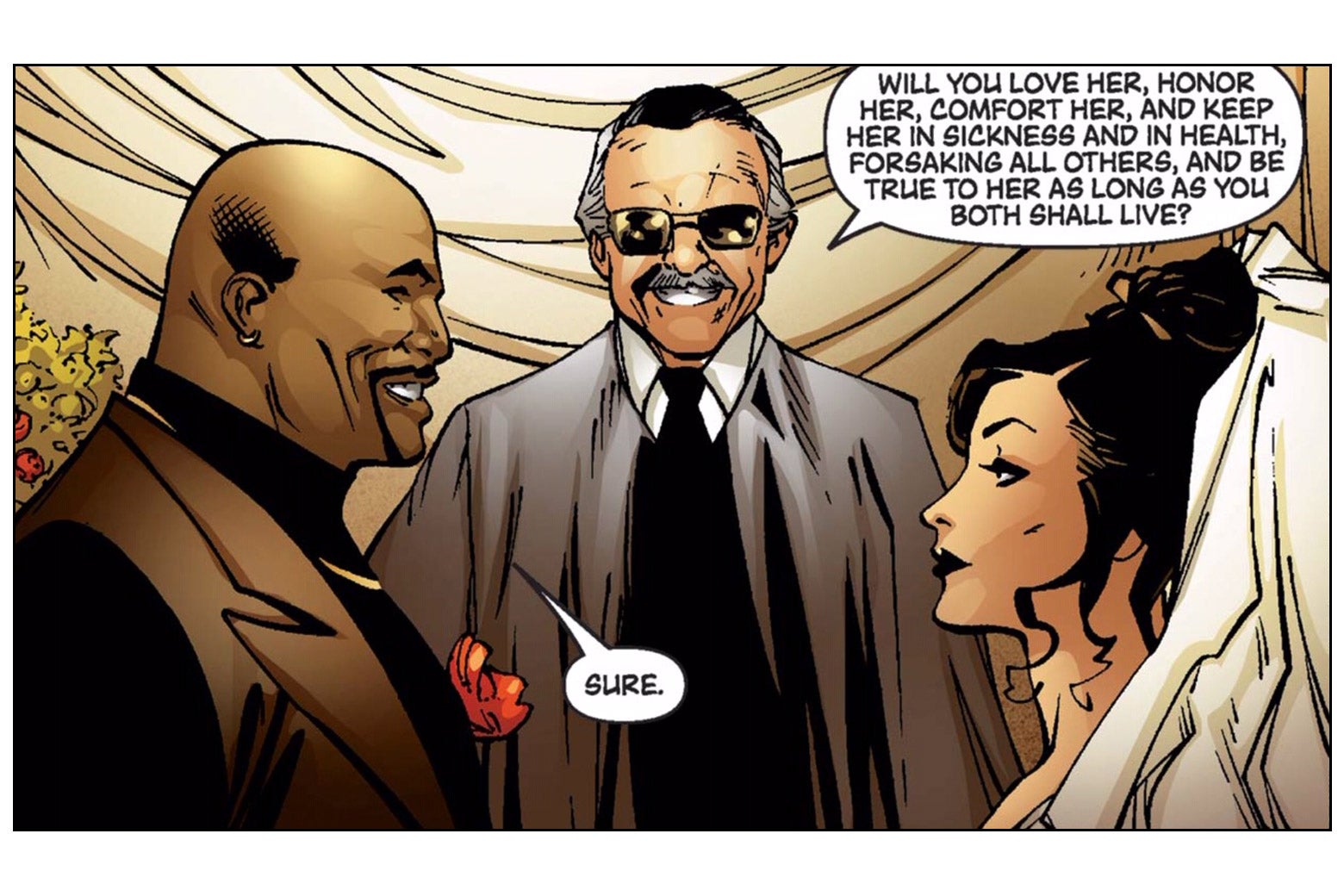 Correction, Nov. 13, 2018: This post originally misstated the year when Stan Lee started working at the company that became Marvel Comics as well as how old he was when he started. He started working there in 1940, not 1939, and he was not 16 when he started working there.