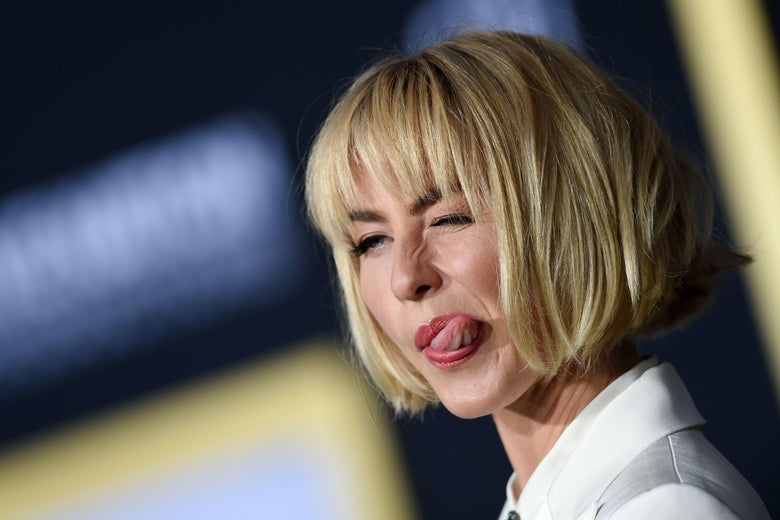 Just imagine the casting call for Netflix's upcoming anthology series inspired by the music of Dolly Parton: "Must have flaming locks of auburn hair, ivory skin, and eyes of emerald green. Candidates with smiles like a breath of spring and/or a voice soft like summer rain strongly encouraged to audition." OK, so present-day Julianne Hough, with her short blond bob, doesn't fit that description exactly, but it seems that her experience as a redhead was enough to win her the role of Jolene, the potential other woman in one of Parton's most famous songs.
Each of the eight episodes in Dolly Parton's Heartstrings, which debuts in 2019, will take its premise from a different track by Parton. According to the Hollywood Reporter, Hough's Jolene will be "a flirtatious free spirit" who wants to leave her Georgia hometown to make it as a singer, while Parton herself will play Babe, who owns a honky-tonk bar where Jolene works as a waitress. Kimberly Williams-Paisley will co-star as "a mother and wife starting a new chapter in life and who gets pulled into Jolene's orbit" while Dallas Roberts has been cast as her husband who is going through a midlife crisis, and … you can see where this is going.
Parton, who serves as an executive producer on Heartstrings and will introduce each episode with an explanation of its musical inspiration, has gotten awfully cozy with Netflix lately. She's also providing the music for the upcoming Jennifer Aniston comedy Dumplin'.
---