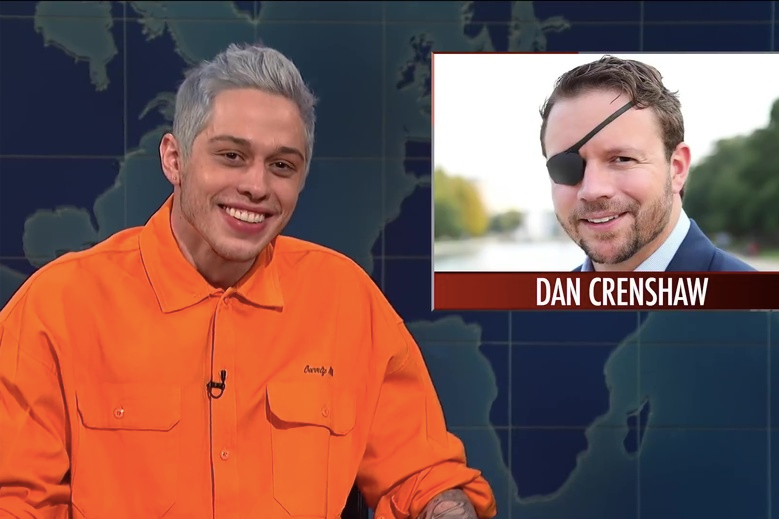 Just a few days after Saturday Night Live's Pete Davidson mocked Dan Crenshaw, a Republican veteran who was running for congress in the 2nd District of Texas, the Navy SEAL threw some subtle shade back after winning his House seat. In his victory speech, Crenshaw said, "This election, the next couple of years, and hopefully, the next 50 to 100 years are going to be about understanding what we all believe in together, understanding the foundational values that keep us together and that used to be comedy and sports. Let's separate politics from these things. Let's enjoy life together as Americans, man. That's what I'd like to get back to."
Davidson was doing impressions of midterm candidates during the SNL segment, and made fun of Crenshaw's eyepatch, "This guy's kind of cool: Dan Crenshaw. You may be surprised to hear he's a congressional candidate from Texas, and not a hitman in a porno movie. I'm sorry, I know he lost his eye in war or whatever. Whatever!" he said. The Texas candidate lost his eye while serving in Afghanistan.
Davidson's joke received sharp criticism, with the National Republican Congressional Committee demanding an apology from both the comedian and NBC, and fellow castmate Kenan Thompson saying that it had, "definitely missed the mark," and that the show was, "figuring out a way to right that wrong."
Support our independent journalism
Readers like you make our work possible. Help us continue to provide the reporting, commentary, and criticism you won't find anywhere else.
Join Slate Plus
Join
---