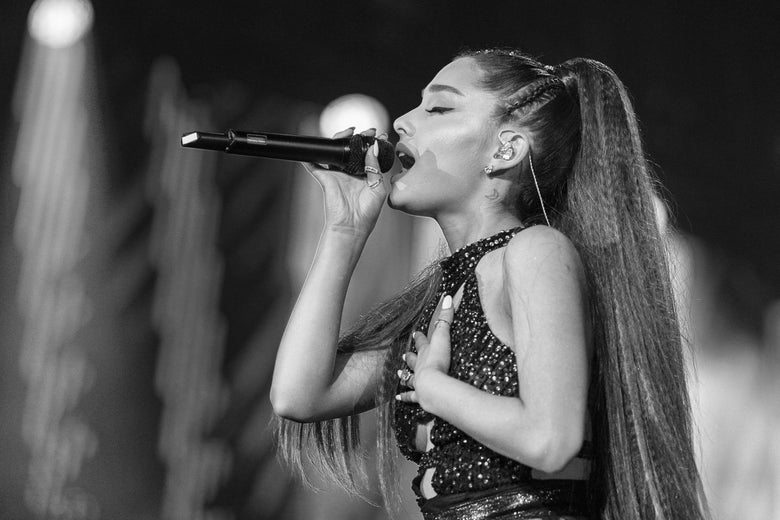 After days of teasing fans with pictures of the upcoming music video for her No. 1 song, "Thank U, Next" Ariana Grande has finally released a teaser, and it is grool. After a week of Instagram posts revealing that the video would take inspiration from classic '00s films such as Legally Blonde, Bring It On, 13 Going on 30, and Mean Girls, the official trailer is a full-on tribute to the Tina Fey-scripted original.
The clip includes a couple of Mean Girls original stars, including Jonathan Bennett (who played Aaron Samuels) in a parody version of the "Who is Regina George?" scene. But, instead of rumors and adoring comments about Rachel McAdams' character, everyone is here to talk about Ariana Grande. "One time on Twitter, I heard Ariana was pregnant, so I got pregnant so we can be pregnant at the same time," opens Colleen Ballinger, the YouTube star known as Miranda Sings. "Turns out it was just a rumor."
Then comes Aaron Samuels, with a nod to one of Regina George's lines, "Ariana Grande told me my hair looked sexy pushed back," he says. "She's not wrong!" He's followed by Stefanie Drummond, the original Bethany Byrd ("One time, she punched me in the face—it was awesome!") with a piece of gossip alluding to Grande's called-off engagement to comedian Pete Davidson, "Ariana broke off an engagement, so I found a guy to propose to me and I broke off an engagement," she says.
And while Grande doesn't appear in the teaser, her Instagram posts reveals she'll be acting as Regina George, wearing her hair blonde and straight along with queen bee's iconic pink cardigan. The singer even has her own Burn Book, which reads "Thank U, Next" on the cover. As for her posse, Alexa Luria appears as Karen Smith, Courtney Chipolone as Gretchen Wieners, and Dynasty's Elizabeth Gillies will play Lindsay Lohan's character, Cady Heron.
Support our independent journalism
Readers like you make our work possible. Help us continue to provide the reporting, commentary, and criticism you won't find anywhere else.
Join Slate Plus
Join
---