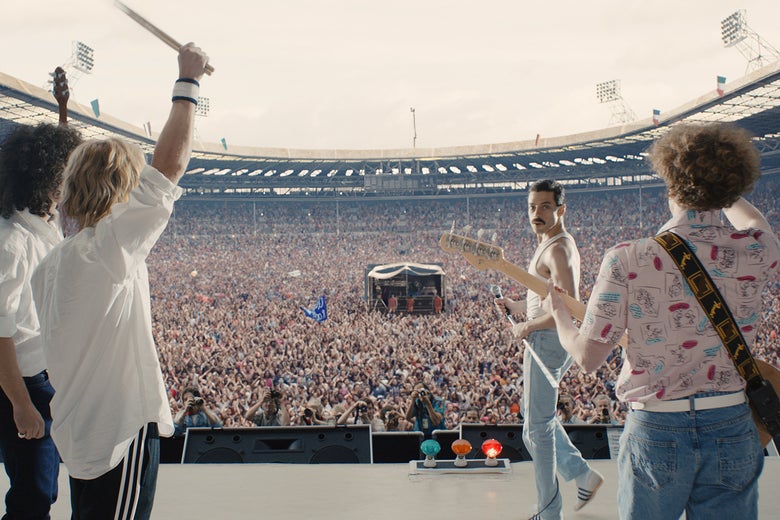 Back in July 13, 1985, a simultaneous benefit concert for Ethiopian famine relief, Live Aid, was held at London's Wembley and Philadelphia's John F. Kennedy's stadiums. The lineup featured U2, David Bowie, Paul McCartney, Bob Dylan, Madonna, and a six-song performance by Queen that included "Bohemian Rhapsody" and "We Are the Champions." The Queen biopic Bohemian Rhapsody recreated the band's most iconic concert, and fans will be able to see it in its entirety as a bonus feature once the film gets its home video release.
While only three of the six songs ended up in the film, the cast re-enacted the entire concert on their very first day on set. During an interview with Collider, Rami Malek, who plays Freddie Mercury, said that, "We started out day one with Live Aid and we went through every song in sequence," adding that, "we had an audience of Queen fans out there recreating that iconic concert and it is an adrenaline rush like you could never imagine." Malek went on to say that the complete re-created concert is being considered as a bonus feature for the film's eventual home video release.
The Live Aid performance served as the film's epic finale, following Mercury's diagnosis of HIV/AIDS, though the real Mercury hadn't been diagnosed at that point in his life. The 20th Century Fox production made $50 million in U.S. and Canada box office sales on its opening weekend, plus $72.5 million worldwide.
---