In a possibly ingenious, possibly insane act of baseball subterfuge, Milwaukee Brewers manager Craig Counsell sent a decoy starting pitcher to the mound in Game 5 of the National League Championship Series on Wednesday. Counsell pulled Milwaukee starter Wade Miley after he issued a five-pitch walk to Los Angeles Dodgers leadoff hitter Cody Bellinger, leaving Fox announcers Joe Buck and John Smoltz speechless when the network cut to commercial. But there was a method to Counsell's madness. Maybe.
Miley is a lefty, and when he started Game 2, the Dodgers responded by sending up a lineup of nine right-handed hitters. (Righty batters have an easier time hitting lefty pitchers, and vice versa.) With the series now tied 2–2, Counsell sent out the southpaw for the crucial Game 5 in the best-of-seven series. He then immediately replaced Miley with Brandon Woodruff, a righty, once the Dodgers' lineup was set. Miley is now scheduled to start Game 6—for real, we think.
Counsell led the underdog Brewers to the best record in the National League by abandoning baseball's traditional pitching dichotomy, in which one set of pitchers starts games and another set throws in relief. But if this was Counsell's attempt to create a "roadmap of confusion" for Dave Roberts, as Smoltz later put it, the Dodgers manager was using his GPS. According to Fox's Tom Verducci, Roberts guessed that Miley—who would've been pitching on short rest—wasn't in it for the long haul, and started two of his best left-handed hitters, Bellinger and Max Muncy.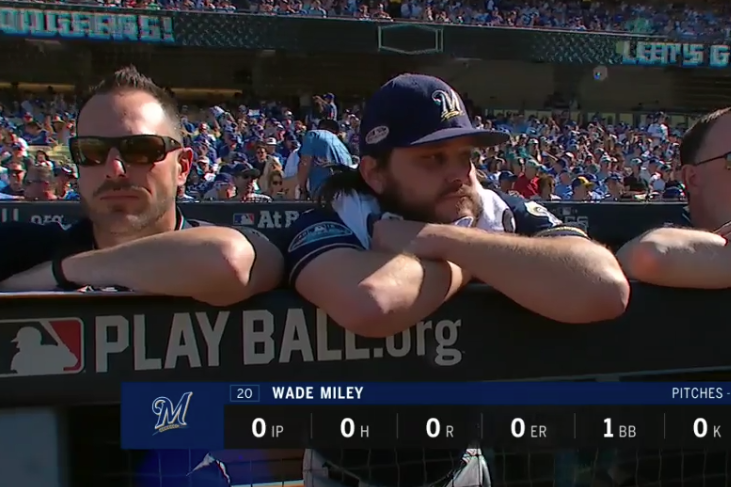 As Sports Illustrated's Emma Baccellieri pointed out, Washington Senators manager Bucky Harris tried this exact move in Game 7 of the 1924 World Series, starting the righty Curly Ogden as a decoy. He faced two batters. The Senators won. Only once before has a postseason starter faced just one hitter—and that was because of an injury.
Counsell has tried something like this before, starting lefty reliever Dan Jennings against the St. Louis Cardinals in September. Jennings faced the lefty leadoff man Matt Carpenter before leaving the game, the first time in recent history that a starting pitcher had faced only one hitter by design.
The question is what Counsell's bait-and-switch means for the gentlemanly tradition of baseball managers telling each other who will pitch before the game starts. That's been a fixture of baseball for more than a century, but it seems quaint now.
Woodruff, the Brewers' real starting pitcher, pitched five and one-third innings, and allowed three runs.
Previously in baseball superlatives:
"I Think Maybe This Is the Worst Umpiring I've Ever Seen in a Baseball Game."
"I Think Maybe This Is the Best Play I've Ever Seen in a Baseball Game."
"I Think Maybe This Is the Worst Play I've Ever Seen in a Baseball Game."