What makes a song last? The history of popular music tells us that many masterpieces of songcraft—and even the most world-conquering smashes—are quickly forgotten.
Meanwhile, many earworms burrow deep into the collective consciousness, where they take root, whether we like it or not.
Who could have predicted that "Don't Stop Believin' "—which was, upon its release in 1981, a commercial disappointment from a critically derided band—would become the 20th century's best-selling digital download?* Or that it would be a "novelty" dance single, of all song varieties, that would become Billboard's pick for the greatest single of all time?
Separating the most durable tunes from the millions of other would-be classics is no easy task. So we asked critics, musicians, and industry professionals to predict which tracks from the past 25 years we'll still be dancing and singing along to for the next 100 years. Some of these songs our children will belt in sports arenas. Others our grandchildren will dance to at their weddings.
The New American Songbook is emphatically not a list of the best songs of the past quarter-century, although many of these tracks would make that list, too. As predicted by our panel, tomorrow's oldies, like tomorrow's America, will be a lot less male-dominated, and a lot more diverse. Less than a third of the songs on our list are fronted by white men, and no artists are featured more frequently than pop music's first couple Beyoncé and Jay-Z. Classic rock will soon be rivaled by classic rap, and the Cole Porter of the next American songbook may be Max Martin.
Below, find the Top 30 songs, in order, all of which were nominated by at least two of our panelists. You can also read the individual ballots of everyone from Chuck Klosterman to NPR's Ann Powers to Drive-By Truckers' Patterson Hood. Which of today's hits will endure as tomorrow's golden oldies? Here's our best guess.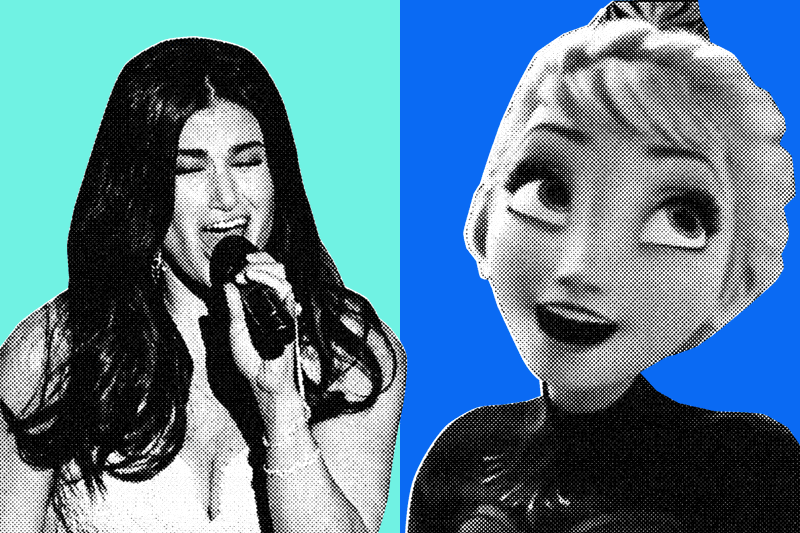 30. Idina Menzel – "Let It Go"

Producers: Kristen Anderson-Lopez, Robert Lopez
Songwriters: Kristen Anderson-Lopez, Robert Lopez
Year: 2013

The songbook has always been rich with show tunes, and Disney animation—our era's greatest purveyor of popular myths—is likely to remain a staple of American childhood. Which means nearly every American kid of the 21st century will watch Frozen, which means nearly every American kid will hear this epic fuck-you song disguised as an anthem of empowerment. And hearing it once is all it takes for it to stick in your head forever, as powerfully as fellow Disney classics "When You Wish Upon a Star," "Someday My Prince Will Come," or "A Spoonful of Sugar."
29. Liz Phair – "Fuck and Run"

Producers: Liz Phair, Brad Wood
Songwriter: Liz Phair
Year: 1993

Perhaps this is a long shot; it's by far the lowest-charted song on our list. (It wasn't even released as a single.) But the experience elucidated in Liz Phair's indie-rock hit is so snarlingly relatable that it's easy to imagine twentysomething men and women connecting to this song for time immemorial. "It's a songwriting model," writes Slate music critic Carl Wilson in his ballot, "that new waves of young musicians keep discovering, and it's a fucking heartbreaker."
28. Daft Punk ft. Pharrell Williams and Nile Rodgers – "Get Lucky"

Producers: Thomas Bangalter, Guy-Manuel de Homem-Christo
Songwriters: Thomas Bangalter, Guy-Manuel de Homem-Christo, Nile Rodgers, Pharrell Williams
Year: 2013

If you fed a songwriting algorithm the complete works of Chic, Kool & the Gang, and Earth, Wind & Fire, it'd spit out something much like Daft Punk's floor-filler. Like fellow Songbook selection "Uptown Funk," Slate pop chart analyst Chris Molanphy writes, it "sounded like an instant oldie upon release." Plus, it's "already stood up to covers including one by a Russian chorus at the Olympics."
27. Alanis Morissette – "You Oughta Know"

Producer: Glen Ballard
Songwriters: Alanis Morissette, Glen Ballard
Year: 1995

The guttural angst of the early '90s can feel a little bratty a generation hence, but Alanis' defiant cry "fills the grunge anthem spot, even though it's a Canadian woman," 4AD's Nabil Ayers writes. You don't have to have been done dirty by a former Full House star to feel the catharsis as the song explodes into its chorus, a primal scream that speaks to the wronged teenager ("It's not fair") in all of us.
26. Old Crow Medicine Show – "Wagon Wheel"

Producer: David Rawlings
Songwriters: Bob Dylan, Ketch Secor
Year: 2004

Love it or hate it—"Ugh, I guess we're stuck with it," writes Franz Nicolay of the Hold Steady—"Wagon Wheel" is, as Slate's Dan Kois notes, "an effortlessly catchy singalong that will persist around campfires, dorm rooms, and everywhere that someone knows how to play a G chord on an acoustic guitar."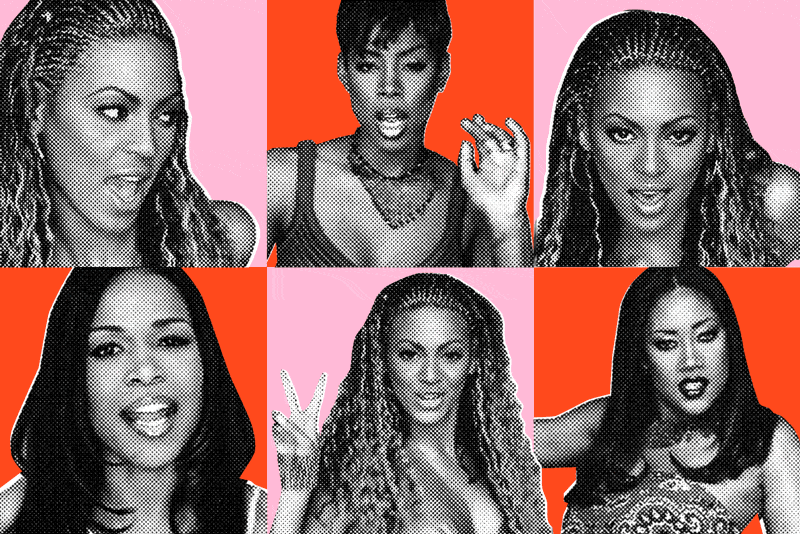 25. Destiny's Child – "Say My Name"

Producer: Darkchild
Songwriters: LaShawn Daniels, Rodney Jerkins, Fred Jerkins III, Beyoncé, LeToya Luckett, LaTavia Roberson, Kelly Rowland
Year: 1999

While Beyoncé's solo material has gone on to outshine her early work in this girl group—she's the only artist to place more than one tune in the Songbook as a lead artist—"Say My Name" has already endured for nearly two decades and shows no sign of slowing down. While its blend of pop and R&B and hip-hop—a blend mastered at the time by co-writer and producer Rodney "Darkchild" Jerkins—may feel perfectly late-'90s, it was also ahead of its time: The group's half-sung, half-rapped vocals rarely get the credit they deserve in the age of singing rappers like Drake. And the concept is also timeless. Jezebel editor Julianne Escobedo Shepherd notes that it's "already in the blues tradition of a wronged woman exerting her place and agency." At least Drizzy returned the favor, putting his own spin on the hook on 2013's "Girls Love Beyoncé." He won't be the last.
24. Israel Kamakawiwoʻole – "Somewhere Over the Rainbow/What a Wonderful World"

Producers: Israel Kamakawiwoʻole, Jon de Mello
Songwriters: Edgar Yipsel Harburg, Bob Thiele, George David Weiss
Year: 1993

One way to secure a spot in the Songbook: Mash up two prior standards into one of the biggest-selling downloads of the digital era. Iz's "Rainbow" is so ubiquitous that its semi-improvised, recorded-at-4-a.m. lyrics are already beginning to replace the originals. This lightning-in-a-bottle recording of a Hawaiian musician and his ukulele will persist as long as there are rehearsal-dinner slideshows to soundtrack.
23. Beyoncé ft. Jay-Z – "Crazy in Love"

Producers: Rich Harrison, Beyoncé
Songwriters: Beyoncé, Rich Harrison, Eugene Record, Shawn Carter
Year: 2003

If we're counting feature appearances, the one artist with as many entries in the Songbook as Beyoncé is her husband. So it's only natural that the hit that captures the deliriousness of their first love would be enshrined in America's memory forever. Of course, they've gone on to produce a series of other memorable collaborations—from the surfborting "Drunk in Love" (whose less family-friendly nature may make it harder to pass down from generation to generation) to, just this summer, a whole collaborative album. But the blaring brass fanfare that opens "Crazy in Love" (sampled from the Chi-Lites' 1970 R&B workout "Are You My Woman (Tell Me So)") heralded the arrival of the musical power couple that would rule over the next decade and a half and counting. And how many couples ever match the rush of their early years?
22. Nine Inch Nails – "Hurt"

Producer: Trent Reznor
Songwriter: Trent Reznor
Year: 1994

Sometimes what it takes to propel a song into permanent rotation is for the right artist to dust it off at the right moment. Johnny Cash's version of "Hurt," recorded in his twilight months with veteran music "reducer" Rick Rubin, has already taken its place in the pantheon of covers that supersede the original—beside the likes of Whitney Houston's "I Will Always Love You" and Aretha Franklin's "Respect." As Trent Reznor himself has said, when he first heard Cash's rendition, he felt like "I just lost my girlfriend, because that song isn't mine anymore."
21. 50 Cent – "In Da Club"

Producers: Dr. Dre, Mike Elizondo
Songwriters: Curtis Jackson, Andre Young, Mike Elizondo
Year: 2003

What will make this gangsta-rap classic outlive nearly all the rest? We'd like to say that it's Dr. Dre and Mike Elizondo's minimalist masterpiece of a six-note synth beat, or the sparse instrumental accents that adorn the remainder of the track, or even the array of infectious flows that Curtis Jackson brought to his first No. 1. But as both Slate pop critic Jack Hamilton and Julianne Escobedo Shepherd note, the real reason that this track will stay on annual celebratory playlists for years to come is five simple words: "Go shorty, it's your birthday."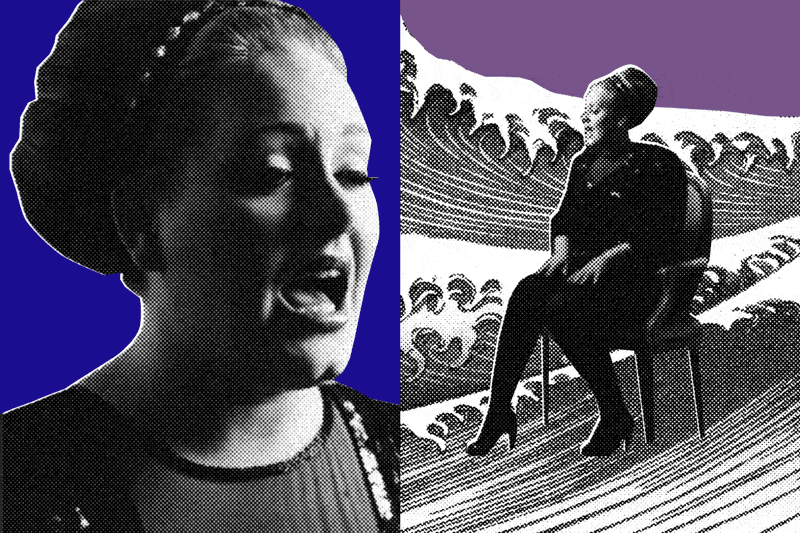 20. Adele – "Rolling in the Deep"

Producer: Paul Epworth
Songwriters: Adele Adkins, Paul Epworth
Year: 2010

As Molanphy notes, "Something by Adele will endure; she's sold too many albums (in an era when no one sells) not to inspire at least one standard." Why this one, then, and not, say, "Hello" or the even more tear-jerking "Someone Like You"? Well, thus far it appears to have outsold even those other megasellers, going an incredible octuple-platinum. Plus, as Molanphy continues, it's already evolved in its afterlife, with the Queen of Soul herself anointing this '60s throwback with a cover (as one of the Great Diva Classics, no less). That places it in pretty enduring company.
19. Oasis – "Wonderwall"

Producers: Owen Morris, Noel Gallagher
Songwriter: Noel Gallagher
Year: 1995

What, exactly, is a "wonderwall"? We don't know, either, but that's never stopped this one from echoing through AOL Instant Messenger away messages and dorm rooms and wedding receptions and Spotify playlists. Indeed, Oasis' ballad has been repeatedly declared Spotify's most-streamed track from the 1990s, beating even "Smells Like Teen Spirit."

Why? As author Chuck Klosterman writes, "It's a simple song that young guitar players often learn, the lyrics are abstract enough to mean anything, and people seem comfortable with it." Not that that means it's especially good, as even those who nominated it agree. "There are … many, many songs better than 'Wonderwall' that will be totally lost," Klosterman continues. Slate pop critic Jack Hamilton is even more blunt: "This song is dumb as hell, but it's also catchy and ridiculously easy to play and will thus appeal to generations of brooding young people who can figure out how to bang out four chords on an acoustic guitar."
18. Backstreet Boys – "I Want It That Way"

Producers: Kristian Lundin, Max Martin
Songwriters: Andreas Carlsson, Max Martin
Year: 1999

Boy-band bliss at its peak, BSB's indelible anthem—one of two New American Songbook entries co-written by one-man hit machine Max Martin—combines the intimacy of a sad-boy singer-songwriter with the collective embrace of five corny friends. It's also a "karaoke favorite," as the New York Times' Aisha Harris notes; hitting the high notes is optional.
17. Rihanna ft. Calvin Harris – "We Found Love"

Producer: Calvin Harris
Songwriter: Calvin Harris
Year: 2011

No shortage of Rihanna songs were nominated for this Songbook, from "Work" to "Diamonds" to "Umbrella." Why is this the Robyn Fenty smash that will outlive the rest? Slate has spent plenty of words before praising this "pulsating homage to '90s Europop," "a stack of frenzied crescendos with slightly less frenzied crescendos slipped in between." But Ann Powers explains its selection best: "Rihanna is the most important pop artist of the 21st century, sound-wise. Her blend of EDM rush, hip-hop drowsiness, and Caribbean calm defines international pop, and the emotional blueprint of her music—ultimately cool, yet acknowledging damage—defines her generation. This song is the purest distillation of her zeitgeist, with a drop."
16. The Killers – "Mr. Brightside"

Producer: The Killers
Songwriters: Brandon Flowers, Dave Keuning, Mark Stoermer, Ronnie Vannucci Jr.
Year: 2003

NYC guitar bands hogged headlines in the early aughts, but the Killers' debut single is, as Powers writes, "the sound of f&(*ed up millennial rock for all of the Americans who couldn't afford to live in New York." Nicolay, who played in a Brooklyn "the" band in the aughts himself, agrees, nominating this Las Vegas group's breakout hit to "stand in for the category that also includes" such alt-rock crossovers as "Maps," "Time to Pretend," "Common People," "Do You Realize??," "The District Sleeps Alone Tonight," and "Take Me Out." Even on cheap earbuds, it sounds the way an arena full of glowing cellphone screens feels.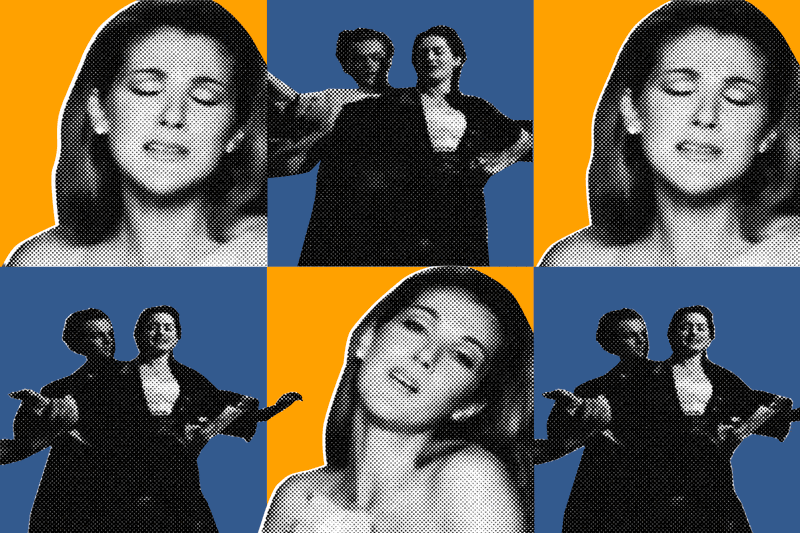 15. Céline Dion – "My Heart Will Go On"

Producers: Walter Afanasieff, James Horner, Simon Franglen
Songwriters: Will Jennings, James Horner
Year: 1997

"Sentimental ballads endure much longer than the cynics who turn up their noses at them," Slate culture editor Forrest Wickman writes. "The Beatles' 'Yesterday'—one of the most sentimental ballads in a Beatles catalog full of them—is arguably the most covered song of all time." Klosterman agrees, suggesting that this tearjerker's "reputation will improve when Dion dies and people decide to reinvent her historical status as a vocalist (which seems inevitable)." Combined with the fact that, as Kois predicts, "People will still be watching Titanic 50 years from now," it seems a foregone conclusion that "My Heart Will Go On" will go on and on.
14. Santana ft. Rob Thomas – "Smooth"

Producer: Matt Serletic
Songwriters: Itaal Shur, Rob Thomas
Year: 1999

We're not happy about this one, either. Out of all of the songs of the 1999 Latin pop explosion and all the hits that have come since, from the insuppressible "Hips Don't Lie" to Daddy Yankee's global smash "Gasolina" to last summer's record-setting "Despacito," how could it be that the only Latino hit on this list is sung by the dude from Matchbox Twenty? Don't blame Latinos, as Isabelia Herrera notes elsewhere in this series in her examination of the future of today's Latino pop. If we can offer any consolation, it's that this Grammy winner didn't place even higher. After all, in Billboard's 2002 ranking of the biggest hits of the rock era, "Smooth" placed No. 1, and in the publication's 2018 reassessment, it still came in at No. 2, behind only "The Twist." In other words, this record has spent so much time in heavy rotation on our radios and in our CD players that we seem to be stuck with it, and even our panelists nominated it begrudgingly. Rembert Browne explains his reasoning for making this selection most succinctly: "Because Earth is a wasteland."
13. Lauryn Hill – "Doo Wop (That Thing)"

Producer: Lauryn Hill
Songwriter: Lauryn Hill
Year: 1998

"Probably the most enduring song from one of the most important albums of the quarter century," Wilson writes, "it's crazily singalongable, bridges R&B and hip-hop beautifully, and continues being covered and sampled widely." Hamilton agrees, noting that this is a "song where a huge amount of people who weren't even born when it came out know every single word."
12. Drake – "Hotline Bling"

Producer: Nineteen85
Songwriters: Aubrey Graham, Paul Jefferies, Timmy Thomas
Year: 2015

When "Hotline Bling" dad-danced into our lives in 2015 and became Aubrey Graham's biggest hit to date, the single seemed perfectly engineered to be a flash in the pan, its rise on the charts fueled as much by GIFs and Vines as by the actual music. But in the years since, its zeitgeisty particulars have started to make it feel, paradoxically, more everlasting. As Hamilton writes, "its weirdly specific invocation of technology"—"You used to call me on my cellphone …"—"just seems like something that will cause it to cheekily persist" as a kind of goofy relic of its time. "Hotline Bling" would join a proud tradition of "novelty" hits that have proved to be more enduring than their contemporaries ever predicted, and it's only more fitting that it will keep another strangely enduring novelty-ish hit—Timmy Thomas' "Why Can't We Live Together," the bossa-nova rock on which it was built—ringing in listeners' ears for generations. Just as we're still twisting away nearly a half-century after our grandparents danced to Chubby Checker, don't be surprised if you one day see your great-granddaughter doing the "Ugh! Get This Deer Tick off My Leg!"
11. Eminem – "Lose Yourself"

Producers: Eminem, Jeff Bass, Luis Resto
Songwriter: Marshall Mathers
Year: 2002

The faux-transgressive misogyny of Marshall Mathers' breakthrough singles has gone sour after less than two decades on the shelf, but 8 Mile's fictionalized autobiography gave him a chance to slip into a character less abrasive than Slim Shady, and the cascade of internal rhymes, sometimes inspired, sometimes strained, makes it a karaoke standout for people who can rap a little but can't quite carry a tune. Plus there's that massive, echoing guitar riff, which persists because, as Nicolay writes, "there will always be sports stadiums."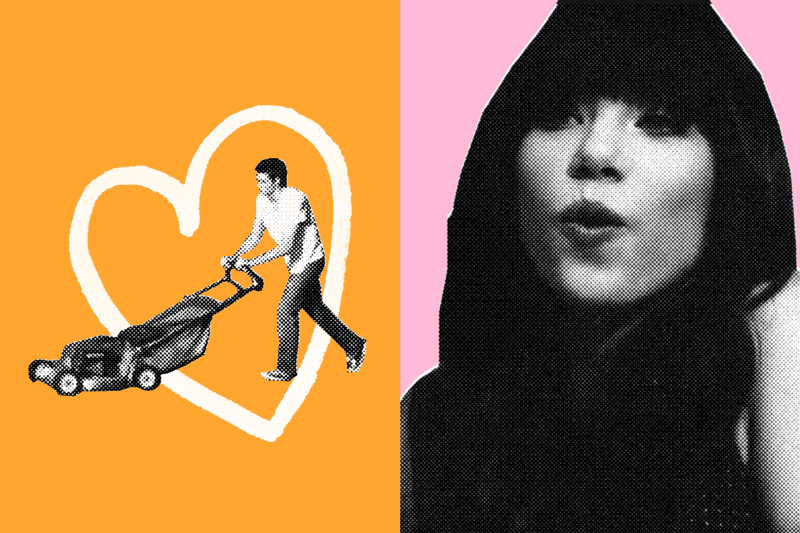 10. Carly Rae Jepsen – "Call Me Maybe"

Producer: Josh Ramsay
Songwriters: Carly Rae Jepsen, Josh Ramsay, Tavish Crowe
Year: 2012

This decade's most irresistible stick of bubblegum pop, "Call Me Maybe" left America besotted back in 2012, and the crush still hasn't faded. This anthem of jittery infatuation "provoked instant nostalgia the moment it was a hit," writes Molanphy. Since then, it's become "shorthand for '2010s,' " writes critic Steven Hyden, "as well as being a tune that's perfectly suited for weddings and 'kiss cam'–style hijinks at sporting events." In other words, a good portion of North America got caught on camera singing along back in 2012, and we still haven't stopped. Sometimes puppy love turns eternal.
9. TLC – "Waterfalls"

Producer: Organized Noize
Songwriters: Marqueze Etheridge, Lisa Lopes, Organized Noize
Year: 1994

As voters pointed out, its sentiments are universal, its melody is immortal, and it's easy to play—inspiring plentiful covers (from Meshell Ndegeocello, among others) and impromptu public performances. Most importantly, as Molanphy writes, "Its titular phrase has entered the lexicon." Everyone has a waterfall, and it will be comforting to remind ourselves not to chase said waterfall even when climate change renders actual rivers and lakes a thing of the past.
8. The White Stripes – "Seven Nation Army"

Producer: Jack White
Songwriter: Jack White
Year: 2003

This stomping rocker has "already been fully adopted into the world of college band music," Klosterman writes. "Future people may not know all (or any) of the lyrics, in the same way that contemporary people don't know the lyrics to 'On, Wisconsin!' But the main riff will be perpetually ubiquitous." Wickman and Hyden agreed about this "inescapable jock jam." Wickman adds: "In addition to being one of the most memorable riffs in rock history, this is also one of the easiest. As such, it will be learned by aspiring guitarists for decades alongside 'Sunshine of Your Love,' 'Smoke on the Water,' et. al."
7. Mariah Carey – "All I Want for Christmas Is You"

Producers: Mariah Carey, Walter Afanasieff
Songwriters: Mariah Carey, Walter Afanasieff
Year: 1994

The biggest hit of the 20th century is "White Christmas," and "All I Want for Christmas Is You" seems destined to be the "White Christmas" of the 21st century. Indeed, years before we launched this project, Adam Ragusea wrote in Slate that it was "the only Christmas song written in the last half-century worthy of inclusion in the Great American Songbook." In the years since, Mimi's holiday anthem has only grown steadily more popular, hitting a new high on the Billboard Hot 100 in 2015 and then cracking the Top 10 for the first time in 2017, 23 years after its initial release. For a musicological analysis of exactly why, one need look no further than Ragusea's article, but several of our panelists agreed. Kois suggests it "will live as long as Christmas is a thing" and Klosterman boldly predicts that "Christmas will remain popular." Of his anointment of Carey's classic, Browne concludes: "This is actually the only answer that is definitely true."
6. Mark Ronson ft. Bruno Mars – "Uptown Funk"

Producers: Mark Ronson, Jeff Bhasker, Bruno Mars
Songwriters: Jeff Bhasker, Philip Lawrence, Peter Hernandez, Mark Ronson, Nicholas Williams, Devon Gallaspy, Lonnie Simmons, Charles Wilson, Ronnie Wilson, Robert Wilson, Rudolph Taylor
Year: 2014

It took Mark Ronson and Bruno Mars months to put together this one-song greatest hits compilation, but their work will be paying off for decades. As Molanphy writes, this "instant oldie … hybridizes and makes accessible a whole segment of early '80s electro-R&B that white pop stations didn't play in the first place." The result, a Frankenstein's monster sewn together from scraps of the Gap Band, Zapp, Morris Day, and post-disco James Brown, outperformed nearly all its sources on the charts and seems poised to outlive them. Don't believe us? Just watch.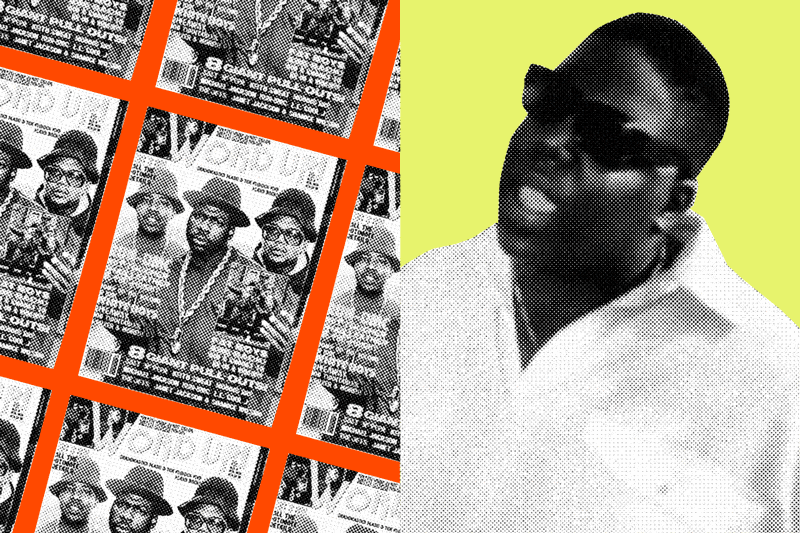 5. The Notorious B.I.G. – "Juicy"

Producers: Poke of Trackmasters, Pete Rock
Songwriters: Christopher Wallace, Hunter McIntosh, Sean Combs, Pete Rock, Jean-Claude Olivier, Samuel Barnes
Year: 1994

This one already packed a punch of nostalgia the moment it came out, and that punch has only gotten more powerful since Biggie's death. This is even more bizarre when you consider that much of the rap arcana Christopher Wallace spends the verses rattling off—"Remember 'Rappin' Duke,'?" he asks, to which your answer is almost certainly "no"—was obscure even in its time. But other aspects are timeless. As Hamilton notes in his essay on the oddly enduring appeal of "Juicy": "On its most basic level, 'Juicy' is a rags-to-riches story, a classic American genre that's certainly been amply represented in hip-hop." The soaring, Mtume-interpolating hook doesn't hurt either. But the most crucial reason "Juicy" endures, Hamilton writes, is Biggie himself: "Christopher Wallace was one of the pivotal figures of late 20th century music, a genius at turning hardcore rap into chart-topping pop through a combination of technique, artistic vision, and an absurd amount of musical charisma."
4. Kelly Clarkson – "Since U Been Gone"

Producers: Max Martin, Dr. Luke
Songwriters: Max Martin, Lukasz Gottwald
Year: 2004

The ultimate scream-along pop song of the '00s, "Since U Been Gone" is the culmination of not one but two different turn-of-the-century trends: '90s teen pop (as penned on the verses by song-machine mastermind Max Martin) and early aughts alt-rock riffage (as channeled from the Yeah Yeah Yeahs' "Maps" by now-controversial Martin protégé Dr. Luke). "That combination has proved irresistible to all comers, from pop fans to rock snobs," Wickman writes. And "while the stories about R. Kelly might tarnish 'Ignition (Remix)' irreparably, or at least for as long as he lives, this Dr. Luke collaboration has thus far flown under the radar, and we shouldn't throw out Kelly Clarkson's baby with Dr. Luke's bathwater." Several other voters agreed. "Any wedding, bar, karaoke event where this song is played, everyone chimes in for the chorus. Everyone," reports Harris. Kois put it most concisely: "As long as girlfriends take post-breakup road trips, they'll be shout-singing this one."
3. Beyoncé – "Single Ladies (Put a Ring on It)"

Producers: Christopher Stewart, Terius Nash, Beyoncé
Songwriters: Christopher Stewart, Terius Nash, Thaddis Harrell, Beyoncé
Year: 2008

"There will always be bachelorette parties, and the people who attend those parties will get drunk and want to dance," Klosterman writes. "I have no idea if that reality was considered during the construction of this track, but you could not design a song better suited for that specific purpose." Several of our panelists agree, with Wickman suggesting that "this song will play at weddings and bachelorette parties until the end of time. (Much longer, ironically, than Beyoncé's 'End of Time.')" Hamilton, though, sees an even wider audience for this "perfect record," noting that "there will never NOT be an audience for an empowering, ebullient song about the condition of being single."
2. Jay-Z ft. Alicia Keys – "Empire State of Mind"

Producer: Al Shux
Songwriters: Angela Hunte, Alicia Keys, Alexander Shuckburgh, Bert Keyes, Janet Sewell-Ulepic, Shawn Carter, Sylvia Robinson
Year: 2009

All our panelists agreed about the No. 1 factor driving the No. 2 selection on our list: As Hyden puts it, it's "the myopia of New Yorkers." "Sometimes a song persists because the city it's about has an irrepressible need to celebrate itself," Kois agrees. "That's why we still know 'New York, New York,' and that's why the people of the future will know this one." And everyone's favorite whipping boy, the press, deserves some blame, too. As Klosterman notes, "The overwhelming dominance of New York media makes any song specifically about New York more likely to be referenced over time, continually reintroducing the song to new generations of audience."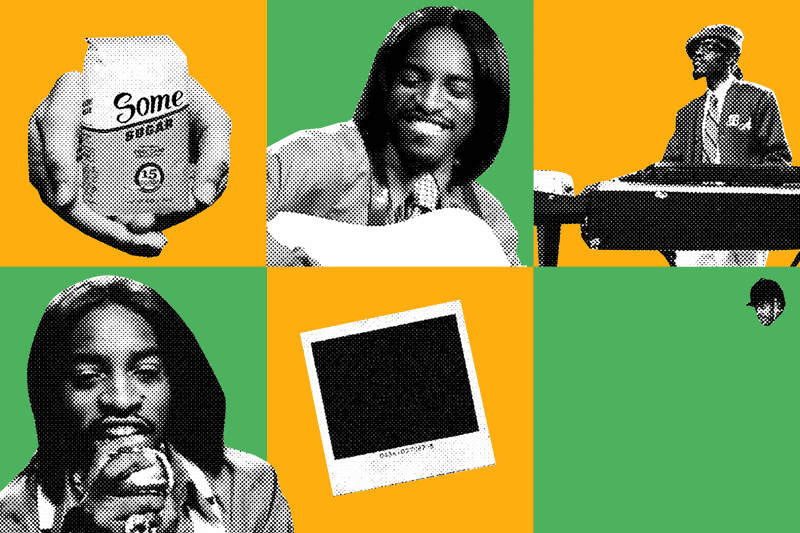 1. Outkast – "Hey Ya"

Producer: André 3000
Songwriter: André 3000
Year: 2003

This future standard has the "best hook in history," writes Powers. And it's perhaps the strongest testament to Outkast's world-conquering, genre-bending hit that you can't help but mentally scroll through this perennial list-topper's many catchy bits and respond, "Wait—which one?" Of course there's the titular chorus, at once triumphant and melancholy. (While some panelists referred to it as "an expression of pure pop joy," the lyrics find the singer worrying that all love is transient.) But there are also the hand claps putting three exclamation points on each couplet, the call-and-response section that lets the audience deliver the cooler-than-cool punchline, the "shake it like a Polaroid picture" bridge that people will be singing long after they've forgotten the purpose of shaking Polaroids, even the repetition of 14 straight "all rights" that embodies this song's perfect combination of pop universality and André 3000 weirdness. (See also the time signature, which is either a standard 4/4 or a downright bizarre 11/4, depending on whom you ask.)

And these hooks have already sunk themselves into subsequent generations. As Kois writes, "The first time I played this song for my kids it was as if they'd already heard it 1,000 times." If what they say is "Nothing is forever," "Hey Ya" might be the exception.

Top image: Animation by Lisa Larson-Walker. Photos via 604 Records, Universal Music Group ("Call Me Maybe"); Cash Money Records ("Hotline Bling"); Arista Records ("Smooth"); LaFace Records, Arista Records ("Hey Ya"); Universal Music Group ("Lose Yourself"); Columbia Records ("Get Lucky"); Columbia Records ("Single Ladies"); Def Jam ("We Found Love"); XL Recordings ("Rolling in the Deep"); Sony Music ("Since U Been Gone"); Bad Boy Records, Arista Records ("Juicy"); Enoble Media Group (Word Up! magazine cover); Creative Commons (polaroid picture, some sugar, Mom's spaghetti, phone, ring, limousine).

Update, Oct. 19, 2018: This post has been updated to clarify that "Don't Stop Believin' " was at the time of its release a commercial disappointment relative to the album's other hit singles but not an outright commercial failure.