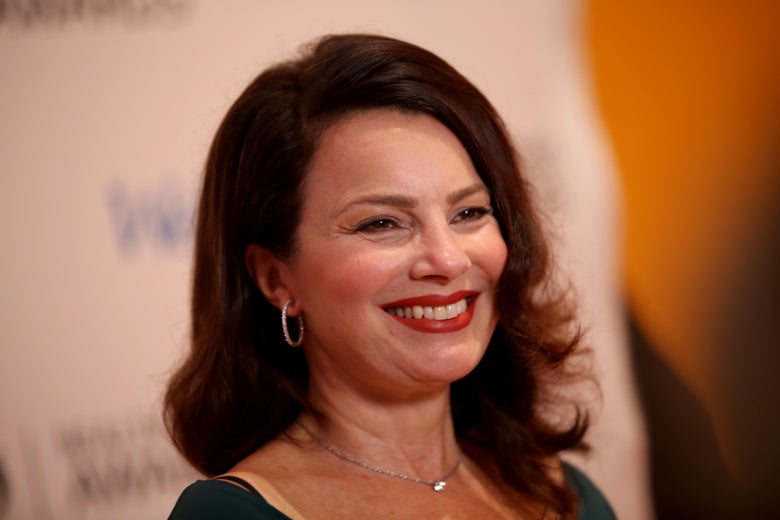 Today's episode of Wheel of Rebooted TV Sitcoms features everyone's favorite fashion queen from Queens. In an interview with PeopleTV, Fran Drescher, star of the '90s sitcom The Nanny, made it clear that despite little interest from current networks, she is ready to revive the show that spawned an entire Instagram account devoted to decoding her characters closet. "I'm totally down with doing it," she said. "I don't know what is going on with some of these networks out there because they do not seem to be hip to the fact that there's an obsession amongst millennials for the show and moi."
In fact, she already has ideas for the cast, namely one Cardi B. "Wouldn't she be great as my daughter?" Drescher asked. Dreams of a Cardi B-starring reboot of The Nanny have already made the rounds on Twitter, with fans pointing to the rapper's bombastic fashion style and accent as qualifications for a Drescher successor. According to Drescher, she got the idea when Cardi B paid homage to her character Fran Fine in a September Instagram post. "I was so flattered," she said, "And then I got my juices flowing and thought, 'Wait a minute, she's from New York, we both have funny voices, she could be my daughter!'"
While there are no current plans for a Nanny reboot in the works, Drescher has teased some kind of Nanny-related project with her ex-husband and co-creator Peter Marc Jacobson. In June she said, "We're working on a very big project. It's going to be very exciting for the fans, but I'm not at liberty to announce it yet. But it's gonna be big." Indeed, what could be bigger than Cardi B opposite Fran Fine?
Discerning fans of The Nanny will of course note that if Cardi B plays Fran's biological daughter, that would suggest a few marital problems with on-screen husband Maxwell Sheffield, played by Charles Shaughnessy, who is white. But the actress already thought that through. "Not from me and Mr. Sheffield, I would have to have a man of color. I'm down with the brothers."
If you think Slate's election coverage matters…
Support our work: become a Slate Plus member. You'll get exclusive members-only content and a suite of great benefits—and you'll help secure Slate's future.
Join Slate Plus
Join
---