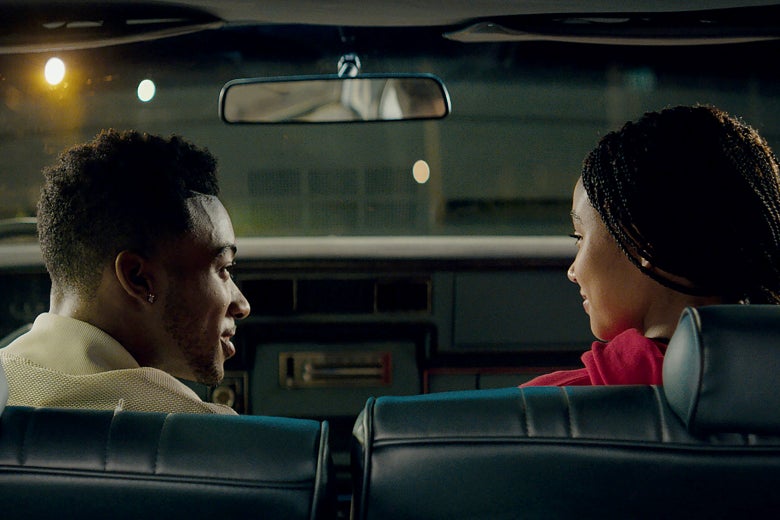 The Hate U Give opens with the Talk—the one white parents never have to give their children. Maverick Carter (Russell Hornsby) gathers his three children at the family dinner table and tells them how to behave if—or, more likely, when—they're questioned by the police. The scene, which also includes a pop quiz on the Black Panther Party's Ten-Point Program, comes from Angie Thomas' best-selling YA novel, in which Mav's teenage daughter, Starr (Amandla Stenberg), becomes the only witness to the fatal police shooting of a young black man. But the movie, which was adapted by Audrey Wells and directed by George Tillman Jr., moves the Talk from the middle of the story to the front, so it functions as both a point of entry for viewers who've never heard (or given) the Talk and an affirmation for those who have.
That opening also marks The Hate U Give as an openly didactic film, one that literally puts politics before character, but even as Mav is instructing his children (and thereby us) on the way the world works, Tillman lingers on moments that flesh out the scene beyond its instructional value, like the individual shots of each child sliding their palms onto the table as if it's the dashboard of a car with red and blue lights flashing in its rearview mirror. And there's the look on the face of Mav's wife, Lisa (Regina Hall), a mixture of concern and relief, knowing they're doing what they need to do to prepare their kids and knowing there's no guarantee that will be enough.
Perhaps no one gave Khalil (Algee Smith) the Talk, or perhaps he's just still full of the excitement of seeing a girl he grew up with for the first time in a while, and feeling a hint that they might now be more than friends, but when a white cop pulls them over after a party, he ignores Starr's pleas to stay calm and cooperate. He reaches into the car for a hairbrush, and the officer shoots him dead. (Later, her mother's brother, also a policeman, tells her that it's dangerous for a cop on the street, and they don't have the luxury of giving people the benefit of the doubt. Even in the face of his colleague's racist conduct, the blue wall holds.) Khalil's death becomes a political cause, taken up by a Black Lives Matter stand-in called Just Us for Justice embodied by Issa Rae's all-business activist, but Starr is hesitant to join the fray. Partly, she's justifiably scared of the police, who rush to paint Khalil's death as a tragic accident that could have been avoided if he'd only complied—an argument the movie, for better or worse, doesn't wholly discount. But mostly she's worried about what will happen to her at Williamson Prep, the wealthy, largely white private school where her parents have sent her in hopes it will help her escape the neighborhood she's growing up in.
At Williamson, Starr doesn't use slang because, she explains in voice-over, "it makes me hood," and she hangs out with white friends who say things like "I don't see color." (That's from her boyfriend, played by Riverdale's K.J. Apa, perfectly cast as a willing-to-learn white ally.) Her friends know she's different, but Starr is an expert at allowing them to forget it. Yet being a few feet away from a shooting death is not an experience most of her classmates can wrap their minds around, and if they can imagine themselves in that situation, it's more likely to be in the role of the cop than that of his victim. Starr worries that if she becomes a public witness, she'll only ever be seen as the girl who lived, and the Williamson Prep version of herself she's worked so hard to create will be gone for good.
As adept a code switcher as she may be, there aren't really two separate Starrs, and The Hate U Give forces her—and, more to the point, its audience—to confront the idea that the push for self-improvement and escape encoded in so many Hollywood narratives is a double-edged one at best. Sure, it would be safer if Starr's family could afford to move out of the neighborhood where her father, who now owns a successful market, once ran with a street gang whose leader (Anthony Mackie) still shoots him menacing glares as he slowly drives by. But she'll still have to put her hands on the dashboard, no matter where she gets pulled over or how expensive a car she's driving. It's an idea spelled out in Tupac's concept of "T.H.U.G.L.I.F.E." and in the movie itself: "The hate u give little infants fucks everybody." The movie's most profound performance isn't Stenberg's, although their emotional lucidity makes them a good proxy for its intended young adult audience, but Hornsby's, as a father fighting to prepare his children for a world in which the people who are supposed to protect them can be a profound threat. There's so much pain and so much love in the way he bears that burden, and a hope that he almost dares not speak but is, as a scene late in the film reveals, encoded in his children's very names. Hate isn't the only thing they were born into, and it won't be all that survives.
---