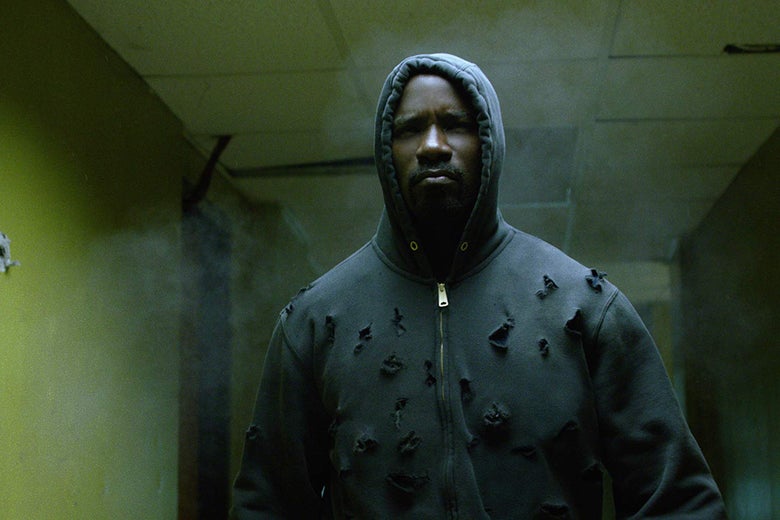 Sweet Christmas! Deadline reports that Netflix has cancelled Luke Cage, their blaxploitation-tinted Marvel series about a Harlem-based superhero with bulletproof skin. The move comes one week after the streaming service canceled Iron Fist, leaving only two members of superhero team the Defenders with their own series: Jessica Jones and Daredevil. (Antihero the Punisher is still punishing, but he's not a Defender, and the crossover series The Defenders was never planned to be more than a single season.) The announcement came the same day Netflix released the third season of Daredevil, the first Netflix Marvel series.
While Iron Fist's cancellation was anticipated, the end of Luke Cage comes as a surprise.
Showrunner Cheo Hodari Coker had been running a writers' room for six months working on a proposed third season, and a formal series order was expected. Last week, the writers' room submitted drafts of the first five episodes, incorporating notes from Netflix and Marvel both, but executives were unhappy with them and things went south ruinously fast over the course of the week. It seems to be more of a case of infighting between Netflix and Marvel than the usual suits -versus-creatives narrative: Deadline writes that the two companies were "intractable and on different sides of the disputes," which included "demands for changes in creative regime."
Netflix and Marvel have been at sixes and sevens since late summer, when Disney announced that its feature films, including Marvel movies, would only appear on their upcoming over-the-top streaming service, not Netflix. And Netflix has reasons to move away from Disney besides spite: Their Marvel shows, which feature a lot of location shooting in New York, are expensive to produce, and they don't own them outright. Given the network's current flood-the-zone programming strategy, expensive, high-profile shows are worth less to them than they were back in the fall of 2013, when the Netflix Wing of the Marvel Cinematic Universe was originally announced.
All is not lost for fans of Netflix's Marvel shows, however: Jessica Jones and The Punisher each still have new seasons coming. The litmus test will be Daredevil, which has been neither canceled nor renewed. Maybe the Kingpin can make a few calls on his behalf.
---