This essay appears in Dirty Plotte: The Complete Julie Doucet, out now from Drawn and Quarterly.
Here are some things I like in a book: When characters are messed up (because I am messed up, and then I feel less alone in my messed-upness). When you feel like you can see the blood of the author on the page. Stories about creative young people emerging into their own unique identities. An inherent feminist quality. A happy ending that involves one person leaving another behind. I am probably making myself sound like the worst person in the world, but at least I know what I like, and I like My New York Diary, Julie Doucet's important, brave, and entertaining autobiographical graphic novel about her time in New York City in 1991.
The comic touches briefly on her time in high school (she loses her virginity to an older, shaggy-haired artist and thinks to herself, "Oh well, I guess this is it!") and art school in Montréal (where she obsessively drinks coffee and dodges men), but the heart of My New York Diary depicts her move to New York City to live with a pen pal she has finally met in person and fallen in love with.
They live in Washington Heights, at the time a trash-filled, crime-ridden neighborhood, and there is already discontent: Doucet longs to be downtown, closer to the art and comics world. But the apartment is cheap, and together she and her boyfriend make their art side by side. At the time, Doucet was working on her Dirty Plotte comics, parts of which appear in My New York Diary. (I'll let you Google the translation of plotte.) The two of them also drink, do whippets and speed, fight, and screw, this last act mostly halfheartedly. All the while Doucet struggles with her epilepsy. As the drinking, drugging, and fighting amp up, so do her seizures. The boyfriend turns out to be clingy, obsessive, and competitive. Her life is a mess.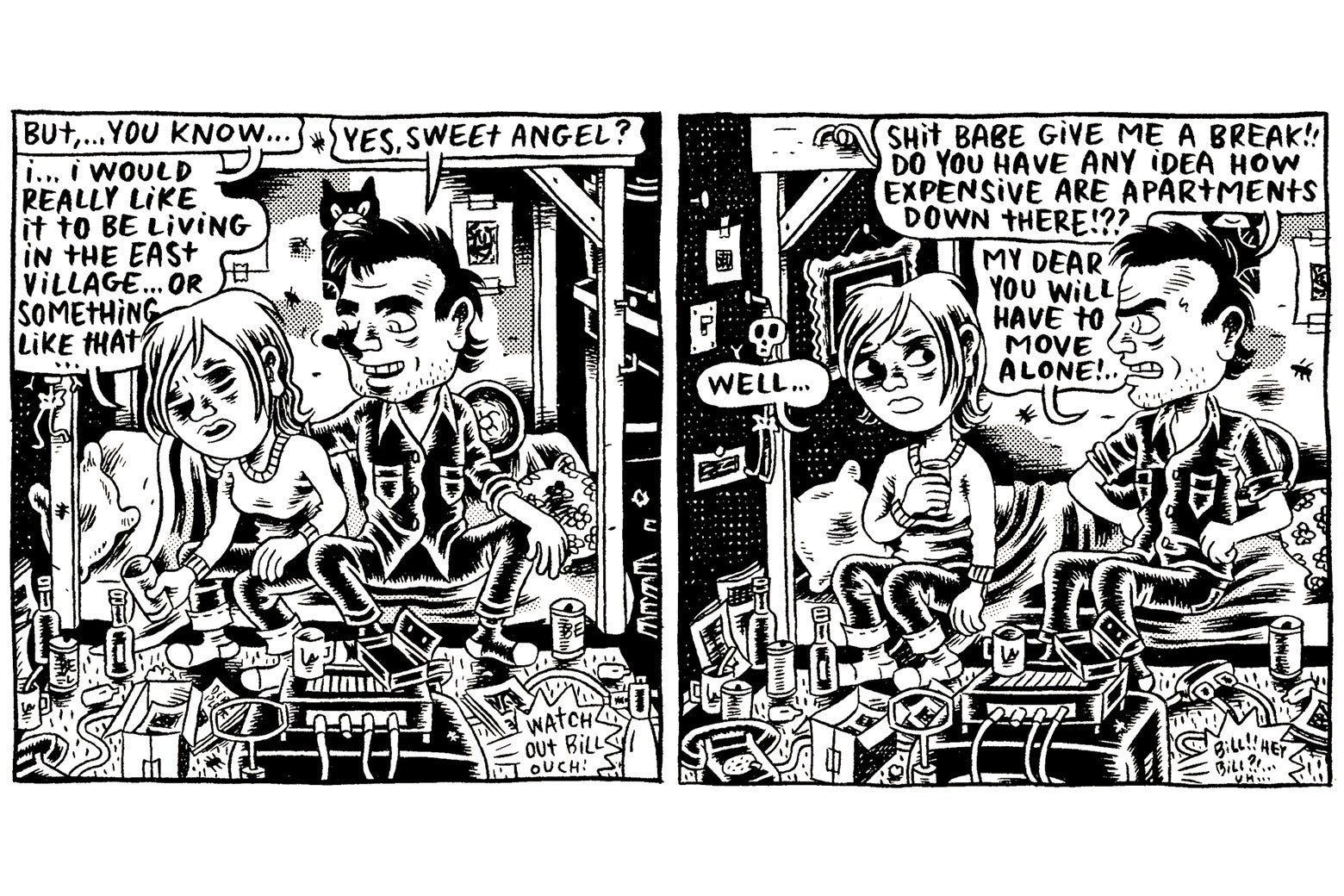 And yet I remember when I first read this book in 1999, new to New York City myself, I wanted to slip into the pages with her and experience her life. It was not terribly different from my own. I was new in town with just a few friends; I was a struggling artist, a feminist, a substance abuser, a night owl, and completely mystified by male behavior. (I am still many of these things, if I am being honest here.) Her energy practically vibrated through the book. She took all those things that I was merely contending with and turned them into a piece of art. She cracked open my universe a little bit. Here was how to take control of your own narrative.
Reading it now, 19 years older and wiser, I want to reach into the pages and pull her toward me and tell her to chill out on the whippets and get an apartment in the East Village immediately—not that it was any safer there, but at least she'd have some friends. As much as anything else, the book feels like a historical document. Doucet talks about seeing Karen Black perform on the Lower East Side. She goes to art parties and hangs out with Art Spiegelman, Françoise Mouly, and Charles Burns. She sees New York City through fresh eyes, capturing every detail of this compelling moment in its history. There's lots of letter writing in this book, not an email in sight. I used to send beautiful letters. Did you?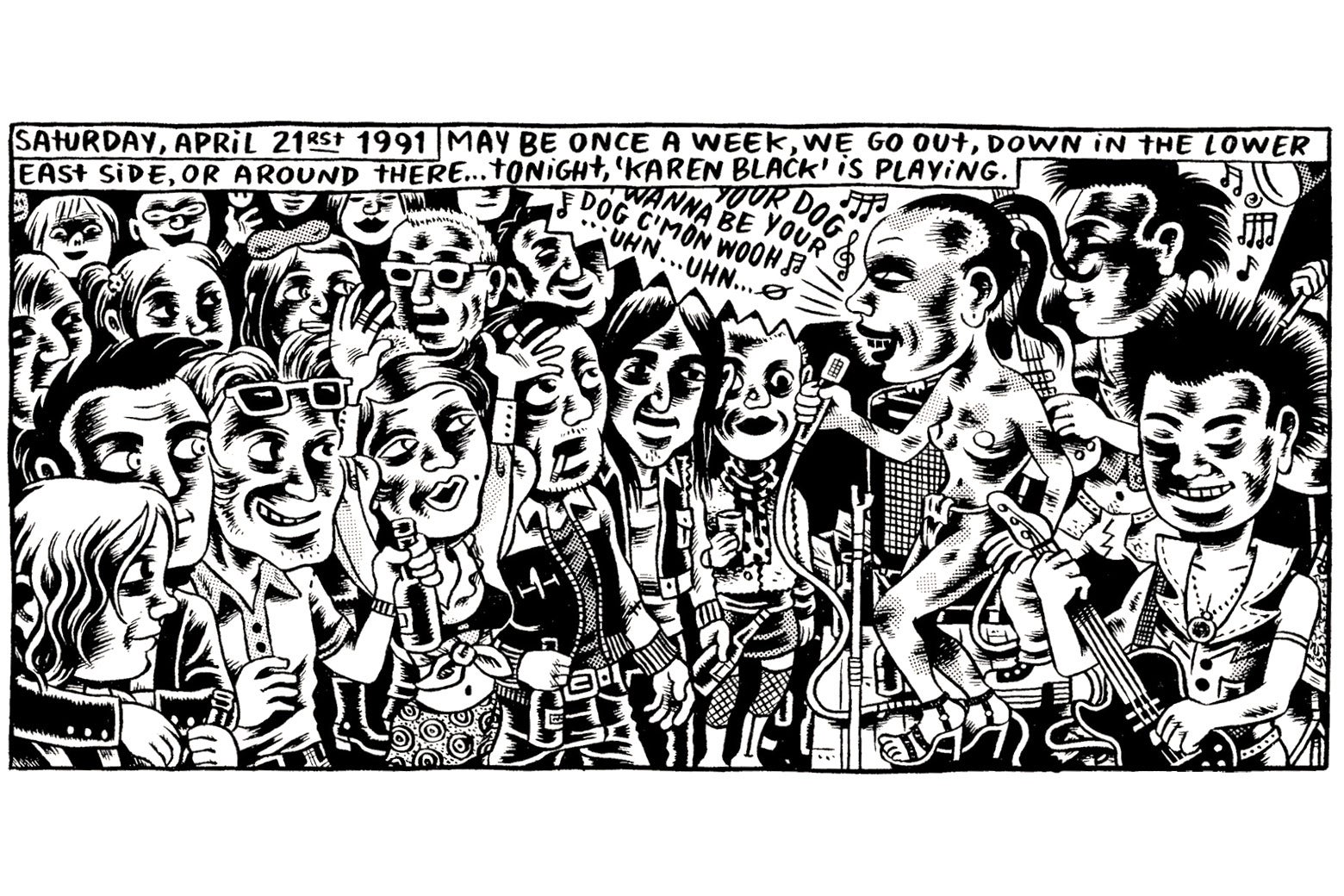 I'm stuck on the narrative here, but also I loved all her stuff. All the pens and coffee cups and dirty dishes in the sink and shoes and wine glasses and tipped-over beer cans and guitars and messy bookshelves and telephones (landlines!) and all the beat-up furniture and the VCRs and tiny stuffed animals and crookedly hung artwork and paper everywhere and just … stuff. Detritus. Evidence. Everything in Julie Doucet's rooms is present and accounted for at all times and precisely placed. There was chaos in her world, but the detail and the precision of Doucet's work showed it was possible to depict the messiness of life with order and control.
Truly, My New York Diary inspired me to be more open in my own work. At the time I was just starting up a blog, and soon I would begin to place personal essays with online magazines. I wrote about my sexuality and my flesh and my relationships. Inside I was screaming. But Doucet taught me there was a way to write it down so I could be calmly heard. Blood on the page, blood on the internet: It's not any different now, although at the time it was something brand new to share your voice online. These days I will bleed just about anywhere, but seeing someone who had created an alternative for herself taught me to seek out new possibilities. And at the end of the book, Doucet shows us just that when she leaves her bad relationship behind. For a young woman, that's just as important a lesson as anything else.
by Julie Doucet. Drawn and Quarterly.   
Slate has relationships with various online retailers. If you buy something through our links, Slate may earn an affiliate commission. We update links when possible, but note that deals can expire and all prices are subject to change. All prices were up to date at the time of publication.