The young, horn-rimmed, punk-era rocker whose bony knees seemed driven to go to war with each other while he spat out barrages of alliterative puns and internal rhymes savaging every existing social structure, whether public or intimate, along with himself—that Elvis Costello has been mostly gone for a long time. But the mature, song-form-exploring, avuncular craftsman who took his place still has a defiant streak hidden under his many, many hats. Consider that in a time of heightened awareness of both gender injustice and the perils of appropriation, Costello has chosen to sing eight of the 12 songs on his new album, Look Now, from female characters' points of view.
It could be a bad look for a 64-year-old codger to try to slip into the shoes of all these dreamed-up women. Especially Costello, given his early history of sexist-sounding spitefulness—his 1970s raging-nerd profile would suggest an incel Twitter troll today—as well as his later tendency to muddle his musical narratives with overloads of opaque imagery. But to my ears (cis male ears though they be), Costello carries it off: Look Now happens to be his best album this century, and one of his three or four best in about 30 years.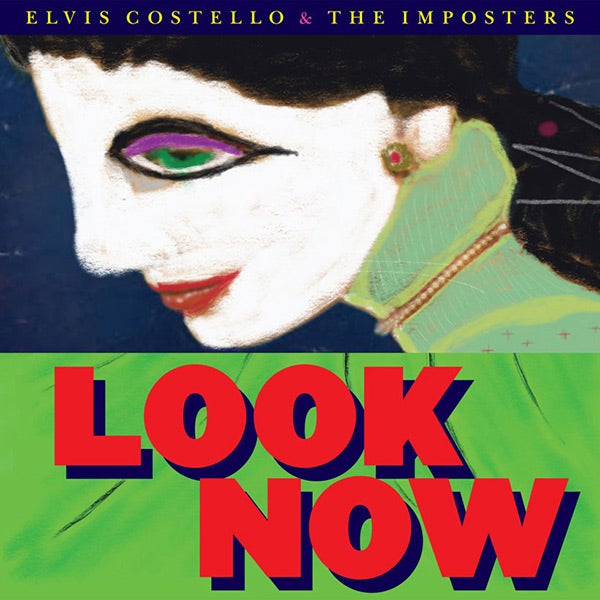 It was made partly with his own Imperial Bedroom in mind—Costello did a tour centered around that 1982 landmark album last year—and these songs similarly concentrate on intricate portraiture using an expansive sonic palette. The core band is augmented by horn and string sections and Costello's most extensive ever use of group backup vocals, which puts some real-world female voices alongside the ones Costello channels (sometimes even with subtly "feminine" affectations, his vocal tremors conjuring a grizzled-Brit Judy Garland). The arrangements—co-produced by the Argentine American producer Sebastian Krys, who's won multiple Grammys for his work on Latinx rock and pop—are carefully designed not to suffocate the songs, which themselves are in the main elegantly delineated, verbally and melodically, rather than overloaded. It's a much less emotionally fraught record than Imperial Bedroom, fittingly sounding older and wiser, though still far from content. Less audaciously thrilling of course, too, but that's to be expected of a later-period Costello record, even if he can still summon it on stage.
On its face, the album's title is a more positive spin on the name of the second track, "Don't Look Now," which is sung in the persona of a fashion model warning her photographer not to get any dodgy ideas. But the phrase Look Now is also a kind of "I'm back" declaration from an artist who hasn't put out a full-length record under his own name since 2010, when he said that, given the economics of the modern music industry, he might never make an album again (though he did continue collaborating on albums, notably with the Roots on Wise Up Ghost in 2013).
It's also his first in a decade with his primary live band, the Imposters, who, except for a crucial change of bass players, are the same group as the classic Attractions, who've been with him since 1977—he's said that one of his motivations for making this record was to showcase the emotional range the band's achieved four decades along. On top of that, it's Costello's first album since he published his ambitious 2015 memoir, Unfaithful Music & Disappearing Ink, in which he sometimes grappled with and sometimes avoided the less savory parts of his own history, including with women, both in life and in song. Finally, it's his first new music since the news last year that he'd undergone (thoroughly successful) surgery for a "small but very aggressive" cancer.
And so, Look Now, as in "Check me out!" But the title does double thematic duty, because so many of these songs are about the way that people, above all men and women, literally look at each other—the lyrics are full of look and see and gaze and eyes—whether that regard is wary, desirous, regretful, projecting, manipulative, or most often some ambiguous and treacherous combination thereof.
Glances are exchanged like fencing parries in the opening track "Under Lime," as a rickety old showman and a young female production assistant negotiate a dubious tryst backstage at a talk show. And in "Stripping Paper," where a woman whose marital vows have proved "hollow" pulls away their home's wallpaper and sees the whole history of the relationship revealed there archaeologically, layer by layer. In "Unwanted Number"—a girl group–style tearjerker that Costello wrote for the 1996 film Grace of My Heart, which is loosely based on Carole King's life as a Brill Building songwriter in the 1960s—a teen who's found herself seduced, abandoned, and pregnant sings about how she's regarded as disposable by her ex-lover, her peers, and her parents. "Burnt Sugar Is So Bitter," the song here that Costello wrote with King herself 20 years ago, has a divorced mother reviewing the stages of her ex-husband's vanishing act. In "Photographs Can Lie," a young woman stares at a photo of her parents seeming blissful together, when she knows her father was a cheater—"Why can't she see through him?"—and fears she'll someday find herself in a similar picture. And so on, including the only worthwhile bonus track on the "deluxe edition," a song Costello composed for the recent movie Film Stars Don't Die in Liverpool, which movingly has a self-conscious older woman telling an infatuated younger man, "You Shouldn't Look at Me That Way." (It really ought to be the closing track of the main album.)
None of this adds up to a grand thesis about the male gaze or sexual politics, thankfully. Costello got out of the business of pointed topicality long ago. In his early stuff, I would argue that many of the songs tagged as misogynist were equally as much about misogyny, from a critical stance (e.g., "This Year's Girl," currently the theme for the HBO series The Deuce), though don't get me wrong, that line was certainly blurry (e.g., "Alison"). But here the man born Declan MacManus simply aims for richly empathetic sketches of humans enduring the ordinary ongoing mess and lets his characters' pains and confusions speak for themselves. Though this kind of earthy realism is not the trait he's best known for, Costello has long excelled at it when he doesn't let his own cleverness obstruct him. These songs are spiritual sequels to songs like "Veronica," the compassionate 1989 hit about an elderly woman with dementia that he co-wrote with Paul McCartney, or "The Long Honeymoon," about a woman's dawning realization that her husband is sleeping with her best friend, on Imperial Bedroom itself.
Besides King, Costello's other high-profile collaborator here is Burt Bacharach, revisiting their partnership from the lovely 1998 album Painted From Memory, which Costello has said was another touchstone for this album. The 90-year-old master of easy-listening but complexly constructed songwriting co-wrote three tunes here: "Don't Look Now," "Photographs Can Lie," and the closing number about a woman justifying to her ex-lover why she's become the mistress of a wealthy older man, "He's Given Me Things." (He plays piano on the first two.) The bright 1950s and 1960s mainstream-pop sound that Bacharach helped birth is one of this album's stylistic models—"Why Won't Heaven Help Me?" verges on Dionne Warwick territory—along with girl groups, Motown (a Costello constant), post-Motown soul (less so), and Broadway musicals. There's some rock too, naturally, but the former New Wave icon these days proclaims that rock is "a big square thing that fills stadiums with a really square beat and it has never interested me," and he hopes it really is dead.
One of the reasons Bacharach is present is that he and Costello spent years working on a potential stage production based on their 1998 album and wrote many additional songs for it, likely including the three here. Costello has said he's attempted a couple of other theater projects that didn't come to fruition, along with his currently in-development musical based on the same story as the 1957 Elia Kazan film A Face in the Crowd (which saw a revival of interest in the past few years due to parallels between its main character and Donald Trump). Many of the songs on this album seem to be salvaged from those unrealized projects—making them "trunk songs," in theater lingo—along with the couple that come from films and the long-unused "Burnt Sugar." That connection to stage musicals is significant, because many of the Look Now songs are more linear and direct, exactly the way musicals' main numbers tend to be: They lay out a thesis and a central metaphorical device, and then follow it through, sans detours into Dylan-esque tangents.
I love a good Dylan-esque tangent, mind, if it's truly good. And there still is some density here, particularly in "Under Lime" (in which the title refers at once to showbiz limelights, the lime in a mixed drink, and the quicklime used to dissolve a body after a murder), as well as the Beatlesque and Elton John–esque "I Let the Sun Go Down" (about an aging Brit clinging to the vestiges of the empire and possibly voting pro-Brexit). But even these songs—though maybe not the ska-soul shuffle (recall that Costello produced the Specials) "Mr. & Mrs. Hush," which is about quelling jealousy, possibly, I think?—come to sound straightforward enough after a few listens, compared with a lot of Costello's 1990s and 2000s output. And except for the first three bonus tracks, like the hideous broken-French thing "Adieu Paris" (which Costello tried to pitch to the late Johnny Hallyday), nothing seems like a mere genre exercise.
Selecting from a decade and more's buildup of songs seems to have been a winning method of quality control. "Stripping Paper," "Unwanted Number," "Photographs Don't Lie," the orchestral Philadelphia soul–style "Suspect My Tears"—about a couple vying to win arguments by out-weeping each other ("two hypocrites collide")—and perhaps a couple of others earn places on Costello's spinning wheel of classics. And the throughline of vignettes on gender and relationships helps Look Now feel like a defined space one can enter, survey, and contemplate over sustained time—not to analyze current urgencies, but to relate to and reflect on however we might, while enjoying enormously well-realized music. It's not as if Costello would have any revelations rendering him required listening for young fans of, say, Solange or Julien Baker. But for longtime, oft-frustrated lovers of Costello's work, the arrival of a thoroughly satisfying album, a set of sharply beautiful songs also pertinent to everyday concerns—rather than padding Costello's quiver of acquired styles or the self-mythology of our Beloved Entertainer—is more than enough cause to get happy.