There were very few political revelations in Donald Trump's latest 60 Minutes interview—the president is still a dangerous, heartless moron, but that's not exactly breaking news—but hidden in the background of one of the shots was a revelation that may tear the art world apart. You can see it in this clip of Lesley Stahl discussing what it was like to interview Trump:
Did you catch it? Independent Journal Review editor Josh Billinson did:
That's right: Donald Trump has hung an Andy Thomas painting of past Republican presidents hanging out with Donald Trump in the Trump White House. Thomas doesn't quite reach Jon McNaughton-levels of kitsch—you may recall the kerfuffle back in 2016 when it was rumored that a McNaughton painting of Obama trampling the Constitution was White House-bound—but "The Forgotten Man" never made it to the White House walls, and, as 60 Minutes documented, Thomas's "The Republican Club" did.
This isn't a complete disaster: An Andy Thomas painting doesn't have the same political valences as McNaughton's sour work—Thomas also painted "True Blues – Democratic Presidents Playing Poker" and "Callin' the Red – Democratic Presidents Playing Pool"—and "The Republican Club" even has "a subtle feminist message," according to the artist. There's a shadowy female figure approaching the table, just as there is in his most recent painting of Democratic presidents playing poker, "The Democratic Club." Thomas explained the symbolism on his website:
"That will be the first Republican female president and the first Democratic female president. … As I was doing the painting, I was thinking that these guys are kind of intimidating in a way. That's the kind of woman that will be our first woman president; she'll walk right up to that table.
A woman who walks up to Donald Trump's table without throwing a drink in his face is probably not going to be a great president, but kudos to Thomas for sneaking a feminist message into Donald Trump's Presidential Dining Room. In the past, Frederick Judd Waugh's "Rough Sea at Bailey's Island, Maine," hung on that wall: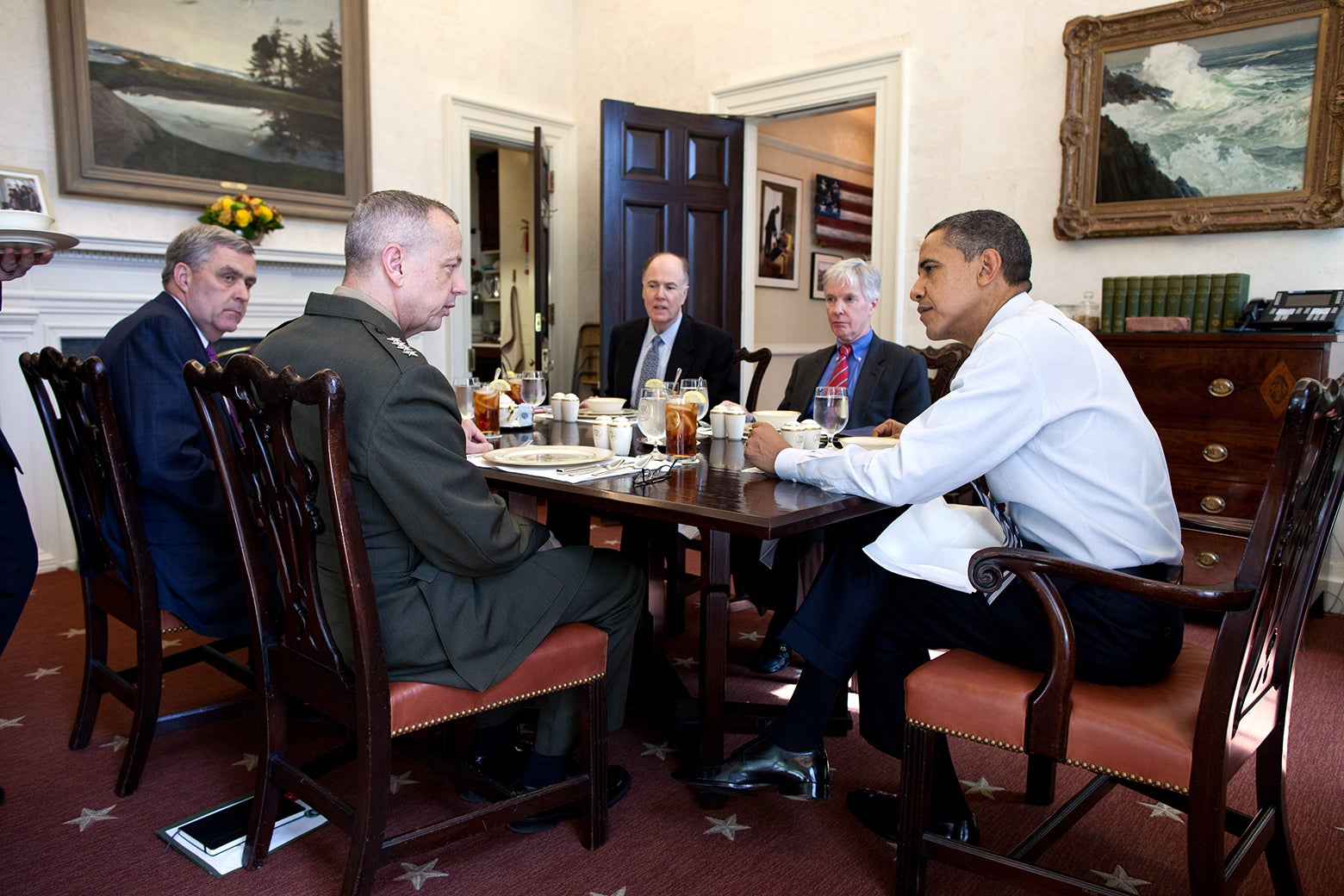 Before that, Alvan Fisher's "Indian Guides" hung there, under both Obama: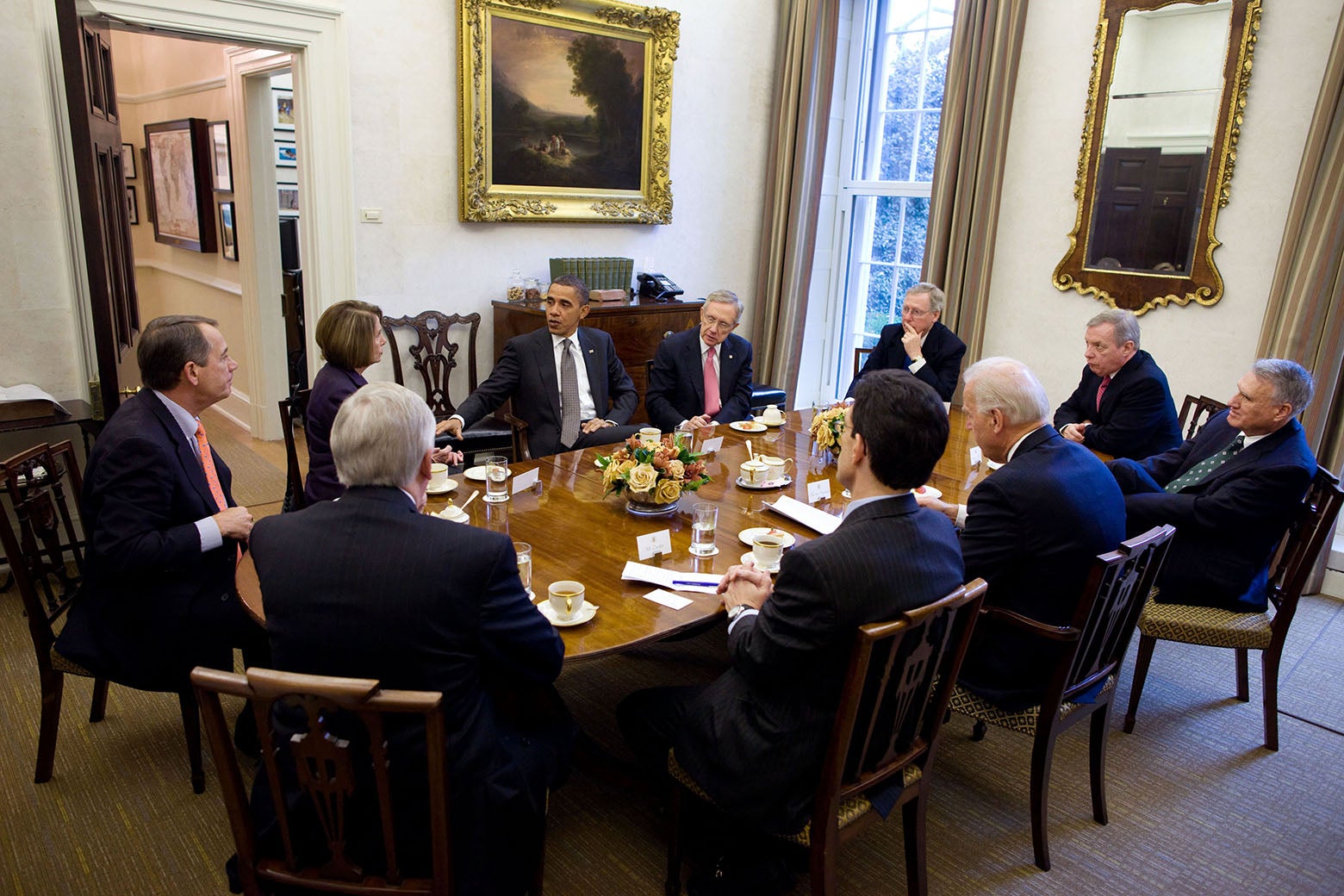 And George W. Bush: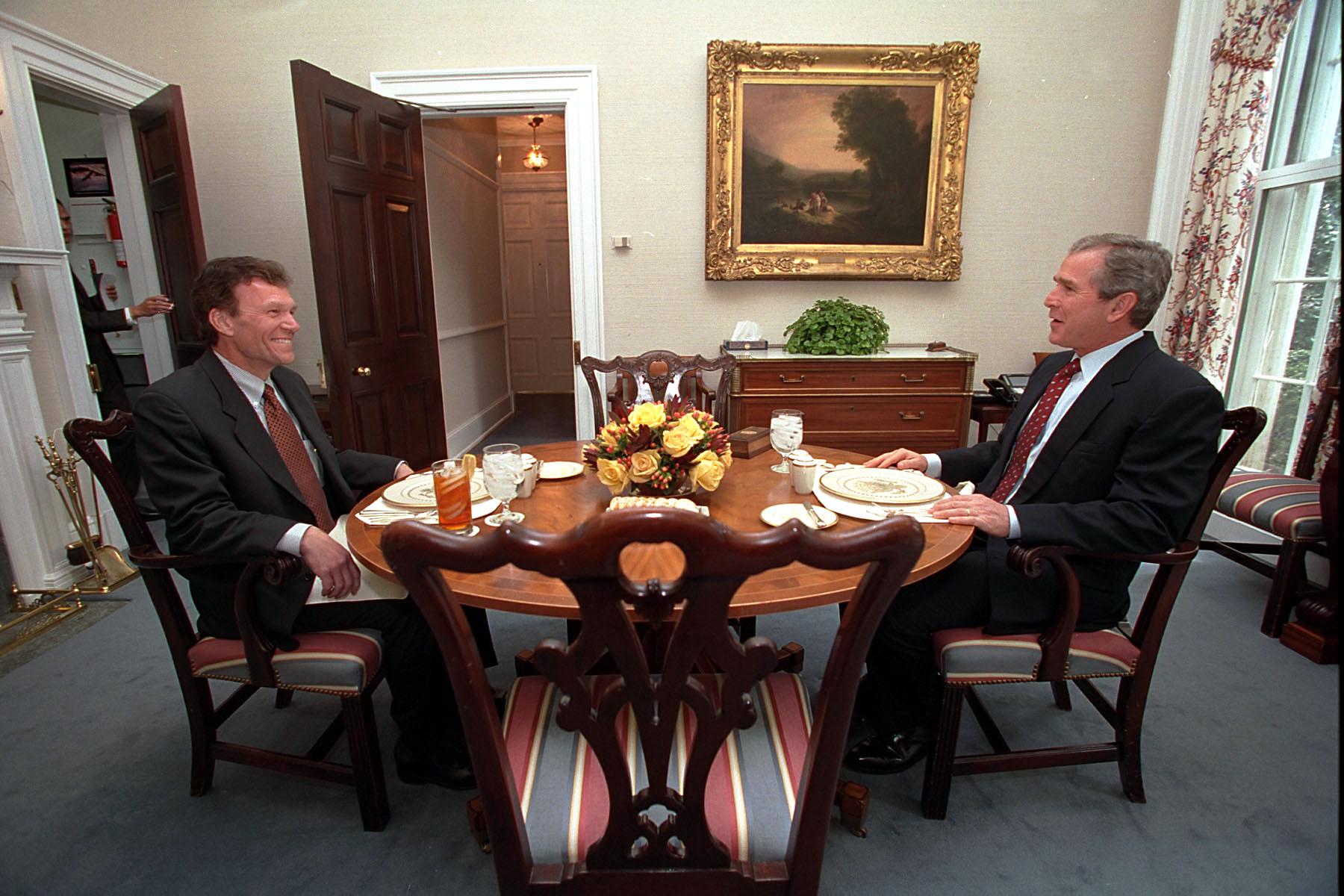 Each President brings their own personal style to the White House decorations, of course, so we can probably count it as a win for American culture if Trump leaves office without gilding the entire building. Still, this is just one more step down the road to decorating the Oval Office with pictures of Travis Bickle and Tanya Chalkin's "The Kiss." Kitschward the course of empire takes its way.