The saga of a porn star comparing President Trump's penis to "the mushroom character in Mario Kart" continues to unfold with an exciting and yet somehow entirely predictable new development: People are going looking for Toad porn now. A representative from porn-sharing website YouPorn tells Slate that since the, uh, evocative description of Trump's penis from Stormy Daniels' memoir became public, searches for the adult film actress have increased by 477 precent, which is to be expected. But the site has also experienced a 310 percent increase in searches for the term toad.
This begs the question: How many people were searching for "toad" pornography before Daniels' revelation? I have reached out to YouPorn's communications team for the answer and will update this post with this very important information as soon as they reply. In the meantime, though, I was curious about what kind of results, exactly, come up when you do search for the word toad on YouPorn, and I compromised my browsing history in an effort to find out.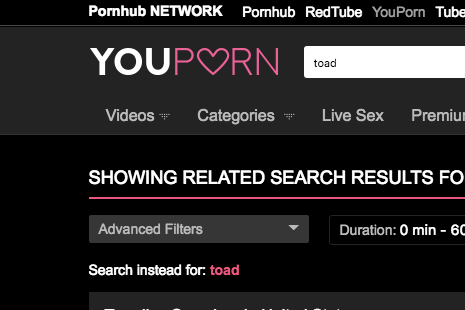 At first, the site responded with a gentle correction: Did I maybe mean to search for road, instead? I did not. When I finally did get a gander at the search results for toad, I was underwhelmed by a measly two options: a video with the phrase "horny toad" in the title, and another that features a young woman with a tattoo of the Toad everyone has been talking about. Not an amphibian to be found, mercifully, and the beloved Nintendo character himself appears in no compromising positions, leaving his reputation pristine (or at least as pristine as anyone's can be after being compared to Donald Trump's penis). Still, there's obviously an untapped market for Toad porn out there, and if Rule 34 is to be believed, it's only matter of time before someone taps it.