A version of this piece originally appeared on the website Football Perspective.
Now that Week 2 is in the books, we can confirm what looked like a certainty after Sunday's games: NFL teams just had the greatest regular season week of passing the league has ever seen. Per Pro Football Reference, the 32 teams completed 814 passes out of 1,173 attempts—an astounding 69.4 percent completion rate. Those passes gained 8,915 yards, a remarkable average gain of 7.6 yards per attempt. And these players threw for 65 touchdowns against just 21 interceptions. The average team throws about 550 passes per season. On a per 550 attempt basis, this means the NFL in Week 2 produced a stat line of 382 completions for 4,180 yards with 30 touchdowns and 10 interceptions per 550 attempts. And remember: That is the average quarterback.
As a whole, the league produced a 102.6 passer rating, meaning that Week 2 will go down as the best week in NFL history by passer rating. Prior to this week, the best single week in NFL history by passer rating came in Week 10 of the 2010 season, at 94.8. The next three best weeks after that: Week 12 of 2016 (94.1), Week 3 of 2014 (93.9), and Week 2 of 2015 (93.8).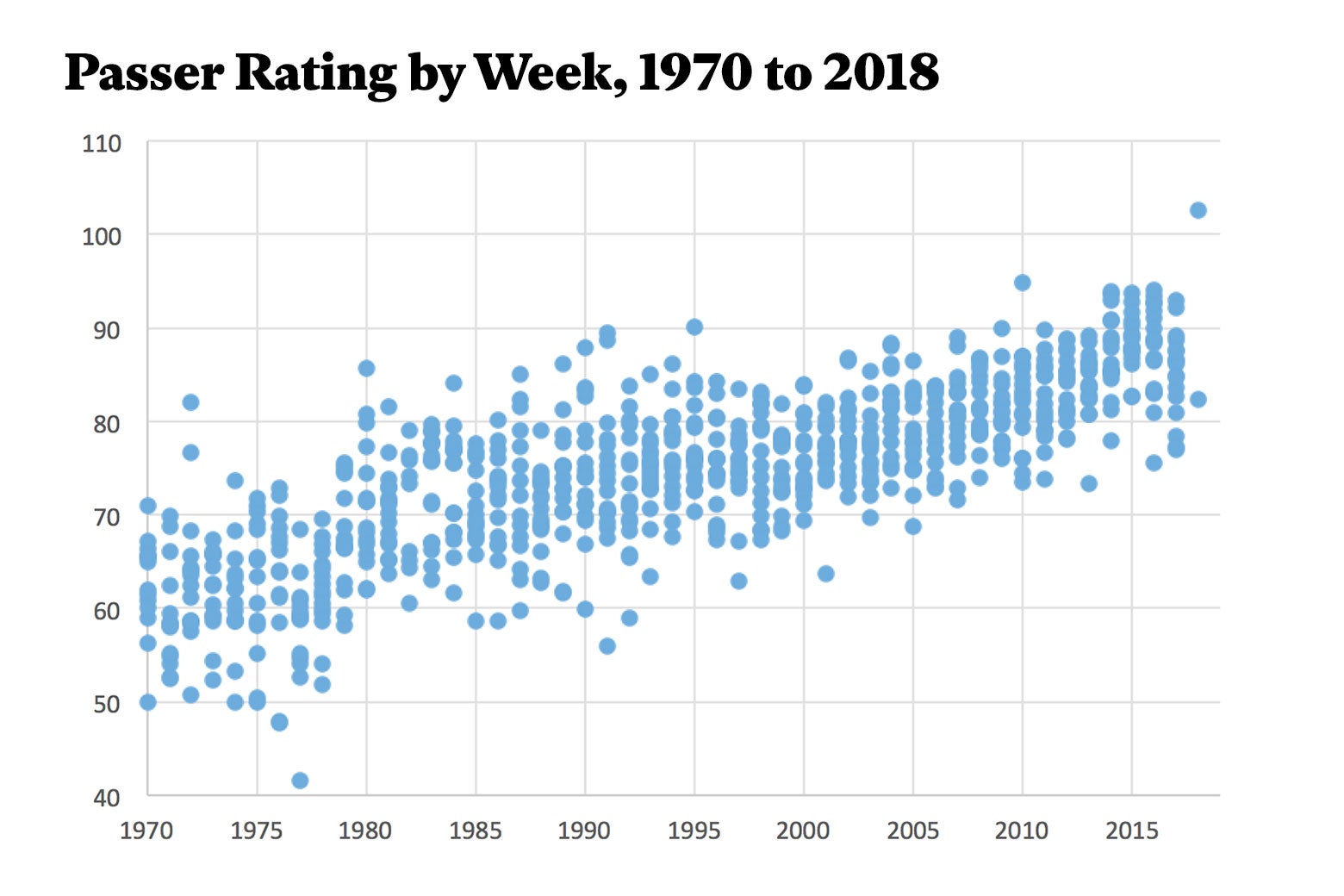 This week blew every other week out of the water, and there's an obvious hypothesis as to why: NFL defenses have been neutered. Penalties are out of control, according to some defenders, and this affects the passing game in two ways. Quarterbacks are safer than ever in the pocket, as defenders are wary of getting flags for hitting quarterbacks too low, too high, or even in the middle (a new rule prohibits a defender from using "all or part of his body weight to land on the quarterback immediately after the ball was thrown"). As a result, what used to be a hurried pass or a sack is now an opportunity for a quarterback to stand tall in the pocket and deliver an accurate throw.
In the secondary, things are just as challenging, as defensive backs must be concerned about hitting defenseless receivers (and a "receiver is considered defenseless throughout the entire process of a catch, up until the player is capable of avoiding or warding off impending contact.") The NFL also decided to enforce the illegal contact rule more strictly this season, meaning "a defender cannot initiate contact with a receiver who is attempting to evade him" after five yards. In other words, it's harder for defensive backs to stop receivers from getting open, and it's harder for pass rushers to sack quarterbacks.
One problem with that explanation for this week's offensive explosion is that these amazing numbers didn't show up in Week 1, when teams had a passer rating of 82.4. Last season, the league average passer rating was 85.1. And then, all of a sudden, in a league that had never hit a 95.0 passer rating for a week, the average spiked to 102.6. This remarkable turn of events needs to be monitored, as now the average quarterback is putting up Aaron Rodgers numbers. No, really: Rodgers, with a career rating of 103.9, is the only quarterback in NFL history whose passer rating exceeds 102.6.
This week, 32 quarterbacks threw passes in the NFL. A remarkable 17 of them had a passer rating over 100 (18, if you remove a Nick Foles spike to stop the clock) and Tyrod Taylor ranked 23rd out of 32 quarterbacks with a passer rating of 94.6. Twenty-one years ago, Brett Favre, who had a passer rating of 92.6 for the entire season, was named the MVP of the NFL by the Associated Press.
Just seven of the 32 quarterbacks had a passer rating below the 2017 average of 85.1, which might be the most remarkable of all these stats. Welcome to the 2018 NFL, Week 2 edition, where exactly half the quarterbacks completed more than 71 percent of their passes.
The single most important question facing the NFL right now: Is this new level of efficiency here to stay? If so, we are about to enter an era of football that is significantly different than the league Tom Brady entered in 2000, where the average team completed 58.2 percent of its passes and had a passer rating of 76.2. But this is what I suspect the NFL wants: Quarterbacks and receivers are less likely to get injured, teams will continue to shift toward passing over running, and quarterbacks will look like superstars with record-breaking numbers.