On Wednesday night in New York, 13-time Grand Slam champion Novak Djokovic and upstart John Millman fought each other and the oppressive heat in a quarterfinal match at the U.S. Open. While Djokovic eventually got the win in straight sets, the heat was the night's big winner.
With the score tied 2-2 in the second set, Millman told the chair umpire that he was too sweaty to continue, and he was allowed to leave the court to get a change of clothes.
"I don't know what to do about it, I'm sweaty, I don't want to change," Millman told Djokovic. While his Aussie opponent got a new kit, Djokovic took off his own shirt and relaxed courtside.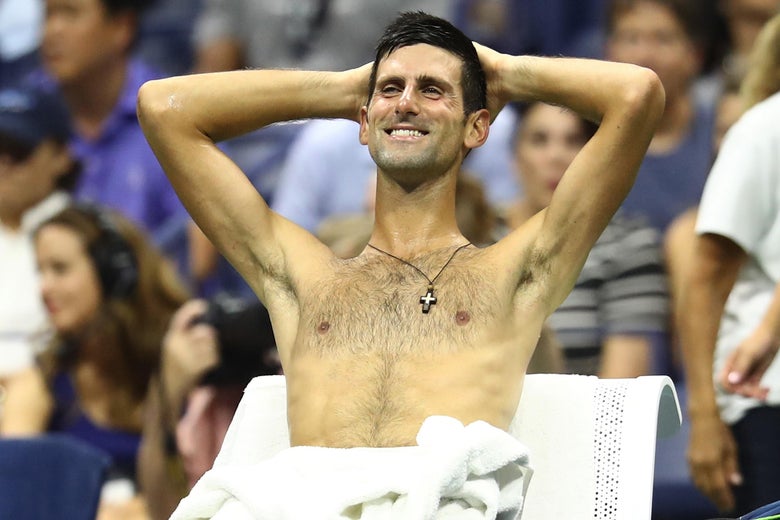 On Monday night, it had been Millman's opponent Roger Federer who was ravaged by the humidity. "Was just one of those nights where I guess I felt I couldn't get air; there was no circulation at all," Federer said. "I don't know, for some reason, I just struggled in the conditions tonight. It's one of the first times it's happened to me." He added, "Everything feels off when you're hot."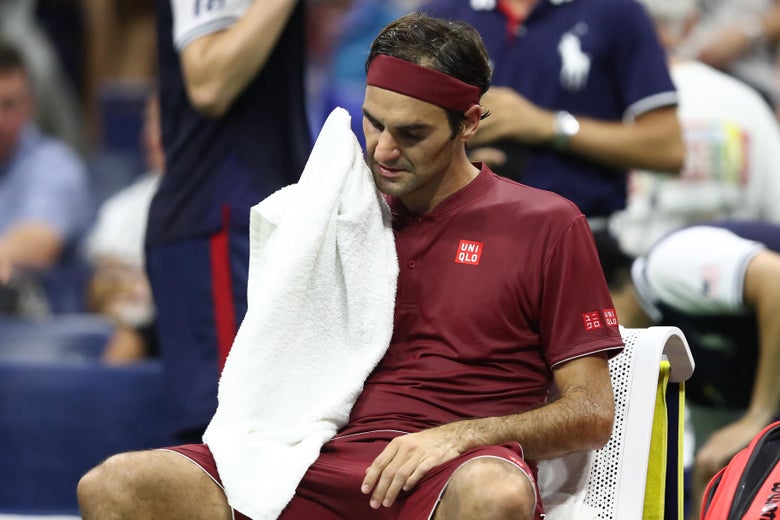 Millman, too, appeared insanely sweaty during his fourth-round win over Federer, though he didn't request a special break to peel off his gross-looking shirt.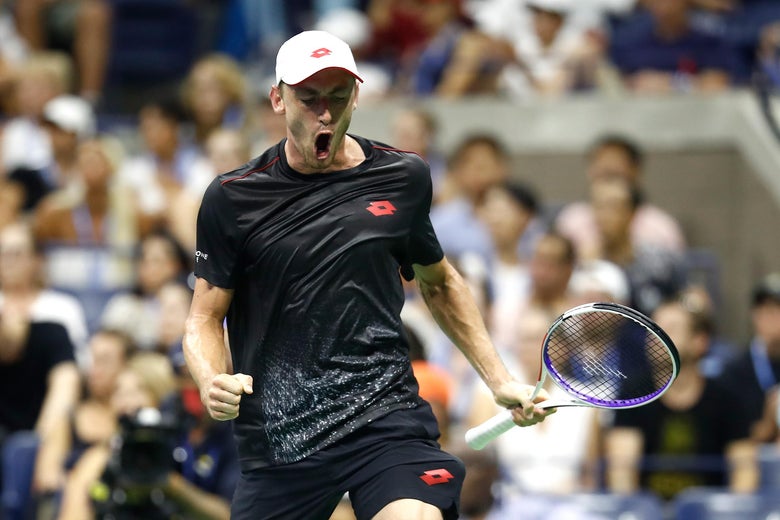 The U.S. Open invented new rules on the fly during this year's event to give players a break from the 90-plus-degree temperatures, allowing for 10-minute breaks between sets. The conditions in the tournament's showcase court, Arthur Ashe Stadium, have been particularly horrific; as Tom Perrotta noted in the Wall Street Journal, air doesn't appear to circulate well in the stadium since the addition of a retractable roof in 2016.
Deadspin's Giri Nathan, who noted on Wednesday that American John Isner changed his shirt 11 times during his quarterfinal match, suggests closing the roof at Ashe Stadium, providing both players and fans with a pleasant, air-conditioned environment. And if bringing air conditioning to a Grand Slam event is too big of a break with tradition, maybe they can add a really big ceiling fan.