In a recent interview with Yahoo, Call Me By Your Name director Luca Guadagnino revealed that his new horror film Suspiria is meant to be, "a sort of fierce showcase of the female artistic experience." But according to a recent lawsuit, he took too literal of an approach in this pursuit. On Thursday, the estate of Ana Mendieta claimed that the film copies images from the late artist's work.
A cease and desist letter sent to Amazon Studios in July alleged that the film and trailer contained both a shot of a woman's hands bound with rope across a white table, resembling Mendieta's piece "Rape Scene," and a shot of a body silhouetted on a bed sheet, forming a similar image to Mendieta's "Untitled (Silueta Series, Mexico)." In response, these two images were removed from the film.
However, Thursday's suit claims that eight additional images still in the film borrow from Mendieta's work. And if you take a look at a trailer for the film released in August, additional similarities are apparent. For example, this moment when a female face crumbles and deforms against a mirror seems to correlate both in visual form and unsettling emotion with Mendieta's "Untitled (Glass on Face)."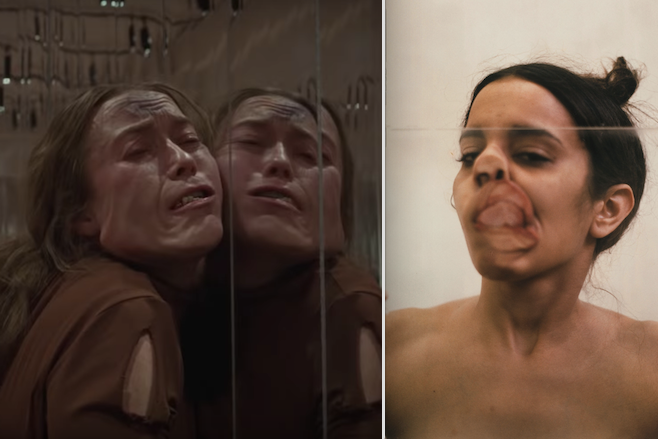 The estate is seeking damages from Amazon Studios and a restraining order which would bar use of the images, citing their policy allowing Mendieta's work to be used for scholarly purposes but not commercial use.
Ana Mendieta was a Cuban American painter, sculptor and performance artist known for drawing attention to violence against women. She died in 1985 after falling out of a New York apartment window. Her husband was tried and acquitted of murder.
Suspiria is set to come out in select New York and L.A. theatres on Oct. 26th, followed by a wider release on Nov. 2nd. In response to a request for comment by IndieWire, Amazon Studios said it cannot speak on an ongoing litigation.