This was the rule, in French cooking schools and restaurants of a certain price tag: Soft-scrambled eggs must be soft and custardy, with teeny-tiny curds, and to achieve them takes 10 minutes of low, low heat and patient, observant whisking.
And that's fine, if you're feeling committed or want to bring your meditation practice to the stove at 8 a.m. But now—phew—we don't have to do any of that, thanks to Wylie Dufresne and the brilliant scrambled egg grilled cheese he concocted for his newest venture, Du's Donuts and Coffee in Brooklyn.
Dufresne—an early leader in the molecular gastronomy movement—gets around the custardy-eggs rule in a smart and rather deviant way: He cranks up the heat and whisks swiftly, finishing his tiny-curded eggs in about a minute.
Then he makes up for the punishing treatment by melting in a generous amount of cream cheese, which quickly restores the eggs to custard-like status. "Cream cheese is a miracle ingredient," he told Emma Wartzman at Bon Appetit earlier this year.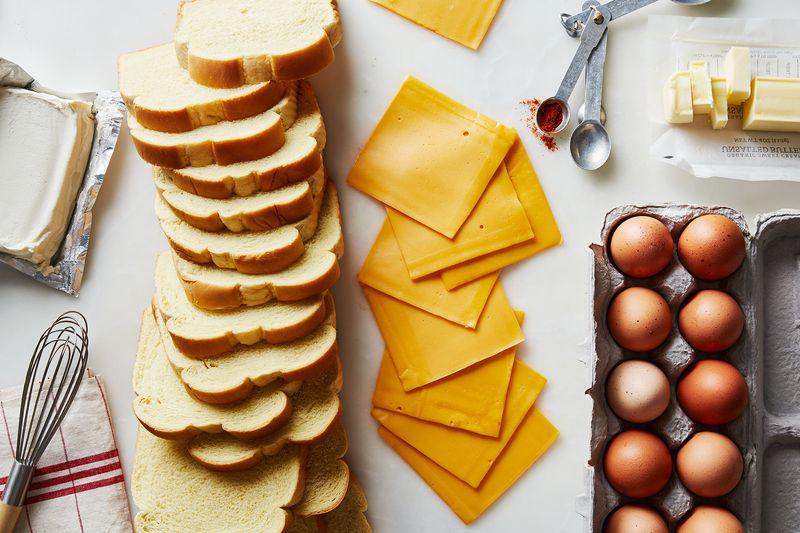 At this point, you can either proceed straight to sandwiching, or leave your eggs to firm up a little more (at Du's, they smear the soft eggs into a layer to set, then cut them into slabs to be added to the sandwiches on the fly).
Either way, all that's left is to stack the eggs with a double-dose of highly meltable American cheese on Martin's potato bread (or something similarly soft, sweet, and friendly to griddling). Then pan-fry till bread is crisp and cheese is oozing—then eat!
You might notice that the keys to the glorious gooey-buttery-crisp textures here are all humbly, proudly American: Philadelphia cream cheese was invented in New York (surprise!) around 1880, Martin's potato bread was born in Pennsylvania Dutch country in 1955, and American cheese—okay, oddly, it was invented in Switzerland, but clearly America has really latched on.
To Dufresne, each of these was the natural, right choice for this style of sandwich—a playful mix of well-designed ingredients and smart technique. "Cream cheese and American cheese are both like ice cream or a good biscuit—a great feat of culinary engineering," he told me over the phone. "Martin's potato bread, when griddled properly, is the paradigm of toast."
For reasons that perplex me, I can already hear some of you getting ready to squeak about the American cheese, to whom I will say Cheddar is fine. But the rest of us—no matter how whole-foodish we might be some of the time—have a very particular place in our hearts for the singular experience of hot, molten American cheese. Always on cheeseburgers, especially on road trips. Only on grilled cheese, made by my dad. Definitely on bodega eggs. Or all of the above.
Now we can add to that always on Dufresne's soft-scrambled egg grilled cheese, anytime we want.
Serves 3
For the scrambled eggs:
4 large eggs
1 small pinch of cayenne pepper
Kosher salt
3 tablespoons cream cheese
For assembly:
6 slices American cheese
6 thick slices Martin's Potato Bread or other white bread
Unsalted butter (for the pan)
See the full recipe on Food52.
More from Food52

The #1 Way to Get Eggshell Out of Your Egg
Why My Most Romantic Dates Happen Over Bacon and Eggs
The Trader Joe's-Inspired Morning Muffin My Mom Can't Live Without
The Mango Quick Bread My Dad Always Keeps in the Freezer
The Unfailing Way to Make Any Onion Last Forever
Why I May Never Peel a Kiwi Again: A Controversial Stance