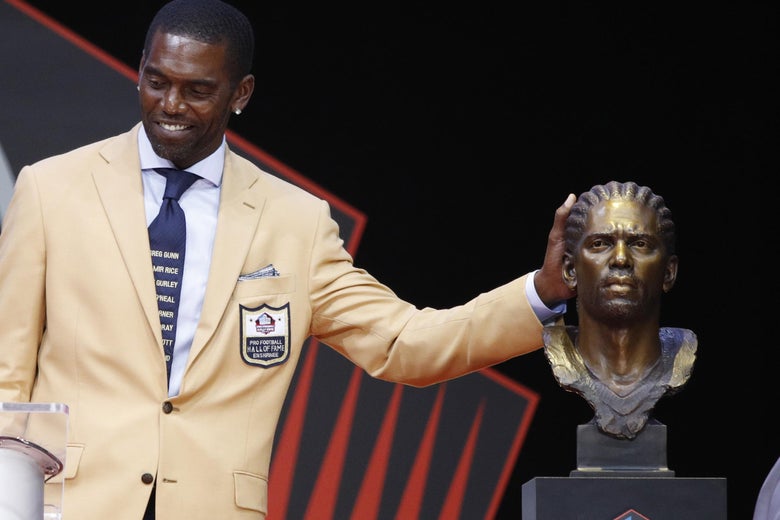 Legendary wide receiver Randy Moss was inducted into the Pro Football Hall of Fame on Saturday, and he used the platform to honor black men, women, and children who were killed by police (or died while in custody). Moss shared this message at the ceremony in Canton, Ohio via his necktie, which was emblazoned with 12 names.
As noted by Sports Illustrated, Trayvon Martin's name was also on the tie but is obstructed in the above image. (Martin was shot and killed by a neighborhood watch volunteer in 2012).
Moss did not mention the tie during his induction speech, but he discussed it in an interview on the NFL Network. "We all know what's going on," he said. "You see the names on my tie." Moss continued:
What I wanted to express with my tie was to let these families know they're not alone. I'm not here voicing, but by having these names on my tie, in a big platform like the Pro Football Hall of Fame, there's a lot of stuff going on in our country and I just wanted these family members to know they're not alone.
In March, NFL owners passed a new policy that prohibits players from protesting police brutality by kneeling during the national anthem. The league did not consult the Players Association before enacting this rule, and the policy is currently on hold so the NFL and the union can work, in the words of a joint statement issued last month, "on a resolution to the anthem issue."
The meaning of the players' protests is often willfully ignored or misconstrued by critics, but Randy Moss, while receiving football's greatest honor, provided a clear reminder of that message.
---