Pick of the Litter is a movie about dogs that's not really about dogs. Sure, on the surface, Don Hardy Jr. and Dana Nachman's "dogumentary" sets out to tell the stories of five Labrador retrievers—Patriot, Potomac, Primrose, Poppet, and Phil—as they're trained to become Guide Dogs for the Blind. What's apparent from watching, though, is that the filmmakers are much more interested in the humans involved in every step of that process: the volunteers who raise the puppies, the trainers who coach them in safety and awareness, and the visually impaired people they'll eventually assist. For a documentary in which some of the subjects regularly lick the camera, Pick of the Litter is much more than a puppy parade, educating viewers about what it takes, practically and psychologically, to train a service animal. The wet noses and wagging tails are just a perk.
The documentary raises the stakes upfront, with blind raconteurs recalling how their own guide dogs saved their lives from traffic accidents or, in the most extreme cases, terrorist attacks—though it's hard to reconcile those heroic stories with our first glimpse of five newborn puppies, known collectively as "P litter," who come into the world quivering and squeaking. The first half of the film sees the puppies placed with different individuals and families for more than a year so they can mature before entering formal training. This is where we get to know their personalities a little better (even if we still have to rely on on-screen labels to distinguish between the very similar-looking dogs). Phil, one of the litter's two sandy-colored dogs, is a goofball. The other, Primrose, is outgoing. Then there's a trio of black labs: Poppet, the model student; Potomac, who is easily distracted (a dangerous trait when chasing a squirrel means leading one's owner astray); and Patriot, the most rambunctious of the lot.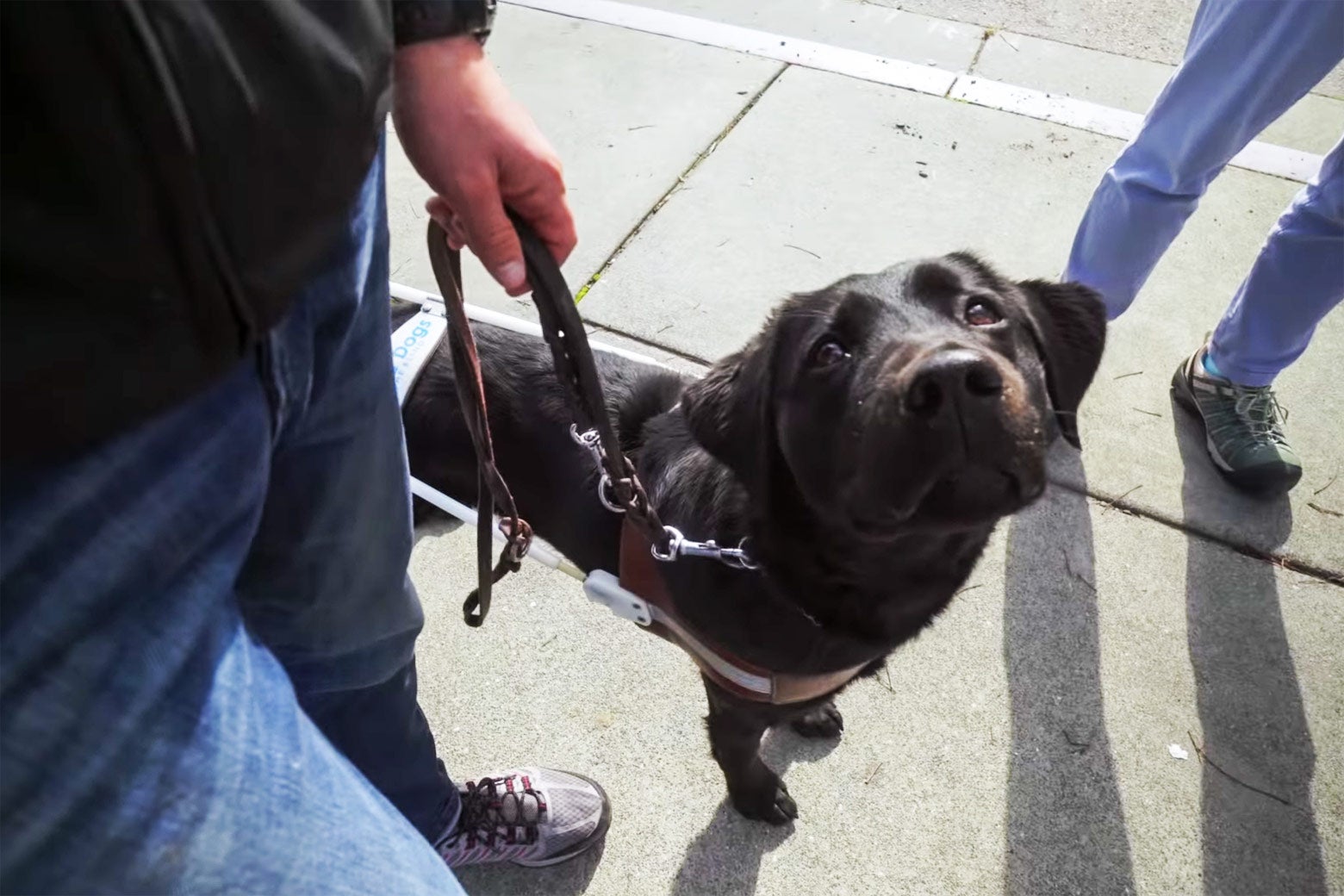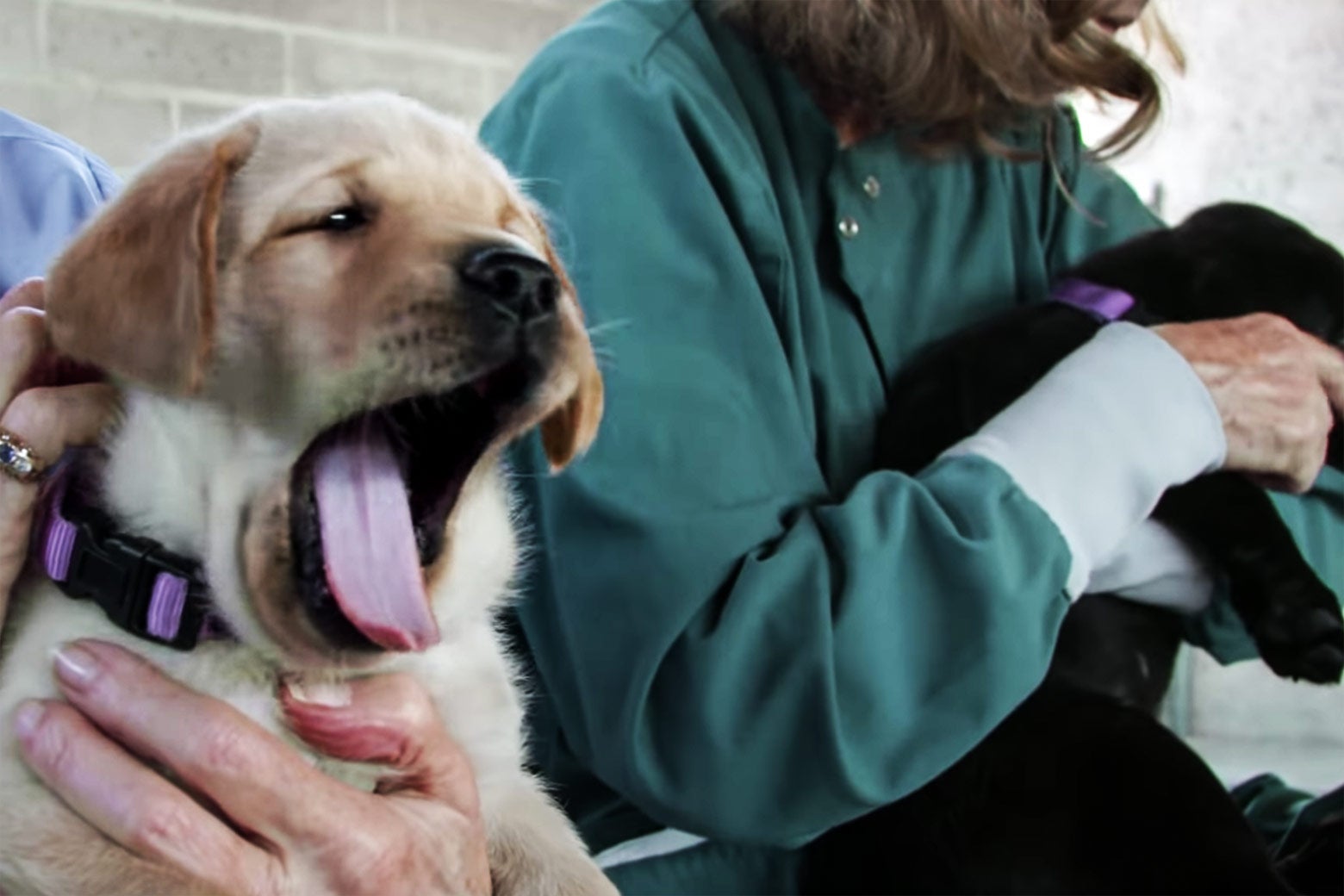 As cuddly as this may sound, the documentary is unexpectedly suspenseful, even intense. As we watch P litter's progress with the puppy raisers, some of whom are fostering for the first time, we're told again and again that most dogs in the program don't actually graduate. Of the 800 born into Guide Dogs for the Blind's program each year, just 300 will eventually become guide dogs. This gives Pick of the Litter the quality of a reality competition series, as the dogs' names and pictures regularly appear on screen in a lineup, waiting to be eliminated if and when the corresponding pup gets cut. Will Primrose get the final rose? Must Potomac sashay away?
That suspense makes the ordeal stressful for the raisers, too, who worry aloud about whether their puppies will make it to the training stage. A few compare it to raising a child to send off to college. Hardy and Nachman spend surprisingly little time on the day-to-day of what it's like to foster a future guide dog, instead focusing on the raisers' personalities—and insecurities. While the dogs' placement is always meant to be temporary, it's easy to sympathize with the raisers, who are often devastated when it's time for them to move on. Patriot, for instance, is too energetic and has to be re-homed twice—first after being placed with a teenager, Nick, who takes him along to high school, then after moving in with Adam, an Iraq war veteran suffering from post-traumatic stress who finds purpose and solace in taking care of his canine companions. Both Nick and Adam cry when it's time to say goodbye. I did too.
It's in the second half of the documentary, during the 10-week formal guide training, that the real work begins. Only three dogs make it that far. One is "career changed," the polite way of saying he didn't have the chops to be a guide dog. (When the unruly pooch's fate is announced, an on-screen graphic representing the pup vanishes into smoke.) Another earns a more honorable discharge and enters Guide Dogs for the Blind's breeding program. The remaining dogs work with licensed professionals to learn the skills needed to guide blind people—stopping at the curb, not getting distracted (even when a treat is dangled inches from the snout), and, crucially and most impressively, not just following commands but knowing when to ignore any command that could be dangerous. There are tests, and not everyone passes, though I won't spoil which dogs manage to go all the way. Suffice it to say that all five, whether they make it to graduation or not, get happy endings. If only every documentary could end in a belly rub.