If you could snap your fingers and instantly invent a city from scratch, you'd be hard-pressed to conjure a weirder one than Oklahoma City. As it happens, Oklahoma City was invented more or less just that way. On the morning of April 22, 1889—the day of the Oklahoma "Land Run," one of the most bizarre but quintessentially American events in history—the population of Oklahoma City was zero; by the afternoon, it was 10,000. In the years since, it has shrunk and then expanded, comically; struck it rich (several times) and nearly economically imploded (several more times); and been beset by countless tornadoes and suffered the second-deadliest terrorist attack in American history. It has also, since 2008, been home to the Oklahoma City Thunder, a successful and remarkably resilient NBA team that a group of local businessmen flagrantly stole from the city of Seattle in one of the most controversial maneuvers in the history of professional basketball.
All of this, and so much more, is the subject of Sam Anderson's fantastic new book, Boom Town, an enthralling, hilarious, and unexpectedly moving biography of Oklahoma City that already feels like a classic of its kind. Think City of Quartz if Mike Davis was a basketball junkie (City of Courts?) or if Jane Jacobs had co-written Blazing Saddles. Boom Town is an elaborate, elliptical fun house of narratives: a story about a basketball team that's really a story about a city, or maybe it's the other way around; a story about a city that seems utterly unique and inexplicable, until you keep reading and start wondering if you're really just reading a story about America itself. "From a distance, Oklahoma City looked like almost nothing," writes Anderson in the book's opening pages. "Up close, it turned out to be about almost everything."
Anderson is a staff writer at the New York Times Magazine, and Boom Town effectively begins in the fall of 2012, when Anderson is sent to OKC to write a story about the Oklahoma City Thunder, the defending Western Conference champions and the NBA's hottest young team. The Thunder had a triumvirate of young stars—Kevin Durant, Russell Westbrook, and James Harden—all of whom were under 25 years old and objects of obsessive adulation in a city with only one major pro sports franchise. Then, on the eve of the season, the Thunder's young GM, Sam Presti, traded Harden to the Houston Rockets.
It was a stunning gamble, one whose reverberations are still being felt across the league. Harden was the first player ever drafted by the Thunder, a historically efficient 2-guard who'd just won the NBA's Sixth Man of the Year Award. With a flamboyant beard that seemed to bely his outwardly reticent disposition, he seemed to be the perfect balance point between his star teammates: humble, dependable, even-keeled, nice Durant, and surly, flamboyant, volatile Westbrook. Durant was the face of the franchise; Westbrook, on the other hand, was always assumed to be a fish out of water in OKC.
Boom Town doesn't proceed remotely chronologically or even really linearly in any sense, a madcap structure befitting a city whose downtown is marked by mismatched, diagonal-running blocks called "jogs," the product of a 19th-century conflict between rival groups of settlers that Anderson describes as "the closest Oklahoma City would ever come to a full-on civil war." Instead, Boom Town unfolds as a series of historical vignettes and character sketches—a format that plays to its author's background as a magazine writer—all laced together by recurring dispatches from that post-Harden Thunder season.
Anderson is a great basketball writer—this 2006 essay he wrote for Slate on Kobe Bryant remains, to me, the last word on the former Laker—and his material on Harden, Durant, and particularly Westbrook in Boom Town will surely enthrall hoops fans. But Boom Town will also thrill anyone who couldn't care less about the NBA; at its core, it's a curious reporter's portrait of the cultural and civic life of a strange and great city. If you're a non-Oklahoman, you'll experience frequent shocks of recognition at the foibles of the modern urban experience; Anderson's explorations, though, will have you opening your preferred travel app, idly pricing tickets to the Sooner State.
Once, in Naples, a local suggested to me that the Italian city's famous penchant for chaos could be chalked up to its proximity to Mount Vesuvius, which looms over the city a mere six miles to the east like the world's most obvious metaphor. Living in the shadow of literal imminent destruction, this person hypothesized, was a pretty strong disincentive to spend much time making plans, and this ethos had long permeated Neapolitan life. If there is a similarly metaphor for the City of Oklahoma City (yes, that's its official name) it's the concept of boom, and its opposite partner, bust. "Boom thrived on risk, recklessness, confidence, opportunism, and aggression," writes Anderson. "Boom believed that it could surf on booms, beating the odds forever. When a bust eventually came, all of those previous booms would have been worth it, and the next one, surely, would make up for the loss."
Since its beginnings, Oklahoma City has been a boom-or-bust, feast-or-famine city, at times almost literally: Those first 10,000 residents had to be fed by the U.S. government in Oklahoma City's earliest days, and the population soon dwindled as residents began to grasp the harshness of the land and left accordingly. In the early 20th century it became the state capital, and then in 1928 oil was discovered in the city limits. Boom.
The cast of characters that Anderson has assembled in his book offers an embarrassment of riches, a testament to Anderson's skills as both a reporter and a historical researcher. There's Angelo and Lola Scott, a husband-and-wife duo who in the early years of the city worked tirelessly to bring a veneer of gentility to what was otherwise a bastion of mayhem; Clara Luper, a civil rights activist who worked tirelessly to desegregate Oklahoma City's downtown and improve living conditions for its black community, for which she was arrested 26 times; Wayne Coyne, frontman of the Flaming Lips, a figure who at first seems entirely too weird and colorful for his hometown but by the book's end feels utterly OKC.
And then there's Stanley Draper, Oklahoma City's steroidal answer to Robert Moses. Draper was the longtime head of OKC's Chamber of Commerce, a normally ceremonial organization that in Oklahoma City somehow accrued insane amounts of power. In the mid–20th century, Draper oversaw such projects as the "urban renewal" of downtown and the Great Annexation, when, over a period of less than two years, Oklahoma City expanded its geographical boundaries from 80 square miles to 476 square miles, making it the single largest city by area in the world at a time when its population was still only 324,000 people.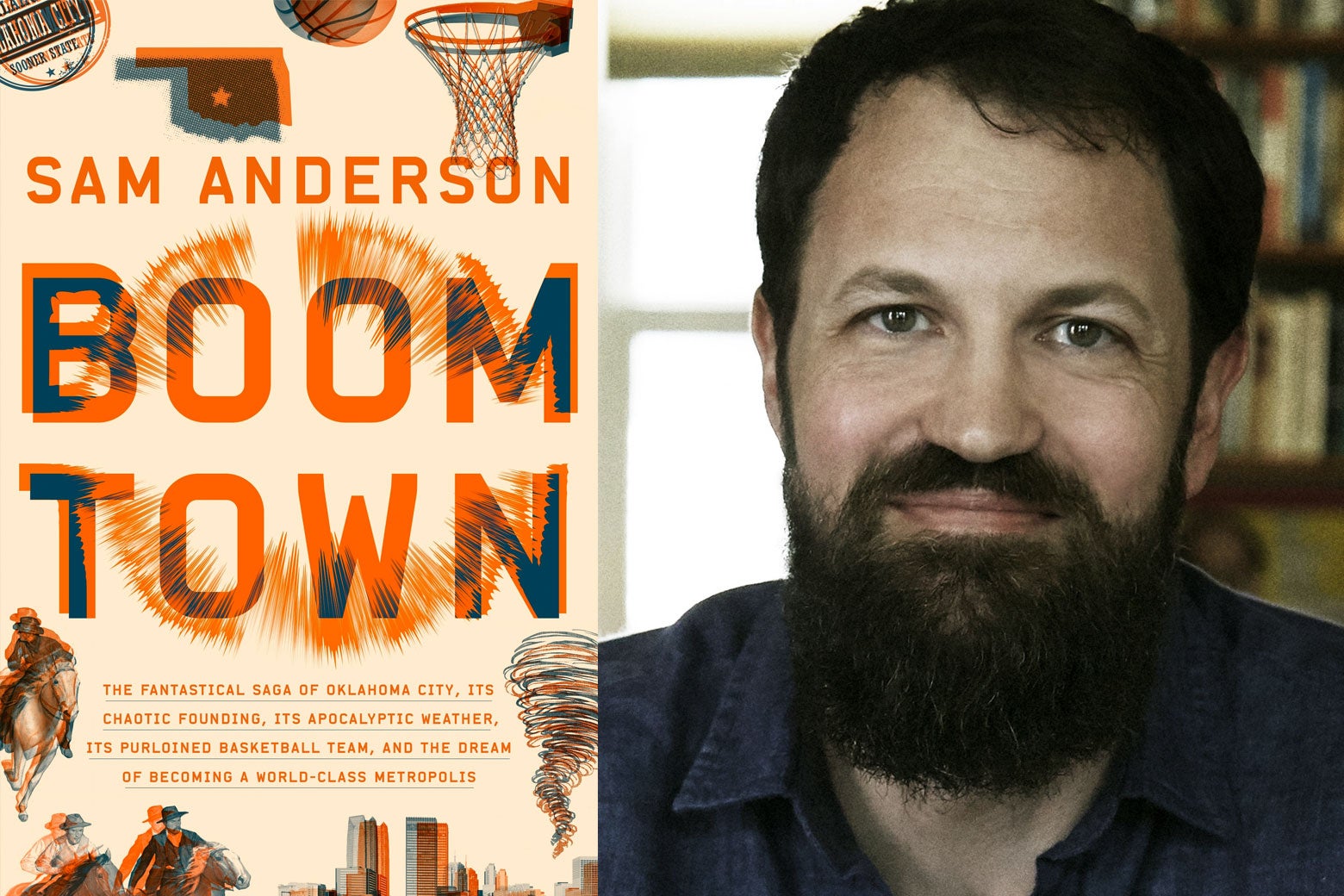 Not all of Boom Town is so colorfully quirky. Anderson waits until near the book's end before addressing the event many Americans associate most indelibly with the city, the bombing of the Alfred P. Murrah Federal Building by Timothy McVeigh. Anderson details the morning's events in a tick-tock manner that never strays into sensationalism. "I got to know people in Oklahoma City who would tell me everything about their lives," he writes, "every inch of the deep history of the city, but they could not talk to me about anything they saw on April 19, 1995."
Boom Town combines urban history and sports writing in a way that brings out the best elements of both genres. Beyond their aesthetic and narrative appeal, sports matter to people for collective reasons: They help forge an "imagined community," in Benedict Anderson's famous formulation. This is admittedly ridiculous, and brings to mind the old "rooting for laundry" joke from Seinfeld, but is it any more ridiculous than a city arbitrarily expanding its own borders by nearly 400 square miles in less than two years? The imaginations of sports and cities reinforce each other rather perfectly, a connection that Boom Town mines for all its possibilities.
In an ending basketball fans already know, during the summer of 2016 Kevin Durant shocked the NBA by announcing he was leaving the Thunder, the only team he'd ever played for, to join the Golden State Warriors. Polite, soft-spoken Durant had always seemed the perfect player for what everyone imagined Oklahoma City to be and what the City of Oklahoma City had strived to project. Today the obstreperous Westbrook remains on the Thunder, the face and heart of the franchise, still an inveterate gambler and basketball tornado. Among the many revelations of Boom Town is that the right player stayed all along.
Boom Town: The Fantastical Saga of Oklahoma City, Its Chaotic Founding, Its Apocalyptic Weather, Its Purloined Basketball Team, and the Dream of Becoming a World-Class Metropolis by Sam Anderson. Crown.