Coke and peanuts may sound like an odd snack combination to some (okay, to most). But the dynamic duo has been popular down South for decades, dating as far as the 1920s. All you need are two ingredients to take part in the tradition: a glass bottle of Coke and a small sleeve of salted peanuts. After you take a few sips of the chilled soda, pour the sleeve of peanuts into it. (Yes, into it!) Now, sip, chew, and savor every oddly refreshing, sweet-and-salty gulp.
Here's the thing. I'm not a Southerner (or even a soda drinker), but when I first read about this tradition, I found it intriguing. I was fascinated by the juxtaposition of a super-sweet, ice-cold bubbly beverage married with crunchy, salted peanuts. So I popped into my local deli, grabbed a cola and some peanuts and tried it for myself. It was good. I was more than pleased. Slapped across the face with Southern charm. Not only is it a genius combo, but it's also a delicious one. So delicious, in fact, that I wanted to turn it into a cake recipe because, well, that's just what I do!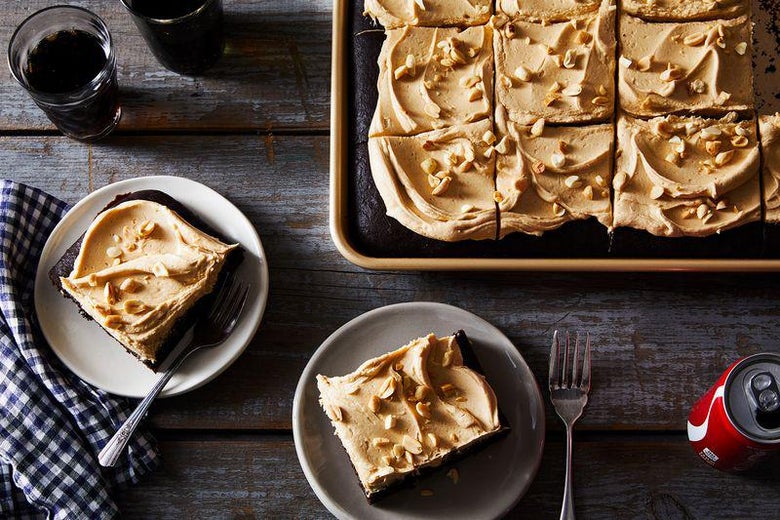 I may not hail from the South, but I'm no stranger to a cola cake. My mom used to make a version from David Letterman's mom's cookbook when I was a kid. Her recipe used cola in both the cake batter and the frosting and was topped with toasted pecans. For my nuttier version, I swapped out the cola frosting for a peanut buttery one. The cake itself is a chocolate-cola cake, which may seem a bit odd at first, but the caramel-like molasses quality of the soda is actually great with cocoa. And what's a better pairing than peanut butter and chocolate? The creamy PB frosting is, of course, topped with crunchy salted peanuts.
Typically chocolate cake is best served with some coffee, perhaps tea or milk. But in this case, in honor of unusually delicious, less-than-ordinary combinations, this "Coke and peanuts" sheet cake is best served with a chilled bottle of cola. Appropriately.
And trust me, it's a dessert you'll go nuts over.
Serves 24-30
For the cake
2 cups Coca-Cola
1 ½ cups dark brown sugar
¾ cup cocoa powder
8 tablespoons butter, cut into tablespoon-sized pats
3 cups flour
2 teaspoons baking soda
1 ½ teaspoons salt
For the frosting
1 ½ cups smooth peanut butter
1 cup butter, softened
3 cups confectioners sugar
1 teaspoon salt
2 tablespoons heavy cream
½ teaspoon vanilla extract
¾ cup peanuts (roasted and salted), chopped, for topping
See the full recipe on Food52
More From Food52

A No-Bake, Nutella-ish Tart For the Laziest of Nights

Cheesecake-Topped Yellow Cake Sounds Intense. It's Not.

The Seven Most Popular Food52 Recipes in May